Pro Q&A With Magali Tisseyre
Heading out the door? Read this article on the new Outside+ app available now on iOS devices for members! Download the app.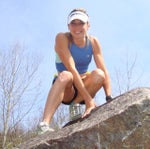 Written by: Brad Culp
Triathlete checks in with the rising star.
It didn't take long for pint-sized Canadian Magali Tisseyre to make her name known on the Ironman 70.3 circuit. The 27-year-old cyclist-turned-triathlete finished in third place at Ironman Florida 70.3 two weeks ago, and it appears that it's only a matter of time before Tisseyre posts her first 70.3 win. We sat down with Tisseyre shortly after her race in Florida to talk about the journey so far and where she goes from here.
Q: You have a pretty solid cycling resume, but you're a relative newcomer when it comes to triathlon. What was your secret for making that transition look easy?
A: I actually started cycling at the same time I started triathlon-nearly five years ago. Before that, I enjoyed practicing various sports such as snowboarding-cross racing and skiing, which I really enjoyed. I felt privileged because my sponsor, Marinoni, gave me the opportunity to try a cycling world cup, the Tour du Grand Montreal, which I really enjoyed, and the Mount Washington Hillclimb, where I placed second overall at last year. That gave me some confidence on the bike. This year, however, I need to focus on triathlon if I want to reach for the results I am looking for.
Q: What distance do you feel most comfortable racing? Do you feel your natural abilities are more suited for 70.3 or Ironman?
A: I hope it will be Ironman but I have to be patient in order to find out. I have never tried an Ironman race yet but it is my ultimate goal. I keep on asking coach Lance [Watson] when it would be good to do my first one. I have complete trust in him and I will let him guide me through that. I do believe that longer distances are always better for me. I can't wait to find out! Right now, I am building my speed on 70.3's in order to get faster before going longer. I also believe [70.3] is a great distance because you can do many races in a year and I need to gain a lot of experience.
Q: You and the rest of the Lifesport crew have been killing it this year – do you get much time to train with the rest of the group (like Linsey Corbin, Brent McMahon and Bree Wee). Where do you do most of your training?
A: I am glad to have the opportunity to talk about that! Of course! Since I started with Lifesport in January, I have been to all of the team camps (to Victoria, Canada in January then to Maui and Kona at the beginning of the season). I had never worked so hard in my life or trained with such great athletes. The group has pushed me to get the very best out of my training and I felt so welcome in the team. There is an amazing atmosphere in our crew and the hard training we get in together has a lot to do with it. I was glad to have the opportunity to train with strong athletes such as Linsey Corbin, Bree Wee, Lisa Mensink, Heather Gollnick and Katya Meyers. The coaches (Lance Watson and Paul Regensburg) have organized the optimal setup for our camps: Intense training, great coaching support, optimal recovery and a perfect training ambiance are the recipe for success. I have also gained a lot from training (and living) with the boys! Brent McMahon, Justin Parks and Brent Poulsen, have been big brothers to me and I have learned a lot from them too. The rest of the time, I am training at home in St. Sauveur (Canada), mostly alone because I have to juggle between training and studying and the schedule changes.
Q: Speaking of the aforementioned Lifesport crew, who's the best to party with after an event? I saw plenty of post-race pictures from New Orleans-looks like Brent knows how to have a good time.
A: The best party would be with all of them there! Lifesport is more than a team, they are more like a second family to me. You are right about Brent though! He definitely knows how to party. After New Orleans he was quite an entertainer on the dance floor. There is also my buddy Linsey Corbin-she is such an incredible and fun girl. She definitely has her moves and crazy party ideas! We all danced so much on tired legs after New Orleans and that says it all! Justin Park is great too-we challenged each other in a mechanical bull riding competition that night.
Q: I took a look at your blog (magalitisseyre.blogspot.com) to get a little background info on you, and I noticed you drag your mom to just about every event. As much as I love triathlon, it's probably not the best spectator sport there is. Does she ever get bored and ask to take a race off?
A: Mom can never get enough! She is almost as passionate as I am about the sport! She has a bad knee from a ski accident, so she can't run, otherwise she would be racing. I'm thinking I should do a relay with her one day because she is good on the bike. She and I have always been very close and share many common interests. She is the one that got me into sports with skiing when I was three. She is like a great friend and a fun person to have around for a race. She comes to the races whenever she can and I feel she always will.
Q: We interviewed Matty Reed a few months ago and asked him if being absurdly tall is an advantage or disadvantage when it comes to triathlon. He felt that, overall, being a giant helps him. No offense, but you're definitely not a giant (Tisseyre stands about 5'3″). What are the advantages and disadvantages of being on the tinier side?
A: I have always wanted to be a giant! But you a right, I am definitely not. This is one of the many things I have learned from my awesome new coach! We have talked about it before and he has told me how smaller bodies are better for heat dissipation in hot racing environments. Less body mass and less muscle mass also means less impact and muscular tear down from training and a better ability to recover. There are even some theories on the circulatory system of small endurance athletes that state that it is an advantage because there is less distance for the blood to travel from the heart and lungs to working muscles and back to dissipate waste (CO2). It is also harder for athletes to draft off a smaller person! Now I am happy to be small!