Inside Triathlon Magazine Archives: A Profile Of Linsey Corbin
T.J. Murphy, went to visit Corbin in her home in Montana. The following is the story that came out of that visit—including an in-depth look at how she overhauled her training regimen.
Heading out the door? Read this article on the new Outside+ app available now on iOS devices for members! Download the app.
Ironman champion Linsey Corbin had a breakthrough year last year, winning her first Ironman after signing on with a new coach. Last year Inside Triathlon editor-at-large, T.J. Murphy, went to visit Corbin in her home in Montana. The following is the story that came out of that visit—including an in-depth look at how she overhauled her training regimen—printed in full.
For more insight into the sport's top pros, subscribe to Inside Triathlon magazine by clicking here. Follow Inside Triathlon on Facebook and Twitter.
By T.J. Murphy
Photographs by John Segesta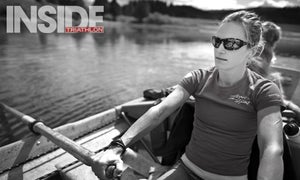 It's early evening on a Monday in late May, and I'm sitting in a booth at Mackenzie Pizza in Missoula, Mont., drinking a pint of Moose Drool beer. Mackenzie Pizza has a back country ambience to it; the cherry wood luster of the booths and pillars is set off by warm yellow lighting and the required décor in a true-blue Montana establishment, namely references to hunting, fishing and grizzly bears. I sip on the thick brown ale as I listen to Chris Corbin talk about all things dear to his heart: fly-fishing, rivers, Big Sky beer—the local brewery and makers of Moose Drool—and most important of all, his wife, elite long-distance triathlete Linsey Corbin. Originally from Arkansas, Chris possesses the same earnest, small-town friendliness that inhabits just about everyone I met in Missoula. Yet he's by no means a low-key guy. Listening to him talk about fly-fishing, you wonder if he's going to levitate. And when the subject turns to Linsey and her career in triathlon, you wouldn't be surprised to see blue sparks start to fly.
Linsey is sitting right next to him, by the way, her attention frantically immersed in a BlackBerry, with a worried expression crossing her Hilary Swank good looks. While we wait for chicken and vegetable pizza to arrive, she thumb scrolls her phone as if trying to crack a secret code.
"Her coach sent her the wrong training schedule," Chris explains. "He accidentally sent her the plan for one of his other athletes." He pauses as we both glance at his increasingly desperate wife and the untouched glass of beer poised before her. The intensity of the moment rises; maybe the e-mail will come through, you sense she's thinking, if the buttons get pushed harder.
Chris drinks his beer, smiles and gives a this is why my wife is great shrug and says, "She's hoping to get the new plan."
Linsey Corbin blew onto the world stage of triathlon in 2008, when she finished fifth at the Hawaii Ironman. With a sweeping grin, she was an instant crowd favorite—careening through the finish chute slapping hands with fans, waving a cowboy hat and beaming a ray of authentic joy that the often-grim Hawaii Ironman seems in short supply of.
But her girl-next-door persona would become cause for concern for Corbin fans wanting to see her climb upward in the sport rather than drift away. Getting into the top 10 at the Hawaii Ironman demands hard work and great talent. Getting into a fight for a top-three finish demands a cruel level of hunger and sacrifice. Triathletes with great expectations have come, fizzled and gone simply because they were just too damn nice.
I was reminded recently how Linsey Corbin was in danger of being filed in the happy-go-lucky see-ya column when a colleague heard that I was writing a story on her. "Linsey Corbin?" he replied. "The girl with the cowboy hat? Really?" The remark was no doubt fueled by her disillusioning 11th place showing at the 2009 Hawaii Ironman. Was she going backward? Was she comfortable with a single top-five placing and now she was happy to cruise?
No. The truth was Corbin had ratcheted up her intentions for 2009. Five to seven hours of training per day was a normal routine at the office, and in the Montana winter this meant indoor bike trainer workouts of up to four hours. Weekly long runs were in the three-hour range while averaging 400 miles per week on the bike. She threw fire at her weakness, the swim, by enduring torturous workouts like 10 x 400 meters of pulling with paddles. To cap her pre-season buildup she used Memorial Day weekend to string together a 165-mile ride (with four mountain passes), a 75-mile ride spiked with hill repeats and a final 130-mile ride. Surely she'd be ready to crack open a new frontier of performance in 2009.
But it wasn't to be. Although Corbin finished a respectable second at Boise 70.3 and took first at the Vancouver sprint triathlon, her fourth-place finish in July at Vineman 70.3 stung. "Finishing fourth was a mediocre result," she told me. "I figured that I hadn't worked hard enough."
Corbin responded by increasing the already towering workload. She also added more races, searching for a finish-line confirmation that the work was finally hard enough. She entered Calgary and Lake Stevens, two races from the 2009 70.3 circuit, dying a bit more with each start, placing fifth and sixth respectively. In a last ditch effort to gain the form she craved, Corbin went to Hawaii six weeks out from the world championship and, by default, trained hard every day.
"You can't go easy in Kona," she says, recalling the experience. "You just can't spin easy on the Queen K." Three-time Ironman champion Peter Reid is largely credited for developing the now common "Kona camp," but Reid knew the incinerating nature of training on the Big Island and kept it contained to a few weeks or less, always returning to Canada well before race day so he could recover. Corbin stayed right up through race week. When she started having trouble sleeping at night, she thought it was because of the heat. She never considered her body was running up the white flag of severe overtraining.
By the start of the 2009 Hawaii Ironman Corbin had little left to give. Her 9:44 finish left her out of the top 10 and a later battery of tests revealed a staph infection, vitamin deficiencies and anemia.
For months Chris Corbin had been lobbying his wife to make a change in her approach but with no firm success. After the crushing disappointment in Kona he made his final plea, bluntly telling her, "If you like finishing 11th just keep doing what you're doing."
On the day after the 2009 championship, Linsey had breakfast with Chris Lieto, hours after Lieto's breakthrough where his monster 4:25 bike and 3:02 run locked him in a duel with Craig Alexander and allowed him to hang on for an impressive second place. Lieto could see that Corbin was on a path similar to his own, where a high, hard mileage ethic ultimately can grind you to pieces.
Lieto had been there: a level of achievement not in line with the gigantic amount of work he was loading into it. Lieto made a coaching suggestion to Corbin, a bright and rising star in the business, someone in tune with their predicaments from the inside out: Matt Dixon.
"I wouldn't be coached by anyone else," Lieto says. "He's the new school. I saw the decline in Linsey's performance. That's why I recommended him to her."
A Brit, Dixon came to the U.S. in 1992 to swim at the University of Cincinnati. Thanks to the tough, high-volume program it was renowned for, he felt at home. After college, he became a professional triathlete because he assumed his studies in physiology, batched together with the killer work ethic that drove him through 80,000 yards a week in the pool, would translate well into a sport where a race was measured in hours as opposed to a few minutes. "I was world-class at training," Dixon says. "I believed that more was always better."
Dixon got off to a promising beginning. "I had fine results to start. It was due to two years of accumulating mass mileage." When results decayed, Dixon's choice was to do even more. "I should have known better. I was doing it all wrong despite having a master's degree in clinical physiology."
Dixon says that the body can handle only so much and eventually a tipping point is reached, which was precisely his fate. "I suffered a complete metabolic shutdown." The damage was severe, and the only remedy toward restoring health was a year of absolutely no exercise. Dixon used the time to think about what had happened, realizing that a return to professional racing was beyond him. "The experience was a catalyst. I began to look at things in a more logical sense." In his reflections Dixon determined that his true calling was as a coach. He galvanized his awakening philosophy by working with his first pro, American Tyler Stewart, who clocked 60 hours a week at a job and had at most 15 hours per week for training. Dixon began channeling his belief that success in multisport is first and foremost about establishing and maintaining overall health and consistency as opposed to focusing on sheer cardiovascular volume. Since going pro, Stewart has posted top-five results in a range of Ironman and 70.3 events, including the win and course record at 2009 Ironman Coeur d'Alene.
Dixon and Corbin first met last October after Corbin's 11th-place death march. "She was very similar to how Chris Lieto looked to me when I first met him," Dixon recalls. "Her muscles were like Swiss cheese, full of micro tears and knots, and she didn't have any vitality or vibrancy. She looked fit, but she just wasn't healthy."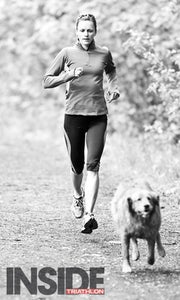 Dixon spent time watching Corbin train and put her through a basic set of tests. "I saw right away she was a fantastic athlete. Her numbers were great, and I watched her swim, bike and run and saw nothing but potential." He also took note of her mental drive and character. "She's a lovely person, very friendly, but with incredible drive. She clearly had the commitment to do whatever was necessary to succeed." But what was critical, Dixon told her flatly, was whether or not she'd make the sweeping changes he would recommend to her.
The two decided to test working together. Corbin would race Ironman Arizona in November, and Dixon emphasized she had to follow his plan to the letter. There would be no improvising or extra workouts. "He told me he would do it as long as I did what he said," Corbin says. "We struggled a lot," remarks Dixon. "It was like an intervention."
In the six weeks between Kona and Arizona, Corbin's longest bike was three hours and longest run was less than 90 minutes. Ten pounds of muscles returned to her frame, and she found it was easier to follow Dixon's orders than she might have imagined. "My mind was dumb, like mush, so I was almost like a robot," she says. Corbin finished second to Sam McGlone in 9:13:46, a surprising turnaround after being declared a zombie less than two months before.
Despite the proof of a good result, the ensuing months of following Dixon were rough on Corbin. Dixon teaches his athletes to revise the way they see the ancillary aspects of training. "It's a total approach," he says. "You need to give equal value to functional strength, recovery and nutrition as you do to swim, bike and run." A core workout, in Dixon's world, has similar weight to a tempo run.
This pushed Corbin to the edge of an internal cliff several times. "When you train as hard as she does you live and die by every workout," Chris Corbin says. "She had let go of the program that had garnered so much success and replaced it with something completely different. In the six months leading up to New Orleans 70.3 she was a basket case."
"It was like leaving home," Linsey admits.
The stress of change built to a climax the day before New Orleans 70.3 in April. When Linsey sat down for lunch with her husband and Dixon at a seafood restaurant, she began to unspool. When Chris peeked up from his gumbo he saw his wife "being really weird. She was worthless, barely able to chew on a piece of bread, just sitting there completely lockjawed."
"I had my first massive freak-out," Linsey remembers. "I couldn't eat. I couldn't talk. Nobody wanted to be around me."
When Linsey left to go to the bathroom a stunned Dixon asked, "Is this normal?"
"No," said Chris Corbin. "This is the first time I've ever seen this." He later figured it out: Having her workouts overhauled top to bottom by Dixon, she had nothing solid to gauge a race effort by. She simply had no idea what was going to happen when the gun went off.
"They were still working through their relationship," Chris says. "He had so much confidence in her fitness, and she had absolutely none."
The next morning, Linsey woke up, said let's do this thing, and nailed a solid second-place performance.
Corbin's confidence ticked upward but there was still a long way to go. Dixon knew she wanted to do well at Wildflower but he told her she wouldn't—it was still too early—and she didn't, finishing out of the top 10. Dixon has very little interest in making an athlete spectacular in the spring. "It's a long season," he explains. His program was designed to deliver Corbin to two peaks, one in June at Ironman Coeur d'Alene, and the other this October in Kona. It was in January when Dixon made the bold prediction to Corbin: "At Ironman Coeur d'Alene you're going to win and you're going to break the course record."
To Dixon, there was nothing bold about this prediction. It was a matter of numbers, verified talent and an athlete with the determination to carry out a plan. It all added up. If she simply signed on to the program she would arrive in Idaho healthy and with the capacity to race a 9:15, a course record-breaking time. It was that simple. There was no doubt she would do the work, eat right and attend to the lifestyle necessary to absorb the training and leave no stone unturned.
The final question was of her confidence. During Corbin's four years she had collected a set of strong results, but a big win remained elusive. In Chris Corbin's opinion, the final element was belief. He saw his wife struggle to understand what it was that the likes of a Chrissie Wellington was doing that was different from what she was doing.
"She's had some self-doubt," Chris says. "She was doing Matt's program but still didn't believe in it. It was the last piece of the puzzle." When Linsey noticed that, on the day in early May when she finished 11th at Wildflower her friend, Meredith Kessler—also coached by Matt Dixon—finished second in St. George, Chris made an effort to cut self-doubt off at the pass. "I said to Linsey, 'What are you going to do? Ask her who her coach is?'"
When it comes to Missoula, the Corbins have put this city on the triathlon map. Perhaps because of the harsh winter climate and remote destination, not many have followed, and the triathletes that Linsey trains with are few, but tough. Although Linsey grew up in Bend, Ore., she calls herself "Montana-made," and her love for Missoula is apparent. A college town with old Victorians, brick roads and a village with mom-and-pop bars and restaurants, one of her favorite pastimes is to frequent University of Montana football games. After her morning swim you'll likely find Linsey making a stop at Espresso Break, her favorite coffee house. ("They put Starbucks out of business!" she says with a proud smile.) The best sandwiches in town, Chris and Linsey insist, will be found at the Rattlesnake Trading Company on the east side of town. The Corbins live in a cozy bungalow with a well-stocked kitchen, and although she'll tell you, "I'm no Martha Stewart," she loves to cook, shopping with sustainability in mind at the local co-op. Their house doesn't have a TV; instead, NPR plays over the radio. When they need fresh eggs they use six-packs of Big Sky beer to barter with their chicken-raising next-door neighbor.
When asked if Chris ever joins Linsey for a workout, he recounts how he once went with her on a bike ride she had labeled an easy recovery spin. "All I know is it took me four days to recover from it," he says, adding that during the ride she accusingly declared, "You're just coasting!" That said, on off-days the couple loves to go out together on their rowboat. Linsey reads or takes a nap and Chris casts the fly. When it came time to propose a few years back, Chris grabbed a fly box, took a shop vacuum to it and artfully placed the ring inside. At the ritual moment offshore, Chris asked Linsey if she could get a fly out for him whereupon she found the sparkling engagement ring.
Five sweeping valleys converge upon Missoula. It's an outdoorsman's dream. The Clark Fork river cuts across downtown Missoula and later joins up with the Blackfoot, made famous by Norman Maclean's A River Runs Through It. The Lolo National Forest offers 1,800 miles of trails and the Selway-Bitterroot Wilderness area to the east measures at 1.3 million acres. Chris tells me that "pothole" lakes are scattered across the state, a reference to the smaller lakes left behind by receding glaciers. Bike riding is epic and windy. On her blog Corbin once wrote, "We biked to Idaho and back," humbly adding, "It's not as far as it sounds." Uh, yeah it is. Confirms Chris, "After Linsey gets on her bike, it's hard to get her off."
On occasion the couple considers moving away from Missoula—maybe to Boulder? Tucson? San Francisco? But each time they return from a trip, they cherish Missoula all the more. Besides the emotional connection, there's simple economics. When Linsey got stuck with a parking ticket in San Francisco she was alarmed to see that it was $60. "It's only $2 in Missoula," she says.
Being Montana-made, however, pushed Corbin near the brink, and the essence of her commitment to work with Dixon is that she would focus on quality and not overwhelming quantity. On June 28, Corbin lined up for the goal race in Coeur d'Alene after a week in which Dixon had told her she was going to feel a bit sluggish. But on the Sunday of the race, even after a 1:01 swim left her eight minutes behind the lead, Corbin leapt on her bike and combined a 5:07:44 ride with a 3:04:36 run, patiently erasing a four-minute lead established by Meredith Kessler, making the final pass at the 18-mile mark of the marathon, and going on to snap the course record with a 9:17:54 victory, validating Dixon's January prediction. Any doubts remaining about the new program were likely erased as well.
Plenty remains to be seen about how Corbin's triathlon career will unfold. But she's certainly not just a gal in a cowboy hat—she's a gal in a cowboy hat that can win an Ironman. The question now is, how far can she go? And how far can she go in the era of Chrissie Wellington?
The only ones truly qualified to judge the character it takes to compete for the title in Kona are those few who have done exactly that, and three-time world champion Peter Reid, who never minces words, sees in Corbin someone who has the goods to give it an honest go.
"I met Linsey a few years ago at a half-ironman in Vancouver," Reid says. "I walked away feeling impressed." Reid says that most of his interactions with pros can be described as strangely one-sided—they usually tell him everything they're up to or angle for information on how to win the Hawaii Ironman.
"With Linsey I had a genuine conversation about triathlon. She was unique. She seemed extremely balanced with a ton of hidden talent and a huge work ethic. Over the years we've exchanged e-mails from time to time and she always asks the right questions. By right questions I mean that she sees the big picture. Winning the Ironman is so much more than how many hours you trained and what you did for training. Linsey gets it."