Inside Triathlon Archives: The Man's Search for Meaning
Dave Scott is finding his place in a new age of triathlon.
Heading out the door? Read this article on the new Outside+ app available now on iOS devices for members! Download the app.
Dave Scott is finding his place in a new age of triathlon.
If it weren't for Dave "the Man" Scott, none of us would be out on the roads every Sunday morning, turning the cranks and pounding the pavement in search of our own personal goals in triathlon. While no longer competing as a pro, Scott is still very much a figure in our sport. Inside Triathlon contributing editor Matt Fitzgerald recently spent some time with him in Boulder, Colo., and wrote about this experience in the January/February issue of the magazine. Here is the final story, printed in its full form and adapted from Fitzgerald's forthcoming book "Iron War," due in October.
For more insight into the sport's top pros, subscribe to Inside Triathlon by clicking here. Follow Inside Triathlon on Facebook and Twitter.
By Matt Fitzgerald
Photographs by Nick Salazar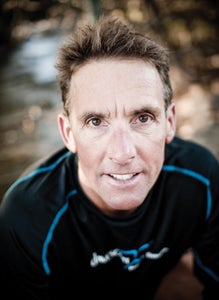 Dave Scott still looks good in a Speedo. Six firm rectus abdominis muscles show their outlines through the thin, bronzed skin of his belly like miniature loaves of wheat bread wrapped in tautly stretched cellophane. His swimmer's chest looks as though it would meet a fist with a satisfyingly deep thud (in the unlikely event that someone was motivated to strike the most popular man in Boulder, Colo.). His thighs retain that bulging, sinewy look that makes the legs appear skinny from some angles, massive from others, and is seen only in endurance athletes of the highest caliber. It's a fast look, and in that regard it's one look that's never deceiving.
He does not appear younger than his 56 years. A stranger could guess his age closely by the marks of wear on his surface and the flecks of gray in his close-cropped hair. He just looks like the fittest 56-year-old man in the history of the world. And he probably is, despite everything.
I checked out Scott in his Speedo on a Saturday morning in late June as he conversed with a wetsuit-wearing Chrissie Wellington (nine Hawaii Ironman World Championship titles in one conversation!) on the beach at Boulder Reservoir before the start of an open-water swim organized by Scott's sister, Jane. I had come to Boulder to check on the status of Scott's dream of returning to the start line of the Hawaii Ironman and perhaps redefining the possible one last time.
No respecter of status, Scott did not cliquishly restrict his attention to his fellow champion, whom he coaches. He seemed to know each of the several dozen other swimmers present and greeted many with his trademark gentle sarcasm. I was not spared.
"Looking kind of pasty, Matt," he said, eyeing my luminously white stomach, which he correctly judged was a present source of self-consciousness—it being the only un-tanned one on the beach.
There were 1-mile and 2-mile options. I chose the mile. Scott, of course, chose the double. The two-milers got a five-minute head start. I had not been swimming much, and I swim poorly even when I have been, so my goal was just to finish before he did. I managed it, but not by much. His time was 47:15, which converts to 56:39 for the 2.4-mile iron distance. Not bad for a 56-year-old man—but not good enough.
"I used to be an athlete. Now I just exist," Scott said with barely perceptible sarcasm as we air-dried on the beach. While we chatted, he eagerly scanned the water for the familiar stroke of his 19-year-old son, Drew Scott, home for the summer from Montana State University, where he competes on the Nordic ski team.
"Drew wasn't too happy about not having a wetsuit," Scott volunteered, presumably meaning his son wasn't happy his father had not allowed him to wear a wetsuit. "I told him, 'You know what? It's a great workout. You see where you're at. It's the truth of how your swimming is.' If you let people wear wetsuits it's easier. It's good for their egos. There's nothing wrong with doing that sometimes—pump up your ego. But other times take the windy road. See what you can do."
Drew Scott got out of the water at 55 minutes and change. "Your stroke looks terrible," his father teased.
…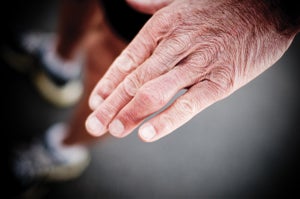 When did Dave Scott retire, anyway? Was it after he lost the 1989 Ironman to Mark Allen? No, of course not, because he came back to Kona in 1994 and finished second to Greg Welch at age 40. Was it after he returned again in '96, finishing fifth at 42 years of age? No, because he came back again in 2001, at 47, only to drop out of the race with a knee injury.
In fact, Dave Scott never retired. He has wanted and hoped to race the Hawaii Ironman every single year since his heartbreaking 58-second loss to Allen in '89, but a seeming voodoo curse of injuries and other setbacks and distractions have kept him away in all but three of the past 21 years. Next year, he kept telling himself. Next year. Then next year became 2009, and Scott discovered that at long last he was healthy, stable and focused enough to dare speak of another comeback to those in his inner circle.
He decided to throw himself into his training for six weeks in May and June, see where that left him, and then make a formal decision. Scott made the decision internally midway through that training block, during a 56-mile solo ride on Sunday, May 17. He felt great and rode hard, and when he returned to the Boulder outskirts he calculated that his total time for the ride, including the 10 minutes it would take him to cruise through town to his front door, would be about two hours and 23 minutes. Solid.
He thought, "I'm going to do Hawaii. I'm in pretty good shape."
Moments later a 61-year-old woman driving a gray 2004 Toyota Camry made a sudden U-turn on the road in front of him. Having no time to react, Scott plowed into the side of the vehicle at 24 miles per hour and dropped to the ground like a sack of flour. The double impact of his body against first the car and then the ground shattered his left wrist, fractured and dislocated his left ring finger leaving a bone projecting through the skin, fractured his left ulna, shattered his left scapula, and caused a major hematoma to his right femur and multiple lacerations.
Scott never lost consciousness. As he lay face-up on the street he thought, "Oh, God, I'm going to get so out of shape."
Understand that a week without exercise is for Dave Scott what a week without a drink is for an alcoholic, or, perhaps more accurately, what a week without meds is for a schizophrenic. Endorphin junkies are a dime a dozen. Scott is a self-described endorphin lunatic.
"If I don't get it," he says, referring to exercise, "it just makes me go haywire. It rules my life. It's a powerful drug for me. It's huge. It's gigantic."
Knowing what the answer must be, I asked him if his addiction, or mental illness, has wrought negative consequences in his life other than nearly pushing him off a cliff during the long convalescence that followed his accident.
"Well, I'm not married anymore," he deadpanned. (Scott and his wife of 20 years, Anna, divorced in 2005.) "When I'm on," he continued, "and when I feel good about my exercise and I've been on a good wave, I feel invincible. I can handle any kind of hurdle and I can meet any kind of challenge head-on. And when I don't have that morphine-like endorphin feeling that resonates throughout my body, it affects everything. It affects my personality, it affects my confidence and it affects my ability to interact with other people."
So Scott's post-accident immobility was his own personal hell, torturous to a degree that the same situation would never be for a normal person. His family and friends worried for his mind as much as they did for his body, and rightly so.
"It knocked the stuffing out of him," says Jason Ash, former president of Scott's longtime nutrition sponsor, Pacifichealth Labs. Ash was in frequent contact with Scott during his recovery.
Scott's family and friends also knew that he was likely to do foolish things for a fix while he recovered, and his doctors and therapists were duly warned.
"His sister told me a story," says Randy Viola, an orthopedist at the famous Steadman Clinic in Vail, Colo., who put Scott's hand and wrist back together. "I guess he was hospitalized for something or other back in his prime and the doctor came by early in the morning, and he was under his bed, bench-pressing his bed."
Viola soon discovered that Scott hadn't changed. "We really had to hold him back," he says. "He tested the limits any way he could. We put the nurses on him and kind of had to hold him down."
Walking was the first form of exercise he was allowed to do. Running was forbidden, but he tried it anyway, convincing himself that he was not disobeying doctor's orders by renaming the activity "quick steps."
One afternoon Scott was joined on a walk by Sasha, a young man in Scott's Wednesday morning running group. Before they started, Sasha joked, "This is the first time I'll be able to beat you."
Big mistake.
Scott said nothing, but when the pair reached the base of a long hill Scott began to "quick step," and after a quarter mile his challenger could no longer keep up.
…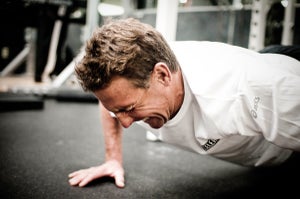 My visit with Dave Scott in Boulder fell 13 months after his accident. He looks fine now, except for a crooked left ring finger, but under the hood he lacks full range of motion in his left shoulder and he suffers from constricted breathing. He swims his hundreds about two seconds slower than he did before the crash.
Having dried out and gathered our things, Scott, Drew Scott and I walked to the parking lot to pull bikes out of our vehicles and were met there by a fourth: father and son's shared friend Marek, who falls between them in age. We'd ridden no more than a mile when Drew Scott dropped into his aerobars and began to grind. No mystery who taught him that. Marek found Drew Scott's shoulder and Scott and I fell in behind them. A few miles passed by and I asked, "Should we take a turn on the front?"
"I know my place," Scott said, again with but the faintest hint of sarcasm.
Our route was mostly flat, except for the part where we ascended some 1500 feet on Boulder's hallowed Old Stage climb, which is part of the Boulder Peak Triathlon course. It was every man for himself. Despite his age, despite his lingering disabilities, despite the recent paucity of training he kept reminding me of, I fully expected the strongest man among us to be The Man, but he was not. Scott was, in fact, the third man in our foursome to summit. Like many perfectionists, Scott is a notorious sandbagger. He will tell you he is out of shape and mean it unless he is ready to destroy all challengers. He'd told me several times how unfit he was since I'd planned this visit. ("I know my body," he'd said on one of these occasions. "My body's not fit. My legs are not fit. I'm not strong. I'm not feeling sorry for myself. That's just the reality of where I'm at.") I had assumed he was sandbagging. He was not.
That evening I treated Dave and Drew Scott to dinner at Aji, a hip downtown Boulder eatery. But there are no free dinners. As we settled into our patio seats I whipped out a voice recorder and placed it on the table next to Scott's salad fork.
"Why do you want to do the Ironman again after all this time?" I asked. "Is it unfinished business? Do you want to inspire older athletes with your performance?"
"It's not unfinished business," he said. "It's just that, that test of going to Kona—it's just a barometer or indicator of my ultimate physical stature at that moment. That's how I looked at it throughout my career. That's how I look at it now."
This reply reminded me of the last time I'd seen Scott, at the Interbike trade show in Las Vegas only four months after his accident. I casually asked him what kind of time he thought he could post in Kona, accident notwithstanding. He took about five minutes to answer the question, citing recent evidence from training to support projected splits in each leg of the race. I had been unaware then but I understand now that Scott has not only known how fast he could complete the Hawaii Ironman every day of his life for the past 30 years, but he also thinks about it every day.
Scott assesses his "physical stature" diurnally the way the rest of us look in the bathroom mirror in the morning to assess our appearance. And the only mirror he really trusts is Ironman. But he can't very well race the Ironman every day, so the next best thing is to estimate his Ironman performance capacity each day based on his performance in workouts whose predictive value in relation to that capacity he knows intimately through years of repetition. Deciding never to race Ironman again would be for him what vowing never to look in a mirror again would be for you or me.
The projected finishing time Scott came up with at the end of his five-minute analysis was 8:40, give or take a few minutes. Considering that he had correctly predicted that he could lop more than an hour off the Ironman course record on his first try in 1980, when he lowered the standard from 11:15:56 to 9:24:33, and that he had correctly predicted that it would take an 8:10 to win the race in 1989, when the existing course record was 8:28, I accepted his estimate without skepticism. The Ironman course record for the men's 55 to 59 age group, by the way, is 9:47:29.
"So you want to do Ironman again for the same reason you always wanted to do it," I said to Scott as he tasted an octopus ceviche we'd ordered to share. "But do you realize how inspiring it would be to people like me if you went there and completely exploded our beliefs about the limits of older endurance athletes?" This was not a planned question. I had recently mourned my 39th birthday.
"I hate to disappoint you, but I think it's over," he said softly, fixing me with a piercing stare. His eyes briefly glistened with the sheen that betrays a lump in the throat.
I said nothing. Drew Scott, our silent third wheel, took a sudden interest in his napkin.
"I tried to come back after this thing," Scott continued, "and I kept having other issues—a second surgery, my scapula was bothering me, my heel wasn't quite right. But the biggest thing is I can't breathe. It always feels like I'm tight, like I'm in L.A. smog."
I said nothing.
"I can't go back and do the race just because I'm 56, or 57 next year," Scott said. "I can't do it half-assed with these excuses that I can only say to a few people. Because people don't want to hear excuses. They just want you to do it."
I tried to think of something to say.
"I recognize age," Scott said. "I recognize the aging process. I'm not 40. It's not 1994. I'm not as strong as I was in 1994. But I was in pretty good shape at 55. Now there's been another year and the stuff I just mentioned—there's been a huge decline. To me it's over."
I had to say something. "Well, suppose it is over," I began, but he cut me off.
"It's not that I've given up," he said. "I think about it all the time. I think, 'I'm going to be able to rotate properly. I'm going to be able to hold my stroke at the end. My heel's going to feel good.' There are fleeting moments on the bike when I can hold 23 miles per hour on the flats and go forever. In a race, could I get it up to 24 again? That seems possible. So there's always that little voice that says maybe there's a remote possibility."
Our entrees arrived, breaking the spell of the past minute. I'd ordered the pork tenderloins. Scott and his son picked the Arctic char. I offered Scott a bite of my meat—it would have been his first taste of swine in 40 years—but he waved it away.
"Whether you get back to Kona or not," I said, "I think it's fair to say that the way you've held on to your performance as you've aged is amazing. It's unheard of. ["Freakish" is the word Scott's manager, Rob Klingensmith, used to describe it.] How do you explain it? Are you just some anomaly who ages slowly or is your secret something that other people can copy?"
Scott put down his fork, leaned back in his seat and thought a moment. "To me, it comes back to whether you still have the same capacity to train at the same intensity that you did when you were younger," he said. "The intensity of the workouts drops off as people age. They allow it to. And they're selective with the ones they want to push. I never wanted that to drop, and I told myself, 'I can't let it drop,' because then I'm going to go slow. So when I work out, I work out hard."
It's a choice, then. To defy time and perform 95 percent as well at age 55 as you did at 25, all you have to do is muster the passion and will to flagellate yourself every time you train for as long as you continue to train. There's your fountain of youth. Bottle that shit and sell it.
The next morning our foursome reconvened at Marek's condo for a trail run. Again Drew Scott took off hard from the start and Marek went with him. Scott and I did not even try to stay close. Scott groaned with each landing of his left foot for the first 10 minutes. He'd injured it after the crash in his haste to return to training and it remained unhealed at least in part because he refused to stop running.
"If he's coming off an injury he can't go out and run 2 miles or 3 miles," says his longtime friend Mike Norton. "He's got to go out and test it. Restraint is a difficult thing for him."
Scott concedes that he has often been his own worst enemy. "I'm a stubborn guy," he says. "Sometimes I think things are going to resolve themselves. Not to make excuses, but I didn't really have a mentor or a coach at any time. I did a whole slew of stupid things. I think maybe it would have helped if I'd had someone to shake my shoulders and say, 'What are you thinking? Take care of this!'"
He's not fooling anyone. Dave Scott is fundamentally uncoachable, and he knows it. The same stubbornness that impels him to repeatedly ignore his internal voice of reason also prevented him from ever reaching out to potential coaches or mentors and would have swiftly placed him at loggerheads with any coach or mentor he might have chosen in a lightheaded moment.
Drew Scott and Marek increased their distance from us for the next 40 minutes and then turned back to meet us head-on, at which point Scott and I made our own about-face. Always a better downhill than uphill runner, a visibly tiring Scott began to slip behind me on the climbs and then run me down on the backsides. On the last big hill he fell way back, and it took him a while to reel me in on the long, gradual descent that followed. But when he did he blew by me like a runaway truck. Looking ahead, I saw why. Drew Scott had separated himself from Marek, who appeared to be struggling and drifting back toward us. Blood was in the water. The game in Dave Scott's head was obvious: Catch the little bastard or die trying in the last mile or so remaining in our run. I accelerated to match Scott's pace and hung on for dear life through that last mile, which we probably ran in less than six minutes. We shot past Marek in the final 50 yards.
"I thought you were toast on the last hill," I said to Scott after I'd caught my breath. "How did you do that?"
"I still like to play the game," he smiled. "I tell you, I don't feel any different mentally than I did when I was racing well. I can push myself as hard as I ever have. Even now, with all my limitations, I can reach down deep into that barrel of discomfort and pull out one single thing that allows me to hang on. I like doing that. I take pride in doing that."
He did look proud.
Between our second and third workouts of the day—another ride and a swim at Flatiron Athletic Club—we stopped by Scott's modest house in a pleasant North Boulder neighborhood to chug down ridiculously healthy blended smoothies and watch some World Cup soccer.
"Welcome to Scott Castle," Scott said, covering embarrassment with sarcasm as we entered. "I should have come along 15 years later, when you could actually make a living in triathlon."
He pays his bills largely through coaching. It's not a path to riches, but he loves it.
"I think I'm a better coach and teacher than I ever was an athlete," he told me without a trace of sarcasm.
Professional athletes often move into coaching because they don't know what else to do, but Scott would be coaching today even if he had never raced for sponsors and prize money. He was indeed a successful and beloved coach—building one of the nation's largest Masters swim programs with his sister in Davis, Calif., in the late 1970s—before triathlon even existed.
"It's because of Dave that they joined the program," says John Reganold, the man who talked Scott into doing his first Ironman in 1980. "He knew everybody by first name. He knew everybody's intervals."
A born coach is the kind of person who would rather talk about you than himself, and Scott is that kind of person.
"If you bumped into Dave at a social event and you didn't know who he was, you could spend three hours with him and you wouldn't know who he was unless you took the time to ask him," says Norton.
The meaning of coaching has perhaps changed between the first and second stints as Scott, now the father of three young athletes, drifts ever further from his own greatest days as a sportsman. Having less and less use for the secret to his success in his own athletic exploits, he finds more and more meaning in sharing that secret with others—in leaving something behind. His mission as a coach and teacher is to spread his ethic of supreme passion and will to other athletes—to encourage them to try as hard as he did, and does.
Call it mission impossible.
"I have really high, high, high expectations of my athletes," says Scott, who coaches all ages and abilities. "I've told them many times that I recognize they have other things going on in their lives and sometimes they just want be out with the group that day and they're tired. 'I was up all night.' 'My kids are sick.' 'I just flew in.' But a lot of times I don't give them an out. I say, 'OK, I see you're kind of tired. But you never know. Let's see what you can do.'"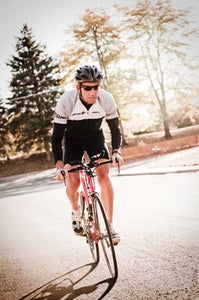 A few days before my visit to Boulder, Scott was swimming with his group when he noticed that another swimmer in his lane was cheating his way through the set by using a pull buoy. When he left it on the deck for a recovery lap, Scott snatched it, swam to the other end of the pool with it, and hurled it 10 feet out of reach.
One wonders if Scott does not suffer a bit of the prophet's loneliness at times, imploring the heavens to let him understand why no one else seems able or willing to give 100 percent all the time. He might even feel somewhat isolated from his own children in this regard. In watching him interact with Drew I sensed that he must constantly remind himself not to suffocate his children as athletes—and as human beings—with high, high, high expectations. But at the same time he tells them no lies.
Scott's youngest, 14-year-old Kara Scott, plays soccer. Dave Scott does not understand the parents of the other girls on the team, and in turn he frightens them. They pointedly discourage competitiveness in their daughters, telling them to have fun as they take the field for games. Scott tells Kara to win or die trying.
"To me you still have that fun element when you push yourself as hard as you can possibly go," he explains. "And if you get second [second? I thought we were talking about soccer?], you should be totally gratified and satisfied that you went to your capacity. Figure out how you can do better next time and maybe you can win next time."
If there is a next time.
This story is adapted from Matt Fitzgerald's book "Iron War," which will be released October, just in time for the Ironman World Championships.