Inside Triathlon Archives: Searching For Peter Reid
The story about what unfolded on TJ Murphy's journey to find Peter Reid has become one of Inside Triathlon magazine's most iconic pieces. Here is the feature, republished in its full form.
Heading out the door? Read this article on the new Outside+ app available now on iOS devices for members! Download the app.
Three-time Ironman world champion Peter Reid is one of the most popular figures in triathlon, and yet he remains an enigma to many in the sport. In fact, he disappeared from triathlon altogether in 2007. In 2009, Inside Triathlon magazine contributing editor T.J. Murphy went looking for him. The story about what unfolded on this journey has become one of the magazine's most iconic pieces. Here is the story, republished in its full form.
For more insight into the sport's top pros, subscribe to Inside Triathlon by clicking here. Follow Inside Triathlon on Facebook and Twitter.
Written by: T.J. Murphy
Photographs by John Segesta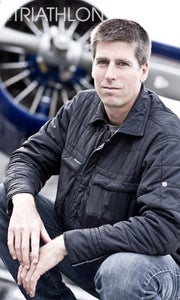 The solitude of Highway 28 is popular with motorcycle tourists exploring Vancouver Island in British Columbia. It's like you've escaped civilization but have miraculously retained access to smooth road. The highway travels north through the half-million acres of Strathcona Provincial Park, from the Campbell River and into a realm of glacier-topped mountains, thick forests and Indian reservations, coming to an abrupt end near a small logging town that sits on the Muchalat Inlet of the Nootka Sound.
The town, Gold River, is no tourist trap. With the exception of an anomalous restaurant—the remarkable Odika Cafe, "serving global and domestic cuisine"—the central plaza has a lonely feel, with a few essential shops and stores, a post office and a bulletin board. Says one resident, "Fifteen-hundred people, four churches, four bars. That explains Gold River."
This is not to say Gold River doesn't lure visitors, particularly those with a taste for the outdoors. Those who love to surf, fish or hike will be tempted to get a lift to the area's sweet spots by doing business with Air Nootka, a floatplane company located on a cove-side dock, shouting distance from the end of Highway 28. Air Nootka has four pilots and three floatplanes: a Cessna 185 and two De Havilland Beavers.
The Air Nootka pilots are De Havilland Beaver aficionados, and talking to them you're sold on the virtuosity of a scenic tour in the utilitarian Beaver, a single-engine prop plane with a history spanning everything from dusting crops to moving troops during the Vietnam War. You can bolt floats on it for water or skis for snow. The most recent addition to the Air Nootka flying team grew up dreaming of piloting a bush plane when his father took him on fishing vacations involving flights to isolated lodges. "I didn't care that much for the fishing," he told me in Gold River. "But I loved the planes."
Before he started flying for a living, however, the pilot excelled in his first career as a professional triathlete. Whether loggers on their way to a 10-day shift of foresting or backpackers in need of a lift to the head of the Nootka Trail, virtually no one knows that the rawboned, well-mannered pilot is three-time Ironman world champion Peter Reid. Reid's rocky passage from world-class triathlete to bush pilot was a shock to most in the triathlon world, both in its substance and the manner in which it happened. During the 17 months following his retirement Reid remained a presence in the sport, making appearances at triathlons and dabbling as a coach, although word spread that he was taking flying lessons as well. His popularity remained high—a triathlon legend fresh off a tremendous career. But to the dismay of his sponsors and fans awaiting his participation in the festivities of the 2007 Hawaii Ironman, Reid refused to get on his flight and never showed up in Kona.
Instead he vanished from the sport, cut off all contact and retreated into exile. Months went by, but eventually word leaked through the ether. Reid had become a bush pilot.
—
I went to visit Reid late last summer. Traveling with me was photographer John Segesta, and when we pulled into the Gold River Chalet (an amiable lodge operated by a couple and their bored-out-of-his-skull teenage son), we called our host. The plan over the next few days was to see Reid in his new line of work and to tag along with him and his girlfriend on a two-day backpacking trip. Reid took only three minutes to walk from where he lives, a cinderblock apartment building, to the lobby of the hotel. While driving down to the Air Nootka dock, Reid calmly alerted us from the back seat, "Watch out for the Bambis." For an instant we had no idea what he meant. Then Segesta hit the brakes and the fawns were spared. Reid laughed at us. "City slickers!"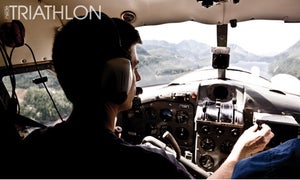 We parked near the dock and Reid invited us to fly with him. He methodically began performing a pre-flight safety inspection on one of the Beaver planes. We climbed aboard and buckled in. We put on protective headphones equipped with microphones—while protected from the noise you retained two-way communication with the pilot and any other passengers. Reid pumped a primer five times, moved a fuel mixture lever to max and flicked the starter. Up fired the smoky, gutty roar of the Pratt and Whitney R-985 radial engine, powerful enough to haul 1,100 pounds into the sky. For Reid, this often means a group of loggers destined for or from a logging camp. A typical Gold River logger schedule is 10 days on, four days off. "People live some hard lives here," Reid said.
Motoring slowly out into the inlet, Reid issued a blind advisory over the radio, standard protocol when you're doing double-duty as the air traffic controller. He tapped at foot pedals to steer rudders. The Beaver has two sets of rudders, one for the water and one for the air. After a flight, forgetting to pump out the water rudders will cost you a case of Lucky beer.
When Reid hit the throttle, the plane plowed through the bay, built speed, then lifted off. Designed in 1929, the De Havilland Beaver is the Swiss Army knife of airplanes. "You can blow two cylinders and she'll still fly," Reid said. The cockpit is unadorned metal, housing the flight instruments, a GPS unit for fog and an oil filler spout and dipstick. The filler is designed to work with the engine running. As Reid banked to starboard, he could have used his right hand to add a quart of airplane oil.
In a landscape rich with old-growth forests, we followed the arm of the inlet to the open sea. Segesta snapped pictures as Reid pointed out the working world of the Sound. We flew over a barge that deployed loggers into sections of the hillsides where they cut down swaths of timber. He explained how guy lines are attached to a rig that lifts the fresh cut timber from the forest to the barge. "They used to move the logs with oxen." In the hills and mountainsides are the scars left by previous logging operations, which would, according to law, be attended by another set of gritty souls, Canadian tree planters. Under low-hanging clouds, Reid showed us small communities dotted around the sound he delivers mail to, like the Kuuquot village. There was also the makeshift home of the local beachcomber, Radar, who earns a living tracking down and selling stray logs. But overwhelming the sparse imagery of civilization was the raw natural beauty that merited British Columbia the motto Splendor Sine Occasu—Latin for "splendor without diminishment." The cloud formation at sunset, Reid told me, "is what attracts a lot of us to float flying."
The Beaver can ascend to a height of 9,000 feet. About 1,200 feet worked for us as we followed the coastline. Being a bush pilot is radically different than an airline captain, and piloting a small craft in and out of small places in a wide range of weather conditions demands an enhanced set of skills. "You fly using all of your senses," Reid explained, "but you rely on visual cues to read the wind—fishing boats, treetops, the rippling of the water. We can fly in just about any weather. But fog is a show stopper."
Reid said a 13.5-hour workday was typical for him. "Fourteen hours is the max allowed." Large downtime gaps between flights can occur on a slow day, a fact that was initially painful for the charged-up Reid to handle. His coworkers took notice. "We had to tell him to slow down," Air Nootka's Ron Sine said with a smile. Reid habitually assumed a head start on anything from hosing saltwater off a plane to getting to work to preparing for a flight assignment. It became a joke among the other pilots when a Reid jumped on a task. "Uh oh," someone in the shop would say. "Peter's got that look."
The flight time a new pilot clocks is critical to advancement. "It's all about the landings," Reid said. "Working for Air Nootka, I'm constantly taking off and landing. This is how you develop your skill and judgment." Rough weather and fog provide the ultimate test of skill, and Reid counters these adversities with supreme caution. "I'm not nervous about flying because I play it very safe. The only thing I worry about is when it gets bumpy. I just don't want the passengers to freak out."
Buzzing along above the Pacific coastline, Reid informed us we're looking down at our future backpacking trail.
"The trail's on the beach?" I asked.
"Yes. Do you see the waterfall? That's where we'll be camping Saturday night."
Looked like a nice place to be from the window of our trusty De Havilland Beaver. My lack of technical hiking skills had me nervous. Even running on a sidewalk, I'm bound to catch a crack with my toe and slam into the ground. But surely I could walk on a beach.
I imagined the hiking would offer time for me hear what happened after Reid's retirement. I knew he'd struggled, a common occurrence in the immediate afterlife of a professional athlete. (Scott Tinley, in fact, wrote a 327-page book on the subject.)
Reid ultimately found a new passion to channel his energy into. His fellow Gold River bush pilots report that his abilities are exceptional considering how new he is to it. "Young pilots are usually behind the plane, reacting late to what's happening," remarked Brad Koop, a co-owner of Air Nootka and one of the pilots. "Pete's already ahead of the plane when he's flying."
Nearing the end of our tour, the sun was sliding into twilight as Segesta continued shooting pictures. The fingers of Reid's right hand were reflexively tweaking at three side-by-side levers, controlling the throttle, fuel mixture and the propeller. He countered gusts by toggling the throttle. "I read the water for gusts," he said. "If I see a lot of gusting when moving in for a landing, I know I'm in for a lot of work." I asked Reid how he managed to excel so quickly as a pilot. "I've approached my flying career just like I did the Ironman."
In triathlon, Reid was testament to the idea that dedication combined with sacrifice can trump superior talent. His record includes concrete victories over athletes blessed with outrageous genetic gifts, names like Lothar Leder, Luc Van Lierde and Simon Lessing. In the 10-year period from 1996 to his 2006 retirement, Reid won Hawaii three times, placed second three times and was in the top five all but one of those years.
After he won his first Hawaii Ironman in 1998, he was asked for a sample of his weekly training schedule for publication. Reid said no. In interviews, he dodged specific questions as to how he did things, as he spent his waking minutes either cultivating an edge over his competition or guarding hard-won advantages as if state secrets. It was clear to me as I sat in the shotgun seat of a bush plane that Reid was now comfortable talking about how he achieved triathlon success. The files had been declassified.
"Hey, look," Reid said, nodding toward the beach. "There's a bear." Indeed, there it was, a lumbering black bear, wolfing away at a bank of kelp washed upon the shore. Segesta set down his camera and was pressing against his window. His voice strained when he tried to confirm the news.
"Did you say bear?"
—
The Vancouver Island web guide read: Nootka Trail: 35km; moderate to difficult. Access to First Beach Trailhead is by hiking from Louie Bay Lagoon, where visitors can be dropped off by floatplane. The trail is considered difficult as its location is quite remote and there are many hazards along the way, including steep drop-offs, crossing streams/rivers and trail navigation. Hiking shoes are needed along the trail.
My Ironman PR is nearly four hours slower than Peter Reid's. This fact resonated in the alarming moment of having lost Reid's footprints in the ribbon of muddy trail before me.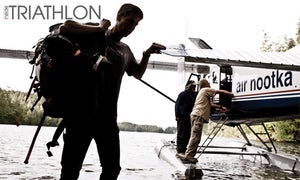 The moment before, Segesta and I were two adventurous journalists tracking Peter Reid through the jungle. Now we were two dazed tourists lost in a British Columbia rainforest, out of cell phone range by two hundred miles and blinded as to which way was west. We had only a vague idea of where we were on the continent. As opposed to being near roads, people and civilization, we were deep in a tightly knit forest of yellow cedar, cypress and hemlock, teeming with cougars and bears. That we were on the turf of bears was particularly discomforting to Segesta, who had admitted to me a phobia of being mauled. Worst of all, Reid had the beer.
In the moments before this profound acknowledgement of our status, I would occasionally catch a reassuring glimpse of Reid or his girlfriend, Malaika Ulmi, a geologist with adventure racing credentials who carried a heavier pack than I did, leading us on the path with jealousy-provoking ease. I had locked my concentration on following the fresh imprints from their boots. Holding them in sight required maximum effort. Then Segesta and I started discussing (of all things) the documentary "Apocalypse Now Redux," about how the original movie was made, how the film crew was cursed with wretched luck, and that's apparently when I wandered off onto the wrong trail.
My right knee was a wreck, so Segesta volunteered to backtrack toward the divide where we lost our way. He'd take a few steps, stop, nervously lean into the trees and clap his hands two or three times—pop, pop, pop—in front of him and to both sides.
"Why the hell are you clapping?" I asked.
"I'm scaring away the bears."
With nowhere to sit in the tangle of trees and mud, or even set my gear, I stood still with my pack digging into my shoulders. It was a spectacular setting in which I was soon to get mauled. I had to laugh: Like a phantom in a Shakespearean play, Peter Reid had vanished.
"History doesn't repeat itself," joked Mark Twain. "It rhymes." Reid's friends have witnessed varying grades of his disappearing act, usually a sign that things were broken in his training and he decided to block out the world to administer repairs. But the big one happened in October 2007. Although he was retired, he had made commitments to appear on behalf of his sponsors during race week at the Hawaii Ironman. His travel plan called for work in New York City and then making his way to Kona. While at a bike shop in New York, talking on behalf of one of his sponsors, Specialized, a cynical audience member piped up. "So, this is it. You show up for a talk and they pay you. This is what you do for a living now?"
The question ignited a chain reaction in the former champion. To Reid it was an insult with sting, suggesting he was coasting along in life by banking on his name. Or that he was there to linger in the spotlight, a spotlight that in truth he suffered in. To get to Kona he was due to board a flight in New York to Los Angeles, where he'd meet up with a close friend, Clint Lien, and they'd make their way to Kona together. In the hours following the insult, Reid stewed into a fury. Lien received a text message from Reid: I can't get on the plane. Instead of going to Kona, Reid went incommunicado.
In the Kona village, information traveled fast: Reid wasn't coming. His sponsors took a painful hit, especially Newton running shoes, a young company that invested heavily in the marketing value of Reid's presence.
"Him not getting on the plane wasn't a surprise for me," Lien says. "I knew Pete was depressed at the time. He was in a really black place. He knew his decision to skip out on Kona would cause him a lot of grief."
For Reid's part, the barb delivered at the bike shop stirred the same cold-blooded motivation that propelled him to his first Hawaii win in 1998. In New York he decided, then and there, he would allow nothing between himself and flying planes for a living. Instead of going to Kona, he moved up the date on a commercial pilot's exam. He then went about steamrolling his way to a first job in six months, an extraordinary feat considering how few hours of flight time he'd clocked.
"It was the same thing with me in triathlon," Reid said. "It was when my dad scoffed at the idea of me becoming a professional triathlete. He told me it wasn't a real career. My racing was about proving him wrong."
Early in his career Reid created noise in the U.S. as a professional triathlete when he won Wildflower in 1996. Working with coach Roch Frey, he made even more noise by finishing in the top five at the 1997 Hawaii Ironman. But it was when he started training with Tim DeBoom that he went from good to great.
The two met at Wildflower in 1998 and Reid joined the American in Boulder for a stint of high-altitude work. Reid stayed at Paula Newby-Fraser's house, and in the evening he peppered the eight-time Ironman world champion with questions. "I would ask so many questions I started to piss her off," Reid recalled. "She decided to limit me to one question a day."
With the freshly imposed limit, Reid and DeBoom would think up a question for the day during their bike rides, going back and forth on topics and polishing up the final choice like a fine diamond. DeBoom refers to the wisdom doled out by Newby-Fraser, and through Reid, as his education. "I learned a lot from him as he was learning from Paula." During this time, DeBoom observed, first-hand, Reid's dedication. "Pete was a key factor in my career. I modeled myself after him."
What DeBoom borrowed from Reid lends clues to the truth about achieving greatness in multisport. You want to win the Ironman? Start by shutting out the world.
"Once I trained with Pete, I saw how much focus and energy he was putting into it," DeBoom says. "The training was the easy part. It was doing everything else right that was hard. You have to make sacrifices. It's detrimental to the rest of your life." Holidays, DeBoom singles out as an example, bend to the demands of your training and recovery priorities—there's no hopping on a plane for a family reunion. "Your life becomes unbalanced because you put so much into the sport. My brother Tony saw this: how Pete and I would tune everything out. And when you get to that level, you will have moments where you ask yourself if it's all worth it."
After the summer of 1998 and graduating from the University of Newby-Fraser, Reid won his first Hawaii Ironman. He celebrated that night by going to McDonald's, where he ate a burger quietly as he listened to friends from Canada chat. His post-victory disposition was similar to the modest celebration he endured after a hard-fought Ironman Australia title earlier in '98, where he sipped at a beer as if it were a bottle of Nyquil. When he edged out DeBoom in the 2000 Hawaii Ironman after a tough battle, Reid says there was no time for relishing the moment. "Tim had pressed me hard. I knew that starting the next day I would have to take things to the next level. The very next morning I was back on the program."
DeBoom met up with Reid in December and was awestruck—Reid was in full training mode. "I had been doing some unstructured training but I was still eating anything I wanted to," DeBoom recalls. "Pete was already dieting."
Reid's post-race analysis forced him to eventually make a choice that reflected the depth of sacrifice DeBoom speaks of. During the run DeBoom annoyed Reid by exploiting an idiosyncrasy: Reid hates it when someone runs or bikes on his right side. The left side is fine, but you'll drive him nuts by running on his right.
"I knew I was pissing him off," DeBoom says. "But in 2000 I wasn't in a situation where I could have assumed the lead."
The two were best friends, but it was obvious to Reid that DeBoom was capable of winning and simply knew too much about him. Reid decided the friendship had to be pushed to the margin. It was a temporary casualty. The relationship would be fully restored by 2005.
One of the most telling rituals in Reid's pursuit of the sport was his fabled "Kona camp." In the last three months before Hawaii, Reid trained in Kona for two weeks while living at 6,000 feet up the Mauna Kea mountainside at an empty Girl Scout camp. Reid lived alone, sleeping on a mattress and carefully following the dishwashing rules to disenchant the mice. By day he would train at sea level and return to the camp in the evening. Reid says within this "solitary confinement" he would sweep his psyche in search of unresolved doubts and questions that, if left untended, could on Ironman day grow from a hairline fracture into the compound variety, increasing the possibility of mental collapse when fighting to hold sub-2:50 marathon pace, the Queen K is sizzling in the afternoon sun and the race is on the line. Reid describes the effort to sustain a winning pace as "a world of pain."
Entering this state with questions will render you a slave to their sway, and Reid says countering this dynamic was the critical purpose of the camp.
But in 2003 Reid crossed the finish line in first place and found new questions waiting for him. "I watched him win the race online," Lien recalls. "He did a fist pump as he came across. But then he was just walking around. I knew that look and I thought, 'Uh oh.' He called me from the finish line on his cell. He told me he wanted to go home. He asked me, 'What am I supposed to do? Win again?'"
—
Back on the trail and searching for Peter Reid we were on the move, although I noticed Segesta's increasing concern over my well-being. I have a cranky right knee because of surgery incurred after a high school football injury. Trudging through the thicket with an 80-pound pack weakened it further, and as time wore on each step became a chess move with bountiful opportunities for disaster. There were rocks, stumps and fallen trees to traverse. And then it happened, a poor choice, and my right leg crumpled below me, the pack flipping me over into the mud. It felt like a bolt cutter had been used on my knee. A brief out-of-body experience followed where I assessed my situation from above. "They'll never be able to get him out of here," I thought of the poor bastard writhing below.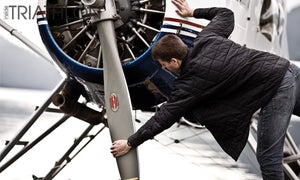 Malaika eventually found us. It wasn't as bad as I'd feared; my knee had swollen, but I could walk. We made it to the beach. Reid gave me a spare T-shirt and I wrapped up my knee, and the three of them insisted on dividing up the contents of my pack. I felt a rising tide of guilt. I was the group's ball and chain, even with the reduced weight load, but everyone seemed less worried about me slowing them down than my general welfare. The good news was that it was a beautiful day in a beautiful place.
"It's about a six-mile hike," Reid told me, looking worried. "We just need to make it to the campsite by sundown." He spied a loose pocket strap on my pack. True roadies can't stand imperfections in how their bikes are taped and wired, and Reid is a true roadie. He couldn't take it—he spun to my side and fixed it.
Reid started hauling. He was moving 10 to 15 times faster than me. He yo-yoed the hike to Calvin Falls, getting a mile or two ahead, then coming back, then flinging back out.
With an hour of sunlight left we made it to the site, a waterfall emerging from the forest above that splashed into a beach pond, the ocean at its footstep.
We set up tents not far from the falls and built a campfire. Segesta built his tent four feet from mine. Strength in numbers, he explained, would more likely "repel the bears." To the southwest, a glowing crescent moon was suspended over the sea, and the thick band of the Milky Way stretched above us. I sat on a slab of driftwood and watched in awe as Malaika used various camping widgets to cook up a feast of vegetables, green curry, cashews and spiced rice. She offered us red wine and later, after dinner, hot chocolate or tea.
I gratefully accepted a cup of hot chocolate. In my notebook I compiled some of the training insights Reid had mentioned to me during the trip.
"After long bike rides I liked to do my transition runs on fields of logs and rocks like you see on this trail. It taught me how to concentrate when I'm tired."
"Diet is one of the greatest misconceptions. Some think you must be able to eat whatever you want. That's so not true. When I was preparing for Kona I would not keep any food in the house. It was too easy to put on weight, and you have to be lean for the marathon. I'd be so hungry. I'd go to sleep with a headache."
"One of the keys to doing well in Hawaii is consistent training. You have to keep commitments to the minimum. Especially after you win Hawaii, it's hard. People want more from you. Trips take a toll; flying wears you out. You have to stay off your feet when you're not training."
"You have to organize your year around one race. It all has to be about winning Hawaii. That's the priority."
"My training never changed a lot. You get more efficient every year. Early on I could only race for seven and half hours. Later on it was eight hours. I might have clocked the same swim time in different years, but as I got stronger I would do it with less energy."
"I liked secretly working on things that I could use to get my competitors thinking. One year I put a lot of time into improving my swim just to surprise the other guys and try and get them off their game."
In front of the fire Reid told me about the aftermath following his 2006 retirement.
"The week after I retired I stayed in my apartment and ate pizza," he said. "I was going sideways fast." He chipped away at getting a basic piloting education during the following year, but he began to worry about the lack of income. He tried coaching but knew it wasn't his thing. In summer 2007 he started to mount a comeback with the idea of a top-five Kona finish to net some cash, but a stress fracture wiped out the attempt. Weeks later he would break his ties to the sport by not boarding a plane for Kona.
Although Reid disconnected himself to bulldog his way into another career, he has reclaimed an attachment to triathlon. "At Ironman Canada, I worked at an aid station and cheered people on. I absolutely loved it." His adjusted relationship with the sport has allowed him to do things he never allowed during his pro career, like, for example, spending a couple of days backpacking on the Nootka Trail with his girlfriend, having a plastic mug full of wine and not having to restrict dinner to a caloric minimum.
He leaned back against a log and looked at Malaika with a smile. "I eat healthy when she's around, but the other day she saw the can of Cheez Whiz I have in the apartment." Reid added that Cheez Whiz on toast is a current favorite.
You wouldn't know it when you see him—that Peter Reid likes Cheez Whiz and will on occasion pick up a six-pack of Lucky beer. ("Before I rarely ever drank," he says. "Now the lady at the liquor store knows me by name.") Reid doesn't look like he's put on any weight, and it's obvious that although his work day can be as long as 14 hours, he still gets out for a run or mountain bike ride on the trails near Gold River.
Except for a few graying hairs, the main difference you see in Reid is that he's enjoying himself, a change pointed out by Tim DeBoom. "It's a strange thing about winning the Ironman," DeBoom says. "You don't have the time to appreciate it when it happens. It takes time. I'm at a point now where I can look back and feel good about my wins. I look at Peter and I can see the way he is now in his life and how much he's enjoying being with Malaika."
The next morning we packed up camp and hiked to the pickup point. From the south we could hear the approach of Brad Koop, flying his beloved De Havilland Beaver. We waved to him. The plane angled downward and Koop aimed it at us like an archer drawing a bow. Koop is renowned for his fly-bys. "You haven't done it right unless you make them duck," Koop had said the other day. As the seconds ticked and the plane's path remained on course for the four of us standing on the beach, the moment was flushed with disbelief when he gave no hint of pulling up.
"VROOOOOMMMM" was the sound as we all dived to the ground—except for the bear-skittish Segesta. From flat on the ground I looked behind me and there he was, not even a bend in his knees, dutifully firing his camera at the arcing plane.
The Beaver circled and landed on the water. We loaded the equipment. Koop, appearing caffeinated and wearing flip-flops and beach shorts, rushed the pre-flight safety talk and tacked on, "Any questions my name is Brad," and with that he slammed the door.
—
One month later Reid returned to the Big Island to appear on behalf of his old sponsors, repair a few relationships and watch the race.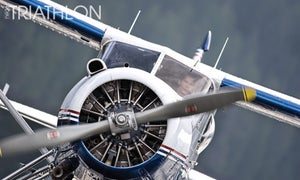 In the weeks and months immediately after the 2008 race a rumor that Reid might return to Kona began to pick up speed. The rumor was true; Reid was thinking about it, but with the advice of friends, he decided to wait until the New Year and see how it felt. He ultimately changed his mind. "They were right," Reid told me over the phone in February. "I imagine I'll have those feelings at times, but it will get better." He went on to talk excitedly about his flying. He was working through the winter at Air Nootka but suggested that he has another opportunity waiting for him in the spring, another step upward in his career.
One of Reid's former competitors is Faris Al-Sultan, the 2005 Kona champion. Reid has spoken frequently of him as one of the triathletes he most admires. Al-Sultan has a mutual respect for Reid.
"I'm glad that he found something that he really enjoys," Al-Sultan says, "because I felt a bit sorry when I heard about his possible comeback. I mostly feel sorry when I hear about athletes doing that because most of the time it shows that after receiving so much from their beloved sport—regardless of whichever sport it is—they are absolutely unable to find anything close and cannot do without it. Of course it's a hard task to reorder your life after dedicating it to sport. Especially in Peter's case, his achievement should have given him so much pleasure, self-esteem and happiness, not to mention admiration, that he could pick up anything else and enjoy it. Even without excelling at it.
"Although," Al-Sultan thoughtfully added, "I'm convinced Peter makes a fine pilot."