"I Feel That Car in My Body:" Surviving an On-Course Collision at 70.3 Worlds
When a driver pulled onto the live course at 70.3 World Championships in St. George in October, Mark Evans' race for redemption became a race for survival.
Photo: St. George News/STGnews.com
Heading out the door? Read this article on the new Outside+ app available now on iOS devices for members! Download the app.
Like most people racing in St. George, Utah, on September 17, 2021, 47 year-old Mark Evans was realizing a longtime dream of finally competing at an Ironman 70.3 World Championships. But that big dream soon became an even bigger nightmare. Halfway through the race, a sudden shift in weather unleashed Mother Nature's wrath on St. George. With 80 mile-per-hour winds, rain, and hail barreling through the course, hundreds of athletes, including Mark, had to pause their race and seek shelter.
"I was so disappointed because I knew it wasn't going to be a PR [personal record] day," Evans said. "It tainted the whole race for me."
But shortly after, fate offered a chance at redemption. When the announcement was made that the 70.3 World Championships would return to the same location in 2022, Evans knew exactly what he had to do.
For the next year, Evans was laser-focused on re-qualifying for 70.3 Worlds again. Despite recovering from a broken ankle, a new job, a new relationship, and a move from Boston to Cary, North Carolina, Evans diligently checked every box on his training plan. The long training build-up paid off in the form of a qualifying spot at the 2022 70.3 World Championship. Despite a lot of life changes and stress, Evans felt ready for another crack against a global field.
But sometimes things don't play out like they do in the movies. Evans' race for redemption soon became a race for survival. While the race was in progress, and Evans out on the bike, a local resident drove their car onto the bike course—directly in front of the hard-charging triathlete. He crashed into the vehicle, resulting in four broken vertebrae, four broken ribs, a broken nose, and a major injury to his right arm.
Photos from the aftermath of the collision are gruesome: twisted carbon-fiber bikes on the asphalt in one, a bloodied aero helmet in another. The backside of the Jeep driven onto the course is severely damaged – evidence of just how hard Evans' body hit the vehicle.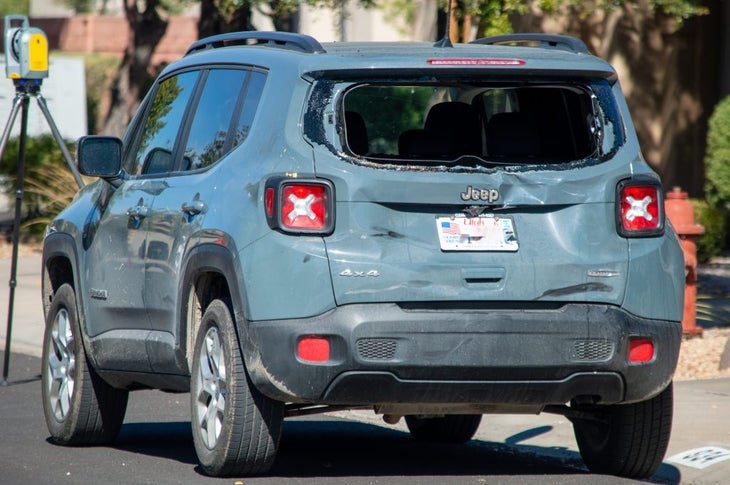 And yet, in the days and weeks that followed the intense crash that very well that could have ended his life, Evans stayed sunny. He cracked jokes in the hospital. During his recovery, he was more concerned with how others around him were doing, be it the nurse on duty or his girlfriend, Lynnette "Nettey" Nygard. Once in a while, he could be spotted dancing down the hallways of the ICU to get a laugh from others. Even in the midst of a tremendous recovery challenge, Evans showed his secret weapon in triathlon and in life: powerful positivity.
The long, winding road to race day
Evans is a lifelong athlete. Growing up on a 100-acre forest with eight siblings meant he was always outside for camping, throwing rocks, or riding motorcycles. It was a high-school running coach that planted the seed for endurance sports, however.
"It was one of the best experiences I had in high school because I was vulnerable and I felt like I wanted to do something for me, whereas up to that point it was to please an older sibling or my dad," Evans said.
That dedication and drive spilled over into his eventual career in the Navy, where he spent 22 years traveling all over the world—14 years of which spent as a Nuclear Submariner in Special Warfare before eventually rising to a command level doing high-ranking, but high-stress work for a helicopter squad. When he needed to process something at work or clear his head, he turned to running. While stationed in San Diego, the birthplace of triathlon, Evans was in the best place to be introduced to the sport. He began competing in local sprint- and Olympic-distance races.
After retiring from the Navy in 2017, while in the midst of being a full-time student and working full-time, Evans trained more seriously for triathlon with his local club. In 2018, he finished his first full Ironman in Mont-Tremblant.
Over the years, Evans has become well-known in the triathlon community. In addition to developing into an impressive and competitive age-group athlete, he's gained a reputation as a great supporter and cheerleader. Needless to say, Evans had a fan club ready to return the favor of cheering him on at the 70.3 World Championships in St. George.
When news of the collision began to spread, so too did the concern and outpouring of support.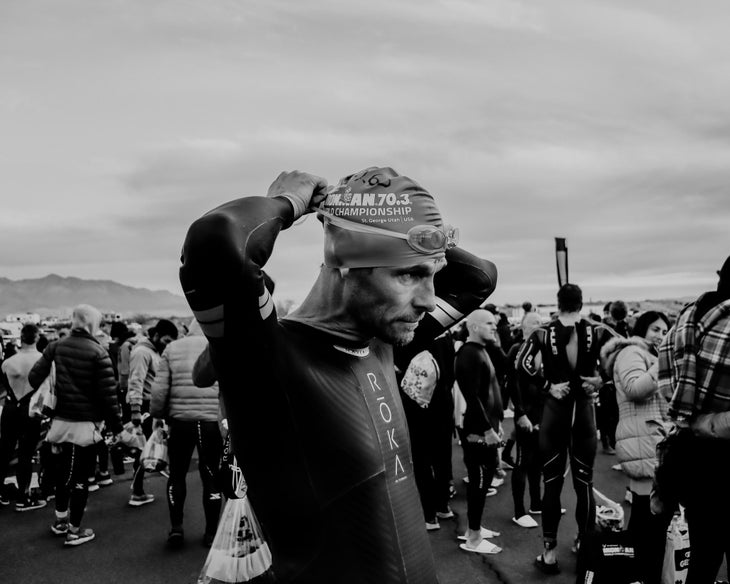 The crash
It was a cold race morning in St. George, yet Evans felt strong as he exited the water, gave a smile and a wave to Nettey, and rode off onto the challenging 56-mile bike course. He remembers feeling a level of safe familiarity; this would be his second time on the course after racing the year prior.
While descending a portion of the race on Telegraph Road, at speeds reaching 40 miles per hour, Evans remembers seeing eight or nine cars stopped at an intersection up ahead. Though police officers were stopping and directing turning cars at intervals where cyclists were not entering the road, one driver moved onto the race course without approval from an officer. The driver allegedly later admitted to being under the influence of marijuana, according to The St. George News.
"I had a very real moment from my operational Navy days," Evans said. "I thought, This is a bad thing, how do I not make it worse? I immediately went into triage mode. I tried to go to the left, but hit the car."
Evans slid along the bottom of the window and sliced his arm while his head hit the other side of the car. As he was falling down from the car, another competitor hit him, and they both went into the car again. 
Evans remembers being surrounded by people immediately. A woman's voice was persistent, ordering people to specific tasks prior to medical personnel arriving on scene. Evans would eventually learn his savior was Patty Schwartz, who had served as an EMT for several years. Her experience and leadership – in addition to the impeccable timing of her arrival on scene – is the reason Evans still has his arm today. It's a heartening example of the enduring goodness of others, Evans insists.
"There is nothing wrong with this world," Evans said of the swift action from total strangers. "We just watch too many news stories."
Upon arrival at the hospital, Evans did not feel too much pain. He was even cracking jokes with Nettey and her parents. In that moment, his biggest concern was that he ruined the entire weekend. But when the doctor covered his face prior to taking the tourniquet off his arm, his lightness shifted to doubt. The seriousness of the situation was suddenly very real.
"I had a deep rush of emotions and fear of missing parts of my children's lives," Evans said. "One of the deep, compelling reasons in retiring was to be there for my kids, and I wanted to be able to do it with my whole body. This was the beginning of a long struggle with that potential reality. My mind went there, and it hasn't left."
"I feel that car in my body"
With the help of an incredible team of doctors in St. George, Evans eventually left the hospital two weeks after his collision. He then returned home with Nettey to his home in Cary.
The major challenges for Evans now are regaining full function in his hand and addressing the psychological aspects of healing from the trauma. It's something he's struggled with, even with his usually-positive approach.
"I feel that car in my body," Evans said. "I have glass in my face and stress on a subconscious level impacting my recovery. My arm is on fire because of all the healing going on in there."
But just as running helped him during his Navy days, training has been a bulwark of the healing process from the crash. Evans decided to start fresh with a new coach, Kelly Fillnow, who has been extremely supportive in his return to training. With time, he has built up the ability to to train in all three disciplines of triathlon, making progress every week and always holding himself to the highest standard.
"The reality is that I hold myself to a high standard because my Dad always did that, and that was his lasting impression on me," Evans said. "It always come to the forefront whenever I am faced with a challenge: I am able to suck it up and get it done."
Evans will go back to St. George for a third time in May this year – this time, to support Nettey as she competes. Additionally, he looks forward to visiting with all of his doctors and people in town who supported him after the crash. In July, Evans will return to racing in his home state of Pennsylvania for the Inaugural Happy Valley 70.3 in State College. It will be a redemption race of a whole different kind.
"I've got that hunger again," Evans said. "I feel that same anticipation and desire to perform well at Happy Valley that I did at St. George this last year."
RELATED: What Does It Take to Close the Roads for a Triathlon?