Chris McCormack Talks Kitzbühel
Chris McCormack weighs in on his race in Kitzbühel and what's ahead as he goes for the Olympics.
Heading out the door? Read this article on the new Outside+ app available now on iOS devices for members! Download the app.
Last weekend, reigning Ironman world champion Chris McCormack made his return to the ITU at the Dextro Energy World Championship Series event in Kitzbühel, Austria. After essentially retiring from the circuit in 2001, McCormack announced earlier this year that he would forgo defending his title in Kona and instead attempt to qualify for the 2012 London Olympics for Australia—the one accomplishment he has never achieved in his long and storied career.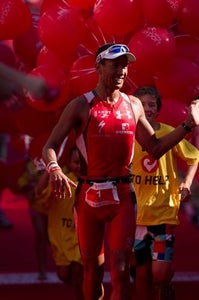 Less than two weeks after winning Challenge Cairns, his result in Kitzbühel was less than auspicious. McCormack, who was the 1997 short-course ITU world champion and who was unfairly left off of Australia's 2000 Sydney Olympics team, had trouble swimming with the pack and was in nearly last place as he started the bike. He dropped out midway through the bike and Tweeted, "Joined @simonwhitfield on the side of the road here in Kitzbuhel. Empty tank for me today 13 days after Ironman. Kids r fast. I had nothing."
Great Britain's Alistair Brownlee won the race in a display of sheer domination, leading nearly wire to wire.
In the following interview with Inside Triathlon editor-in-chief Courtney Baird, McCormack talks about his experience on Saturday and what to expect from him as the year progresses. He is currently training with the Australian national team in Aix-les-Bains, France, as he prepares for the Dextro Energy World Championship Series race in Hamburg, Germany, on July 16.
Inside Triathlon: Can you take us through what happened in Kitzbühel?
McCormack: Well, I was very very very flat. I was disappointed, to be honest. I wish I didn't start there but the federation [Triathlon Australia] had asked me to. I was apprehensive going in. I didn't do too much and I felt OK in training. I thought, "Well, who knows. Maybe this will work out all right." In the warm-up I dived in the water with Alistair—I had been chatting to him in the week leading up. I went, "Uh oh. I'm in trouble now." But 20 minutes from the start of the race, you just go and have a go. It was difficult, I must admit. Pre-race, it's been 10 years and a lot has changed, you know. Coming back, it's a different scene. I think it's a lot more intense. People don't seem to be as friendly within countries. But it was exciting. I felt like a kid at Christmas. Everyone was so open and friendly [to me]. I felt the guys—there weren't as many from my old brigade, a lot of them are coaches now—but guys like Maik Petzold and Steffen Justus, they were like, "Welcome back." I felt really welcomed, which was nice. … The level [of competition now] is incredible. Alistair Brownlee is an amazing, amazing athlete. It was very nice. My race wasn't where I wanted it to be. I was out of the game from the start. I didn't anticipate to be so bad. [But] I'll be back again. It was enjoyable—I had a ball.
Inside Triathlon: Can you compare the difference between an ITU race and an Ironman race?
McCormack: The difference? It's a different atmosphere. You don't have the amateur element, which brings a lot of hype in an Ironman race. I think if you saw Ironman as a major Hollywood production, this is more of a stage play. It's much more focused and refined. I think the production is wonderful. I think the ITU does a phenomenal job. It's a much more intense vibe. Ironman has an intense vibe, but it's drowned out by the energy of the amateur. You don't realize how much amateurs bring to the sport [until] you take them [out of] the game. It's definitely a different feel. I think what the ITU has developed is a class of athletes that is phenomenally well-rounded. I don't think they're rewarded enough for that, maybe because without the amateur element there, these guys are relatively invisible. You have to do amazing things to get recognition outside of the ITU. The guys coming in eighth and ninth are phenomenal athletes, but they're invisible to some degree. You know, if they were in the United States, they would be winning everything. It's sad that that's the case. But that's an issue for the sport and system. I knew that going in, and I've always said it. They're great athletes—gifted and well-rounded. … What the ITU has developed is an athlete who is far superior at the three sports, at that distance, than has ever been [around] in the history of the sport. What Alistair Brownlee did [in Kitzbühel] is amazing.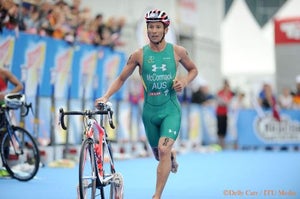 They're brilliant. They're frickin brilliant. It was great catching up with the old brigade, and they were so welcoming. I didn't know how I was going to be received. I really wanted to make sure the ITU kids knew that I'm not thinking I'm Mr. Big Ironman guy. I'm not better than you in any way, shape or form. I felt like the new kid at school. I met up with Alistair and all those guys. I was a bit upset that I was getting a lot of the press [leading up to the race]. I hope these guys don't think I'm a jerk in any way, shape or form because I have a lot of respect for them. I want to make it clear that these are two completely different sports. And these guys need to be rewarded. They need to be understood and rewarded and understood for their sport. [Some people] try to ask, who is better, Raelert or Brownlee? They are different athletes. [You can't compare them.] Alistair Brownlee impressed me immensely in Kitzbühel. He's unbeatable. When he's on, he's unbeatable.
Inside Triathlon: What do you have to do now, training-wise, to get where you need to be?
McCormack: Training-wise I think I really need to recover from Ironman and then add some threshold to the mix, which should come up pretty quickly in camp here. It is just a matter of now locking into a training zone and getting the heavy lifting done now but being delicate in the progress. The racing is about the swim, so swim for me will be key, but staying with the swim group is not a tough task. This will not be a problem. I just need to now get some speed up, build my engine and get that threshold work done. This will be easy with the Australian guys here to work off of in camp.
Inside Triathlon: Where would you like to be when you race in London?
McCormack: Well, firstly, I need to get the London start. I have said all along that having the top speed to match these guys for the win is not going to happen. My real focus would be on trying to nail a top-10 finish, which would be a great performance for me anywhere in one of these events. The leg speed these guys have is incredible and you don't develop that in three months. I am enjoying the entire thing, to be honest. It is funny, being amongst these guys, they seem to be very flat emotionally with the [World Championship] Series simply because they have so much riding on it. I am really pumped about racing each event and looking for improvements right across the board physically for me. It is an enjoyable process, and the racing allows me to see how far I have come.
Inside Triathlon: If the race had gone perfectly for you on Saturday, how would it have gone?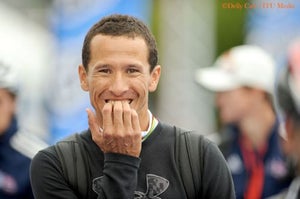 McCormack: The race in Kitzbühel for me was terrible. I was seriously flat and tired post Ironman and just had absolutely nothing. I could not get my heart rate up and was just tired. In a perfect world, swimming where I usually do would have put me mid-pack. The way the race unfolded the groups would have come together. I would have gotten really aggressive in the rain and, looking at the run, probably a top-15 finish at best for me in those conditions. If I could have gone with the boys in the break things would have been different but the speed across the board for these guys is impressive. In a perfect world, I would have played a lot more on the bike and taken a lot of chances in those sort of conditions. [Editor's note: It was freezing and raining in Kitzbühel during the men's race.] I love riding in the rain and sh#$y conditions. This would have been a big asset and maybe a bigger gap on the bike could have been established. Who knows.
Inside Triathlon: How is the training camp in France with the Australian national team? Who is all there?
McCormack: The entire Australian Team is here except Emma Snowsill and Courtney Atkinson. It is really cool. Adjusting to this type of structure is a little different, that's for sure. Also seeing where the sport has come on this sort of level has been an adjustment. It is not as social and outgoing as it once was, so this is different. People don't tend to socialize as much anymore and really it is just train, sleep and train. It is a little different, but I will roll with it. The Aussie Team is so young and it is nice to see the focus and the passion in their eyes. You get inspired by this as an older athlete. I would do a few things in camp a little differently if I were running the show, but the system seems to be working, and for me it is different, so I am enjoying it.
Inside Triathlon: Whereabouts are you in France?
McCormack: Aix-les-Bains, which is about 50K from Geneva in Switzerland.
Inside Triathlon: After what happened on Saturday, have you gotten any flak from the haters? (They know who they are.) Do you even care?
McCormack: I don't even care. My entire career I have copped flak from haters, so it is nothing new to me. I have never been driven to do what others want me to do. I do what I want to do and achieve what I want to achieve. These are my goals and my objectives and my life. I have never understood why people take such a personal attachment to my dreams and aspirations like it is offensive to them. Since day one I have been attacked for wanting to do this style of racing again. Who the hell do I think I am? I will never be able to beat these guys, stick to ironman, go back to Kona. How could I not want to win Kona again? Go and race [Michael] Raelert, I am scared of Realert. The messages I get are just amazing. My answer to all these is: I don't give a sh#$ what you think. This is my life, my ambitions and my decisions. Like I have done with everything in my career, I do it my way, chase my dreams and try to achieve. People call me arrogant or cocky simply because I make these decisions and go for them. I know what I am athletically capable of doing and have never said I think I can win or destroy Alistair and the boys. What I have said is, "I think I have a chance to make the Olympics (something I have never done before), and I think it is worth chasing." I have won everything I have ever wanted to win in this sport—Kona and everything—what person would not want to go to an Olympics if the possibility were presented? So to answer the question, yes I have gotten some hate mail, but, yes, I have had lots of emails of support also. I will continue to chase this dream and if it works out, then awesome. If it doesn't, then I will have no regrets. My entire career has been built around making sure I have no regrets and leaving no rock unturned. This Olympic chase is the same thing. Why would I not have a go? Anyone who doesn't see that is blind. I ask them to ask themselves what they would do if they were presented with an opportunity to maybe represent at an Olympic Games for their country at 39 years of age, with the possibility to take your kids? It would be awesome. And the worst thing that could happen is that you don't go, and you can continue to do what you do. Come on. It is obvious what anyone would do, and that's what I am doing!
Inside Triathlon: Thanks again, Chris. I really appreciate it. Best of luck at your training camp and in Hamburg. I will be watching the race bright and early from my computer.
See also –
Macca Proves He's Still Got It At Challenge Cairns
Macca's Back: Chris McCormack To Race ITU WCS Kitzbuhel
TriCenter: ITU WCS Kitzbühel Race Wrap Up
A Training Day With Chris McCormack
More Chris McCormack Content