Chris McCormack Reflects On Hamburg
The man they call Macca still has work to do if he's going to qualify for Australia's 2012 London Olympic team.
Heading out the door? Read this article on the new Outside+ app available now on iOS devices for members! Download the app.
Chris "Macca" McCormack proved he could play with the young guns with his 26th-place finish at the Dextro Energy World Championship Series event in Hamburg over the weekend. Here, he talks with Inside Triathlon editor-in-chief Courtney Baird about the race and how he bettered his DNF in Kitzbühel. McCormack is currently training with the Australian team in France.
Inside Triathlon: Congrats on your race. Can you give us a little insight into what you went through out there?
Chris McCormack: It was a lot of fun, to be honest, and to have a body that is keen to cooperate was nice. Kitzbühel was tough two weeks after Ironman—I was so flat and tired. But now I was where we expected to be after 1 month of work. The swim was very rough, and these kids are so fast off the start. After you settle around the first swim buoy and fight your way through, the swim is pretty easy and laid-back, to be honest. You can't really move forward because of the guys in front of you, so you just sit and swim. The bike was relatively easy. The ability to draft does make the game a little easier on an overall perspective. The frustration can come when guys in the group just don't want to work and are happy to let the race unfold in front of them. When you are in a second group, the race is still up the road, so working should be the mindset until you hit the front bunch. Some of these guys just don't think that way, and that in itself is frustrating. I think this is why the Brownlee boys [Alistair and Jonathan Brownlee] are doing what they do. They are not waiting for anyone, and this "sitting-in" tactic that has been a common theme in this style of racing is putting many athletes on the back foot. It's an attitude thing and this will change with time as more and more races get ripped apart by fast swimmers who are keen to work and also run quick. The mindset has to be different.
PHOTOS: Chris "Macca" McCormack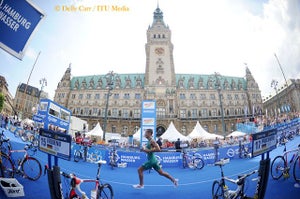 The run was pretty much where I expected it to be. There is still lots of work to do, but around 31:30 is where we saw ourselves. I must admit that the drafting on the bike gives some athletes the ability to run much quicker. This is something you have to consider. Non-drafting races tax every athlete on the bike at a relatively similar percentage over time. So their runs are somewhat affected. In this style of racing, even though you are all off the bike together, some guys have rested much more than others and this enables them to run much quicker. The Swiss were a great example here. They did nothing on the bike and ended up racing well on the run. Only last week I ran 1 minute quicker than all the Swiss guys when they had to ride the bike in a non-drafting event [The 5150 Zurich]. We all got off the bike together in Zurich the week prior, but they simply did not have the legs to run then as the bike had hurt them. This is a big part of the game with ITU and something I have taken on board, that's for sure.
Inside Triathlon: It looks like you're heading in the right direction in terms of qualifying for the Olympics, but you remarked after the race that you still have a lot of work to do. What are you specifically looking at improving?
Chris McCormack: I need to get the little things done right, my transitions and not give away time with penalties through habits you acquire racing in non-ITU sanctioned events. We need to tidy these little things up, and we have much more room for improvement in my run. I am sure Brad [Kahlefeldt] and the team here in camp will tell you that. My run is coming along really well and we have a huge upside to that, I am sure, but I just need to be delicate with the excess threshold work as it is so new to my game. We are running 31:30 already, and I think we have another 1 minute there of improvement in a short space of time. My strength is good—it is just a matter of building that threshold that I don't have [from the] years of Ironman work. This will come because the base is so solid. I am absolutely loving the process, and I think the Aussie team is loving having me in camp. They have named the success over the weekend in Hamburg as "The Macca Effect," as we have had a really great time in camp, and I have really focused on building a solid foundation and camaraderie amongst the entire team. I think this was missing before. We are much more social as a team (something that I love) and I think this is feeding the training energy in camp. I will get better training with these guys, and I really feel like my chances to make this team grow day by day. I am getting more confident the more I do this!
Inside Triathlon: It looked like you were pushing the pace a lot on the bike. How did the legs feel once you started the run? Did they feel different than they do in non-draft short-course races?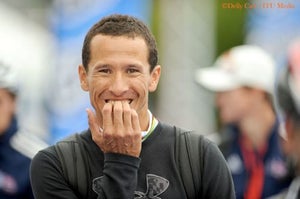 Chris McCormack: Yes, this was a big learning curve here. I chased too many of the bike primes and probably did too much work, but it didn't feel hard, which is the deceptive thing with this style of racing. Legs felt like normal post the bike ride, but the guys have so much more zip in their legs after this type of ride as they only have to put out small wattages to sit in. This is what makes this so tough. The run is lightning quick early, as the bike really doesn't take anything from the legs. If you do too much work on the bike, you pay for it on the early stages of the run, and this sort of time loss puts you out of the game. I took a note mid-run about this exact thing. In London, no more bike primes for me. Keep the wattage as even as possible and minimize the bike damage. If I have a run threshold around 30:30 for 10K then I need to be able to unleash that as close to max as I can. The more I do on the bike, the more I push this run threshold up towards 31 minutes. I have to pay somewhere. Guys like Brownlee etc. have much lower threshold run speed and power, and this is why they are ripping these fields apart. Their bike aggression is ripping the mindset of many of these racers to oblivion, and they have such a solid threshold on the run that they are still able to unleash the fastest run splits. Until nations start to realize what is happening here, they are doomed. I keep bringing this point up at camp here. The key to the game is knowing where you stand athletically and then pushing through the race so as to ensure you are able to maximize that at the moment that matters.
RELATED: Chris McCormack Talks Kitzbühel
Inside Triathlon: Your work on the bike helped Brendan Sexton get into the lead pack. Were you looking to work as an Australian domestique?
Chris McCormack: No, but I am all about Australian success. Sure we are all looking for Olympic selection, but as I have said in camp with these guys, I want to see Australian success. I was very attentive to making sure Brendan and Dan [Wilson] did minimum work in the chase to the front. They were as motivated as I was to get to the front, but I really did not want them to do the hard yards. Watching the Swiss guys and the Russians and some of the Germans sit in for the free ride pissed me off, but that is this style of racing. When I saw that, my entire focus was, "Hey guys, I will do the heavy lifting, you save the legs." It was not a planned decision, but I did not want the Australian team to be used up to close the gaps. I wanted to make sure these boys were in a position to unload on the run, and they were. Brendan is a great runner, as is Dan, and right now they are probably running a little stronger than I am off the bike. Dan faded a little on the run but Brendan was solid across the board to get 16th place. Australia had a great day and we want to make sure we can secure 3 Olympic spots. That's as much my focus as is making the team.
Inside Triathlon: Your swim was a lot better in Hamburg than it was in Kitzbühel. What kind of training have you been doing to improve your swim?
Chris McCormack: My swim is where I expected it to be. We swim a lot here in camp, but really I swim how I swim and always saw myself as a mid-pack swimmer in this racing. It is all about the start nowadays with a two-lap swim. Where you are at the first buoy is where you stay. Greg Bennett and I swim about the same, and he is always in the top 1/3rd of the field. You quickly learn that no matter how much extra swimming you do, if you can't keep up with the speed to the first can, then there's no use doing any extra. You simply cannot move up. The course is too tight and there are too many guys in that area. Kitzbühel was the first swim session I had done since Ironman 13 days prior. I knew I was in trouble in the warm-up. That will never happen again because I won't race Ironman before a WCS race!
Inside Triathlon: You've been training with the Australian team for a while now in France. What sorts of things have you been doing to get ready for short-course racing?
Chris McCormack: For me it has mainly been trying to get up to speed. I have really enjoyed the guys and girls in camp. It has been fun, I must admit. I know what I need to do, but they have youth on their side so being delicate is the key for me. I have really begun to match the running speed in training and the hard run sessions. This has been a shock to them, and I think as well to myself. I just need to be able to add some depth of threshold to this turnover and the big run improvements will come. I am 31:30-pace already at 1 month post-Ironman. I am happy with that progression. I have a lot more depth to build and these guys and the training we are doing will help me get there, that's for sure. It is by no means an easy task, but the entire planning and training and executing is fun but seriously hard.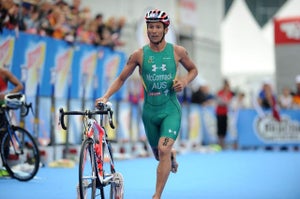 The guys have been really supportive and open with my return, and I think I have brought a lot to the camp in just a different perspective, stories about the old days and just making sure as a camp we all keep laughing and socializing. This is the key to camaraderie and moving forward. Don't kill the spirit of the athletes. Keep the motivation high by laughing. We have done that well here. The training is hard and it sucks at times, so the best you can do is laugh and complain to each other about it. A few practical jokes and that sort of stuff keep the tension light.
PHOTOS: Men's Race From Hamburg
Inside Triathlon: You got a 15-second penalty today. How did that affect you? And how do you think the race would have turned out if you hadn't have had that penalty?
Chris McCormack: I never realized I had the penalty until the third lap of the run. Then I never knew where the penalty box was. I was running with the Canadian guy Kyle (something I can't remember his name) [Ed note: it was Kyle Jones] and I asked him where the box was, but he never answered. So I waited for the next guy and he told me it was in transition area. These are all the things that were much different than when I was racing. It threw me a little, I must admit. When I saw it, I ran over and they started the clock and I stood there for my 15 seconds. To be honest I had watched how Javier Gomez had done his penalty time in Kitzbühel last year and loved how cool he was with the entire thing. I just tried to be Javier. Not get wound up, let the time tick down and then get on with it. Watching guys run through and past is hard to do. 15 seconds in this style of racing nowadays is hard. It is just part and parcel of the racing now, and I think it is a good thing, to be honest. How did it affect me? I will never know. It is what it is, so to speculate is tough and unfair. I think I had a top 20 place in me, and the penalty took me off the group I was running with, but that being said, on run times I would have only improved by 5 places, so it is what it is and my best bet is to just not get one next time.
Inside Triathlon: Now that you've done two ITU races, how does the ITU today compare to back when you were the ITU world champion?
Chris McCormack: The bike is nowhere near as aggressive as it used to be, but the swim and the run are definitely up an ante. The swim in particular is fast. The first 400 meters is super quick, like 4 minutes quick, which is much quicker than my day. Actually, there were a few guys who swam like this back in the day, but now it seems lots of guys swim like this. The bike is very easy and soft nowadays (I think this is basically the evolution of this style of racing). It is what it is because these guys run so fast, and the bike has become much more of a tactical weapon more than a discipline that athletes today think it can be used to give them an advantage. Back when I was racing this, the bike was always being attacked and always swapping turns and always guys were trying to close down on groups or get away. We were still very close to the non-drafting era so many of these bike guys were still racing, and even if they did not have the run power to win the new draft-legal racing, they did their best to make sure that they utilized the strengths they did have, which was the bike. These guys have been made obsolete nowadays and the new breed is just so fast at running and so efficient in the water that the bike is about position and minimizing the damage to the legs.
I will say it here though that this will be the area of the race that will improve and this is why guys like the Brownlees are doing what they are doing. They are from this new ilk of athlete who can swim and run with the best in the world, but they are not playing this position game on the bike. They are attacking the bike, and this is hurting guys and putting people out of their comfort zone. I think what you will see is a new era now in the sport as it spawns again and the bike starts to be used as the weapon it can be. Lets face it, more than half the race is played on the bike. It is not something that should be viewed as just a prelude to the run. The Brownlees see that, and are executing their racing in that way. For the guys who want to sit in and play that "I will wait until the run" game, they are going to be left behind big time. Time to step up boys!