One Age Grouper's Advice for Balancing Family, Training and Work
For this family man, triathlon is a way to be a better father.
Heading out the door? Read this article on the new Outside+ app available now on iOS devices for members! Download the app.
Bill Anderson doesn't do triathlon for the glory. He doesn't even really care much about the medals. Ask the 44-year-old Ironman what motivates him to the finish line, and he'll pull out a photo of his wife and three daughters. "Before every race, they give me inspirational messages to take with me," Anderson says proudly.
As the director of international sales for a Fortune 200 company, Anderson spends 50 percent of his working days on the road. An erratic schedule with long hours is tough; triathlon has given him structure.
"I am constantly thinking how to incorporate training into my busy lifestyle with a minimal impact to my family," says the San Jose, Calif. resident. Before, he would take what he could get when it came to time with his wife and three daughters, ages 7, 10 and 12. Now triathlon has forced him to be more conscious about how he organizes his days.
Anderson entered the sport in 2013 after learning about triathlon from a neighbor who had competed in Ironman Lake Tahoe that year. Anderson started with shorter distances and slowly progressed to his first Ironman in Arizona in 2016. Along the way, he learned how to adjust his schedule according to the feedback he got from his wife and kids. The children select where and when their dad races, ignoring field size and elevation profiles in favor of more important criteria, like how many amusement parks are in the area. But when they all get home from one of his competitions, the kids chatter more about the race than the rollercoasters.
"We will never forget the end of one particular race. After I finished, we were cheering on the other athletes who were doing everything they could to finish before the cutoff. A challenged athlete came by and was trying to get up a steep hill. About 200 finishers and their families in the area stopped what they were doing, stood up and started cheering for the athlete until he made it up the hill. That is what this sport is all about," Anderson says. "They loved it."
Because Anderson's children are so enamored with their father's triathlon lifestyle, they've begun racing kids' triathlons as well.
"Triathlon has been such an amazing influence on my family life," he says. "It has helped us to set big goals together and manage our time. I have also been able to be an inspiration to my kids and show them perseverance, dedication, sacrifice and how to live a healthy lifestyle."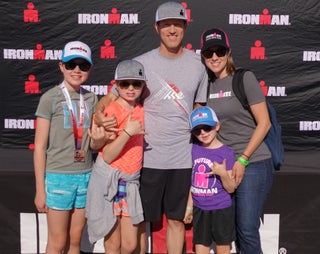 Yes, You Can Have It All
Anderson's tips for balancing family, training and work:
1. Get your spouse and family on board. "My wife and I sit down and review my annual goals and race plans on a monthly basis, and try to see what we can do to make it all work. If it wasn't for the amazing support of my wife, I would not be able to do it all."
2. Delete your Twitter account and block those cat videos. "Give up time wasters like TV, surfing the Internet, excessive social media time, and put this time toward training."
3. Train during off hours when your family is sleeping, and skip TV time in the evenings for quality family time. "I get up every day at 4 a.m. to train. I will record anything I really want to see and watch it when I am on the bike trainer."
4. Get your kids involved. "Make it fun for them!"