Why Drones Won't Be Replacing Motos for Race Coverage Anytime Soon
A drone expert explains why this so-called simple solution isn't so simple.
Heading out the door? Read this article on the new Outside+ app available now on iOS devices for members! Download the app.
Is it time to do away with on-course motorcycles and switch to drones for capturing photography and video during triathlon races? After last weekend's incident at Ironman Hamburg, where a media motorcycle collided with a racer on-course, some people are saying "yes." But according to Mike Gearin, licensed pilot and Vice President of Operations for PhotoFlight Aerial Media, drone cameras won't be replacing media motorcycles anytime soon.
Gearin, who has piloted drones for ten years over live events, including many in the endurance space, is familiar with the theory that drones are a quick and easy solution for obtaining hard-to-get footage in tricky environments. But the reality is much more complicated.
When most people envision a drone, they picture something like the DJI Mini 3, a popular consumer drone that weighs less than 250 grams and retails for about $500. What Gearin flies for a project like a race costs thousands of dollars and can weigh upwards of 55 pounds.
"For live coverage, there are a limited number of drones that have the ability to grab a live feed and be able to broadcast that back to the production trailer," Gearin says. "This is a specialized tool."
That specialization means drones are great for some things, but can be limited. "If you're flying a drone, you are not going to get anywhere near the same coverage that you're going to get from an individual in the back of a motorcycle with a camera."
Matthew Coliandris, director of this year's PTO European Open broadcast, echoes this sentiment. In a post-race blog detailing the equipment used to cover the event, Coliandris stated that even with the use of drones, "once the bike race begins, I'm very reliant on the moto guys."
So what's stopping race broadcasters from swapping out media motos for media drones?
Flight safety
Drones are heavily regulated in where they can go and what they can do. Drone operators in the United States must abide by what is known as "Part 107," a set of regulations administered by the Federal Aviation Administration.
"As part of those regulations, there's a lot of things we can't do," Gearin says. "We can't fly over 400 feet, we can't fly over people that are exposed, and we can't fly over moving vehicles. We also need to maintain a line of sight, always need to be able to see it. So we're very limited, It's not like we can just take a drone and follow racers."
The biggest concern when it comes to flying over people is the fragility of drones, which pose serious safety risks to anyone or anything below.
"It literally takes nothing to take the drone down," Gering says. "Just something disrupting one blade, and the drone will fall out of the sky. Those drones could weigh 35 or 40 pounds, and if they were to fall on somebody, it would definitely kill them."
This disruption could happen from something as small as a branch, a wire, or even another drone. One of the most significant issues in the aviation industry right now is the inability of drones to communicate with each other. At a race, a commercial drone operator might encounter other drones flown by hobbyists in the same airspace, and the potential for a mid-air collision is high, even with anti-collision sensors built into every drone (which Gering says are "far from perfect").
New laws are set to take effect later this year to assist officials with identifying and tracking drones much in the same way as other aircraft, but the risk to professional operators on the ground is still high, especially since most hobbyists are not licensed or even trained in flight operations.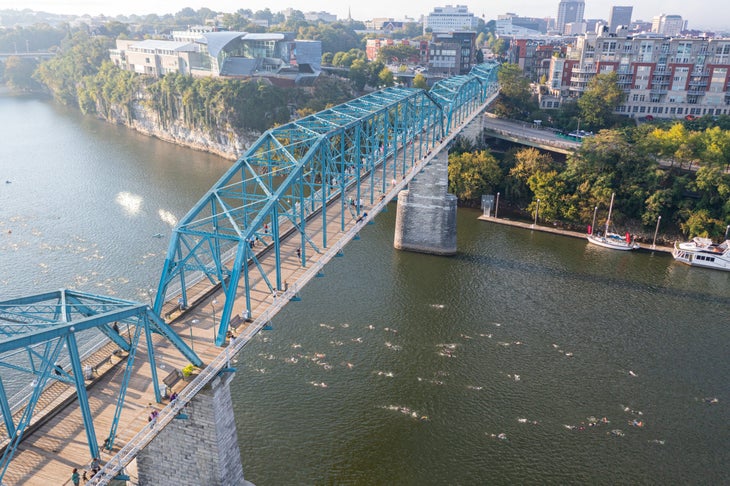 Staying in range
In a dream scenario, a drone would be used to track a race leader or chase pack for miles, capturing every single second of the action without fail. The reality is far from that.
"If you were to take all the regulations, throw them out of the window, and fly a drone as far as we can and over top of anybody, you might get a flight range of four to five miles in perfect atmospheric conditions," Gearin says. "But that never happens."
That's because there are too many variables that affect the drone's ability to fly. For starters, airspace is tightly restricted. In addition to restrictions on flying over crowds or vehicles, drones in the United States are also banned from flying near airports, government buildings, sports stadiums, and national parks. Drone takeoffs and landings can also be restricted by state, local, territorial, or tribal government agencies.
This can severely limit the coverage area of a race – for example, much of the Ironman 70.3 Oceanside course is within restricted airspace due to its proximity to a military base, airport, and multiple ecological preserves. Special permission can be granted to fly in these areas, but only in rare and special circumstances.
Even when permission is secured, it can be rescinded at any time. Case in point: This year's PTO European Open in Ibiza, where a planned flight path for a drone near the swim course was approved by Spanish aviation authorities in the weeks prior to the race, but overridden by the local port authority on race morning. This last-minute wrench meant coverage of the swim was limited to one camera on shore (and viewers of the live broadcast were quick to make their dissatisfaction known).
Can you hear me now?
Another major challenge exists in the form of securing a clear, strong channel of communication between the drone and the operator. Anything that gets in the way of that affects the machine's ability to fly.
These obstacles can be natural, like mountains or trees, or technological, like an overloaded network. Anyone who has tried to refresh an athlete tracker app or upload a photo of their racer from the sidelines of a triathlon knows firsthand that slow cell phones are the rule, not the exception, on race day.
Battery life is also a major limiting factor. A smaller drone that doesn't move around too much might have a battery life of 40 minutes, but larger commercial drones can require battery swaps as frequently as every 10 minutes – a process that requires landing the drone, shutting it off, and flying it back into position.
The cost of drones
Even if drones were able to deliver the type of footage captured by a motorcycle on the course, the cost of doing so would likely put a stop to all discussions. Consider Ironman, which recruits many of its motorcycle drivers through its volunteer registration page.
The photographer or videographer on the back may be getting paid for their work, but the driver might be compensated with a free t-shirt and a sandwich. Drone operators, on the other hand, come in teams and must be paid a professional rate.
"Larger drones take more operators," Gearin says. "It's one person flying a drone, one person operating the camera, a V.O. [visual observer, who scans the sky for collision hazards], and a tech to swap batteries and make sure the drones can operate properly."
Gearin says securing one drone team might cost six or seven thousand dollars; for a 70.3- or 140.6-mile race, multiple teams would be required. A race budget would also need to include insurance, licensing, and/or permits, he says: "We carry 10 million dollars of liability insurance, just based off of some of the jobs we do."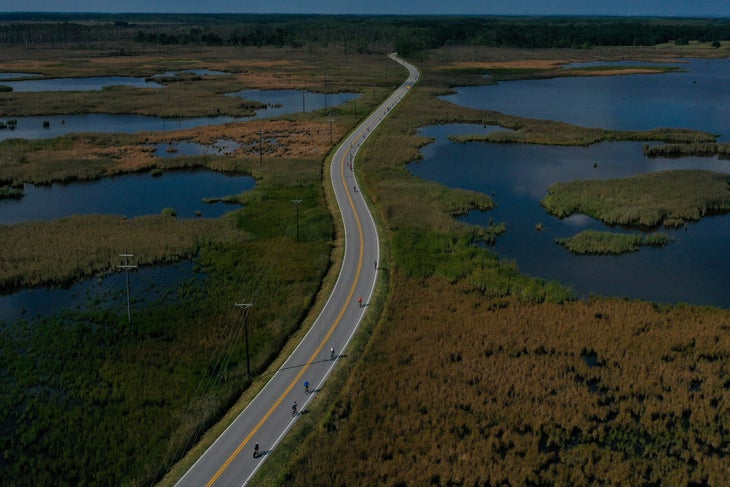 Where drones are useful for race coverage
In live triathlon coverage, Gearin says drones are best used alongside, not in lieu of traditional camera work on the ground. A specific perimeter can be established in strategic locations (for example, in areas where it would be unsafe for motorcycles to share the course with athletes), with the understanding that the camera will be used to get shots that are high and wide.
If a race wants to get a moving close-up shot without the use of motorcycles, a cable-cam system could be rigged along specific areas of the course, but again, that would come at a high cost. What's more, that setup may be a waste if no action takes place in that one very specific area.
A fixed point on the ground for photography poses the same challenge, as photojournalists are tasked with capturing the key moments of the race from start to finish, and therefore need to follow the race from start to finish. This brings us back to the current best option for giving viewers the race shots they demand: motorcycles.
Again, Gearin stresses that there are few one-to-one swaps when it comes to providing coverage of a race: "It's like a hammer is to a carpenter or wrenches to a plumber. It's just a tool. You want the right tool for the job," he says. "If people are saying we should replace motos with drones, it's important to be clear that it's not the same thing. That's like deciding we're gonna use a helicopter to replace the guy in the stands with a camera. It doesn't make sense. It's totally different tools for two totally different jobs."