Who Is the New 70.3 World Champion Rico Bogen?
We speak to the youngest-ever Ironman 70.3 world champion about his underdog win, how German group dynamics helped him on the course, and comparisons to Jan Frodeno.
Photo: Nigel Roddis/Getty Images for IRONMAN
Heading out the door? Read this article on the new Outside+ app available now on iOS devices for members! Download the app.
A 6-foot-plus German standing atop an Ironman World Championship podium is not an unfamiliar sight. But while Rico Bogen might have a long way to go to match Jan Frodeno's achievements in triathlon, he's made a good start of following in his hero's wake.
"From an Olympic winner to being 70.3 and long-distance world champion, [Frodeno] is an inspiration," Bogen says. "I like how he is always calm and cool, and that he's shown that it's possible to be good as a tall man!"
Height (Frodeno edges Bogen by less than an inch) is the only measure of stature where the two could currently be compared. Bogen has youth on his side – and lots of it. Frodeno was 34 years old when he won his first 70.3 Worlds crown in Zell am See, Austria in 2015; in contrast, the 22-year-old from Leipzig made up for what he lacked in experience with youthful vigor. Though Bogen is unlikely to reach the draft-legal heights of the 2008 Olympic gold medalist, becoming the youngest Ironman 70.3 world champion ever on Sunday in Finland (and the first Ironman world champion born in the 21st Century) surely puts him on a world-class path of his own.
Bogen's name had hardly been uttered in the build-up to the 2023 Ironman 70.3 World Championship race. Instead, pre-race chatter centered on whether notorious Norwegian Kristian Blummenfelt could retain his title after one of the most ambitious racing schedules ever undertaken, or if American Jason West could run through the field to top the podium. Lionel Sanders, who had focused specifically on Lahti, also got his share of buzz as he set out to claim his first 70.3 world title to complement his 25 other 70.3 wins.
In the final reckoning, however, West fell ill before the race and did not start, Sanders was controversially disqualified, and Blummenfelt slogged home in 35th place, the fatigue of his August racing schedule evident. Instead, we witnessed an all-German podium – another first in 70.3 World Championship history – topped by a young gun that left many wondering: Who the hell is Rico Bogen?
How much of a surprise the result was is up for debate, of course. His coach, Joseph Spindler, posted on social media after the race: "It's a pleasure to work with this young, smart and talented guy. The world championship title was on our list of goals, we just thought it might take one or two years longer."
But what can't be disputed is that Bogen's day in Finland was the very definition of a breakthrough performance.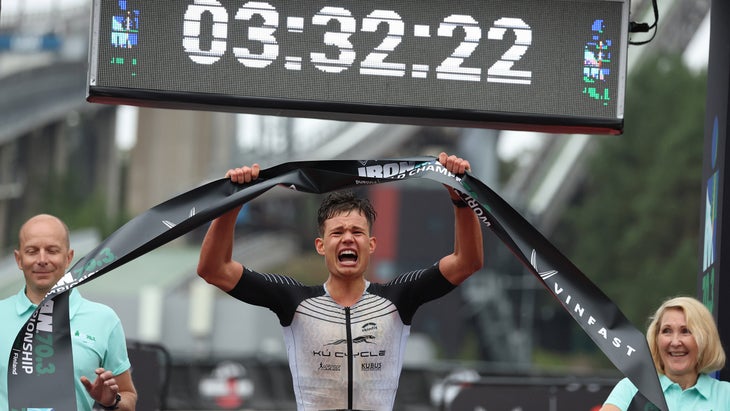 What went down at 70.3 Worlds
Bogen says he knew it was going well at the start of the run: "I felt the legs weren't so tired after the bike, and after 3K I was in front and could push. But the whole day went perfectly to plan."
That plan, he says, was emerging in the front pack out of the water and staying with the leaders on the bike. Looking at Bogen's short non-drafting career to date (Lanzarote in March was his first Ironman race) and past performances in long-course racing, it's a plan he knows well: He was in the top three out of the swim in all three of his previous 70.3s, and laid down the fastest bike split over 120km at the World Triathlon long-distance championship in Ibiza in May.
The ideal run at 70.3 Worlds then, was envisaged as a 3-minute 20-second per kilometer pace (5 minutes, 22 seconds per mile) for the half-marathon. But the undulations on the Lahti route meant an in-race switch to focusing on effort, rather than speed.
"I was running uphills at 3:38, and one downhill kilometer I ran in 3 minutes," he says. "It was not easy for pacing, and I had to go a little bit more on feeling, but I think I managed it very well. The aim is always to run the second half faster than the first half, but that's difficult."
Still, he persisted, floating on the feeling of being out front: "At first it felt crazy that I was leading the world champs," he says. "Then I had a one minute lead after the first loop [of two] and thought: I could win this race. The message was to keep pushing, and I enjoyed the last two kilometers where I could celebrate a little bit with the spectators. It was unbelievable."
A record-breaking win (and a new goal for next year)
Despite a bike and run course that were far from flat, Bogen's finishing time of 3:32:21 made the race the fastest 70.3 World Championship time, dating back to the event's inception in 2006 and lowering the 3:34:02 mark of fellow German Michael Raelert, set in 2009 on a course that has been likened to a drag racing strip in Clearwater, Florida. Yet Bogen sees the potential to go even faster.
"It was rolling hills, and you could push over them. But I don't know why it was so fast, because it was also raining," Bogen explains. "But we had a good group and we pushed through the whole bike course. Now the goal for next year is to go under 3 hours 30 minutes, yes?"
The numbers bear out how the front six, including four Germans (there were originally five, until Max Sperl fell off the pace), were the fastest on the bike leg. Bogen felt the group instinctively worked well to take turns pushing the pace while respecting the 12-meter draft zone.
"We didn't talk together before the race," he says. "It was more that we had Freddie [Funk] and Mathis [Magririer] and myself as strong bikers and we could change a bit. It was really fast as everybody who went to the front made an attack. Freddie had a big attack around 30 kilometers and it was hard to stay behind him, but I managed. It was always pushing."
Bogen credits his Kú bike for some of the additional speed that led him to a 1:56:16 split over the 56 miles in Finland – an average of almost 29 miles per hour. The bike certainly seemed to fly as Bogen set the fastest bike split in the World Triathlon long distance championship in Ibiza in May and the fifth-fastest in Finland.
"It's kind of different, especially in the forks, which are wider and let the air through. It's a different way of thinking about a bike frame. I believed in this bike and it was built by Richard McAinsh, who was for many years in Formula 1 so knows how to design."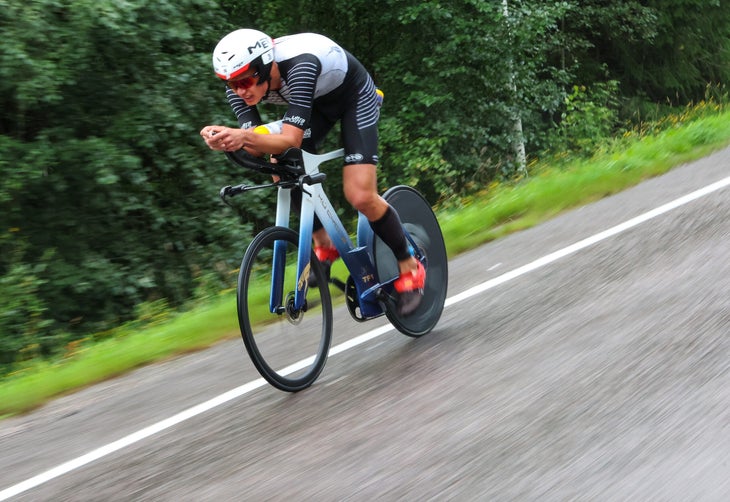 All-in from the beginning
While other triathletes had been taking part in PTO Open events in Europe, USA, and Singapore earlier this year, Bogen was targeting the race in Lahti. Qualification was achieved with a win on home soil at Ironman 70.3 Kraichgau in May, where he gained confidence by passing the likes of two-time Ironman world champion Patrick Lange. The victory meant that following a sixth-place finish in 70.3 Luxembourg in June, Bogen could dedicate two months to training for the past weekend, including an altitude training camp in St. Moritz in Switzerland for the first time, a perennially popular location for many European elites, including Alistair and Jonathan Brownlee.
Bogen also threw in some draft-legal racing (and podium-taking) at the German Bundesliga with Team Berlin and in the sprint national championships, where he placed 13th (a harsh reminder of the sub-15-minute 5km pace needed to be competitive in short-course racing). While it might be tough to be competitive, he believes it's worth the effort, as retaining speed translates well to middle-distance racing.
As a strong swim-biker without the "high end" running speed required to compete at the Olympic level, Bogen appears ideally suited to non-draft racing. The PTO Tour, with its array of racing opportunities next year for the world's best triathletes, has certainly caught his eye. Bogen is currently ranked 29th by the PTO, but could yet improve that position by the end of the year (he is eyeing the speedway venue of Clash Daytona in December as a possible next race). While the PTO is limiting its field sizes for its events to 20, as 2023 has shown, there tends to be a glut of roll-downs. Carrying the cache of being Ironman 70.3 world champion would also hold much weight for one of four wildcards per race. His professional future looks promisingly assured.
"Next year all the focus will be on the PTO races and hope to perform well and the 70.3 Worlds in New Zealand is also a target. I also qualified for Hawaii, but think it will be too early for me, so I won't compete there. But in three or four years I'll hopefully go there to perform."
Rico Bogen's 70.3 Worlds Workouts
Bogen's win at 70.3 Worlds may have seemed to be an overnight sensation, but – as with all overnight sensations – the victory was a result of hard work and hard workouts. Here, Bogen shares two of the sessions crucial to his success.
Bike: 6 x 10min threshold
"I look to hold the aero position throughout this set," Bogen says. "It's challenging because my threshold is normally over my race pace, but because I did this one at altitude it was a bit closer to race pace."
Warm-up:
30 minutes easy
Main set:
6 x 10 minutes at threshold, with 5 minutes rest in between
Cooldown:
30 minutes
Run: 9K Hill Run up the Albula Pass in the Swiss Alps
Bogen found confidence from this session up the Albula Pass in the Swiss Alps. "I was thinking I was slow at the start at 5 minutes per kilometer (8 minutes per mile) pace," he says, "but when it flattened out at the end and I was running 3:45 per kilometer – but the effort was the same! It helped for the up and down running in Lahti!"
Main set: 
A 9-kilometer confidence-boosting hill effort (focus less on pace and more on feel)