When Animals Attack: 6 Crazy Incidents of Nature vs. Triathletes
Stingrays, seal bites, and bears - oh, my! We look back on six times animal encounters wreaked havoc during triathlon races.
Heading out the door? Read this article on the new Outside+ app available now on iOS devices for members! Download the app.
When Chase McQueen was swimming in a pool, riding on a turbo trainer and running on a treadmill to win the Super League Arena Games in Montreal, he could focus on his self-induced discomfort. When he ran into the water in Mexico a week later for the start of a standard distance race in La Paz, the pain arrived from a more unexpected source. A startled stingray gave a spiky reminder that outside of the chlorinated, sanitized world of the Arena Games, pretty much every other triathlon on Earth has the potential to "welcome" not just spandex-clad rivals, but scaley, slimy and even furry friends – or foes – too.
Triathlon's big appeal is that it gets us out into nature. It's just that occasionally nature isn't quite so happy about that. Let's have a look at a few examples…
RELATED: Six Times Triathlon Weirdly Got Mainstream Attention
Mexico stings for McQueen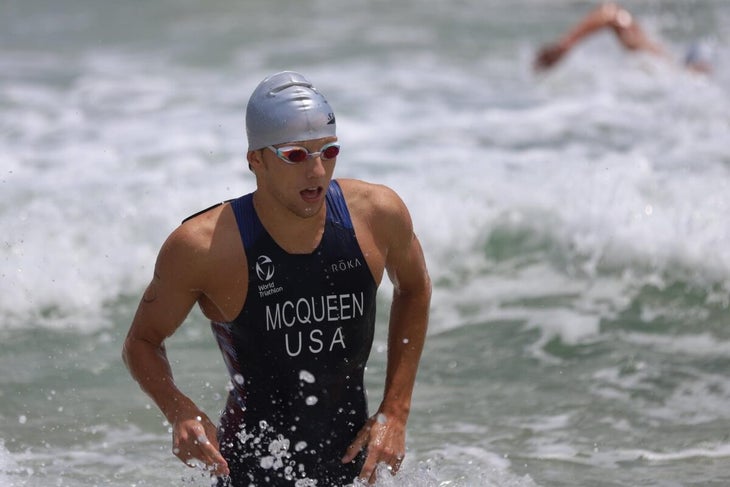 Starting with an incident that's fresh in the mind and the flesh of the pro triathlete who inspired this feature. Ending up on a hospital bed in Mexico taking antibiotics wasn't quite the plan as McQueen crossed the border south in the hunt for Olympic qualifying points. In an encounter neither relished, it became triathlete's foot meets venomous tail spines – and there was only one winner. Well, two winners if you count the fellow stingray that also took down Brit Dan Dixon. McQueen was still leading until halfway through the 10km run. "At that point the adrenaline wore off…" he said, along with its natural anesthetic qualities. Chase was chased down and limped in for third. Poor Dixon was a DNF.
Ryf is stung into action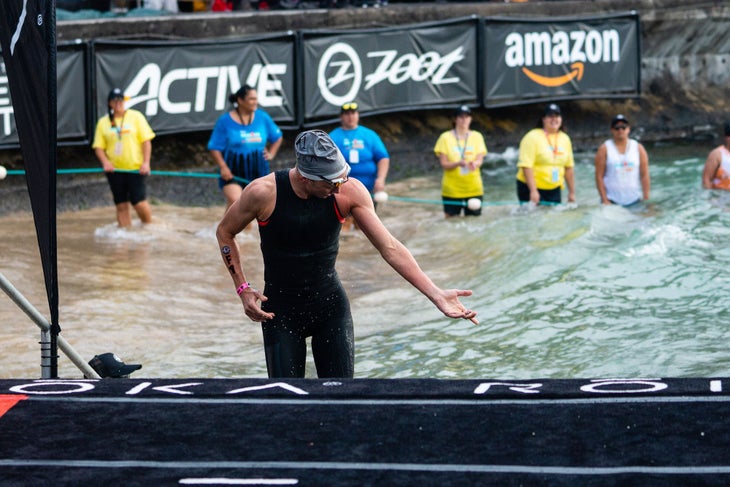 Multiple Ironman world champion Daniela Ryf was once again the overwhelming favorite as she lined up for the 2018 edition of the event. Although not in the Lucy Charles-Barclay leadout class, the Swiss was still a competent front pack swimmer, so when she climbed the steps of the Kona pier 9 minutes down on LCB, a few eyebrows were raised. Not for the first time, Ryf powered back into contention on the Queen K to eventually take the lead and then obliterate the course record as she finished in 8:26:18. It was only then we found out the whole story. "Two minutes before the start I had jellyfish under both armpits sting me," she said post-race. "I did think about giving up but as a champion it's not really an option." While it might have floored lesser athletes, the Swiss was clearly stung into action, and Destiny's Child clearly didn't have Ryf to mind when they sang 'I don't think you're ready for this jelly' in 2002 chart-topper, "Bootylicious."
Vilaca sealed with an unwelcome kiss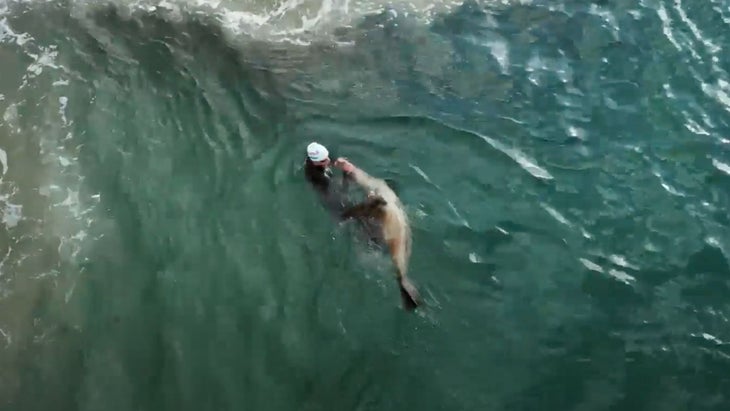 It was only supposed to be a pre-race warm-up swim. Portugal's Vasco Vilaca had finished second in his previous Super League race in Munich last fall and headed to the next round in Malibu in fine form. But testing the waters off Zuma Beach ahead of the contest, he unwittingly brushed up against a seal, which then latched on to his forearm. "I tried to just slowly, without doing anything aggressive, push it away. But then it got scared and bit my arm and wouldn't let go," Vilaca revealed about the somewhat terrifying sounding encounter. It then proceeded to puncture his neoprene and skin, along with a few cuts to the hands as he tried to prise the confused seal away, while Super League organizers hastily edited the footage to get social media bites too. Vilaca recovered to finish third racing for the Rhinos. Perhaps being drafted for the Sharks next season might bring better luck.
Video: Pro Triathlete Vasco Vilaca Bitten By Seal at Super League Malibu Rehearsal
Bear left feeling grizzly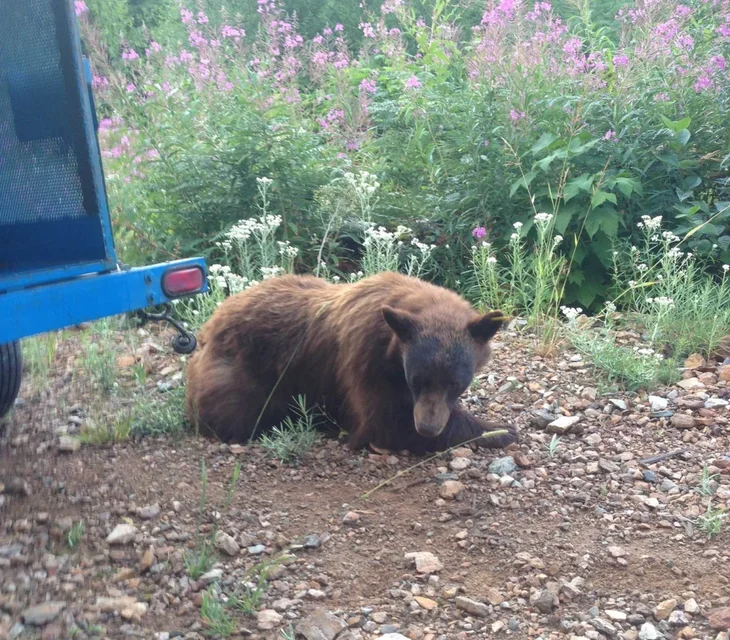 It might have been eight years ago, but it's an encounter that will still be fresh in the memory for those who took part in the 20015 edition of Ironman Whistler in Canada. A distraught mother bear, separated from her three cubs, aimed her frustration at those on the course before conservation officers moved in with tranquilizer darts to successfully remove the four animals from the area. Thankfully no humans or bears were harmed in the incident, although it did lead to several unconfirmed half-marathon PRs on the run route.
All cow, no bull (thankfully)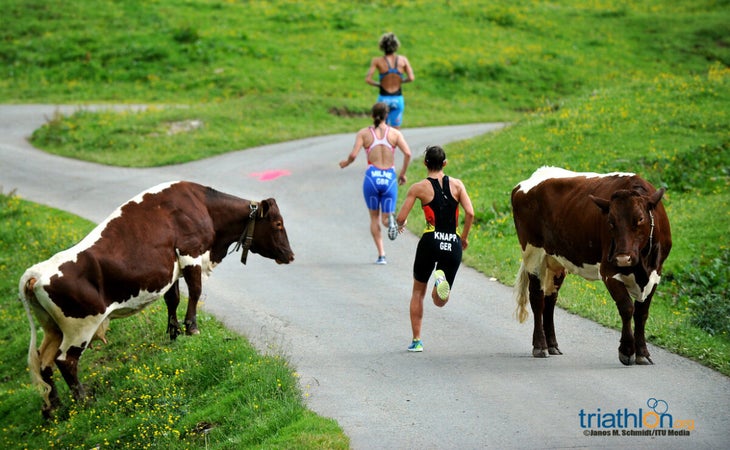 In 2013, in Kitzbuhel, ITU (now World Triathlon) decided to try something innovative with their World Series course – altering the distances and using a crazy steep climb and run to finish atop an Alpine mountain. If that was not shocking enough, we then had some unexpected spectators getting a little too close to the action. Great Britain's Natalie Milne and Germany's Anja Knapp were forced to mooooove quickly when cattle, clearly unused to having their quiet disrupted, wandered onto the course. Thankfully, the race passed without major incident. "I started to worry what the cows would do," Milne recalled. "The one that was standing on the road was just standing staring at me, so I stared back at it, hoping that it wouldn't charge at me."
No horseplay In UK

Video courtesy of BBC.
"Cyclist fined for hitting horse in triathlon" was the BBC headline after an unsavory incident in one of the most famous and long-running triathlons in the UK, the Windsor Triathlon. Unwisely or perhaps unaware, a woman horse rider had taken her steed on the roads of the race in 2019 and was the victim of several close passes by cyclists who were also unwise or unaware. The worst offender ended up in court with a fine of around $1,500 and a lifetime ban after the horse reared and bolted. Not the happiest yarn to end on, but other than the horse shedding a shoe and the rider being shaken up, no one was seriously hurt. Some solid lessons were learned, howver. The organizers pledged to improve signage, the cyclists to keep their heads up in future, and maybe even the horse rider might have a rethink about planning a new route on that Sunday morning once a year. The horse was fully exonerated.
RELATED: From Shark Attack to Shark Advocacy