What It's Like to Get Busted For Doping
Banned for five years on two doping charges, two weeks apart, pro triathlete Andrea Pizzeghella shares his experience of being found guilty of taking a drug not fit for humans.
Photo: Courtesy of Andrea Pizzeghella
Heading out the door? Read this article on the new Outside+ app available now on iOS devices for members! Download the app.
In our six-part series on doping in triathlon, we examine every aspect of anti-drug efforts in our sport. For more in this series, read:
Andrea Pizzeghella won't be the most familiar name to triathlon fans, but the Italian pro made headlines at the end of last year when he received a five-year ban for taking performance-enhancing drugs (PEDs).
What was eye-opening about the case was not just the length of the sanction for a first-time offense, but that the substances in question included an anabolic steroid developed for veterinary use in horses and not approved for human consumption.
Despite testing positive for two different PEDs at races two weeks apart, the 33-year-old still proclaims his innocence. In an exclusive interview with Triathlete, Pizzzeghella describes his experience as a subject of an anti-doping investigation.
What's the background?
Pizzeghella was a latecomer to the sport, taking up triathlon in his late twenties and showing promise in short-course racing almost immediately. Persuaded to step up to middle-distance racing during the pandemic, a sixth-place finish in the Italian Middle Triathlon Championships in the fall of 2020 left him convinced he could be competitive at the elite level.
"I did at least 8 to 10 hours of extra work per week to afford equipment, travel expenses, the mortgage for the house where my child lives with her mother and the rent for the house where I currently live," says the full-time bike mechanic and father of a four-year-old daughter from Verona. "At the same time, I completed around 18 to 22 training sessions per week, totaling about 30 hours. I trained in the morning at 5:30 a.m., during the lunch break for 2 ½ hours, and in the evening after 10 p.m."
While Pizzeghella's results were impressive for someone working full-time and new to triathlon, he wasn't making the podium until a breakthrough race at Challenge Peguera Mallorca on October 15 last year, where he finished runner-up to Belgium's Jonathan Wayaffe and ahead of Britain's Tom Bishop.
The celebrations were short-lived, however. Just two weeks later, he lined up in the Italian Middle Triathlon Championship in Fasano, where he was disqualified for defecating on the run course. A bout of diarrhea and an absence of portable toilets for athletes left Pizzeghella relieving himself on the roadside, where an onlooking official showed no mercy. He was automatically disqualified and removed from the course.
Worse was to follow. The Italian National Anti-Doping Authority contacted Pizzeghella. As a professional triathlete, he was subject to drug testing and urine samples collected after his races tested positive for anabolic steroids. Drostanolone was in his Peguera sample, and his Fasano sample was positive for Boldenone.
Boldenone, a synthetic derivative of testosterone, can stimulate protein synthesis and the release of erythropoietin (EPO). It is used in veterinary medicine, mainly in horses. There is no therapeutic or medical use for it in humans, although it has been found off-label in some unregulated nutritional supplements used by bodybuilders. Drostanolone was originally designed to treat female breast cancer. It is used to reduce body fat, aid muscle recovery, and build lean muscle. Both are banned under the World Anti-Doping Authority code.
"This has to be a mistake"
Pizzeghella was convinced a mistake had been made. He requested testing of the B Sample, which was then analyzed in Italy. It also returned a positive result for Boldenone. In the eyes of anti-doping officials, this was an open-and-shut case. The Italian prosecutor initially requested a six-year ban and a fine of €3,000. Unable to afford the fine or legal fees for an appeal, Pizzeghella accepted the charge in return for a reduced sanction of five years without further financial penalty.
"I sought the assistance of a sports law specialist to defend myself," he explained. "However, despite all my efforts, I was unable to determine how these prohibited substances entered my body. I had to make a terrible choice: I accepted a reduced sanction of a five-year ban without any financial penalty because I couldn't prove how I had ingested the substances."
Did he do it? You decide.
Pizzeghella knows most people find it hard to believe his story because he tested positive twice within two weeks.
"This is the biggest problem I'm trying to overcome," he says. "Not having answers is terrible. It keeps you from sleeping, and my mind won't find peace…despite trying every means at my disposal to find an explanation for my positive test, I still don't have an answer. The strangeness I observe is that in two tests carried out two weeks apart, two different substances were found, which I have never taken."
"Furthermore, it is particularly strange that the test conducted during the Italian championship in Fasano did not detect Drostanolone, which had been found in Mallorca just two weeks before. From my research, it seems that both substances are used to achieve long-term benefits, and those who intend to use them typically undergo cycles of three injections per week for at least five weeks.
"These substances can be detected in the body for about six months. Therefore, it would have been foolish for me to use them because it would have meant risking testing positive throughout the entire season. Besides being obviously wrong, it is simply absurd. These substances are typically used by bodybuilders to increase muscle mass, not by triathletes for whom weight is often an enemy.
"Lastly, I read that these substances also have the effect of increasing erythropoietin. In my last blood analysis, my [hematocrit, percentage of red cells in the blood) value was 44, which is well below the limit of 50."
While a reading above 50% could be an indication of blood manipulation through doping or a transfusion, for example, any figure requires the context of a regular baseline percentage to be useful.
It's a point made by Jim McVeigh, a professor of substance use and associated behaviors at Manchester Metropolitan University in the U.K., who explains that while it's true that anabolic steroids are often used for putting on muscle bulk, it's not their only purpose.
"Steroids like Equipoise (a brand name for Boldenone) are commonly used in the 'cutting' phase to promote lean muscle development, so could be more beneficial to endurance athletes," he says. "We also see anabolic steroids prescribed for erythropoiesis (increasing red blood cell count) to treat anemia."
McVeigh agrees that depending on the kind of chemical formulation used, Boldenone and Drostanolone could still be traceable months later, but it only makes it more bemusing as to why Pizzeghella would take the substances in the first place.
"Why risk it for the tiny marginal benefit?" he asks. "Especially when it's more difficult to be caught for other substances such as human growth hormone or even EPO that would give a much bigger performance benefit.
"Steroids have been around since the 1950s and testers are well honed in detecting these substances. As Pizzeghella said himself, he'd be foolish to use them."
McVeigh does make the point that given athletes are testing positive for steroid use, there must be those who see its worth. He adds: "For obvious reasons, it's almost impossible to get competitive athletes to do a controlled study on the use of anabolic steroids, but regardless of not seeing a strong evidence base of how anabolic steroids can benefit endurance athletes, they are still caught taking them, which suggests they're receiving a benefit.
"People always look for an edge, and if we look at the history of doping, endurance sports are the most heavily doped back to amphetamines and even brandy. Long-distance cycling and marathon running has never been clean, and we have to suspect it isn't clean now. There are also a lot more substances out there that probably aren't even on wider society's radar and certainly not on prescription, but as soon as something is developed it is leaked into elite sport. That's the challenge doping control has."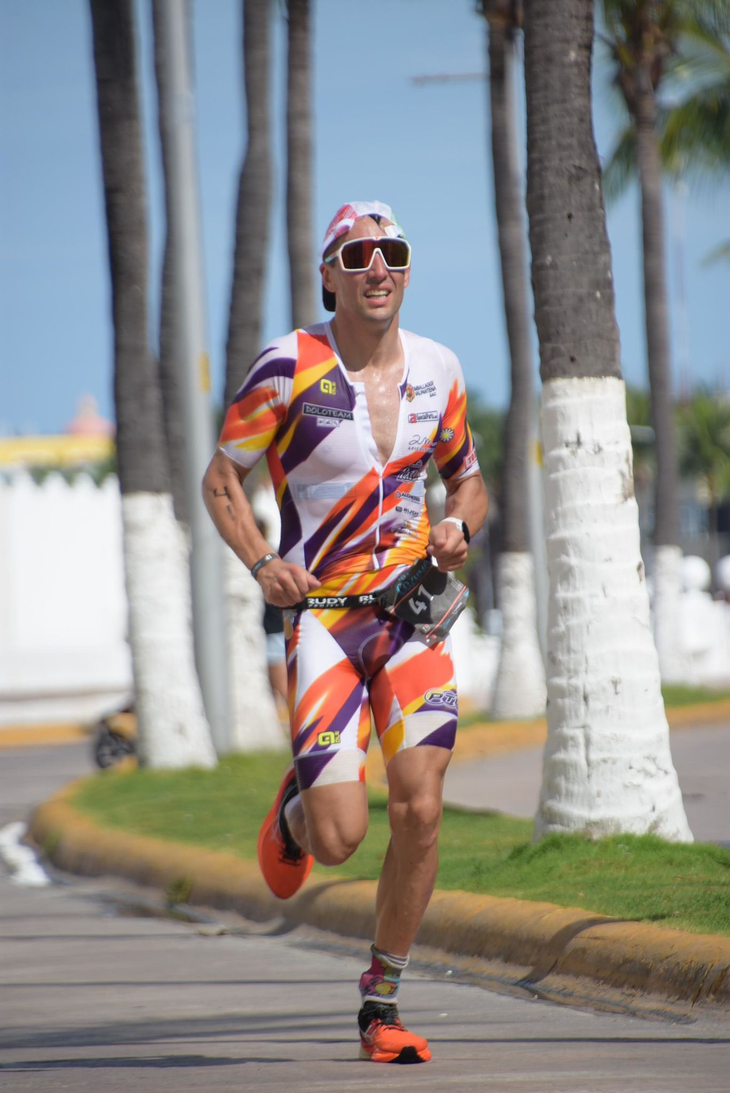 Pizzeghella ruled out that he might have been doped unknowingly by someone else, with his coach based more than 100 miles away and his schedule not leaving time to converse with others. He explained: "My life revolved around training, work, and being with my daughter."
While there is no suggestion the tests were tampered with, Pizzeghella takes issue with the way the second doping sample was conducted following his disqualification in the race in Fasano. The aforementioned bout of roadside diarrhea and subsequent removal from the course meant Pizzeghella did not cross the finish line and was therefore not pulled for in-competition testing under the usual protocols.
How Doping Tests Are Conducted
Triathletes selected for in-competition testing should typically remain at the race site to give a sample under supervision. But it was two hours later when Pizzeghella, having returned to his hotel room to clean up, received a call from his coach to say he had been summoned to anti-doping control.
"I looked for the chaperone, but she wasn't easily found at the race venue," he explained. "When I found her, she told my coach that she couldn't come, but I had to go alone. My coach replied that the rules don't allow that. After insisting, he managed to come with me. However, when I arrived in the control room, the other two summoned athletes were finishing their tests, and I was left alone with only the inspector for the analysis. My coach stayed on the upper floor."
NADO Italia's rules say that a chaperone should accompany the athlete while keeping direct visual contact from the time of notification to the athlete's arrival at the Doping Control Station. However, it is then at the discretion of the doping control officer, whether they remain in the room.
Pizzeghella believes his earlier performance and swift ascent in the sport raised suspicions, which may have led to targeted doping tests—a supposition that could be entirely true but not indicative of wrongdoing by testers. Targeted enforcement is an important and fully legal part of the anti-doping playbook.
"From the beginning, when I achieved notable results in Italian competitions, I received unpleasant remarks because it seemed strange that an athlete who worked 40 to 55 hours a week and had been cycling and running for only two years could achieve such results," he says. "In Italy, none of the athletes competing with me worked, or at least not full-time…none of the other athletes trained at night like I did, or arrived at races so exhausted that they would fall asleep during the pre-call but then perform better than them."
"When a person accomplishes something difficult out of their desire, determination, and ability to endure suffering, they are often criticized instead of praised. People try to find something abnormal, and if they can't, they invent it because the goal of those who haven't achieved it themselves is to see others fail."
What's next for Pizzeghella
Pizzeghella is banned from racing until November 28, 2027, which will make him 37 years old before he's eligible to compete again. While that would signal the end for most professional sporting careers, long-course triathletes have been known to excel into their forties. He says he plans to use his suspension period constructively: "Until I serve my suspension, I will not be able to compete or train. I simply asked the federation if I could attend the races as a spectator, because remaining in this world is very important to me. I received a positive response. My desire was to continue observing the athletes competing, to learn something new and enjoy the show from the outside."
He also says he is focused on assisting his partner, a professional triathlete. "Her goals are also my goals. I am channeling all my strength and determination for her. I want her to reach new heights. I will always be by her side until she decides she is satisfied." [At Pizzeghella's request, we have omitted the name of his partner.]
Whatever the likelihood of a return to the professional ranks, Pizzeghella is first looking to come to terms with what he sees as an injustice.
"On a personal level, I am seeking a peace that I don't even see in the distance right now," he says.
"I've received many hurtful words, horrible comments from both close and distant people. I knew I was being targeted, but I had no fear. I am confident in myself and my coach.
"Sport is the most beautiful form of sacrifice in the world. Sport gives you what you give to it. The result comes second, often not as important as the performance itself, which belongs solely to the one who achieves it: that is the true result. I hope that my child grows up with this hope and these values. Despite the lengthy suspension, I am and will remain a triathlete."
The Italian National Anti-Doping Organization did not respond to a request for comment.