Tri Race Results: The Battle for 2024 World Champs Begins
The 2023 championship season is going strong, but some pros are already looking ahead to 2024. Travis Mundell recaps a weekend of Ironman, 70.3, and Challenge racing around the globe.
Photo: Charlie Crowhurst/Getty Images
Heading out the door? Read this article on the new Outside+ app available now on iOS devices for members! Download the app.
Following the excitement last weekend at the men's Ironman World Championship in beautiful Nice, France is a tall order. But that's the thing about triathlon: There's always something exciting happening. Let's dive into the triathlon news from this past weekend, where we saw tight battles for 2024 Kona and Nice spots, a couple of blistering 70.3s with thrilling finishes (including a near-sprint finish between Lionel Sanders and Jackson Laundry), and a new Challenge race with some impressive Ws. 
Alberts, Weiss, win Ironman Maryland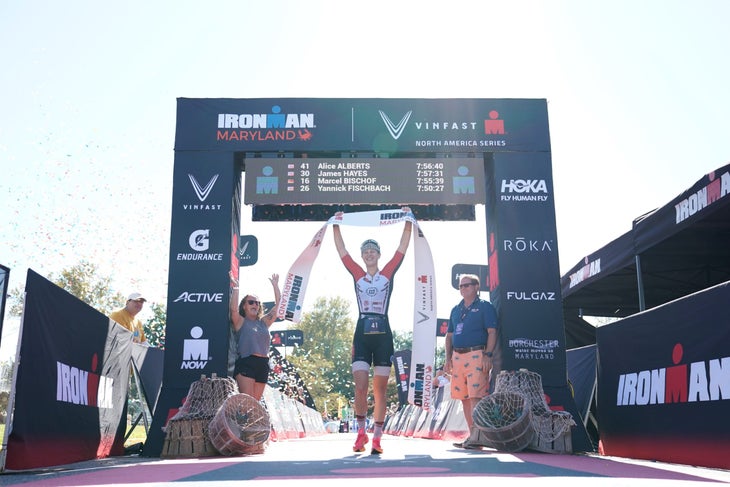 Up for grabs at Ironman Maryland: a $50,000 prize purse for the men's and women's pro fields, plus coveted spots to their respective World Championships. (Remember, in 2024, the two pro fields will flip locations, with the women kicking things off in Nice and the men racing in Kona.)
The women's pro field featured Alice Alberts, wearing bib #1 for the first time, as she looked to back up her first-ever professional win at Ironman Lake Placid. However, a strong field of women showed up to fight for that one slot to Worlds, including Melanie McQuaid and Meredith Kessler. At 50 and 45 years of age, respectively, the two continue to hold their own against women almost half their age.
After the swim was shortened due to the winds and the tide, there was tight racing from the start. Kessler led out of the water, and the bike was closely fought with four women within shouting distance of each other. Chloe Lane and McQuaid were the first to enter T2, slightly ahead of Alberts. However, Alberts would exit to the run course first with the fastest transition of the bunch (she must've read our tips). She then took off, producing a 3:02 marathon and taking the tape ahead of second-place McQuaid and Lane. With an early spot bagged to the Ironman World Championship in Nice, Alberts can lay low and focus on the race for the next year, but with these back-to-back wins, she surely won't be flying under the radar.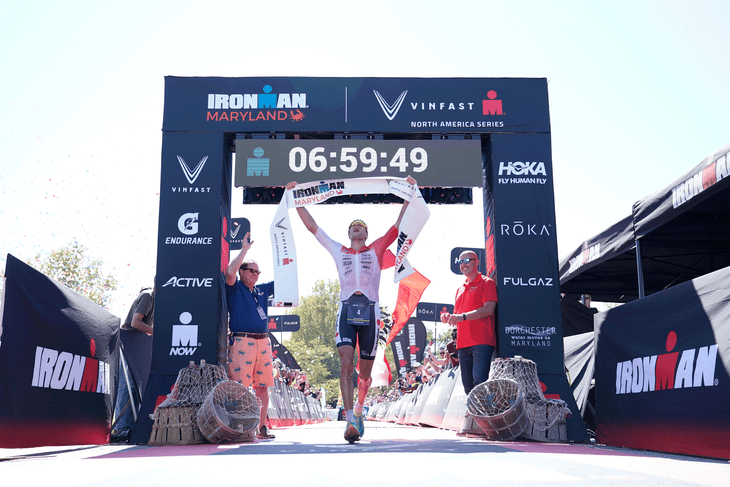 The men were given two qualifying spots for the 2024 championship, presumably due to the extra numbers in the field. The shortened swim was likely welcomed by the likes of Sam Long, Michael Weiss, and Jason Pohl. Unsurprisingly, after that quick splash, Long and Weiss shot to the front of the race on the bike and were locked at the horns coming into T2. At that point, the two had a healthy lead of over four minutes on the rest of the field, which included Pohl. It looked like the elusive spots were already locked up – at least that's what Long would have hoped, thinking the PTO's latest announcement meant locking up a world champs spot early could be a massive advantage when it comes to building a 2024 race calendar.
Unfortunately for Long, Pohl had other plans. The Canadian caught him toward the end of the marathon and snatched that second qualifying spot. Pohl's push into second place over Long was impressive, but it wasn't enough to catch Weiss, who had already broken the finish-line tape with a brilliant run of his own. It was the first victory in five years for the 42 year-old Weiss.
A shocking upset (and course record) at Ironman Italy
If Kona spots were hard to come by in Maryland, they were even more difficult in Italy. With just one slot on the line for the immensely strong (men's only) field, the likes of Florian Angert and David McNamee showed up for battle. McNamee was especially intent on securing his Kona spot for 2024, after deciding not to race in Nice this year due to permanent nerve damage in his hands (from a crash in 2014) that wouldn't allow him to descend the technically-demanding French course with enough control.
But it turned out none of the pre-race favorites would emerge the victor. Instead, the win shockingly went to Stenn Goetstouwers, who was ranked 326th in the world before the race. The Belgian pulled off the performance of a lifetime, breaking the course record and win by just 46 seconds over McNamee. As he shared in a post-race Instagram, he ticked off "two childhood dreams" that day – to win an Ironman, and to earn the right to compete with the best in Kona. "An insane day I'll never forget," he said. (Somehow, we don't think McNamee and Angert will be forgetting this one anytime soon, either.)
Tamara Jewett, Jackson Laundry Stun at 70.3 Michigan
The women's race at 70.3 Michigan opened up with a blistering swim, thanks to Lauren Brandon. Her bike leg also saw her hold off the chasing women and give her a decent lead coming into T2. However, with Oceanside winner (and possibly the fastest female runner in triathlon at the moment) Tamara Jewett in the chase pack, Brandon learned firsthand you need more than just a "decent" lead.  Jewett finished comfortably in first, using a 1:15:19 half marathon to win in 4:05:05, three minutes ahead of second-place finisher Jackie Hering and nearly eight minutes ahead of third-place Robin Pomeroy.
On the men's side, her fellow Real Tri Squad teammate and Canadian athlete Jackson Laundry would share a similar success. Although in Laundry's case, it was the bike that would be his weapon of choice—surprising given Lionel Sanders and Trevor Foley were in the field. Still, he overcame a significant deficit in the swim, motored his way to the front, and in the end used almost every second he gained over Sanders during the bike to his advantage on the run. Sanders made a valiant attempt to bridge the gap, running a 1:09 half marathon, but Laundry held on to the win by just 10 seconds. Foley rounded out the podium in third. After the race, Laundry gave Sanders and Foley their kudos, saying, "these good days are harder and harder to come by with the level constantly being raised." Most of the athletes from this start list continue straight to Augusta next weekend, where they will look for a rematch.
Redemption reigns for Heemeryck and Buckingham at 70.3 Belgium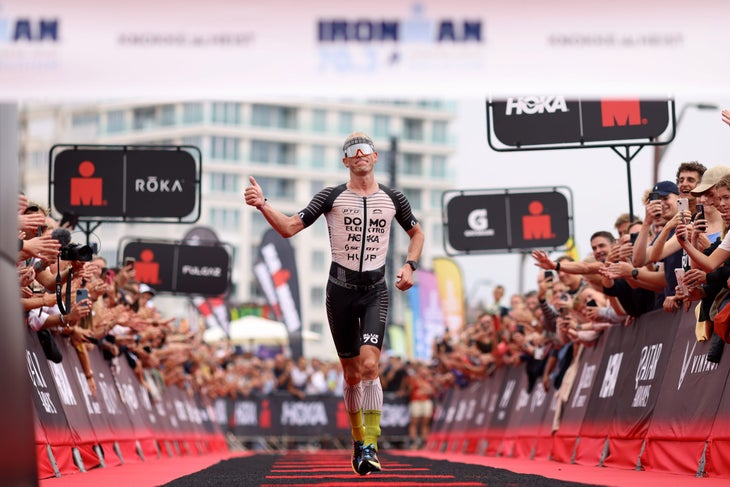 70.3 Knokke-Heist in Belgium was offering the chance to become the first-ever champion at this inaugural race, and it didn't disappoint. Lucy Buckingham, who had a disappointing race at 70.3 Worlds, narrowly held off a hard-charging Lizzie Rayner, who like Sanders in Michigan was just agonizingly short of the win. It took absolutely everything out of these women who looked lifeless on the ground after they finished: 
🥇Lucy Buckingham is your 2023 IRONMAN 70.3 Knokke-Heist pro women's winner! #IM703KnokkeHeist #IRONMANtri #AnythingIsPossible pic.twitter.com/abIYYza68y

— IRONMAN Triathlon (@IRONMANtri) September 17, 2023
 On the men's side, it was a neck-and-neck battle between Pieter Heemeryck and Kyle Smith. Each had eventful pre-race weeks, with Heemeryck taking a DNF at the Ironman World Championship in Nice and Smith sustaining an Achilles injury at a World Triathlon race. With just 7 kilometers to the finish line, Smith lost the battle, pulling out after his injury became too much to bear. That meant that Heemeryck found himself back on the mountaintop, with a home country win to the delight of the fans.
Missed the thrilling day at 70.3 Belgium? Outside+ Members can replay the action on demand with Outside Watch. Become a member today!
Challenge Samarkand, Uzbekistan 
The first ever Challenge Samarkand, in the "Rome of the East" took place in the UNESCO World heritage site in perhaps one of the most unique professional races we have seen in a long time. Just four women and seven men were lucky enough to have the honor of a trial run on the 17 hectare Silk Road Samarkand tourist center. Sebastian Kienle was supposed to be one of those lucky ones, showing up for the final stretch of his "discontinued tour" of bucket-list races in his final season. He was a bit under the weather, however, so instead the champ provided some commentary and updates for Challenge's social media on the ground.
Frederic Funk and Ellie Salthouse took the Ws, showing what bike power and aerodynamics can do on a flat and fast course. Salthouse won by ten minutes ahead Emma Pallante-Browne, which must've felt like redemption after receiving not one, but two penalties at the 70.3 World Champions a few weeks ago. Funk's victory follows up his win at 70.3 Zell am See last week and a second place at the Ironman 70.3 World Championships – clearly, young German has an extra gear (or two) at the moment.
On Deck 
Championship season continues in a big way next week, with the season-finale XTERRA World Championship in Trentino, Italy and the World Triathlon Championship Series grand final in Pontevedra, Spain. These two European races are set for fireworks, with all of the top athletes arriving in prime condition to leave it all on the line.
XTERRA has had 10 races spread across three continents, and the margin between the top-four men and top-three women is so close that  all seven athletes are within range of becoming the first ever double champion in XTERRA history. The WTCS Grand Final has a similar situation as well, and with what we saw at last year's final in Abu Dhabi, anything is possible. The pressure might be a little more intense than usual, considering that this is another opportunity for many athletes to qualify for the Olympics in just 11 months time. On top of those two monumental races, Challenge and Ironman will go again with Challenge Sanremo and Ironman 70.3s in Augusta and Cozumel on tap for long-distance athletes.