Tri Race Results: Frodeno and True Back to their Winning Ways
Plus, how a road bike may have helped Ashleigh Gentle avoid a run battle with Emma Pallant-Browne at 70.3 Andorra, and Leon Chevalier engineers a near-perfect race at Les Sables.
Photo: Eric Alonso/Getty Images
Heading out the door? Read this article on the new Outside+ app available now on iOS devices for members! Download the app.
This weekend's pro triathlon news is all about redemption, hometown heroes, and rising stars. As always, these stories are just a few of plenty that arose out of our multi-faceted sport this weekend, so let's play a little bit of catch-up and reminisce about this past weekend as we move into the second half of 2023.
Jan Frodeno takes the tape at 70.3 Andorra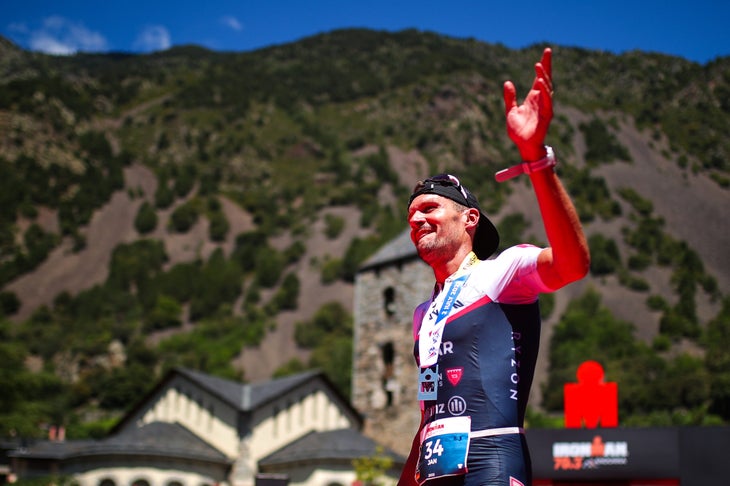 In his adopted home of Andorra, long-distance legend Jan Frodeno finally reunited with his long-lost friend: the finishing tape. It's the first time in nearly two years we've seen him on the top podium step, thanks to a string of frustrating injuries and a slow return to form in his comeback races.
However, his win of this brutal 70.3 wasn't exactly a walk in his local park. That's because 70.3 Andorra is a uniquely demanding course, evident in a slow-for-Frodeno finishing time of 4:25. I think it's safe to say, as many do, that this is one of the toughest courses on earth, starting over a mile in the sky and climbing even further into the clouds as the race continues.
To make things more difficult, 29-year-old Jonas Schomburg, a well-known German short-course athlete, was trying his best to make the 41-year-old feel his age with an exceptional swim and bike effort that had him heading onto the run with a decent lead. Certainly, that wasn't an ideal race scenario for Froeno, as short-course athletes tend to be a little swift on the run. Yet – as he somehow always does – Frodeno found his run legs, outrunning Schomburg by 4 minutes and taking the win for the first time since 2021. The impressive Schomburg managed to hold on for 2nd and Jordi Moya of Spain claimed 3rd.
After working as a commentator at last weekend's Challenge Roth, where he had a front-row seat to Magnus Ditlev's dominant performance, Frodeno must've felt extra motivated leading up to this race. It's also his last full year racing as a professional, so one could imagine "nothing left to lose" must be ringing in his ears (although, let's be real – for Frodeno, it's probably more like "nothing left to win.") His next race should be the PTO U.S. Open in about a month which will give him another chance to compete against the best and show the world that Andorra was no fluke.
Road bike propels Ashleigh Gentle to win at 70.3 Andorra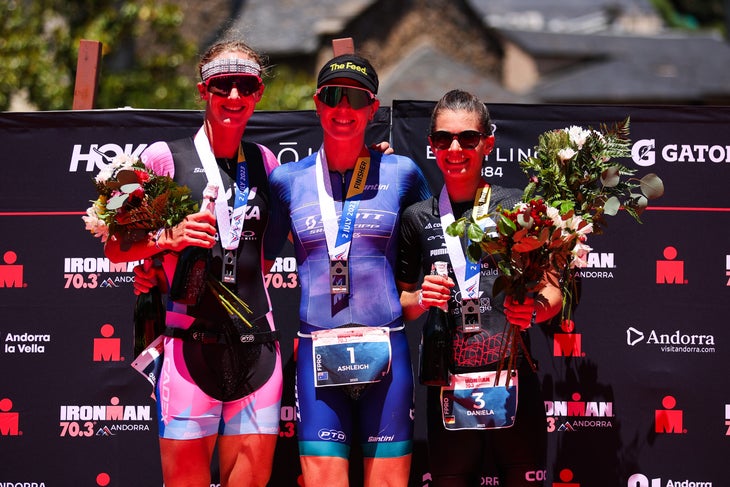 As mentioned earlier, 70.3 Andorra is hard. That's especially true on the bike, where 6500 feet of elevation gain probably means you're out of your saddle as much as you're in it. That's why the two favorites coming into this race, Ashleigh Gentle and Emma Pallant-Browne, opted to ride road bikes instead of tri rigs for this matchup. When it comes to big ascents and descents, a road bike can be a powerful weapon – especially if you know how to use it. Gentle was clearly at home on her alternative bike, and much more fearless on the descents than Pallant-Browne. She, like Frodeno, was obviously feeling at home in her current training grounds (where she lives with husband and fellow pro Josh Amberger). This advantage led to Gentle rolling into T2 seven minutes faster than Pallant-Browne, which meant we didn't get to see the run battle fans of the sport hoped from these two lightning-fast, middle-distance runners. It would have been a good battle too, as they clocked almost identical 1:24 half-marathons.
World #1 Gentle will be happy with this result, especially coming off the back of a second place in Switzerland to Daniela Ryf (who went on to go set a world record, no big deal). Pallant-Browne will be glad to head for the comparatively-flatter 70.3 Swansea next, though it might not be long before we finally get that run battle between these two: they'll probably clash again at the PTO U.S. Open in Milwaukee next month.
Sarah True shines at Ironman Frankfurt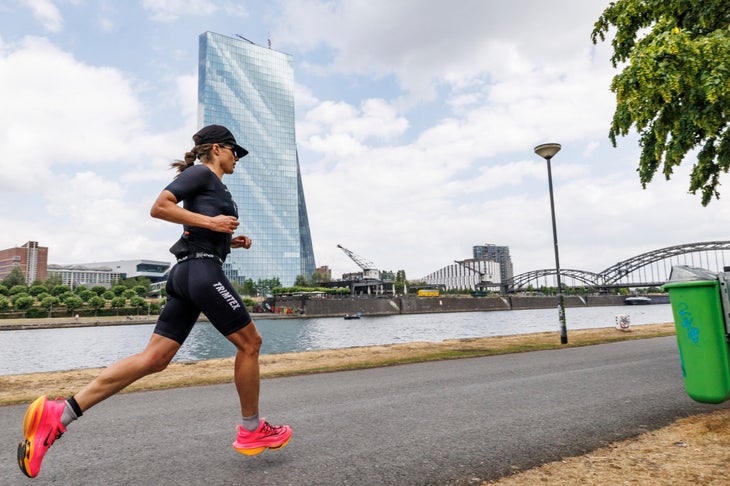 Coming into the race at Frankfurt, the Ironman European Championship title was all up for grabs, with defending Champion Laura Philipp deciding her remarkable third place in Roth was enough to sit on the sidelines. Out of everyone on the start list, no one had a bigger storyline than American Sarah True. If you'll recall, back in 2019, True led the race by seven minutes with one kilometer to go, only to suffer a dramatic breakdown and removal from the course for medical attention. She lost out on a $30,000 check that day, but this year's race in Frankfurt felt less like she was there for the money and more for redemption.
True would, of course, have to work for it. Skye Moench (who overtook True in 2019 for the win) threw down a blistering bike split to make up a six-minute deficit at T1 to True; she then built in a three-minute lead into T2. At this point, Moench was probably thinking about Ironman Arizona last November, when True took the victory ahead of her with a fantastic run. Despite gamely hanging on to the lead position for the first half of the marathon, Moench began to fall apart, opening the door for True to take the lead. Running home to an electric crowd, True found a satisfying conclusion to her redemption race. Moench held on for second, and Agnieszka Jerzyk, ranked an unassuming #173 in the world, took home a fantastic third.
True joins an impressive lineup of women who are returning to fine form after taking time off to have a child, joining her fellow Olympians Katie Zaferes and Gwen Jorgensen. True has found her way back to top form, and currently sits at #32 in the PTO World Rankings. Extraordinarily, she also manages to take the triathlon/motherhood juggling one step further by continuing her doctoral studies in psychology. Overachieving pros like these (Cameron Wurf, I'm looking at you too), can make the rest of us feel like we're not doing enough, but then again, they're the best for a reason.
Leon Chevalier engineers a masterpiece at 70.3 Les Sables
Speaking of overachieving triathletes, Leon Chevalier is another one of those. The frenchman stormed onto the scene in 2021 at the young age of 24, racked up a number of impressive results, and then bagged 6th and 7th at the two Ironman World Championships held last year – all while finishing up his masters degree in chemical engineering.
But this year has been hit-and-miss for Chevalier. An excellent victory at Ironman South Africa, followed by one uncharacteristic result at PTO Ibiza, had fans wondering how he'd do coming into this weekend's race at 70.3 Les Sables D'Olonne. Regardless of form, Chevalier was going to be tested to the limits, as he would have to go through one of the strongest World Triathlon athletes (and defending champion) Pierre Le Corre in order to take the tape.
Chevalier started off with a relatively slow swim but managed to dance on the pedals all the way to transition two and backed it up with a rapid 1:10 half marathon – enough to take down Le Corre who finished third behind Arnaud Guilloux. If you couldn't tell by the names, there were a lot of Frenchmen in this race, and they loved the home-court advantage. Interestingly enough, it seems lately triathlon might just have as much, if not more, of a home advantage as other sports. Perhaps it has something to do with the lack of travel and familiar roads alongside the personal cheers that factor into the faster times. Let's see if Leon takes ahold of more of that home advantage as he switches his focus to the Nice World Championships in September.
It was a similar story for the women's race in Les Sables, as the French again dominated the results. Charlene Clavel, a relative newcomer to the sport, emerged victorious. Interestingly enough, Clavel was a professional handball player before making the switch to long-distance triathlon. Apparently handball is a gateway to success in triathlon (new cross-training activity alert!) as Clavel posted impressive bike and run splits. Keep an eye out for this one – we might be hearing her name a lot more soon.
A Challenge Double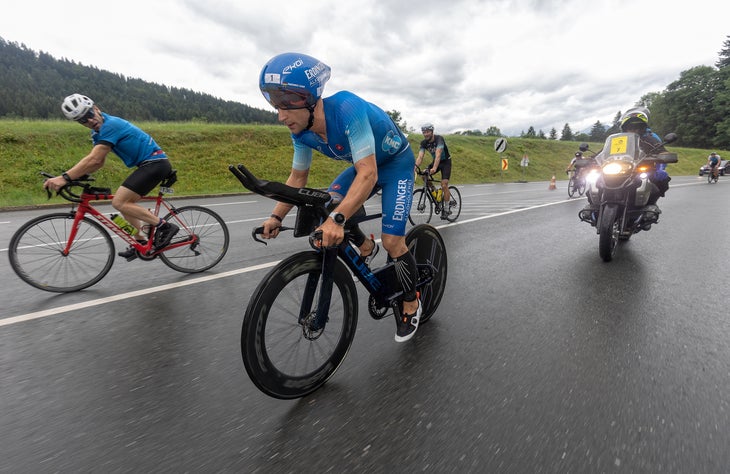 The neighbors must've heard the noise from 300,000 fans cheering at last weekend's Challenge Roth, just across the border in Austria Challenge Kaiserwinkl-Walchsee took place. Frederic Funk (another relative local) braved the wet conditions like "a maniac" (according to Tom Bishop, who finished second) to take the win. For the women, Imogen Simmonds proved toughest in the rain, and said she was a little surprised to finish first as she broke the tape ahead of the two very impressive British Lucys – Lucy Buckingham and Lucy Byram.
At Challenge's other race in Vansbro, it was another home-country win for Swedish Anna Bergsten, who took the win in a field of only four women. South African Matt Trautman who was sharpest on the men's side.
Coming up in pro triathlon
Compared to the mega-loaded calendars of May and June, July is a bit of a quiet month for professional racing. However, I wouldn't take too much of a vacation, as everything goes a bit crazy in August, September, and October.  And don't worry – there's still plenty to come this month, as next weekend we have World Series Paratriathlon taking place in Montreal as well as the men's pro race at Ironman Switzerland, where Alistair Brownlee will go for a Hail-Mary attempt at getting his Nice slot. It won't be easy though, with a strong lineup that includes Jan Van Berkel, who will most certainly try to make it difficult for the two-time Olympic champion. It should be a good one to watch.
RELATED: The 2023 (Must-Watch) Pro Triathlon Calendar
Travis Mundell is the founder of YouTube channel TheDailyTri and a self-proclaimed triathlon superfan. He is obsessed with covering professional triathlon in a comprehensive and engaging way.