Tri Race Results: A Sam Long Hat Trick, Taylor Knibb Back on Top, and XTERRA European Champs Crowned
With nine big races to choose from (including Escape from Alcatraz and a Challenge family triple-header) there was no shortage of triathlon news coming out of the pro ranks last weekend.
Heading out the door? Read this article on the new Outside+ app available now on iOS devices for members! Download the app.
Summer may not officially start for another ten days, but the triathlon world is already hot, hot, hot. This weekend was a massive one for professional triathlon, with nine big races to choose from. If the prospect of tracking all this speed and talent makes your head spin, don't worry. It just so happens to be my job to help you feel less dizzy and make sure you don't miss a thing.
Before we dive into the races, we must first note that the CEO of Ironman, Andrew Messick, addressed the audience before the Outside Watch broadcast of Ironman 70.3 Boulder. He discussed the tragic incident at Ironman Hamburg last weekend, Ironman's failure to turn off the broadcast of the race, and what is going to be changed going forward (especially regarding the number of motorcycles on the course – will we see new technology like drones step in?). Whatever the outcome of the investigation into the events in Germany, the crash was a reminder that while most of us do this sport for fun – and a select few for a living – the well-being of everybody in and around the venue isn't something we should ever take lightly. Or for granted.
The good news is that to the best of our knowledge, this weekend's race schedule—and it was a lengthy one—went off without a major incident. So, with a raft of races to get through, let's fire the starting cannon.
Sam Long on a roll at 70.3 Boulder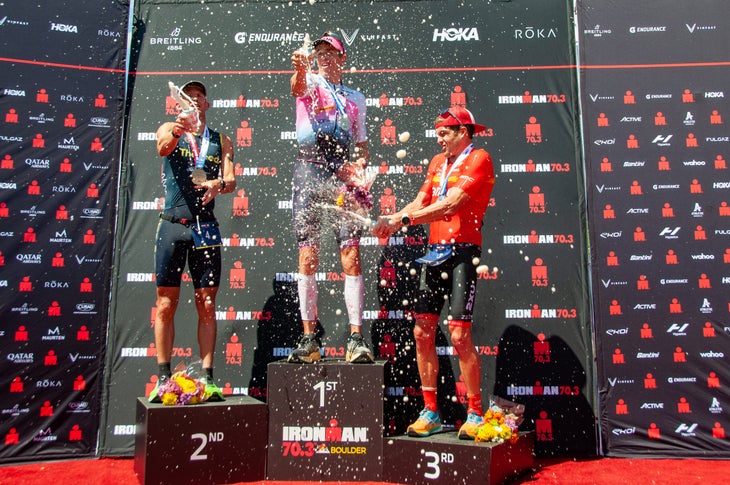 Since abruptly firing his coach Dan Plews, Sam Long has been on a tear under his own self-coached guidance. He seems to have reached another level on the bike, that few, if any, can match – at least in North America. I'm not sure if it's the motivation of his pregnant wife, Lara Gruden, cheering him on from the sidelines, or the ever-growing Yo-Yo-Yo fan club, but whatever it is… it's working. The American took his third victory in as many races last weekend at 70.3 Boulder.
Long kicked off his race coming out of the water within striking distance of the front and it wasn't long before he decided he was going to win the race on the bike, finishing the leg almost four minutes up on Matt Sharpe, Chris Leiferman, and his hero/rival/frenemy – Lionel Sanders. From there, he appeared to easily close the race out on the run, breaking the course record in the process. His finish to the race was muted in comparison to the sprint finish that happened behind him as Lionel Sanders, as he usually does, got the better of Leiferman in the final stretch for 2nd place.
Long has now taken down Sanders convincingly in their last 3 races, which certainly is not what we're used to seeing. But despite meeting up four times this year already, it seems they are parting ways as Long is on the start list for the full-distance Ironman in Couer d'Alene while Sanders  is heading to 70.3 Mont-Tremblant in two weeks.
"Sam is just on a different level right now," said Lionel after the race, and he might be right. What does that mean for Long in facing off against a stacked field later this year – a PTO race or a world championship? Place your bets now.
Of course, it wouldn't be a race weekend without a bit of controversy. This weekend's comes in the form of a penalty against Sam Appleton. Instead of choosing to cross the center line (which Long was seen doing at 1:48:18 of the race, passing a throng of age-group athletes taking up most of the road), Appleton tried to commit to an overtake within the group he was riding with – while staying on the right side of the road. Without the room to advance forward, he was left in no man's land in the draft zone of the athletes he was trying to overtake and incurred a drafting penalty – his first one in 10 years of racing. This is not an isolated case of drafting penalties ruining someone's race in recent times and it is always tough to hear about. Sam Long's decision to cross the center line, albeit briefly, was an interesting call and one that he will be thankful a referee didn't catch. The rule can be found in the 2023 Ironman Competition rules here.
Taylor Knibb is something special at 70.3 Boulder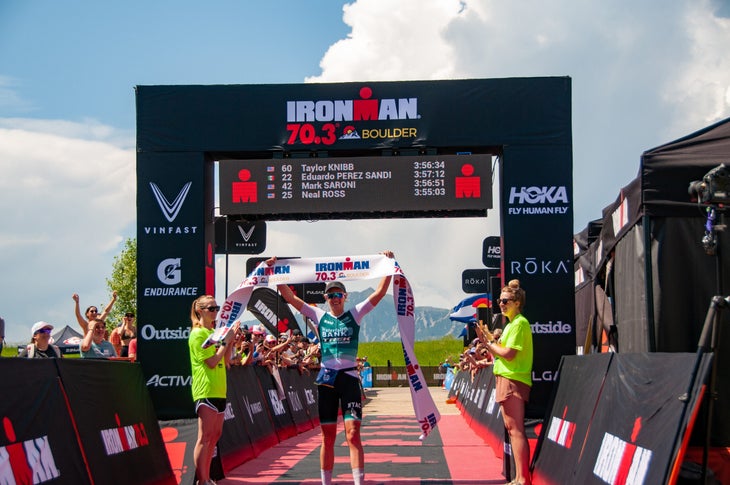 If Sam Long's bike prowess is something to behold, wait until you witness what Taylor Knibb does to the women's field. Just like she did when she won the 70.3 World Championships in St. George – the last time we saw her at this distance – Knibb decided that she was going to out-bike as many pro men as she could (at least 14 of them, by my count). That resulted in a six-minute lead over Holly Lawrence in 2nd place coming into transition.
Per usual, it wasn't just Knibb's bike split that was impressive. She pretty much went from gun to tape in this race, with an impressive second-fastest swim and third-fastest run. Her well-known smile was beaming at the finish, and rightfully so, as she's had to deal with her fair share recently, overcoming surgery to her foot on January 3rd and a recent bout with COVID in the lead-up to this race.
This 25-year-old is surely on track to superstardom in triathlon, but it sounds like she might look for further glory in the cycling world after news that she is on the start list for the USA National Cycling Elite Time Trial, racing for the Trek-Segafredo Pro Team. Could we see our triathlete Taylor Knibb showing the cycling world that multisport athletes aren't too shabby in the saddle?
But I digress – back to Boulder. Despite both having times that would have won them the race in 2022 by over 7 minutes, Holly Lawrence and Jeanni Metzler could only follow a dominating Knibb to their respective second third place finishes. Metzler's consistency has been particularly impressive as late, showing her brief absence from racing was absolutely the right decision.
Missed the stellar show in Boulder? Outside+ Members can replay the action on demand with Outside Watch. Become a member today!
The Forisser Brothers go 1-2, Brownlee-style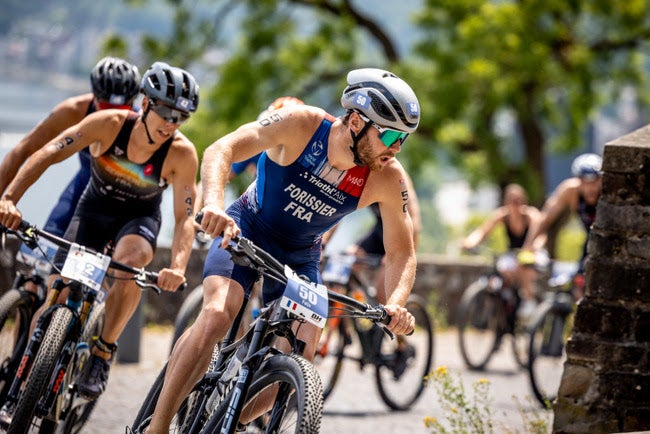 The XTERRA European Championships was the third long-distance stop on the XTERRA World tour. Taking place place in the old Citadel of Namur in Belgium (what an epic place to do a triathlon), the course featured currents, cobbles, and hills that meant only the toughest would come out on top.
On the women's side, the day was all about Loanne Duvoisin, who managed to post the fastest bike and run splits of the day to take the title. Duvosin now moves to second in the rankings, and will be eyeing that number-one spot after such a fine performance. Sandra Mairhofer passed the series leader Alizée Paties on the run to claim second, as Paties hung on for third.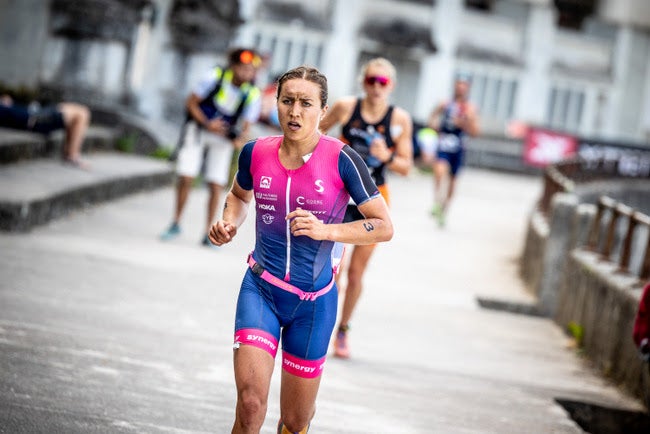 On the men's side, it would be the Forissier family who would steal the show, with Felix breaking the tape ahead of his older brother, Arthur (who sits third in the overall rankings). After the race, Felix remarked, "I think I'm in the best shape of my life," and he's probably right. This statement really caught legs on the bike leg of last weekend's race, as  Felix put the hammer down and outpaced even the Olympic gold medalist Jaroslav Kulhavý for the fastest split of the day. Like Duvosin in the women's race, Felix backed up the impressive bike with the fastest 10km run to finish 3 minutes up on his brother, who took second, and Ruben Ruzafa, who finished third.
A crazy story that not many might have heard from this race: 2015 XTERRA World Champion Josiah Middaugh passed 110 people on the bike to finish 10th, and Sebastien Carabin went from 198th out of the water to 11th. That is probably up there for the most overtakes in triathlon history, though it's likely literally no one is keeping a record book for this obscure stat. We're not ESPN here.
The men and women will now have a couple of months' break before the next races come fast and furious in August. The World Championship in Trentino follows shortly after in September when, all the best off-road triathletes come together to fight for the title and $100,000 prize purse.
Swimmers break free at Escape from Alcatraz
We hereby nominate Marc Dubrick for "breakthrough performance of the year." The number 82 triathlete in the world snatched his first-ever Escape from Alcatraz victory from defending champion Eric Lagerstrom at this epic race with more than 40 years of notoriety in the triathlon world. Dubrick won the race with gun-to-tape victory (which seems to a theme of the weekend). This is especially impressive given that Dubrick had to best a talented field that included second-place Lagerstrom, new pro Miguel Mattox (who placed third) and the blazing-fast Jason West who took fourth.
I reached out to Dubrick for some insight on how he accomplished his breakthrough performance. His reply: "I was so stoked to see the choppy swim condition. My plan, no matter what the conditions were, was to push the swim hard and hopefully gain a gap heading out on the bike. I ended up executing that perfectly with a 1:40 gap. Then, headed out on the bike, I was focused on ticking off my next process goal."
Vittoria Lopes won the women's race, besting second-place finisher Megan Foley and third-place Danielle Lewis.
Ryf vs. Gentle matchup delivers (and then some)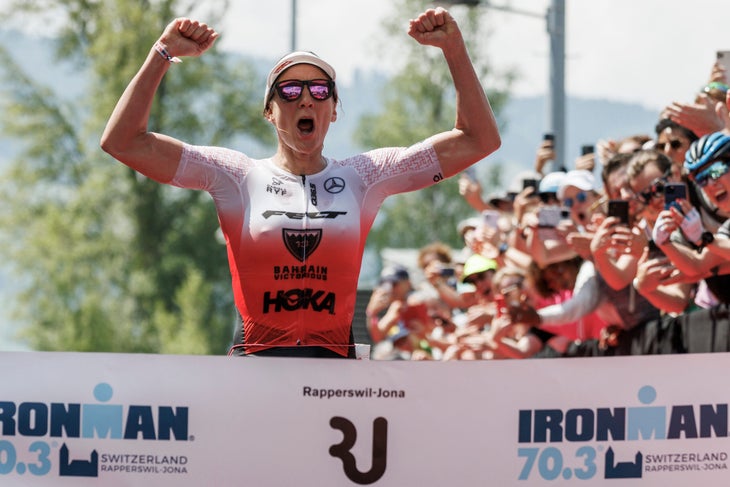 Though 70.3 Boulder got the broadcast spotlight, another billing deserving of prime time was Ironman 70.3 Switzerland. The race featured an inarguable G.O.A.T of triathlon, Daniela Ryf, facing off against arguably the best middle-distance racer and current #1 in the world, Ashleigh Gentle. Ryf had won the event seven times, but had never faced a stronger opponent. She was also facing a bit of criticism after another disappointing race on the big stage at the PTO European Open in Ibiza.
In the end, Ryf put her critics to shame, showing Taylor Knibb that she's not the only one who can put six minutes into her competitors on the bike (can we organize a time trial race between those two? And can we get that televised, please?). Despite Gentle's phenomenal running pedigree, Ryf was just too far gone for anyone to catch her on the run, the G.O.A.T. took home a staggering win #8 on home turf.
A Challenge triple-header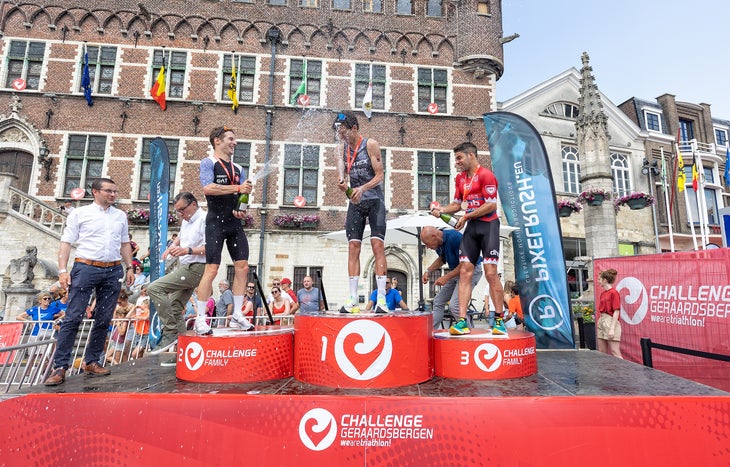 Challenge couldn't let Ironman have all the fun. They offered triple-header of races this weekend, starting off with Challenge Wales. It was Lucy Byram and Tom Bishop having a bit of déjà vu, as both earned spots atop the podium before in Chile earlier this year. Bishop and Byram both smashed the bike leg to take home the win in comfortable fashion. These two have been shooting up the rankings, and don't look like they'll be slowing down anytime soon.
Following Wales, we had Challenge Geraardsbergen taking place in one of the oldest cities in Belgium. The race hosted a relatively small pro field, with Margie Santimaria (my new favorite name in triathlon, by the way) putting together an all-around fantastic race to take the win. Joe Skipper, ranked number 30 in the world, was taking all the odds going into this race, even without his strong pedigree of half-distance racing, but only managed to take third in what's proving to be a tougher start the season than he might have anticipated. Instead, it was Menno Koolhass, an athlete from the short course side of the sport, who brought the swim and run firepower to take the win.
Lastly, it was Challenge Cagnes-Sur-Mer, which upon Google imaging, is now added to my triathlon bucket list. With favorite Rudy von Berg out with a collarbone injury, it was his fellow Frenchman William Mennesson who decided (like everyone else apparently this weekend) to go all out on the bike and hang on for the run. On the women's side, this was the perfect race to go for your first professional podium, as there were only three women racing. Imogen Simmonds unsurprisingly took the win there, as the 2019 third-place finisher at 70.3 Worlds continues her journey back to the top of the sport after injury.
On deck for next weekend
If you've made it this far and through all of those storylines, you're obviously as passionate about the pros as I am. And if that's the case, you'll love next weekend's lineup of races which boasts two big Ironman races with important World Championship slots on the line: Ironman Austria and Ironman Cairns (which doubles as the Asia-Pacific Championship race). Plus, we've got an important World Triathlon race in Mexico for returning Olympic Champion Gwen Jorgensen, amid her hunt for a slot in the U.S Olympic team. Middle-distance racing also continues with 70.3 Luxembourg (pro men only – the women's pro field will get their chance to shine the following weekend) and Challenge Gdansk. There's something for everyone it seems these days, and professional racing is stacked with some of the best athletes we've ever seen in the sport. But the real winners are the fans who get to watch this golden age of triathlon talent.
RELATED: The 2023 (Must-Watch) Pro Triathlon Calendar
Travis Mundell is the founder of YouTube channel TheDailyTri and a self-proclaimed triathlon superfan. He is obsessed with covering professional triathlon in a comprehensive and engaging way.