Tri Race Results: A Record-Breaking Day at Roth, a Big Leiferman Win at Ironman Coeur d'Alene, and More
Plus, tri gets a stage at Olympic Esports Week, bringing it one step closer to potential inclusion in future Games.
Heading out the door? Read this article on the new Outside+ app available now on iOS devices for members! Download the app.
From records falling in Roth and Coeur d'Alene to the Olympic race heating up, there's a lot of triathlon news to discuss out of this past weekend of racing. Let's get right to it with a trip to Germany and a day for the record books.
A record-breaking day at Challenge Roth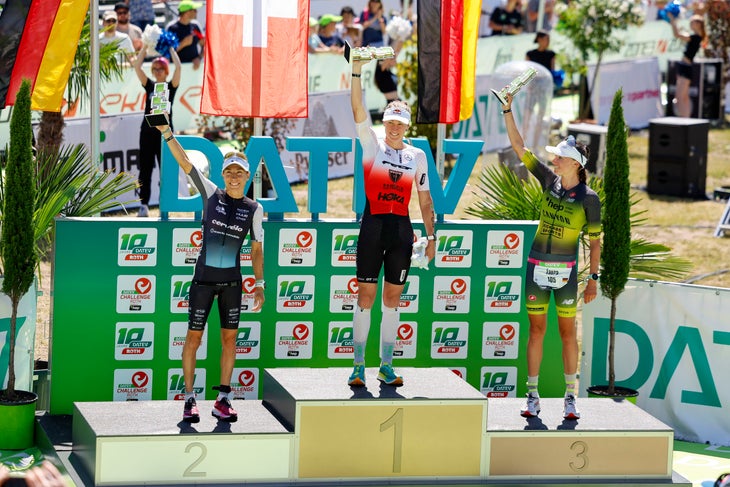 Challenge Roth is the biggest triathlon in the world (if Ironman didn't exist) and the biggest triathlon in the world for supporters (even though Ironman does exist). As Jan Frodeno said while serving as a commentator for the race last weekend, probably the biggest boon to Challenge Roth's 2023 credentials was Ironman's decision to split its World Championship by sex, date and location. If Kona is no longer the Kona we know, then this is the European "Kona." Whether you agree with the big German or not, an estimated 300,000 who rocked up to Challenge Roth to see records fall faster than Sam Laidlow's average run pace on the marathon (sorry, low blow) certainly did.
Read our report here for the full story, and they'll be more reflections to follow, but not only did Roth give us numbers that didn't seem to compute, it's nearly impossible to say whose was the more impressive: Daniela Ryf taking down Chrissie Wellington's 12-year-old record by a full 10 minutes or Magnus Ditlev putting 11 minutes into Frodeno's 2016 time.
Even if you don't want to call them world records (and the people at Challenge Roth would be more than happy if you did), they are still unarguably, unequivocally, unquestionably some of the world's best performances the tri world has witnessed – and that's a Solarer Berg myself and many other would die on.
When Patrick Lange runs a 2:30:28 marathon to also break Frodeno's overall mark by 5 minutes, and no one so much as bats an eyelid, it underlines what Ditlev did. There's a famous quote from a gruff Russian long jumper at the 1968 Olympics in Mexico City when having witnessed USA's Bob Beamon jump more than 29 feet (no one had surpassed 28 feet previously), he trudged to his mark at the start of the runway and lamented: "What's the point in continuing? He has made us all look like children." As Sebastain Kienle said at the post-race press conference, it was akin to the moon landings.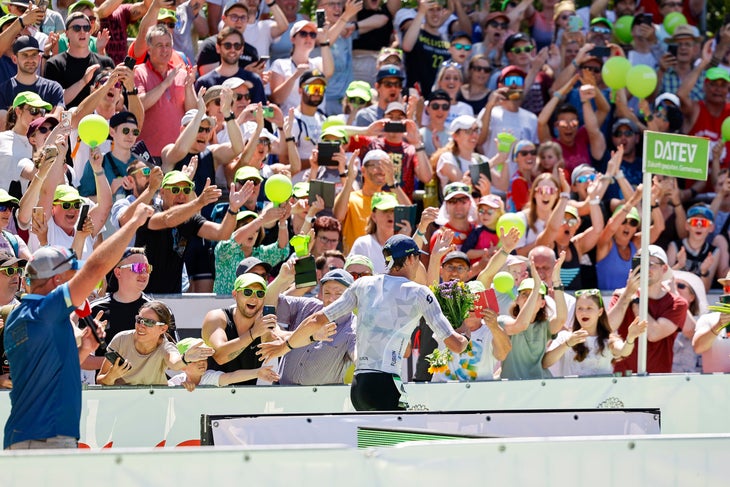 Not to be outdone or content with the overall record, Ryf also beat the women's bike record. I'm not going down the path of how many men she out-splitted as the men versus women conversation is eternally nauseating, but if I tell you 2023 Ryf biked faster than Kona Version 2018 Ryf and Roth Version 2016 Ryf, then you get the picture. At 36, she's not fading away.
Anne Haug, who had looked unbeatable in 2023 until yesterday morning, ran a 2:44:45 in finishing second (surprisingly, that was not a record, as she ran faster herself in 2021) and Ben Kanute set the fastest ever American time for an iron distance race in 7:37:18. This made Germany a more-than-worthwhile trip for Kanute, who rounded out the men's podium. Germany's Laura Philipp did the same in the women's race. Ironman champion Chelsea Sodaro was running strong in second until 20 miles in but dropped out, presumably blowing a gasket. She's since posted on Instagram: "A solid day until it suddenly wasn't." No doubt she'll be back.
RELATED: The Secrets of the Fastest Female Runners in Tri
A big Leiferman win at Ironman Coeur d'Alene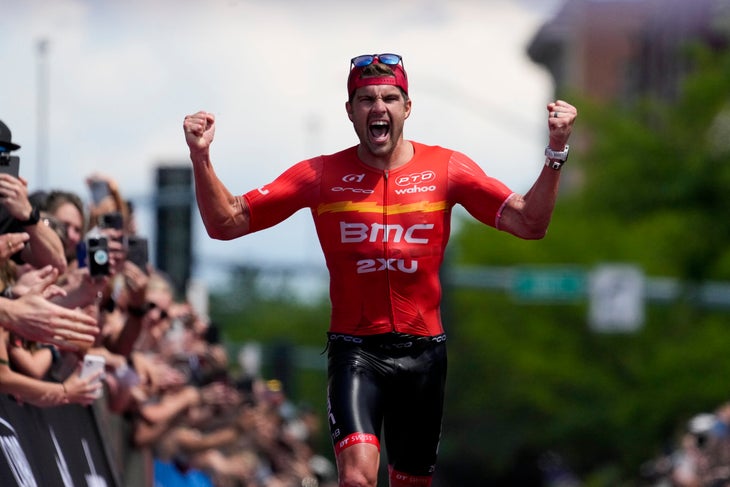 It was Chris Leiferman's day at Ironman Coeur d'Alene, where the pre-race chatter was whether Sam Long could land four wins in a row after a trio of 70.3 wins since the start of May. Unfortunately, the Big Unit was derailed by a succession of tire issues before pulling the plug, leaving the way clear for Leiferman to back up his recent podium finish at Boulder with the fastest bike and run splits plus the overall course record. The Team BMC hotshot was kept honest by Matthew Marquardt – now two from two podiums in Ironman racing – who finished just 2 minutes down, with Justin Metzler in third.
Hayley Chura led the women's pro race for the first 7 hours before being passed by Jodie Robertson for the win. Despite being more than 8 minutes down on the swim, the 38-year-old Robertson biked back into contention and ran a 3:07:42 marathon to win by 10 minutes and land a second Ironman title following a victory in Texas six years ago.
Fifty years young Mel McQuaid made sure there was some Canadian representation on the pro podium by holding off the fast-running Japanese Ai Ueda for third. The first half-centurion to make an Ironman pro podium? If not, it must surely be a select club – and one that doesn't yet include the veterans Cam Brown nor Dede Greisbauer. Let us know.
A home-soil victory at Ironman France
With most European eyes on Roth, Ironman France in Nice slipped largely under the radar, but the venue will be back in full focus when the Ironman World Championship ventures outside of the USA for the first time in September.
Both yesterday's event and the September 10th showdown were pro men-only races, and the action on the French Riviera might provide some clues for what's to come – most notably with home-soil winner Clement Mignon.
Having placed ninth in Kona last year and won the World Triathlon Long Distance title in Ibiza in May, the 24-year-old added his first full distance Ironman crown with a 8:17:39 finish and must be considered a threat for more success here in under three months.
Cam Wurf might not have made the Ineos Grenadiers squad for the Tour de France, but it does leave him free to continue his regular Ironman racing. Having clinched Nice qualification last week in Austria, he turned up in Nice for his fourth M-Dot outing since March to see what it was all about, but despite leading off the bike dropped to fourth. With Kristian Hogenhaug also not completing the marathon it was left for Mignon to cruise to a 6-minute victory over 39-year-old veteran Bart Aernouts, with Belgian Jonas Hoffan in third.
Olympians fighting for position at WTCS Montreal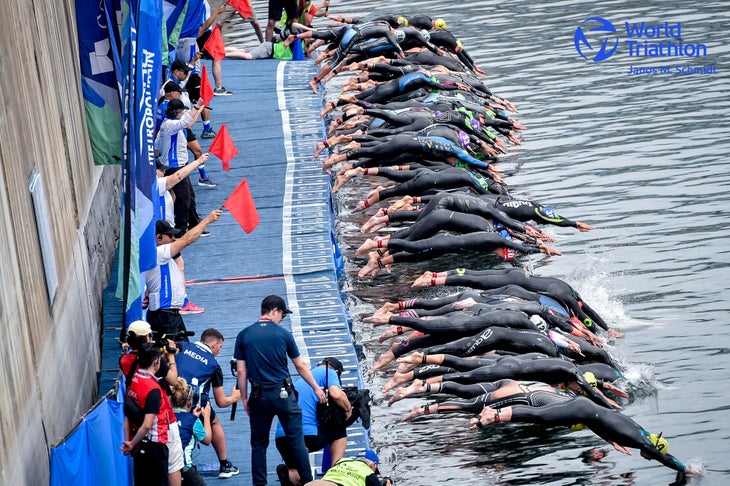 The fourth leg of the World Triathlon Championship Series (WTCS) took place in Montreal. For those not familiar with short course racing, the WTCS is the highest level of competition below the Olympics. It's a seven-race series with the grand finale taking place in Pontevedra in Spain in late September. Contested over the sprint distance of a 750m swim, 20km cycle and 5km run, it was a familiar tale of British triumph on the women's side as Beth Potter used her prodigious run ability to take the tape. France's talented Leonie Periault was second with USA's Summer Rappaport in third.
Following Potter's win in Abu Dhabi, Sophie Coldwell's win in Yokohama, Georgia Taylor-Brown's win in Cagliari, and now Potter triumphing again in Canada, we've heard nothing but the British national anthem during the women's podium celebrations this season. Whether Hamburg in three weeks' time is any different remains to be seen.
RELATED: The Monarchy-Inspired Way British Triathlon is Building Their Dynasty
Victors aside, don't be distracted from an emerging story as the US women jostle for position as they try to qualify for Paris 2024 next year. Rappaport grabbed a first WTCS podium since 2021 in Hamburg, but more than that, she was in a two-woman breakaway with Taylor Knibb and clung on for the entire bike leg. We've always known the 31-year-old can swim and run, now she might be getting her biking together too.
Knibb rocked up from finishing fourth in the US cycling time-trial championship in Tennessee (having just signed for Trek-Segafredo) and was good enough for sixth, one place behind Olympic bronze and silver medallist Katie Zafares – whose bid to be in contention for Paris suddenly looks very plausible. For Tokyo, the final US spot came down to Zafares and Taylor Spivey. Poor Taylor missed out. Ironically, Spivey is currently leading the WTCS rankings.  But she came ninth here. This could get fractious.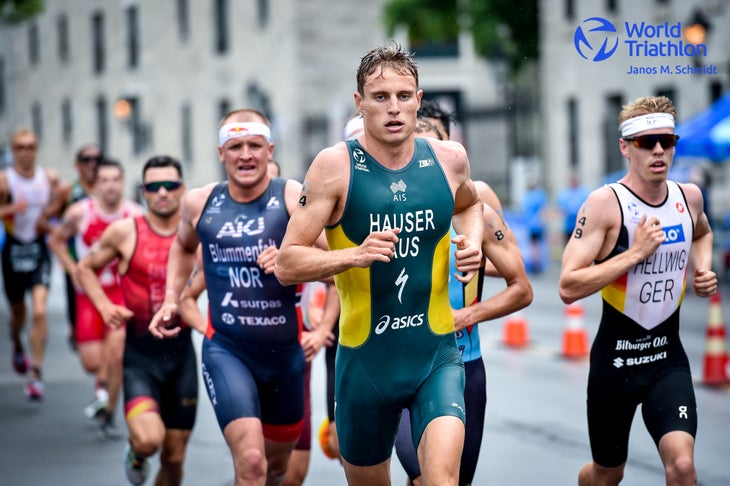 We'll spend less time on the men's race, but it was a first WTCS win by Matt Hauser. The 2017 world junior champion is a name everyone (OK, most people) forget when discussing potential Olympic medal winners – and for absolutely no reason.
Hauser, 25, is heading into his prime, was second in Yokohama in May to Hayden Wilde, and could have easily won the overall Super League Triathlon last fall. He swims like a fish (or an Aussie), as shown by having the fastest split in Montreal. Brazil's Manuel Messias and Belgian's Jelle Geens were consigned to the lower podium places. While there was no Alex Yee nor Wilde, Hauser also took down plenty of other big names, including Olympic champion Kristian Blummenfelt and current series leader Vasco Vilaca.
The mixed team relay was supposed to take place on Sunday, but was cancelled due to smog from forest fires in Quebec. It also meant Ironman 70.3 Mont-Tremblant went the same way. Sporting collateral damage in a broader and far more serious problem for humanity to solve.
RELATED: Hotter, Harder, and More Expensive: Why Triathletes Should Care About Climate Change
A neck-and-neck race at Ironman 70.3 Elsinore
One of the closest finishes of the weekend came in Ironman 70.3 Elsinore in Denmark where Ireland's Olivia Mitchell duked it out with Sweden's Anna Bergsten – the two running neck and neck inside the final miles – before Mitchell claimed her first 70.3 pro win. Britain's Kate Curran held off home favorite Laura Madsen for third. The race also featured a return for Michelle Vesterby, who hasn't raced this distance since 2021. Still feeling some ill-effects from a recent bike crash, the ever-smiling Dane led into T2 before pulling out, but was in good spirits with full focus on Hawaii in October where she first competed more than 10 years ago.
Missed all the action in Elsinore? Outside+ Members can replay the action on demand with Outside Watch. Become a member today!
Tri gets a stage at Olympic Esports Week
And finally, we shouldn't sign off the weekend action without a brief mention of the Olympic Esports Week, where 20 athletes and five teams competed in a duathlon relay event, each completing a 750m run, 6km bike and another 750m run, where the times from the first three legs dictated the pursuit start times of the final leg.
Why is this important? Because as an exhibition event in Singapore, it was multisport's opportunity to showcase its esports wares (think Arena Games) ahead of potential Olympic inclusion in a future Games. There's a long way to go and lot of joystick-waggling competition, but it's a start.
For the record, Team Oceania took the win, with Europe bagging silver and North America the bronze. "That was very, very hard," admitted winning team member Jack Latham. "I loved every single second of it even though the pain was excruciating." Yep, sounds like the Arena Games action we all know, and some of us love.
RELATED: Achievement Unlocked: How Esports Could Take Triathlon to the Next Level