Tri Race Results: A Record-Breaking Day at Ironman Cairns, Battle of the Moms in Huatulco, and More
Cam Wurf finally punched his ticket to Nice, but if last weekend's performances are any indication, he's going to face a lot of competition (looking at you, Braden Currie).
Photo: Jan Hetfleisch/Getty Images
Heading out the door? Read this article on the new Outside+ app available now on iOS devices for members! Download the app.
With big names and big races around the globe this weekend, there was something for every fan of professional triathlon to cheer about. From a record-breaking day in Cairns to the battle of the moms at World Cup Huatulco, it was a scintillating weekend for triathlon news and race results.
Simpson, Currie bring the thunder at Ironman Cairns
We Americans sometimes forget that while our tri season is getting hotter and hotter, winter is coming in the Southern Hemisphere. For a select number of professionals, the season already feels like it's been full. Australian and New Zealand-based athletes have a large selection of races to take choose from earlier in the year, and Ironman Cairns can feel like the final big showdown on their Oceanic calendar.
For the women, all eyes were on defending champion Sarah Crowley, who raced despite recovering from a terrible fall that left her with two broken ribs and a broken sternum. But when the start cannon fired, all eyes would quickly be diverted to 40-year-old Kylie Simpson, who had 1:04 swim split. If your eyebrow is raised right now, that's the right reaction. For Simpson, that 1:04 was actually a personal-best swim, as the lifelong runner didn't start swimming until much later in life. So coming out of the water 12 minutes down didn't concern her too much, and actually only added to the drama as she threw down a bike-run performance that would have made Lionel Sanders proud. At the end of the bike leg, Smith was only 30 seconds down from the race leaders, and then a 2:51 marathon took her to a lead of 18 minutes. In the end, Simpson's amazing comeback wasn't just a win, it was a new course record (by over seven minutes). Radka Kahlefeldt and Penny Slater took second and third, respectively.
The men's race had a much different storyline, with Braden Currie deciding from the start that he was going to put on an all-around triathlon show. After a ridiculously fast 45-minute swim, the Kiwi was never off from the front of the bike, just like we saw at the 2021 Ironman World Championships in St. Geroge. Anyone who dared to attempt to hang on found themselves dispatched expertly by T2 and beyond. Currie barely faded during the marathon, and was rewarded with a new course record. Currie is truly one of the best in the world at the full distance right now. This performance is exactly the kind of race that will put his name as one of the favorites for the Ironman World Championships in Nice. And if that doesn't convince you, the shade he throws on Instagram about the PTO rankings will.
A party at Ironman Austria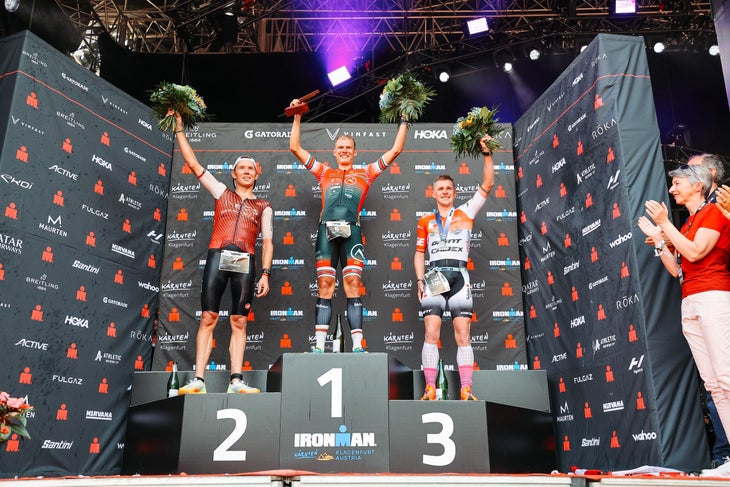 Ironman Austria was one of the few events left to qualify for the 2023 Ironman World Championships in Nice this year, and with the news that Alistair Brownlee would not be making the start line (no comment on how often that happens) Cameron Wurf and Co. were probably celebrating before the race even started.
That celebration probably stopped after they heard that by the end of the swim, they were already three and a half minutes down to former Olympic swimmer Lukasz Wojt, who clocked an insane 44:04 (which he described as just "OK"). But Wurf (who is "OK" at riding bikes) managed to work his way to the front of the race on the bike leg with a day-best 4:12:53 and a lead of more than 4 and a half minutes entering T2. Wurf, who has twice missed out on bagging a Nice spot this year, knew he had to stay in the mix if he wanted to go to France for something other than le Tour. Could he do it?
As it turns out, yes…barely. On the run, Wurf was bested by Mathias Pedersen, an ever-improving prospect in the sport who turned in an impressive 2:45 marathon. Wurf, who finished second, got his spot, but with a marathon time of 2:56, it's clear he's got a lot of work to do to compete with the likes of Braden Currie in Nice. It does look like he'll be prioritizing triathlon in the upcoming months, buckling down before the world champs to improve his times. He clearly seems delighted to be heading there regardless. World-ranked number 360 Georg Enzenberger claimed third place with a truly left-field performance.
Speaking of fast swims, Lotte Wims is no stranger to those. The #4 ranked triathlon swimmer in the world showed how strong she is by out-swimming the women's pro field by at least 4 minutes. From there (just like she did recently at Challenge St Pölten) Wims finished out the gun-to-tape job to take her first Ironman victory in only her second attempt at the distance. Gabriele Obmann of Austria claimed second place, with Laura Zimmermann of Germany taking third. Interestingly enough if the swim deficit wasn't so drastic to these two – nine minutes to Obmann and twelve minutes to Zimmermann – the race would have played out very differently. Don't say the swim doesn't matter, because it very much does.
But the real news out of the day: Austria knows how to throw a finish line party. Disco break!
Dad strength is real at Ironman 70.3 Luxembourg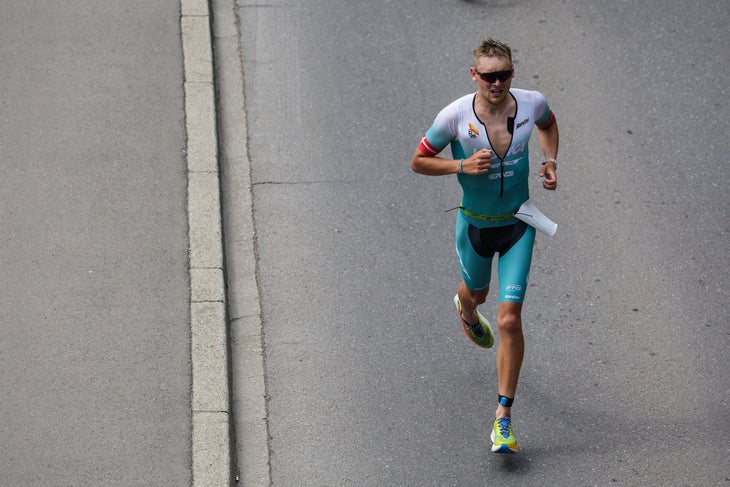 A course that starts in Germany, rides through France, and finishes off back in Luxembourg is a pretty unique one, and with a men's-only race that featured some of the top contenders for 70.3 Worlds this year, it was set to be fireworks from the start.
Among those contenders was the upset winner at 70.3 Kraichgau last month, Rico Bogen, who led out the swim with only a little bit of separation from the top contenders. Tight racing was the theme of the day, and it made for an exciting show. The victor: new dad Miki Taagholt, who welcomed baby Agnes only four weeks ago.
Taagholt has finished 4th and 6th at the 70.3 World Championships before, but remarkably had actually never won a middle-distance race until Luxembourg. How that's possible, I'm not quite sure. But he finally put that to rest with the second-fastest run split of the day, timing it just right to make the surge to the front and claim the victory in front of Christophe De Keyser and Filipe Azevedo. Turns out midnight feedings and diaper changes are excellent training for finding an extra gear for a finish-line kick.
Missed the stellar show in Luxembourg? Outside+ Members can replay the action on demand with Outside Watch. Become a member today!
Bike power on display at Challenge Gdansk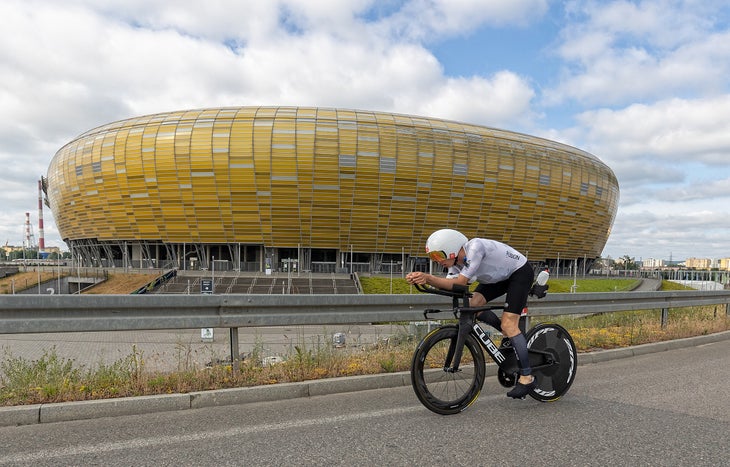 Challenge Gdansk, which is surprisingly pronounced as it looks (trust me, I checked), had a bit of déjà vu from 70.3 Warsaw last week as home-country hero Kacper Stepniak pulled off a back-to-back win. Stepniak, ranked number 72 in the world, clearly wanted to add to the déjà vu by biking more than five minutes into all of his opponents in Gdansk, just as he did last weekend. He's proving to be a weapon at the front of races, and came into transition surely thinking he had this one wrapped up (if I were him, I would've been thinking about my post-race milkshake starting in T2). But there was one plot twist: Ognjen Stojanovic and Marcel Bolbat put in two incredible run splits that got them agonizingly within a minute of Stepniak. Nail-biting stuff right to the wire at this one.
In the women's pro race, Anne Reischmann showed off the bike strength that had everyone talking at the PTO European Open, coming into T2 with a sizable lead that was never under threat during the run. As straightforward as it was for Reischmann, there was an impressive battle going on for second and third with Agnieszka Jerzyk barely holding off the rapid run of Daniela Kleiser who put down a 1:16 half marathon to claw her way to third place.
Jorgensen, Zaferes fight for Olympic spots at World Triathlon Cup Huatulco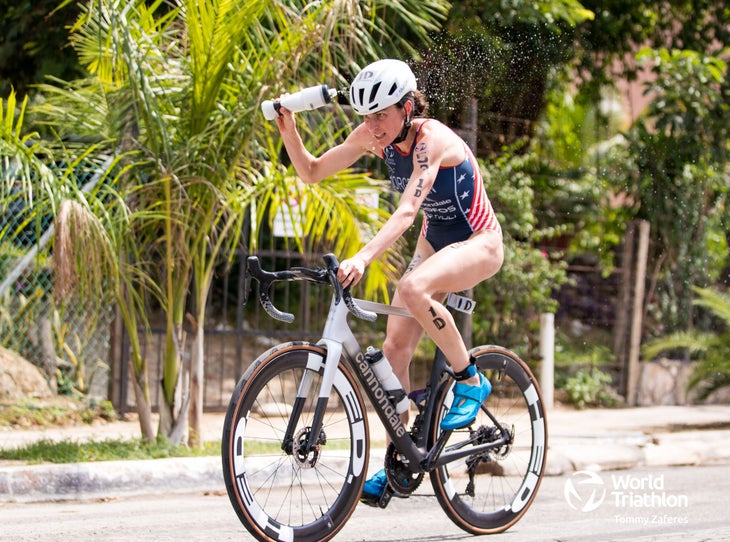 Gwen Jorgensen and Katie Zaferes, gold and silver Olympic medalists respectively, are both fighting for the elusive spots for the U.S. Olympic team after recently giving birth. However, during their absence (especially Jorgensen's, which began back in 2017), the fight for Paris got a whole lot harder. With six other women ahead of them in the rankings, and with the likes of Flora Duffy saying that the racing level has really increased – the challenge the two face is substantial. The pair have had mixed results since beginning their comeback, with Zaferes finding most of the success, but the World Triathlon Cup race in Huatulco proved to be extremely promising for Jorgensen. She took home second place, whereas Zaferes only managed 13th, struggling in the heat. Later in the weekend, both were given a rare chance to celebrate together with a win in the mixed relay event.
"I just can't thank this team enough, I just had to not mess it up and we came away with the win. It was super hot out there, and I am so happy that we came away with gold," Jorgensen said after the win.
After Huatulco, Zaferes climbed above Gina Sereno in the rankings and, as it stands, has a better chance to make it to the Olympics than Jorgensen, who sits over 100 spots back. But after this race, no one can count Jorgensen out – she swam just as fast as Zaferes and managed to put together an impressive bike and run that was good enough to beat the second-place finisher in WTCS Yokahama (and hometown Mexican athlete) Rosa Maria Tapia Vidal. This result, she says, "finally shows where I'm at" and also automatically qualifies her for the Pan-American Games. With this confidence boost, both Jorgensen and Zaferes will have their eyes set on making it to the Paris Test Event in August, where a good result could see them automatically qualify for the Games.
What's next
All eyes will be on Challenge Roth. This is unquestionably the best start list ever assembled in Roth's history (don't believe us? See Thorsten Radde's pro preview of Challenge Roth). All of the women's Ironman World Champions since 2015 competing for the win, and that's too good to be true. On the men's side, it's almost as good with the likes of Patrick Lange, Sam Laidlow, Magnus Ditlev and Sebastian Kienle going head-to-head. To make things more exciting, Jan Frodeno has just announced that he will be commentating on the race. (You'll also see me on the live stream as the field reporter – almost as good as the Jan Frodeno news, right?)
If that wasn't enough, we've got Ironman Couer d'Alene featuring the in-form Sam Long; Ironman Nice, which will serve as an incredible preview for this year's men's World Championshi; and two Ironman 70.3s. 70.3  Elsinore will feature a women-only pro race, and Mont-Tremblant will showcase the likes of Lionel Sanders and Tamara Jewett.
WTCS Montreal tops off the remarkable weekend, with a sprint distance race and a mixed relay featuring all of the top short-course names.
RELATED: The 2023 (Must-Watch) Pro Triathlon Calendar
Travis Mundell is the founder of YouTube channel TheDailyTri and a self-proclaimed triathlon superfan. He is obsessed with covering professional triathlon in a comprehensive and engaging way.