The Truth About Chrissie Wellington's Injuries
Wellington concealed the extent of her injuries resulting from a bike crash leading up to the Ironman World Championship.
Heading out the door? Read this article on the new Outside+ app available now on iOS devices for members! Download the app.
Wellington concealed the extent of her injuries resulting from a bike crash leading up to the Ironman World Championship.
It was clear that something was seriously wrong with Chrissie Wellington by the time she climbed out of the water in a relatively slow 1:01 during Saturday's Ironman World Championship (she typically swims around 55 minutes). She suffered a crash two weeks ago but concealed most of her injuries before the race, only admitting to having road rash and bruises. Wellington didn't reveal that she also had torn pectoral and intercostal muscles, had been taking antibiotics for nearly two weeks and spent six hours in Kona Community Hospital days before the race.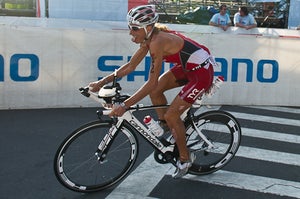 Wellington said her chest was "a little sore" after the crash, but it didn't bother her as much as her hip or road rash. She had taken antibiotics from the crash until Saturday, one week before the race.
Two days later, she went for a hard 4km swim on the race course. Wellington "didn't know what was different," in that specific swim workout, but something was wrong. She said, "At the end of about 4k my chest started to hurt, then over the course of the day it got progressively worse."
She went for a run the following day and the pain was manageable, but it would spike when she took a deep breath. A short swim the following day sent her over the edge. "I got into the pool and managed about a kilometer and I was crying into my goggles. It just felt like someone was stabbing me in the chest. I had to get out," she said.
PHOTOS: Women's Pro Race At Kona
Wellington saw her A.R.T. therapist Mike Leahy and he sent her to Kona Community hospital for a chest X-ray to make sure she didn't have any broken ribs. They also ran a CT scan to check for a pulmonary embolism. The tests both came back negative, but doctors discovered tearing in an intercostal muscle and her left pectoral. Her her road rash wounds were scrubbed clean and she was re-prescribed antibiotics to fight infection. She took the pills through the week, but not on race day.
The swim that sent Wellington to the hospital five days before the world championship was her final session leading into the race. She missed several swim workouts that week.
Wellington and her coach Dave Scott planned her swimming effort level in the race around her injuries. The six-time Ironman world champion recommended that she start easy and let her competitors swim away so she wouldn't incapacitate herself before getting on the bike. She said she was "apprehensive" before the race start given that her last swim workout resulted in a trip to the hospital.
Wellington is accustomed to exiting the water with the lead women, so finishing the swim 10 minutes behind Julie Dibens was "slightly worrying."  Despite enduring pain and running with an obviously labored stride, Wellington willed her body's torn muscles, patches of missing skin and bruised joints to a fourth world championship.
RELATED: Another Dimension Revealed in The Unfathomable Great
Written by Aaron Hersh. Follow him @triathletetech.