The Contenders Talk: Men's Ironman World Championships 2023 Press Conference
"I think it a brings an element of fun and adrenaline that's not common in Ironman racing, per se. It's a course that probably wouldn't have passed health and safety standards in America simply because the turns are a little bit steep." - Jan Frodeno on the Ironman World Championship course in Nice
Photo: Susan Lacke/Triathlete
Heading out the door? Read this article on the new Outside+ app available now on iOS devices for members! Download the app.
Vive la France! Visit our Nice Central hub for news, analysis, history, photo galleries, and so much more – new stories added daily from our team on the ground at the men's 2023 Ironman World Championship.
Rudy von Berg, USA
"When you have a home race, it's always pretty special, especially when it becomes an Ironman World Championship, which is the most important race for me in triathlon. I grew up here and I was coming here to the Ironman every year, watching the professionals. When I was very young, I'd gotten my mountain bike to the top, because I saw these warriors come up. And so I told myself I'd be one day there racing, and hopefully up there with the professionals. It's always been kind of a dream for me to have a race here at the highest level. Not just an average race, an Ironman World Championship."
"[Ironman Nice 2022] was my first full distance, and I think I'll have to definitely have a better performance than that, to compete with the best on Sunday… I know the course really well, so that's definitely an advantage. In the past, people really weren't able to know the course that well here, but now there's been so much talk about the course and downhills that all the guys have come and done some recon and know the downhill quite well now. So I think we're more than a level playing field."
RELATED: 2023 Ironman World Championship Nice Bike: Rudy Von Berg's Custom Trek Speed Concept SLR
Denis Chevrot, France
"It's my sixth world championship and I've never had a good day yet. This year it's on a Sunday, and it's easier for family and friends to come and share here in the U.S. and in Hawaii."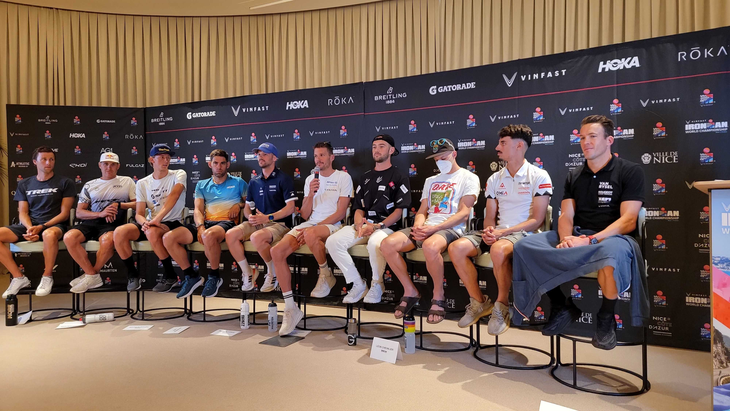 Braden Currie, New Zealand
"There are points where you can push so much out that you're probably going to regret later on in the race, or maybe that's what will make your race, so it's definitely going to be a big gambling game. Where are you ready to play cards, and how that's going to work out for you?
"To be honest, I haven't actually raced that well in Europe. When I've come over here. I've always battled with kind of getting in the time zone and checking travel off, but hopefully this time I've had a really good block at altitude, I feel pretty settled into the area and the time zone, and hopefully it helps my racing."
Magnus Ditlev, Denmark
"Obviously I take a lot of confidence from my previous long distance races, but also it's clear that this course is much different than any other full distance Ironman race I've done so far. So that's what I think is really cool about this race. You really don't know what's going to happen. And I think we will be in for a lot of surprises out there."
"The truth be told, you can look at all the results and you can look at the history. But when the gang goes on Sunday, that means absolutely nothing. It's it's how you feel on the day."
"I'm pretty confident I'm going to climb very well, and I also have a few tricks."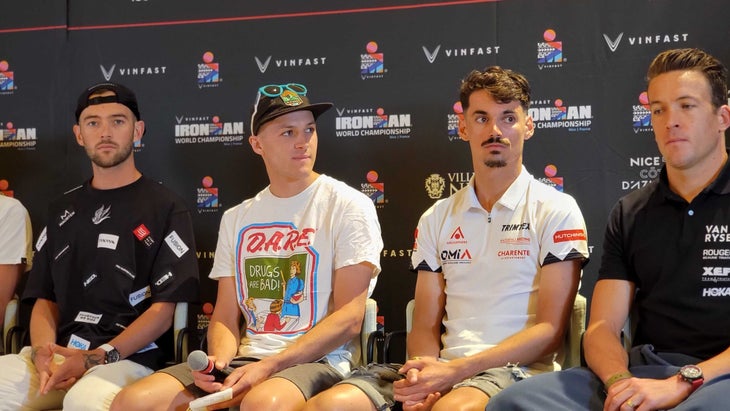 Leon Chevalier, France
"I'm looking forward to Sunday quite a lot. The last 10 months basically I've been geared towards towards that day. I'm really excited about it. It's a world champs and it's a different location. It feels like it maybe should be the norm. Maybe some other people will disagree, but I think it's a fantastic opportunity to showcase different skill sets from different athletes,  have different race scenarios, different race dynamics, and you know if you can be a world champion on loads of multiple courses, you know, that's the true complete athlete. I'm excited for Sunday just because it's a new course and one that suits me probably better than the other two world champ courses."
"The preparation was similar-ish for me [from his win at Ironman France]. I'm very new to professional long distance triathlon, so it's not like I've got years and years of experience of, you know, bashing out the same regimen with the same recipe for Kona and getting it right. I'm still grabbing at the low-hanging fruit when it comes to training. So for me, it's been going into altitude. This year. I've actually gone for eight and a half weeks in the mountains, just getting used to going uphill and especially going downhill on a TT bike with a disc. The biggest change in terms of equipment is having two chain rings at the front. Magnus seems to have gone one. I did consider it, but in training I also wanted the option of having a small ring, and I couldn't be bothered to change it in race week. So stick to what you know and what's been working, so two chain rings."
Joe Skipper, Great Britain
"Wales [where he qualified with a come-from-behind victory] was probably one of my best days. So I've replicated what I did before that last year…I've been building off that race. I've been really pleased, and hopefully will be in the mix."
"The climb – the big one – I didn't realize how long it goes on for, really. That was definitely something to know. And the second one is everyone kind of talks about the one big climb and then makes it sound like you're on a plateau and it's all downhill, but the second one before the descent is going to be the single detail and knowing how that feels in the Ironman is definitely a benefit, and I think that's going to catch a lot of people out, to be honest."
RELATED: 2023 Ironman World Championship Nice Bike: Joe Skipper's Argon 18 E-119
Sam Laidlow, France
"It's an amazing opportunity I've got here, and I've grown up watching this race and press conferences. I'm really grateful for the opportunity and looking forward to Sunday. I'm healthy and just really excited."
"I think Cam [Wurf] will obviously play a role in the dynamic of the race…He just says to go fast when you have to go fast…you have to have strong legs at the end of the day, and if he does that – he's practiced that the whole year, pretty much – then he can play a good role."
RELATED: 2023 Ironman World Championship Nice Bike: Sam Laidlow's Speedmax CFR
Patrick Lange, Germany
" I think in ten years' time, it will be the norm to run 2:30 to take the win, and especially in the World Championship. So we are happy to be the first one who introduced kind of this new time. Of course, the bike is singled out as super hard, but with the heat, the humidity, the winds like this, you cannot use different muscle groups. It's just all in for this flat run. It's going to be really challenging. I think especially on the first lap…I expect massive crowds, so keep your give yourself a little bit calm when you're starting to run. It's going to be really really hot. I'm definitely trying to do another 2:30 for sure."
"We do the talking on the course, and a lot of people talking about power-to-weight ratios…of course I go into race with that in mind, and it is a benefit going up. But what goes up must come down. And we cannot forget about the descent. It's going to be very technical. So it's a big unknown for every one of us, because racing and World Championship levels is definitely a different ballgame to a normal Ironman. It's gonna be interesting."
RELATED: 2023 Ironman World Championship Nice Bike: Patrick Lange's Canyon Speedmax CFR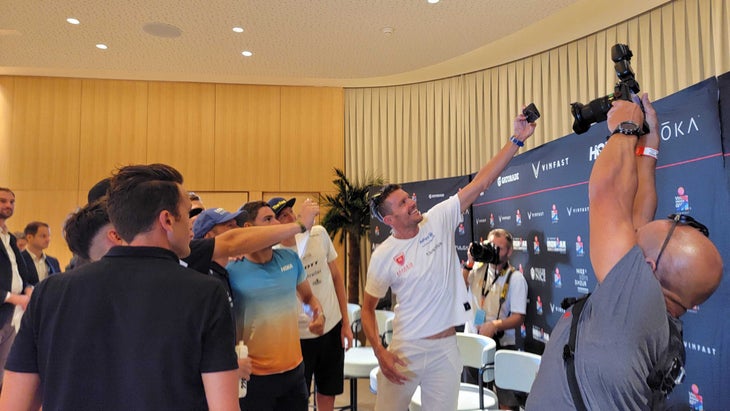 Jan Frodeno, Germany
"There's always pressure…and definitely, it's something I relish. This is where the strongest of the strong guys get together, and we have to keep our heads in for eight hours and see what comes out on top. And that's beautiful. Honestly, that's dominated my life for the last 23 years. And it's really quite emotional in many ways. To get one more time and live that pressure, live for that pressure, and see what I can do with that pressure."
"I grew up in South Africa and I learned about triathlon in a small country race in the middle of nowhere, probably 150k out from Cape Town, and was running around in budgie smugglers because that's what I had seen on TV, probably some images of Mark [Allen] running around, and just to be that person, probably should have been arrested because that's public indecency in South Africa. So that was a humble beginning, a long, long time ago, but it's been a wonderful journey."
"I moved to Andorra to go to the mountains and really focus and get out of my comfort zone and attack one more time to try and get to the pinnacle of the sport one more time. It was a couple of months before Andrew [Messick, Ironman CEO] made his famous announcement [about the men's IMWC moving to Nice in 2023], and it was unfortunately not April Fool's Day. But having gone through this journey, I can say I actually like this course. I think it's a really, really cool venue. There's a lot of history here, and the French love triathlon. I remember racing the French Grand Prix and just how it's kind of ingrained in the sports DNA here. Moving to Andorra was a lucky shot. I mean, I have 10 climbs that are an hour long at my doorstep, and that's something I've been able to learn over the last year."
"Let's not kid ourselves, there's some fantastic technical riders here. I think it brings an element of fun and adrenaline that's not common in Ironman racing, per se. It's a course that probably wouldn't have passed health and safety standards in America simply because the turns are a little bit steep. And when you go down in your full race setup, it gets very, very fast as well. But I think most of the guys here will agree. It just adds a very special element, and I'm kind of grateful for the challenge."