The Caveman Looks Forward To Xterra USA, Racing Lance Armstrong
Xterra reigning world champ and defending eight-time national champion Conrad Stoltz chats with Triathlete.com about the new Xterra USA Championship course, his prep to defend his title, and going up against Lance.
Heading out the door? Read this article on the new Outside+ app available now on iOS devices for members! Download the app.
Xterra reigning world champ and defending eight-time national champion Conrad Stoltz chats with Triathlete.com about the new Xterra USA Championship course, his prep to defend his title, and going up against Lance.
Triathlete: So, what's this we hear about Lance Armstrong reaching out to you for training advice?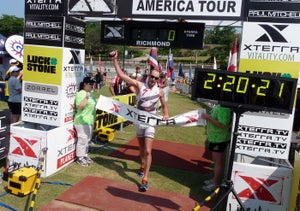 CS: Yeah, a couple of weeks ago, Lance asked me, 'Hey, Caveman, want to go on a training camp?' I asked, 'Is it a training camp for me or for you?' I didn't understand at first. But, yeah, it sounded like he wanted to do some Xterra training.
Triathlete: How has your training been going?
CS: It could be a little bit better. I just raced in Canada two weeks ago and I had a bit of a crash and didn't finish the race. But I'm all recovered now and building up for Worlds in Maui—that's the biggest goal of the season. Now that I know what I know (that Lance is racing), I wish I had a few more weeks to get ready for Nationals! It's a pretty tough course with a lot of climbing on the bike. I'm a pretty big guy, so climbing is not my strong point. I usually enjoy the more technical courses. Even though I had a great race last year and won pretty comfortably, it's a tough race for me. I think it will suit Lance and that's what I told him. It's a climber's course. It should make for some exciting racing.
Triathlete: Have you ever met Lance before?
CS: No, I've never met or spoke to him. But I think it'll be great for the sport and I'm really excited to race against him. I started following some of his tweets, and I noticed that he's been swimming pretty hard since November, which is more than I can say. He obviously enjoys the lifestyle, and I told him Xterra is really laid back and it sounds like he just wants to have fun at the moment. So I think it's a cool sport to just kind of get your feet wet and enjoy off-road racing. It's competitive racing but it's not all that intense.
Triathlete: Have you ridden the new parts of the course?
CS: No, and it's funny because I saw in one of Lance's tweets that he logged a ride and I looked at it and thought, 'That's funny, it looks just like the Xterra Utah course except he rode the second half wrong.' I thought he just got lost. But then a week later I heard that the course had changed and that it was actually the new course. So it just shows he's really done his research. I hope the course has got some technical parts to it, though, because I'm going to need it.
I'll go to Utah earlier [this Tuesday] than I usually would go so I can get in a little practice on the new course. I need some time to get used to it. I've won eight national championships, so I'd love winning a ninth.
This is the lead-up to Worlds in Maui at the end of October, and I've heard Lance has gone over and scouted that course too, so that's very promising. I hope he enjoys this race enough so that he'll want to come out and mix it up at the world championships, where some of the best athletes from all over the world come to race.
Triathlete: It seems like a lot of road triathletes are making their way over to Xterra, doesn't it?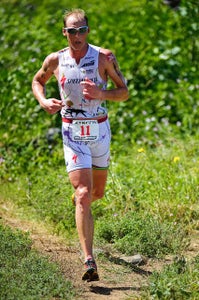 CS: I was a professional road triathlete for 10 years before I discovered Xterra. I went to the Olympics for the road triathlon and I was just so tired of training on the roads and staring at the black line at the bottom of the pool.  I wanted something different, something adventurous. Then I did my first Xterra just for fun and was lucky enough to make a career out of it. The reason I'm 37 years old with no signs of retiring is that I enjoy the sport and the lifestyle. Two weeks ago I raced in Whistler, British Columbia, and the week before that I raced in the Japan countryside and before that in South Africa, so the lifestyle just really appeals to me. I think that's what's happening with people like Lance—they're not just coming out to see who's the best athlete—they're loving the lifestyle.
Triathlete: So, do you think Lance is going to give you a good run for your money?
CS: I think so. Some people say no, but he's a great swimmer. Even so, he could lose time on the swim and still make up for it on the bike because Xterras are usually bike heavy.  With the run, Xterras aren't speed courses. You get off the bike really tired and you still have to run a course that's usually undulating with really bad footing; it's not so much about speed as it is about strength and endurance. I think that would suit someone who has a strong bike background. It's going to be interesting—I'm not going to make any predictions, but it's great to have someone of his stature coming to mix it up at Xterra.
Related content:
– Lance Armstrong Confirms Xterra Race Plans
– Course Change For 2011 Xterra USA Championship
– Inside Triathlon: The 15 Greatest Male Triathletes Of All Time