Team Red, White And Blue to Honor 9/11 Victims, Support Troops Sunday
Team Red, White and Blue, an organization dedicated to enriching the lives of wounded veterans and their families, is organizing a "moving tribute" this Sunday, on the 10th anniversary of the 9/11 terrorist attacks.
Heading out the door? Read this article on the new Outside+ app available now on iOS devices for members! Download the app.
Team Red, White and Blue, an organization dedicated to enriching the lives of wounded veterans and their families, is organizing a "moving tribute" this Sunday, on the 10th anniversary of the 9/11 terrorist attacks. Team RWB is asking that this Sunday, people dedicate their run, walk, hike, swim or bike—whatever type of outdoor fitness activity—to those who lost their lives 10 years ago and to the servicemen and women who have been killed or wounded since 9/11.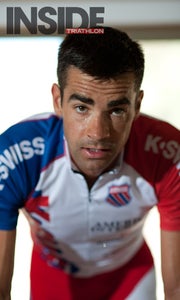 "We're encouraging people to not only go outdoors and to do something to elevate your heart rate," says Mike Erwin, an Army Captain and avid runner who started the charity a year ago, "but also the bigger reason is we want people to use that time as a chance to reflect upon the day. And reflect on the fact that while, yes, we see acts of heroism sporadically in our country, where a firefighter or a police officer does something heroic, or what we certainly see in Iraq and Afghanistan, the things that took place on that day—people crashing planes intentionally to prevent a plane from killing thousands more; people jumping out of burning buildings; people rushing into the Trade Centers, knowing that there was a good chance they might be killed—the acts of heroism on that large of a scale, when you truly stop and reflect upon it, it's mind-blowing."
So far 8,300 people, including 200 deployed soldiers in Afghanistan, have signed up to join the tribute.
This weekend is also a large racing weekend in the triathlon world, and several Team RWB members will be racing to raise awareness for Team RWB. According to Erwin, about 15 team members will be racing Rev3 in Ohio, another 20 are racing SuperFrog in Coronado, 30 are racing CajunMan in Louisiana and about 10 are racing the Nation's Triathlon in Washington, D.C. Plus, a couple of elite racers will be racing the Ironman World Championship 70.3 in Lake Las Vegas, Nev.
Erwin's own tribute will be take place starting Saturday night, when he and seven other people will start running from Westpoint, running 55 miles through the night into Sunday the 11th. They'll run to Liberty State Park in New York, where they'll meet up with 200 other people and hold a moment of silence at 8:46, the time when the North Tower of the World Trade Center was hit, before continuing to run around the park until the sun sets at 7:14 p.m.
A dedicated ultrarunner, generally running marathons and 50-milers, Erwin liked the idea of incorporating an athletic component into the organization when he started it last fall. "I looked around and I saw Team in Training and I saw Livestrong—and I saw all the other organizations out there that build so much awareness and so much fundraising through doing runs," says Erwin. "Besides Susan G. Komen, there are very few charities out there that focus on the shorter distances. And there are no charities that focus on the ultra-endurance." So he chose to create one that's for 5Ks to 100-milers, he says, and you don't even have to fundraise to be involved.
Because really, the organization isn't about numbers anyway. It's about building relationships. "We believe people's time is more valuable than their money," he says.
"We're working to create a community of Americans who are interested in getting to know men and women who have fought for our country over the past decade. So we do things like go on a fishing trip, or go to a sporting event or go out to dinner or just meet up and have coffee. … And in our athletic program, our runners and triathletes are the ones who build awareness for Team Red, White and Blue and are the ones that inspire people to get involved. So they're also our recruiters and they're also our fundraisers."
Building these relationships really improves the quality of life of wounded veterans trying to reintegrate into society: "When only 1 percent of the country is deployed to Iraq or Afghanistan, it's increasingly easy for wounded veterans to become isolated when they transition out of the military," he says. "We're trying to create a movement here where people realize that we want you to simply get involved and to be aware that there are a lot of young men and women who put their lives on the line for this country, were almost killed, and they've now come home. And they're trying to move on with their life, and for them to do that, it's not as easy for them as it might have been for you because they've had to deal with a lot of shit, for lack of a better word, in their short 22 years on earth."
Pro triathlete Tim O'Donnell, a former U.S. Navy officer, has been the leading advocate since the organization began last September. He'll be one of 50 men on the starting line at the Ironman World Championship, 10 years after Tim DeBoom's historic victory, the last American to win in Kona. He's trying to raise $10,000 for RWB before Oct. 8.
And Erwin says the organization couldn't have grown to its now 3,000 members in its first year without O'Donnell and other athlete supporters. "When you're new, you're fighting for legitimacy," Erwin says. "And having established people—athletes like Tim—on board is really important because in a time when we're fighting for credibility and legitimacy, it gives us just that."
How You Can Get Involved:
Commit to run, walk, bike or hike on Sept. 11.
Become a Team RWB athlete: Sign up at Team RWB to become a team member. No fundraising required.
Support Team RWB: Donate to Tim O'Donnell's cause at http://www.firstgiving.com/fundraiser/TOinTRI/ironman-70-3-world-championships.