Swim, Bike, Run, Mom: Maternity Leave Policies in Triathlon
While triathlete moms relish in recent maternity leave and pregnancy clauses, they say more can be done.
Heading out the door? Read this article on the new Outside+ app available now on iOS devices for members! Download the app.
Last October, American pro triathlete Chelsea Sodaro signaled a victory for new moms everywhere when she won the Ironman World Championships in Kona, Hawaii, just 18 months after giving birth to her daughter, Skye. Sodaro, who'd been transparent about her struggles after childbirth prior to Kona, was also vocal about her appreciation of being able to take maternity leave through the Professional Triathletes Organization (PTO). "Women shouldn't have to choose between starting a family and pursuing sport at the highest level," she said at the time.
Turns out, Sodaro was on to something.
Fast forward to this month, as a trio of American pro triathletes made their respective returns to competition after having babies. In Abu Dhabi, Katie Zaferes, 33, a double Olympic medalist in Tokyo, toted her eight-month-old son, Kimble, to a World Triathlon series race, then to an Americas Cup race in Sarasota, Florida one week later, where she finished second. Across the globe, 2016 Olympic Gold medalist Gwen Jorgensen, 37, racing in her first triathlon in seven years, breastfed four-month-old George, her second son, after finishing third at the Oceania Triathlon Cup Taupo. And not too far away, also in Taupo, veteran pro Meredith Kessler, 44, placed fourth in Ironman New Zealand, five months after having her second son, Crew.
No doubt, triathlete moms are having a moment.
And that's not a coincidence, given the resounding success of athletes like Sodaro (and before her, Swiss Olympic medalist Nicola Spirig, Australian long-distance star Mirinda Carfrae, and Ironman champ Sarah True, among others who returned to the top form post-baby) as well as the fact that the sport is supporting women more than ever before. Two years after the Professional Triathletes Organization (PTO) announced its maternity leave policy, there has been a gradual uptick in female athletes eschewing retirement and returning to competition after starting a family. In turn, the sport has evolved in other areas, with major players like Ironman and World Triathlon creating maternity leave and pregnancy policies that impact both pros and age-groupers alike.
RELATED: "No One Should Ever Be Penalized for Getting Pregnant"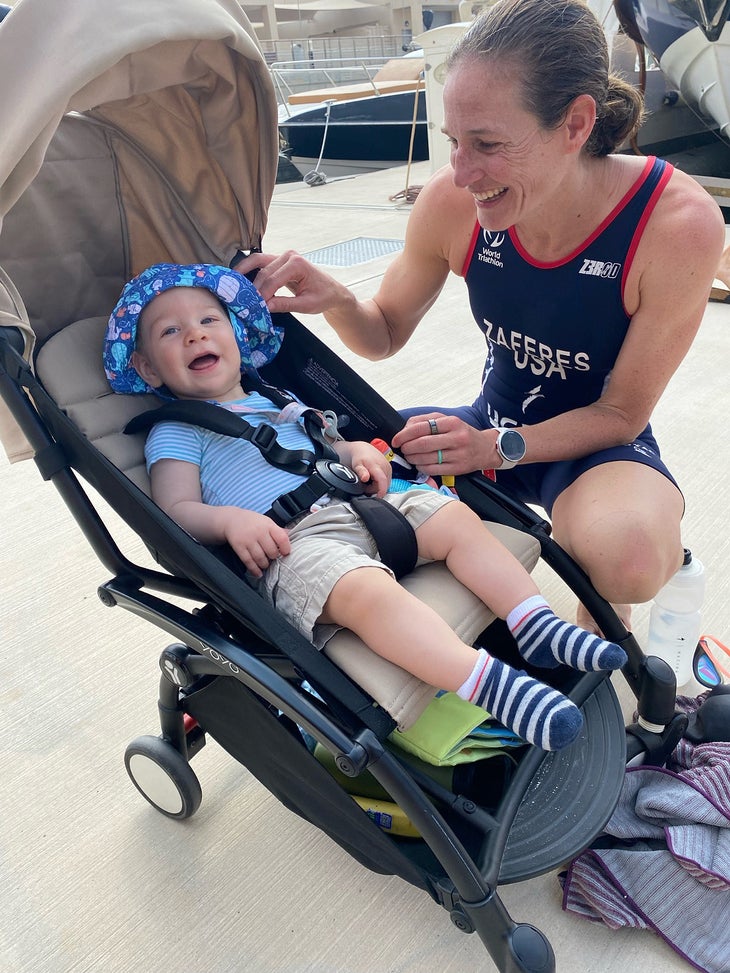 PTO's maternity leave policy, explained 
In the two years since PTO announced its groundbreaking maternity leave policy, first ironed out by pro triathletes and moms including Kessler, Rachel Joyce, and Sarah Piampiano, it has kept its rules status quo. To date, some 17 female pro athletes have benefitted from PTO's policy, which, in essence, entitles women to take up to 15 months leave while retaining an income—determined by the athlete's ranking prior to becoming pregnant—including up to six months after the baby has arrived. While the athlete's PTO ranking, which enables entry into coveted races with lucrative prize purses, does not remain fixed during the leave, their income based on that ranking does. (Click here to read the PTO's Maternity Policy in full.)
An additional six men have used PTO's paternity leave policy, offering up to four months leave with payment based on the same ranking system from the date they become a parent. (The PTO also gives up to six months of compassionate leave for any woman who suffers a miscarriage.)
RELATED: Video: Chelsea Sodaro on the PTO Maternity Leave Policy
USA Triathlon maternity support in action for Olympians
USA Triathlon, the governing body of the sport in the U.S., has stayed the course with their leave policy, as well. Launched some four years ago, the policy extends benefits and stipends to national team athletes during pregnancy and for up to a year after.
Because draft-legal triathlon (the type of racing that's competed in the Olympics) tends to skew towards younger athletes, there are less moms in these competitions than you'd see in a pro field of, say, an Ironman. But that may change with the re-entry of those like Zaferes and Jorgensen, who have both shown in early races that they can hang with—and beat—women who are up to 14 years younger than them.
"Like so many other women before me, I always thought I'd go towards long-distance racing after starting a family," said Zaferes, who is among the first members of the U.S. Elite Triathlon National Team to benefit from USAT's maternity plan. "But having both the financial and emotional support of USAT for another year [after giving birth] made the decision to go back to [draft-legal]  so much easier. I felt safe and supported. And I figured, what do I have to lose?"
As she chases another Olympic berth, Zaferes does begrudge the fact that she narrowly missed the window of World Triathlon's new maternity leave policy, spearheaded by Spirig, herself a mother of three, who retired from the sport last year. Launched on January 1,  World Triathlon will freeze the rankings of athletes in terms of competition entries "from the moment they announce the pregnancy until the child is two years old," according to the organization. The rule also applies to female athletes who miscarry after their 20th week of pregnancy.
"Had I had a baby in 2023, versus 2022, I wouldn't have to work on my ranking to get into the big races, like I am doing now since I didn't race for 18 months," explained Zaferes, who consulted with Spirig on the World Triathlon plan. "But it's a really good move for the sport. I just missed out on it."
Ironman makes a move for age-group moms
And as for age-groupers? While the same rules don't apply when it comes to getting into major races (unlike pros, age-groupers don't rely on rankings, but rather earn berths to world championships at qualifying events), the landscape in Ironman races, in particular, has been markedly improved. Case in point:  In 2022, Ironman announced its global pregnancy policy, providing a deferral to a race for pregnant athletes and those who have recently given birth (same goes for those who adopt or have a baby via surrogacy within three months prior to the event).  Ironman also offers deferrals to athletes who have a pregnant partner with proof of due date or delivery on or within one month prior, or two months post-event date.
Incidentally, the Ironman clause, championed by gender-equity advocate and UK-based lawyer Victoria Evans (who just so happens to hold a Guinness World Record for fastest woman to solo row across the Atlantic Ocean), is among the first written pregnancy deferral policies of a major organized race. Since then, the Boston Marathon, Ultra Trail du Mont Blanc (UTMB), and the Berlin Marathon have followed suit with their own pregnancy deferral policies.
More change needed for moms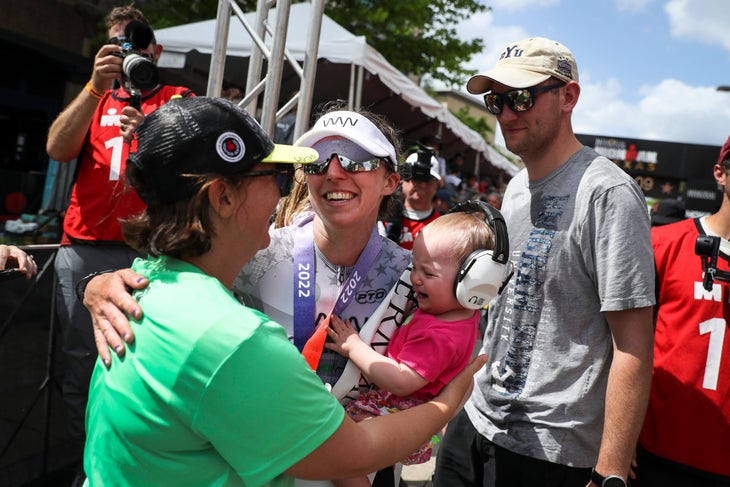 While these policies are a major move in an arena that, until very recently, refused to consider pregnancy or childbirth as a legitimate reason to defer a season or a race, many women agree that there's still room for improvement as far as overarching support goes.
A simple request? Both Zaferes and American long-distance ace and mom-of-two Jocelyn McCauley both pointed out that they'd like to see breastfeeding moms embraced more at events.
"In Sarasota, I wound up feeding Kimble on a random set of steps," said Zaferes. Years before, McCauley faced a similar conundrum when she raced a half-Ironman, just 10 weeks after having her first child. "I had no choice but to plug my pump into a stranger's garage near the course before the race, which was just so awkward," she recalled. "There isn't a huge amount of nursing moms in triathlon, but between age-groupers and pros, there's enough. It would be nice to acknowledge that."
McCauley and Zaferes are hopeful that triathlon race directors will take note of moves made by the Boston Athletic Association (BAA), organizers of the Boston Marathon, who provided a pumping tent for nursing moms during last April's race. And they're also hopeful the culture will shift with sponsors, too. McCauley, who says she's been "heartbroken and demoralized" when sponsors didn't support her through pregnancy, would like to see maternity clauses in contracts moving forward.
"With sponsors,  you cross your fingers and hope that they see value in you, and they may not," said McCauley. "It shouldn't be that way. I think that is something that is going to change in the future. I'd like to see support for women athletes from top to bottom, and that includes pregnancy clauses in contracts." Other desires include  providing health insurance and health coverage for athletes, an absolute (but often very expensive) necessity for many, especially pregnant women.
A lasting impact 
Identifying areas where growth and change is needed can be subjective. One thing that's for sure? Triathlon is a trend-setter when it comes to maternity leave. Since PTO came out with its maternity leave policy in 2021, other organizations, including England Rugby, England Football, and the aforementioned World Triathlon have drafted similar policies.
"There's equity in triathlon, but we always need to keep striving towards changing," says pro triathlete Laura Siddall, who sits on the PTO board. "Supporting women in the decision to start a family is of course part of this, as is giving the women a chance to come back after having a baby. It brings the sport, as a profession and a career, in line with many other organizations and businesses in supporting and providing a safe opportunity for women."
Not to mention it provides even more storylines to explore and share. From Chelsea to Katie to Gwen to Meredith and more, the storylines of women returning to racing after having a kid are intriguing and fun to follow. Which, triathlon loyalists hope, will draw more fans and numbers to the ever-evolving sport.
"If we're supported through pregnancy and beyond, we'll stay in the sport longer,  which raises the bar of competition across the board," said McCauley. "The sport then becomes more exciting because there are more stories to be told.  Then, with more stories, there are more eyes on the sport. And then there's more money for the sport. It all builds on each other, and it builds into the future."
Triathlete moms start list
Did you know some of your favorite pros are mom-ing and competing? It's true! The list of professional triathletes who are also mothers includes:
Daniela Bleymehl, Germany
Susie Cheetham, U.K.
Jackie Hering, USA
Gwen Jorgensen, USA
Meredith Kessler, USA
Jocelyn McCauley, USA
Camilla Pederson, Denmark
Radka Kahlefeldt, Czech Republic
Chelsea Sodaro, US.
Sarah True, USA
Michelle Vesterby, Denmark
Katie Zaferes, USA
RELATED: Guidelines for Returning to Triathlon Training Post-Pregnancy