Ryf, Ditlev Obliterate Records at Challenge Roth
History was made in Germany as Daniela Ryf and Magnus Ditlev clocked the fastest times ever recorded in an iron-distance race.
Photo: Daniel Löb/picture alliance via Getty Images
Heading out the door? Read this article on the new Outside+ app available now on iOS devices for members! Download the app.
Challenge Roth has always been a race where records are ground to dust, but this morning in the small triathlon-obsessed town in Bavaria, the 2023 class took it to another level.
It was 12 years ago when Chrissie Wellington and Andreas Raelert set new benchmarks for what could be achieved in iron-distance racing at this venue. This year, both the men's and women's records weren't so much beaten as torn to shreds.
Raelert's mark had since been lowered by Jan Frodeno in 2016, but Magnus Ditlev's solo pursuit at the front of the men's race stripped another 11 minutes away, as he stopped the clock in 7 hours, 24 minutes, and 40 seconds.
If possible, Daniela Ryf's performance was even more impressive. The Swiss star took 10 minutes off Wellington's long-standing mark as she finished in 8 hours, 8 minutes, and 21 seconds.
While Ryf's time is beyond dispute as the fastest a woman has finished any official iron-distance event (the Sub8 experiment of 2022 is not classified as an official race), Norway's Kristian Blummenfelt did post 7:21:11 when winning Ironman Cozumel in 2021. However, the current-assisted swim of Cozumel negates it as a "world best" in the estimation of many observers, making Ditlev the current record holder in an official iron-distance race.
RELATED: What is the Ironman World Record? It's Complicated
But the overall times weren't the only jaw-dropping numbers of the day. In front of 300,000 spectators in southern Germany, including Frodeno and Wellington, records tumbled across the board.
Challenge Roth Results 2023: Women's pro race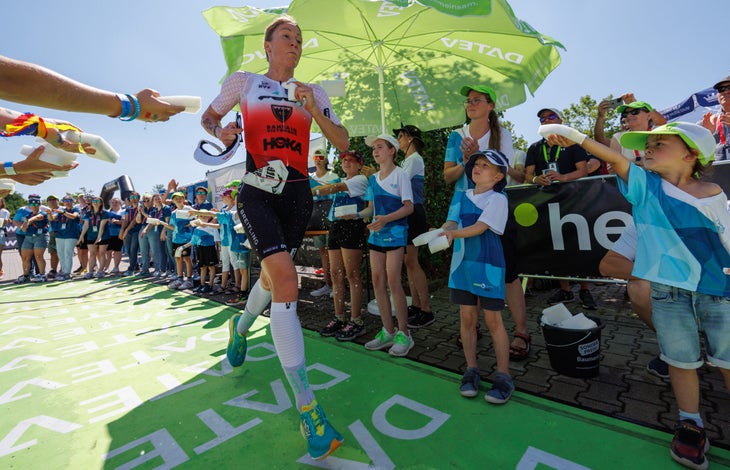 While Ryf's bike split of 4:22:56 over the 112 miles set a new course record and landed her in T2 with a massive 13 minutes clear of the field, it was also coming out of the water at the front of the race and then running a career-best 2:51:55 marathon that made it the complete all-around performance. Not one for hyperbole, Ryf remarked post-race it may well have been her best race ever. That's saying something from the five-time Ironman world champion and Kona course record holder.
For much of the day's racing, it looked as if there would be an American woman on the podium, as Ironman world champion Chelsea Sodaro fought her way into second place and hung tough 20 miles into the marathon before having to withdraw for as-yet-unknown reasons.
By this point, two-time winner, defending champion and PTO number-one ranked runner in the sport Anne Haug was charging. Her subsequent 2:44:45 marathon resulted in a finish time of 8:21:09, a minute faster than when she won this race last year. Laura Philipp also put in a world-class performance to finish just 4 minutes back from Haug, with Britain's Fenella Langridge in fourth and Lisa Norden hanging on for fifth.
Challenge Roth Results 2023: Men's pro race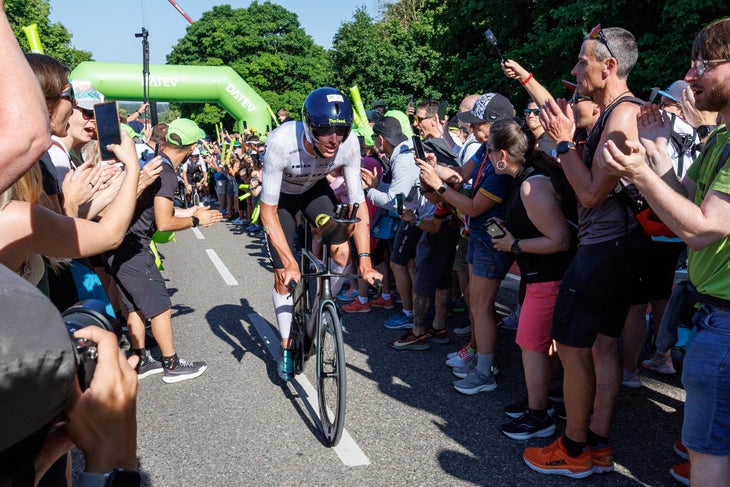 In the men's event, defending champion Ditlev's numbers were equally eye-watering. He became the first triathlete to post a sub-4-hour bike split on the Roth course (3:57:45), lowering his own record of 4:01:56 from last year.
But after a front-pack swim, he also backed it up with a 2:37:09 marathon, and not even home favorite Patrick Lange, who also managed to collect a record with his 2:30:27 run split – could get within 5 minutes of the 6-foot, 4-inch Dane. Credit must go to two-time winner Lange – who was also runner-up to Ditlev last year and referred to the 25-year-old prodigy pre-race as his "kryptonite" – for also going 5 minutes under Frodeno's mark in an incredible day's racing.
Among all this. the first U.S. athlete to make the podium in Roth since Jesse Thomas in 2018 almost went unnoticed. Ben Kanute, in only his second full-distance start, clocked an impressive 7:37:01 to take third place and record the fastest American at the Iron distance.
If Ryf was solo almost from T1 in the women's race, Ditlev could at least be thankful for company throughout the bike and 6 miles into the run. It was at that point that France's Sam Laidlow, last year's runner-up in Kona, dropped back with what looked to be a calf issue. Until that point the duo were running side-by-side, the white tops of their matching tri suits stained by the dust kicked up from the gravel track alongside the canal. It had all the trappings of another Challenge Roth epic. To his credit, Laidlow soldiered on on and recorded a 3-hour marathon to finish eighth.
If the day was all about records, it was also about farewells, as Sebastian Kienle raced his last-ever Challenge Roth and last event on German soil.
"The guys are just on another level. It's the next generation, and I'm happy to retire," the 2018 Roth champion told Frodeno at the finish. Kienle turns 39 next month and in the final year of his career is raffling off five of his bikes for charity, including this one from Roth.
Results: Challenge Roth 2023
June 25
Roth, Germany
Women's pro race
| | |
| --- | --- |
| Name | Overall Time |
| 1. Daniela Ryf (SUI) | 8:08:21 |
| 2. Anne Haug (GER) | 8:21:09 |
| 3. Laura Phillipp (GER) | 8:25:31 |
| 4. Fenella Langridge (GBR) | 8:33:53 |
| 5. Lisa Norden (SWE) | 8:43:11 |
Men's pro race
| | |
| --- | --- |
| Name | Overall Time |
| 1. Magnus Ditlev (DEN) | 7:24:20 |
| 2. Patrick Lange | 7:30:04 |
| 3. Ben Kanute | 7:37:01 |
| 4. Daniel Baekkegard (DEN) | 7:39:59 |
| 5. Joe Skipper | 7:44:10 |