PTO And World Triathlon Reveal New Pro and Age-Group Series
The PTO announced today that it will partner with World Triathlon to deliver an international non-draft sister series to the existing draft-legal World Triathlon Championship Series (WTCS).
Photo: Professional Triathletes Organization
Heading out the door? Read this article on the new Outside+ app available now on iOS devices for members! Download the app.
The Professional Triathletes Organization (PTO) has long talked a big game, but is looking to turbo boost racing next year by expanding its PTO Tour up to 10 events, culminating in the crowning of a first official 100-kilometer world champion.
The race organizer and athlete body announced today that it will partner with the sport's international federation, World Triathlon, to deliver a sister series to the existing World Triathlon Championship Series (WTCS).
The new race series will run in a similar format with points on offer through a number of global non-draft 100K events leading into a grand final at the end of the season. Just as with the WTCS, age-group racing will also be available, with amateurs given the chance to represent their country in both open competition or regional and world championships over a 2K swim, 80K bike leg, and 18K run.
While the PTO will fund the events, World Triathlon will work with it on a series of complementary services, including anti-doping (more details are to follow on this), supplying technical delegates, and adding marketing support to help make the venture a success.
The details of the new PTO-World Triathlon 100K race series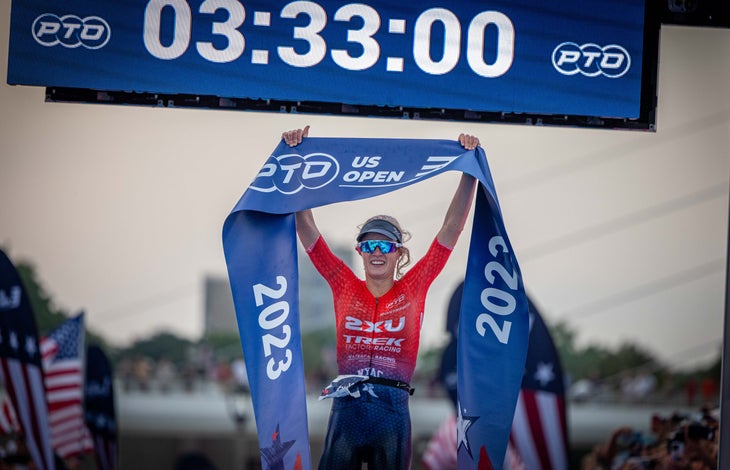 Speaking to Triathlete, PTO chief executive Sam Renouf said that while he had dates and venues locked in for 2024, the full schedule of "between six and 10 events" would only be released around October. These will include up to five regional championships and a series finale, where a world champion would be crowned.
"There is no product without [the venues] and the vast majority of the locations we are going to are brand new," Renouf said. "We wouldn't be coming out with this news now if we didn't feel like we could announce them soon afterwards."
Renouf understands the dates and venues need to be announced quickly if they are to have a chance of capturing amateur athletes already making decisions about where they are going to race next year. Because of this, he believes the line-up announced in the fall will be the final calendar. It will also not be the same as the WTCS venues, which will continue to operate independently.
The one venue already made public is Singapore. The multi-year contract starts with the PTO Asian Open this weekend, the final one of three 2023 PTO Tour events.
Renouf also believes that the incentive of becoming a World Triathlon-sanctioned "world champion" will attract the biggest professional names in the sport. While the specific title is still to be confirmed, it is not replacing the Long Distance World Championship, which World Triathlon will continue to operate over a 3K swim, 120K bike and 30K run.
But what about the rankings?
The PTO plans are for only 20 pro men and 20 pro women to race at each event – the same number we'll see at the PTO Asian Open Singapore this weekend. Athletes will continue to qualify to race through their PTO ranking, with wildcards reserved in case of injury or breakthrough athletes.
This means the existing PTO rankings will need to evolve, but (without becoming too bogged down in detail) the limited field sizes present one very obvious challenge: If the rankings dictate who can get a PTO Tour start, and most ranking points are on offer for PTO Tour races (of which there are now a lot more), won't it unfairly favor the existing top-ranked pros even more than the current system?
"If we were a purely private operator it would be totally logical for us to run a closed league," Renouf says. "Because it is an athlete organization, we won't, but we're going to have to adapt the rankings to accommodate an expanded tour. We don't have the answers [currently] on exactly how that will work, because we have a rankings committee that will go through it. We'll definitely get that criticism though, so we want to have a system that doesn't risk creating a closed league, and we want to have a pathway for athletes to come up to race."
Why not just expand the field sizes? "We think 20 is the right number for professional racing and we said this at the beginning of the year. We might get to the end of the first year and reassess but the feedback from broadcasters has been that less is more. We get so much criticism about not telling the stories at the back of the field, and to do it is extra complexity and cost. We want to make it simple and do a really great job with 40 athletes."
Creating a season-long narrative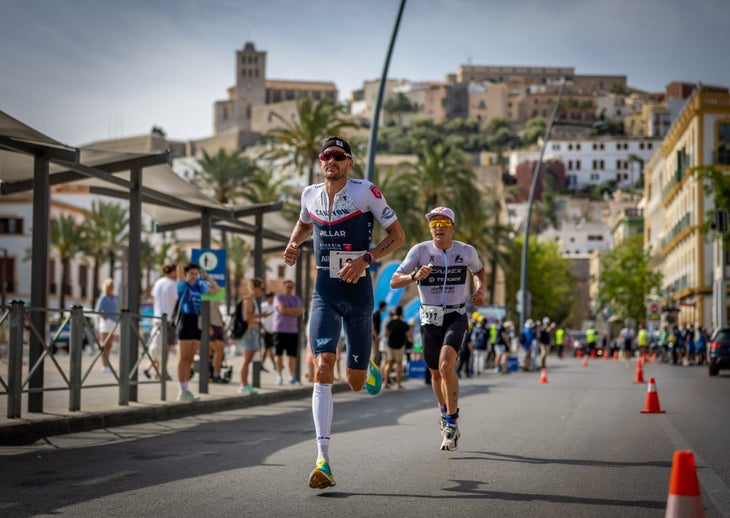 Prize money hasn't been announced but will be "consistent if not higher" than what it's been before. "If we're having them race more, they are going to get paid more." This is unlikely to mean higher headline purses for each event (currently the PTO is putting all its elite payouts into prize money), but is more likely that athletes will be supported with travel coats and accommodation – making it less of a financial gamble to race, and negating the chances of big names pulling out on the eve of events because they don't think they can be competitive.
The multi-lap bike and run courses seen in Ibiza, Milwaukee, and Singapore will also form the blueprint for 2024, but Renouf says there will be some variation. "Of the races we're going to have next year there will be a mixture of hot and cold, urban, mountain, island… the whole idea is to have different topography. It makes the broadcast more interesting and adds a bit of jeopardy for the athletes.
"The racing is getting better each time, but we need more of it as a sport. It lacks a season-long narrative with a champion at the end. The U.S. Open was awesome, but in Singapore we won't be seeing Jan [Frodeno] versus Kristian [Blummenfelt] and you need to have consistency. If we have that, then the sport can become mainstream.
"We want to be like Formula One where it's [Max] Verstappen versus [Lewis] Hamilton every weekend, and we need to move to that. There's a need for a contracted relationship with the athletes who know if they turn up they will be well compensated and we're working with the athlete board on that now."
When it comes to racing, expect to see rules such as the 20m draft zone be retained despite the closer alignment with World Triathlon. "Events will be operated under World Trathlon rules but with amendments just like we do at the moment. We have a working group that looks at the specifics."
The state of the Collins Cup
Renouf also says there will be a role for the much-maligned Collins Cup within the expanded tour, but won't be in the format it was previously – a series of three-way shootouts between individual triathletes from USA, Europe, and the Rest of the World.
After debuting in 2021 in Slovakia and running again at the same venue last year, the team format was quietly sidelined this year after early rumors that it may be held in Morocco.
"We're working with the athletes on this," he added. "It was created as their event and now we've done it a couple of times we should learn and evolve from it. There'll be the Collins Cup at some point in some guise, just not the one we've done over the past two years."
The age-group 100K
In terms of the age-group racing, Renouf says each race will have an open event for age-groupers and championships will follow the national federation qualification process as it does currently. "We're reaching out to work with the national governing bodies because this creates more business for USAT and all the different federations that have age-grouper teams. It's an important part of the market."
But are age-groupers prepared to commit to a 100km distance? The appeal of an unfamiliar 2km swim, 80km bike and 18km run hasn't yet been proven.
"We haven't had enough opportunities to prove it empirically," Renouf said. "But we're following the trend to more regular middle distance racing and we're doing it in the kind of locations people are going to want to race in. We also see that the best professionals racing creates a really exciting product as anyone who went to Ibiza or Milwaukee would agree, and we're going to be consistent with what we've done previously and price below market. The sport shouldn't be built on the back of age-group entry fees."
Renouf won't reveal how much this is all costing, but said following their last investment round in 2022 the PTO has been deliberately cautious with spending in 2023, scaling back ahead of a financial push next year. "We're well funded with deep-pocketed investors who see the long term viability of this sport," he insisted.
Will the new series be a success?
In the PTO's press release, PTO executive chairman Chris Kermode said: "When new formats and organizations emerge in sport, they often have the unintended impact of fragmenting the very sport they aim to promote.
"In contrast, by uniting together the professional athlete body of the PTO with the international federation of World Triathlon, this partnership has the opportunity to unite the sport under the common goal of growing triathlon – which is essential for the sport to become mainstream."
While a valid point, it won't go unnoticed that with World Triathlon's funding coming from the Olympics, it doesn't have a longer distance series anyway, unlike Ironman, which runs a full iron-distance and 70.3 professional series.
"It's not to say World Triathlon wouldn't focus on the long distance if they had the resources," Renouf added. "Now there's a group, in us, who has the resources to do it for them, rather than leave it to the private market, which largely because it is run by private organizations is totally fragmented and uncoordinated. Now we're pulling it back together with World Triathlon, hopefully as a cohesive product."