Original Ironman Winner Gordon Haller on Bikes, Longevity, and One Final 140.6
"It's bittersweet...but it's also kind of a relief. I don't have to do another one. There's a lot of mental pressure and stress on it to just come and do it again. And if it were going to be held like the first one - no big deal, just a bunch of guys getting together - I'd do it, no problem."
Photo: Mike Plant, Brad Kaminski/Triathlete
Heading out the door? Read this article on the new Outside+ app available now on iOS devices for members! Download the app.
Gordon Haller is 73 years old, but he doesn't look it. If you were learning for the first time that Haller was the winner of the original Ironman triathlon in 1978, you'd believe it – even now, 45 years later, he looks the part of someone who could hop into a 140.6-mile race. And that's exactly what he's doing – in a full-circle moment for the original Ironman champion, Haller will be a part of a history-making event once again at the 2023 men's Ironman World Championship, held for the first time in Nice, France. It will be his final Ironman.
Haller has the unique privilege of being one of the few people alive who have seen the full evolution of Ironman from its humble beginnings on Oahu in 1978 to the worldwide sensation and business it's become today. One of the biggest visual changes, of course, has been the gear – specifically, the bike. When we caught up with Haller ahead of his Ironman swan song, his latest bike came along, too, and we had plenty to discuss about what's changed in the sport, the gear, and the O.G. Ironman himself.
Vive la France! Visit our Nice Central hub for news, analysis, history, photo galleries, and so much more – new stories added daily from our team on the ground at the men's 2023 Ironman World Championship.
Triathlete: In 1978, tri bikes obviously weren't a thing. So how did you decide what to ride for the original Ironman challenge you signed up for?
Haller: Oh, that's an easy answer. I knew I wanted something lighter weight than my regular commuter bike. Most of the guys racing had things like the [Trek] Cirrus, so I went to a bike shop and rented a real Raleigh racing bike. but it had a very small cluster [cassette] on the back, so I didn't have any low gears. So I rode that for the first half of the island, and then the second half, on the mountains, I swapped to my bike that had a lower gear, even though was a heavier steel-framed bike, so the lower gear got me up the mountain better, and being heavier, it got me down the mountain better. So that was why I used two bikes the first year.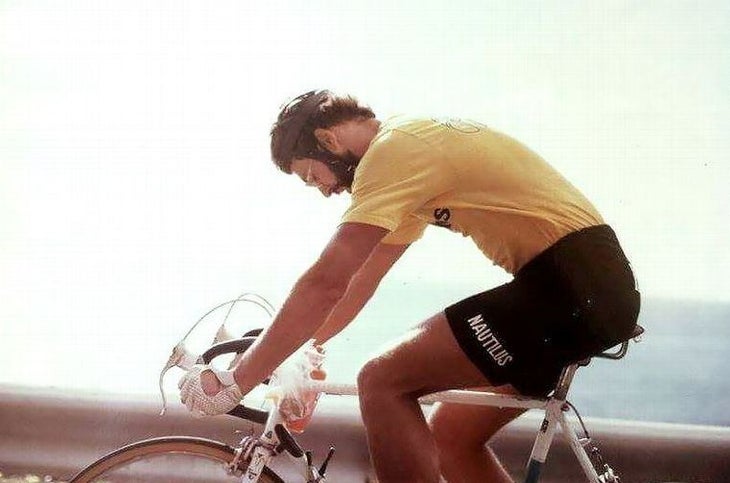 What do you remember about the racing bike?
It was a ten-speed, with Reynolds 531 tubing [a lightweight blend of manganese, carbon, and molybdenum], which is pretty good stuff for the time. I've had five Raleigh bikes, and they're all 531 tubing. I still have a couple of them. And that's pretty much what I had for Ironman until Cannondale gave me a tri bike for the 25th anniversary of Ironman, because they were the sponsor that year. So I rode that for a couple of Ironmans and then ended up giving that to a friend of mine.
And now?
I bought this one [a Cervelo P2], and I bought it mainly because it came from a bike shop that I bought all my other bikes from, and I trusted him, and they gave me a good deal on it too.
You're one of the few people who know what it's like to do an Ironman on a bike from 1978 and today. So in your opinion, what are the biggest game changers as far as tri bikes go?
Aerobars, for sure. The big thing, I think it was early 1980s, somebody came up with the Scott bar, and it had kind of a rounded look at the end. I actually had one of those on my bikes way back, I think it was my red Raleigh from 1980. And it was a great innovation. I noticed that even after that, when Greg LeMond got aerobars in the Tour de France, that was a big game changer for those guys, because they had never thought about doing that. They just got lower on the handlebars, and now they know to use aerobars.
RELATED: The Origins, Evolution, and Future of the Tri Bike
Where are all of these bikes now?
My brother has one from the first race. The other one that was not mine I got from the bike shop. The second and third ones I have in my basement. That Cannondale, I gave that to my friend in Dallas, and this is the only other other one I've ridden. So I've got I've had five bikes, or six bikes for the Ironman, and I know where they all are.
You've been doing triathlon for 45 years now. What keeps you coming back?
It's generally fun. It has its moments when it's not, like my last Ironman five years ago. I didn't finish. I was nine miles into the run, and I kind of ran out of gas. My nutrition was all wrong. I think that was the problem. Nine miles in, my legs just said, "You're done." I did some quick calculations. I had three hours to do 17 miles; under the speed I was going, there was no way I was going to do it that fast. Even barring a miracle, I wouldn't do that. So I quit then and saved my body rather than I would have finished in like three and a half hours. To what end? I wouldn't be an official finisher, and so I just bagged it.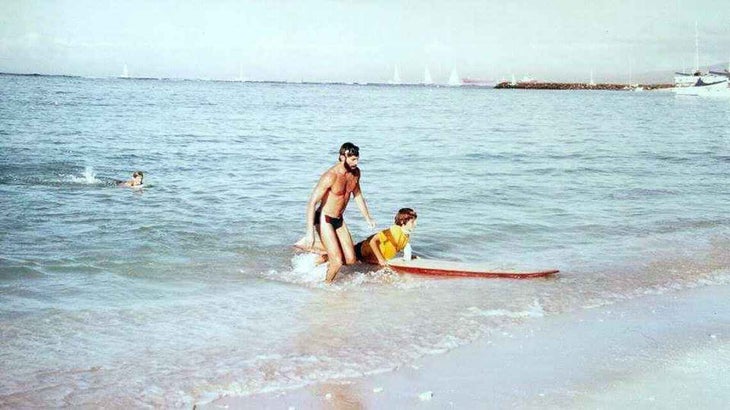 Looking back at that 1978 race, did you ever imagine that Ironman would become the global phenomenon that it is today?
No. I had no idea. I thought it might have some growth, like the marathon craze did from 1970s, and it did grow. But then all of a sudden, after Julie Moss crashed and burned [at the 1982 Ironman in Kona], it just took off. And see, I always thought that I would keep doing them. I probably would have done them anyway if I hadn't won the first one. It's the kind of thing that I was always training for before the first time. Somebody told me at the Honolulu Marathon a month or two before the first Ironman that they invented a race for me. They told me what it was, and I said, "Well, yeah, that's what I do all the time anyway." So I figured it'd be a piece of cake.
And now you're here, a part of history once again at the first Ironman World Championship in France.
This is going to be my last Ironman, and I wanted to make it in Kona. But then I found out they're changing the men's race from Kona into here. I'm happy anyway, because I was getting trained for a whole year to do this. And this is going to be my last Ironman, because I'm 73 now and the knees feel older. Even if I don't finish, I'm going to go to the end this time, just to see how close I can get and then call it quits. I mean, I'll probably still do short triathlons, but probably not even a 70.3 – just keep it down to Olympic or sprint [distance].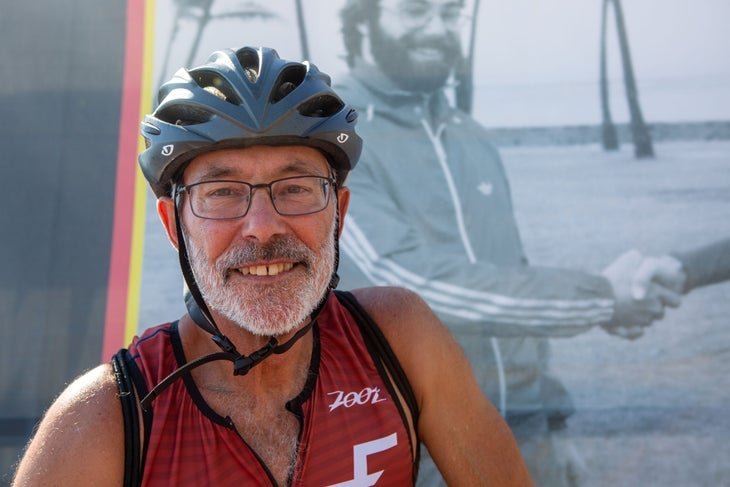 Is that bittersweet, this being your last Ironman?
Yes and no. Yeah, it's bittersweet, and I won't do another one, but it's also kind of a relief. I don't have to do another one. Not just for the effort. There's a lot of mental pressure and stress on it to just come and do it again. And if it were going to be held like the first one – no big deal, just a bunch of guys getting together – I'd do it, no problem. But with everything is going on here, it ain't gonna work.
What are you most looking forward to about race day?
Oh, wow. Massage after it's over. Yep, I think obviously that it will be at being able to lie down when it's all over.