Olympic Stud Lisa Norden is Ready for Long Course
The Swedish ITU world champ talks about her breakthrough season and her plans to move up to 70.3.
Heading out the door? Read this article on the new Outside+ app available now on iOS devices for members! Download the app.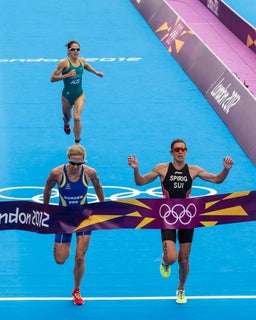 After sprinting for the gold medal (and winning silver) at the London Olympics in August, Sweden's Lisa Norden won the biggest prize purse in the sport at the Hy-Vee 5150 U.S. Championship in September and the overall ITU World Triathlon Series championship, earning her the runner-up position as Triathlete magazine's "Female Athlete of the Year." We caught up with the newly minted short-course world champion at the start of her off-season.
What's your one lasting memory of this season?
It's definitely the sprint for the medal in the Olympics. That's the strongest picture I have for 2012. The photo finish picture comes to mind thinking back to what happened this year.
Do you look back on that as a tremendous success or with a little regret?
I view it as a major, major [success]. That's one of my life's achievements. I got everything together in terms of execution of the race and tactics. I did come up a bit short, but all summed up, it was the best race I've probably ever performed.
What was going through your mind coming down the finish chute at the Olympics when you were neck-and-neck with Nicola [Spirig, the eventual gold medalist]?
Actually, I didn't have too much on my mind. It was that beautiful moment where I came onto the finishing carpet and put my head down and accelerated. I knew this was the moment; this is where I had to do what I knew I needed to do. I tried to go with her and my body was responding and I was responding. I didn't see the crowd, the only thing I saw was that finishing line and I just had to dig as deep as I could and get as much as I could out of myself and pray to the gods up there that I was quick enough. At that moment there wasn't too much—just that big, big focus on the finish line. Trying to feel my body and feel that coordination and power inside myself and [feel] what my feet were doing. I was really kind of within myself.
When you finished, did you know where you finished?
I didn't know. I was second all the way to the line, so I was mentally in second but still had that hope that maybe I had done enough to have inched her out right on the line. It was so hard to tell and to be honest I was just over the moon to be among those top three girls because on the last lap of the run there were five girls, which was two too many. My worst nightmare would have been to be one of the other two girls that didn't get a medal and to come back home to Sweden having been so close. I was [thrilled] that I had a medal and was just hoping that maybe, maybe, maybe I'm so lucky it's a gold but I wasn't sure, and I was waiting for the result to come up on the board.
How did training with a group of athletes help prepare you for that heads-up sprint scenario?
I think it's one of the most important bits of my career—my group, my training environment and my coach [Darren Smith]. The way he put the group together. It's not only based on physical possibilities and how we perform at races, but also the mental aspect and how we interact together to always making sure it's a positive atmosphere in the group. When you have that many good people together it could be negative. You wear yourself down and it's not fun and it's too competitive, but the way he put that group together has utilized all our good things, and I think it made us so much better. To every day have girls like that to train with, sets you up to keep your head together when you're pushed to the limit all the way through.
Do you find it hard to keep your effort in check in training with other athletes at your level around you?
When I first started [five years ago] we were just three athletes and we were all quite different in terms of running ability and swimming ability. We all had our [strengths and weaknesses]. As more girls came in [to the training group,] the more similar we became. The better we became, the more I had to teach myself to only care about myself. In 2009 and 2010, before I settled into myself I had to realize it's not the training sessions that matter. I've seen lots of girls perform so well in training in December and January, but let's not panic over that. Let's just do whatever you need to do and what the coach tells you to do. Then when you get to the race you're going to have to bash yourself and trust that you've done everything you could do to make yourself as good as you could.
Was it that maturity that helped you have this tremendous breakthrough season or was it improving physically?
I think it's a mixed bag. I had a really good year in 2009. I was the silver medalist in the [ITU] World Series and I had some really good races. Then I had a few years when I was injured and never got myself back in that physical shape. When I turned up to a race at 75 percent fitness, I had to use every single bit of that 75 percent fitness otherwise I would be spit out the back. Well when I came in 2009 and I was completely fit, I could burn some matches and waste a bit of energy and I would still come out fine by the end of the race. So then using that information and the knowledge I gained while injured when I was at full fitness gave me so many more tools in terms of tactics and knowing how important it is to conserve as much energy as you can until that last bit of the race. And seeing how the sport has developed to have more tight finishes, how the girls are on more of a similar level—that has proved to be such an important factor. In one way I was very lucky to have those struggling years because it taught me so much and obviously gave me more maturity and experience to bring to the races this year.
What has changed since winning the Hy-Vee 5150 U.S. Championship, winning the silver medal and winning the ITU World Triathlon Series championship, all in the same year?
The Olympics has changed my world a bit. Sweden has seven medalists, so to come home and be one of these seven, the response has been amazing. [My medal] was voted to be the most popular medal in Sweden, and the feedback when I came back home was overwhelming. That has made me a sportsperson to recognize back home, which has given me a different platform to utilize. In my career as a sportsperson that has changed my world. To back that up with the world championship, to prove that I'm not only a second placer, to show them I can actually win as well was a fantastic complement to that silver medal. Obviously Hy-Vee is just such a grand race in so many ways. Personally, financially, that was super important and something I'm very grateful to get the chance to do.
Now that the Olympic cycle is over, are you going to put more focus on non-drafting races?
I'll still have committed to another four years, so I'm definitely planning to do [the 2016 Olympics in] Rio [de Janeiro]. I had this plan of winning the world champs at every distance in triathlon. I won the sprint world champs in 2010; I have the Olympic-distance world champs this year. The next obvious step is [Ironman 70.3 in] Vegas. I was telling my coach earlier this year and said, 'Let's finish this year and see what happens.' If it would have been a silver or bronze medal [in the ITU WTS championship], Vegas might not have come as early as next year. But having done the gold medal this year and having ticked off that world championship, I might go on to Vegas next year and see what I can do.
You've already shown that you're a tremendous cyclist. Do you think you're ready right now to contend for that title?
I actually put a few tweaks in my training program, catering toward those hot conditions and the long run off the bike. I think that distance in one way suits me better than the Olympic distance, and I'm excited to see how well I could transfer to the half-Ironman.
How do you see the lead-up going to Vegas next year? Will most of your time be dedicated to the ITU circuit or will you be racing 70.3's regularly?
Next year is going to be a bit more mixed. I've already decided that 2013 is going to be a year where I follow my heart and my desire to race rather than follow a certain series to try and get points and qualify to races. Vegas might be in the plan. I've always wanted to do Escape from Alcatraz and Wildflower. I might do the season completely different than before and base myself in the U.S. and do a different kind of season than what I normally do. I'm not going to commit to any ITU series or half-Ironman or 5150 series, but I might see if I can mix it up and keep that joy for the sport and passion for racing.
What's going to determine when you eventually move up to that final distance?
I think that's going to be after 2016. I want to finish off the next Olympic cycle. Depending on how Vegas has gone at that point and having done the half-Ironman until then, I'll either spend a few years racing half-Ironman or take the step up to racing full distance after Rio.