Men's 2023 Ironman World Championship Results: Frenchman Sam Laidlow Wins First-Ever Title on Home Soil
In the first-ever Ironman World Championship held outside of the United States, 24-year-old Frenchman Sam Laidlow took the win on home soil, clocking an 8:06:22 in Nice, France to take his first world title and became the first French athlete to wear the crown.
Photo: Brad Kaminski/Triathlete
Heading out the door? Read this article on the new Outside+ app available now on iOS devices for members! Download the app.
In the first-ever Ironman World Championship held outside of the United States, Frenchman Sam Laidlow took the win on home soil, clocking a 8:06:22 in Nice, France to take his first world title and became the first French athlete to wear the crown. At 24 years old, Laidlow is also the youngest male winner of the coveted title of Ironman World Champion.
Laidlow, who improved on his 2022 second-place finish at the Ironman World Championship in Kona, made it clear from the beginning he would accept nothing less than a win. He did just that, recording a 47:50 swim, 4:31:28 bike, and 2:41:46 run, buoyed by cheering crowds along the French Riviera.
Vive la France! Visit our Nice Central hub for news, analysis, pro interviews, photo galleries, and so much more from our team on the ground at the men's 2023 Ironman World Championship.
Men's 2023 Ironman World Championship Results: The Swim
As the sun rose over the Côte d'Azur, athletes warmed up for a non-wetsuit swim in waters measured at 76.6 degrees F. Air temperatures at the swim start measured at 73 degrees F and 57% humidity, and would only increase from there.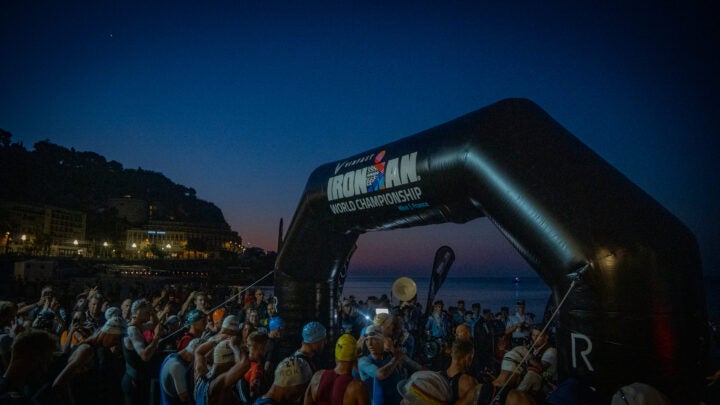 A visibly emotional Jan Frodeno (GER) entered the arena first to rapturous cheers, leading the final race of his career and the field of 40 male pros scheduled to head into the calm in-water start.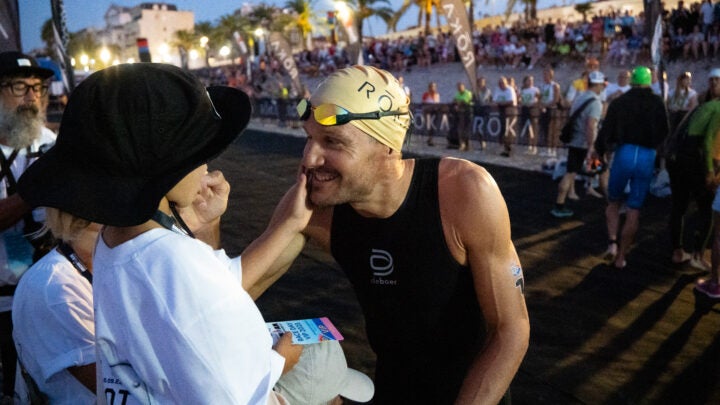 But things wouldn't remain calm for long. The start cannon fired and the pack propelled forward, each athlete fighting for position. Braden Currie (NZL) emerged from the scrum in the front, taking pole position with Gregory Barnaby (ITA) and Frodeno close behind. At first, the full field stayed together, trailing behind Currie in single file. As they rounded the first turn buoy 875 meters from shore, Currie attempted to create separation with a surge; a group of 12, including Barnaby, Frodeno, Matthew Marquardt (USA), Denis Chevrot (FRA), Laidlow, Rudy Von Berg (USA), Bradley Weiss (ZAF), and Clement Mignon (FRA) held on in the lead group, while a chase pack formed five seconds behind with a group including Patrick Lange (GER), Joe Skipper (GRB), Magnus Ditlev (DEN), and Cam Wurf (AUS) working hard to bridge the gap before the next turn.
But it wouldn't work: 1,200 meters in, Laidlow took the lead, setting a new, blistering pace to pull the front group to a 30-second lead over the chase pack. A third group fell to two-and-a-half minutes down, containing Arnaud Gilloux (FRA), Jonas Hoffman (GER), and Chris Leiferman (USA).
With 900 meters to go and the wind picking up to create slightly choppy conditions, Frodeno moved to the front of the pack, pulling them to a lead of over a minute. Currie stayed on his shoulder, matching him stroke for stroke. The two forged ahead to the swim exit at a blistering 1:15 min/100m pace, standing up in the shallows at the same time.
And then, a surprise. While the two leaders jockeyed for position, Marquardt – a Kona age-group world champion who had smartly stayed on their feet – sprinted ahead at the swim exit, just barely edging out Currie and Frodeno to cross the swim exit timing mat in first place with a 47:46 swim split and .62-second lead.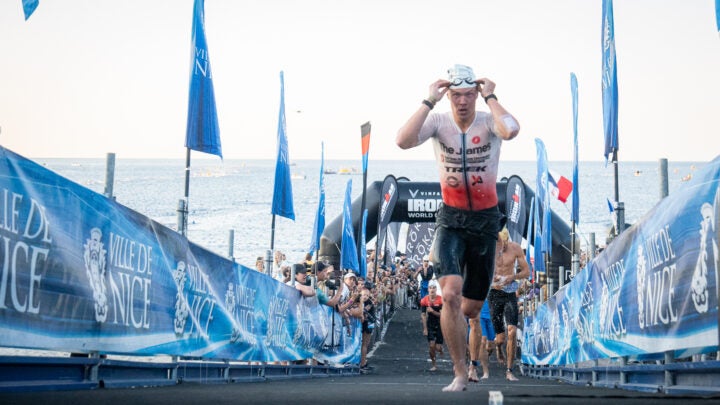 But they weren't alone – nine swimmers exited within 13 seconds of Marquardt, Currie, and Frodeno. The group first to hit the bike course included Laidlow, Von Berg, Barnaby, Chevrot, Weiss, and Mignon. Just over a minute behind, the chase pack streamed out, with Lange, Ditlev, and Kristian Hogenhaug (DEN).
Behind, Wurf fell off the chase pack, swimming alone until he was swallowed up by the third group of Reinaldo Colucci (BRA), Gilloux, Hoffman, and Leon Chevalier just over three minutes down from the leader. Skipper and Matt Hanson (USA) struggled as well, exiting the water with a 5:33 deficit. Would the super-bikers be able to bridge the gap?
Men's 2023 Ironman World Championship Results: The Bike
With such a large crowd exiting in such a short amount of time, it was no surprise that the initial miles of the bike leg were a game of musical chairs. Mignon quickly moved to the lead on the first small foothills of the soon-to-be mountainous course. He was soon passed by Laidlow, yelling something over his shoulder to his fellow countryman near mile 10.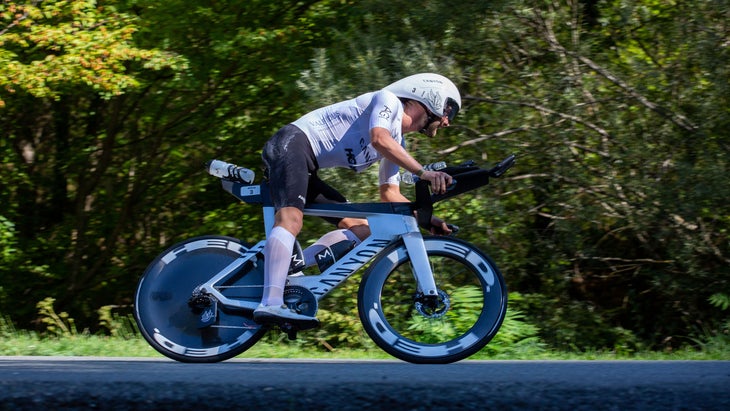 In the first rolling 25 miles, the Frenchmen switched leads often, as the two gained almost two minutes on the main chase group including Weiss, Marquardt, Currie, Frodeno, and Von Berg. In that same period, Ditlev moved up from 20th place in the swim, and 1:30 down, to well within striking distance of the main group and into the mix of the race.
But it was the Col de l'Ecre, an 11-mile climb with more than 3,000 feet of elevation gain, where we saw pre-race predictions come to fruition: This would, indeed, be a battle of the super-bikers. At the start of the grueling climb, Laidlow moved to the front – but at the end of the 8% grade, it was Mignon who emerged in the lead with Laidlow in tow.
Position changes played out behind on the steep inclines, as Ditlev used his climbing strength to cut through the main field and emerge at the top in third place (though still 2:30 behind the leading French pair), averaging an astonishing 375 watts and 4.2 w/kg (on a 1x drivetrain, one of the only pros in Nice to do so) in the first 33 miles. Weiss leveraged his XTERRA mountain biking background to make quick work of the Col as well, keeping in striking distance of Ditlev and bumping him out of third place shortly after the summit.
Frodeno, on the other hand, looked overcooked and eventually isolated alone, before falling six minutes behind the leaders – then almost five minutes behind the main chase group at mile 42. The carnage continued even further back, as pre-race contenders Skipper, Hanson, and Chris Lieferman fell more than 14 minutes behind. Later, Lieferman was in a very bad crash on the back half of the bike course and had to be given medical attention.
Unsurprisingly, Wurf continued to pass riders on the climb, clawing his way from 28th out of the water to 14th place at the bottom of the climb, and finally into eighth place at the top of the Col.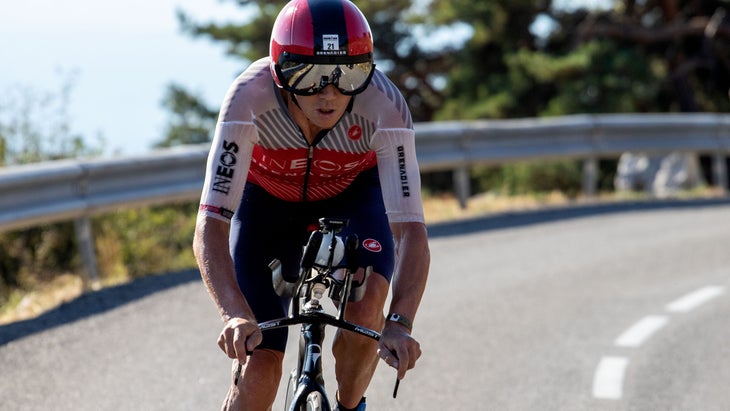 And then, a penalty: Weiss was told to serve a five-minute stand-down, motioning to Ditlev when he was notified by the refs during a descent around mile 50. The infraction frustration only seemed to fuel his fire, as the South African turbo-charged to bridge the gap to the front and bank time before he was forced to stop in the penalty box a few miles later.
But Laidlow didn't seem to know – or care – what was playing out behind him. In pre-race interviews, Laidlow indicated he planned to make a big move around mile 40. Between 40 and 45 miles, he tried to dislodge Mignon with little success. He finally made the move stick around 48 miles and created the gap he had been looking for.
In the 10 miles of twists and turns that followed, Laidlow opened a two-minute gap to Mignon and almost four minutes to the main chase group that now only included Ditlev, Von Berg, and Currie. The same full-send riding strategy that fueled him to second place at the 2022 Ironman World Championship seemed to be at play in Nice.
Even before the big descent into town, where athletes were warned of dangerous hairpin turns, Laidlow nearly put himself into a concrete barrier on a closing left-hander around mile 55. Very clearly, the Frenchman was already pushing his limits on the downhills.
Also pushing the limits: Cam Wurf, who was only second to Laidlow in average watt output (310 W to Laidlow's 347 W) at the halfway point of the race. The Australian continued to move up in the standings, joining the major chase group of Ditlev, Von Berg, and Currie four minutes down from the lead. They would soon absorb Mignon, whose speed (and standing) slipped after losing Laidow.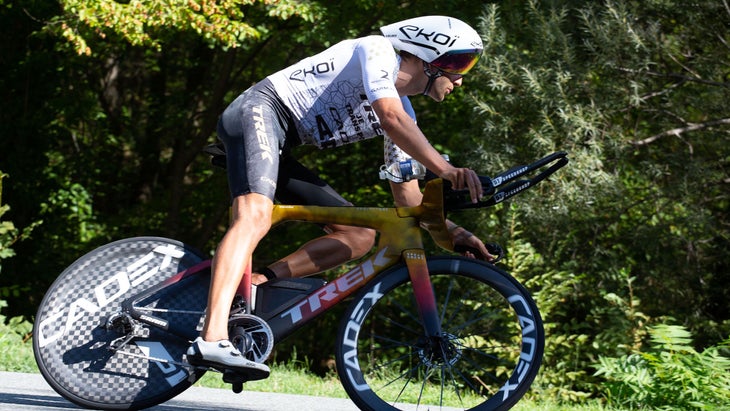 One by one, that group began to break up. Currie was the first to go, pulled for a five-minute intentional littering penalty at mile 70, and Mignon continued his backslide. Now in second and third place, Von Berg and Ditlev rode well together through windy sections atop the French Alps—Von Berg using his intimate knowledge of the course as Ditlev followed along.
But Laidlow continued his crusade, adding 20 more seconds to his lead between miles 70 and 80. Even Wurf – arguably the strongest cyclist in the field – couldn't seem to reel in the top three before the final descending stretch from the mountainous countryside to T2 at the Nice coast.
Meanwhile, the runners were getting into position. In the race developing behind, Lange had been patiently moving up through the field. After exiting the swim in 13th, 1:15 down from the leaders, he dropped back in the first half of the bike, as far as 16th place. But the German came alive between miles 70-80, moving up seven places into ninth. Just ahead of Lange, a fast-moving Chevalier rode himself into sixth at mile 80.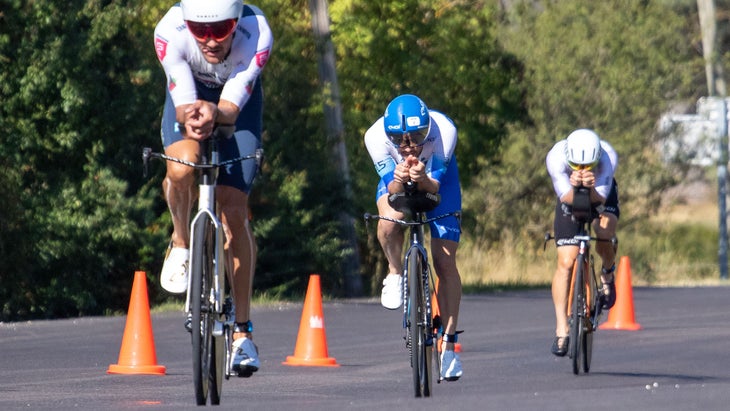 As predicted by pundits and athletes alike, the steep and tight descents of the bike course were a major character in the race-day narrative. Laidlow continued to push the downhills aggressively, as did Von Berg. But Ditlev, despite saying he had a "few tricks up his sleeve" at the pre-race press conference, took a more cautious approach. No longer able to follow Von Berg's line, the Dane lost more than a minute by the time he arrived at the base of the mountains. Wurf continued to under-deliver on pre-race expectations, somehow losing – not gaining – time on the descents.
Laidlow barreled into T2 with a bike split of 4:31:28 and a lead of more than five minutes over the following chasers Von Berg and Ditlev. The next steps were clear: If he wanted to win the first-ever Ironman World Championship in his home country, he would have to not just hang on for 26.2 miles in the 83-degree F temperatures of the Promenade des Anglais, but hold off some of the fastest runners in the sport's history.
Men's 2023 Ironman World Championship Results: The Run
Laidlow set off at a 5:52 min/mi. pace, knowing a few very dangerous names were about to enter T2: 12 minutes behind the super-bikers making up the top four were strong runners like Chevalier, Mignon, Barnaby, and Lange. Both Lange and Barnaby had run sub 2:40 in the last year, and Lange had said in a pre-race press conference he was looking to break 2:30 in Nice. A full-strength Frodeno would have been a threat as well, but it was clear as the three-time Ironman World Champion arrived in T2 in 11th place that his final Ironman marathon would not end with a come-from-behind victory.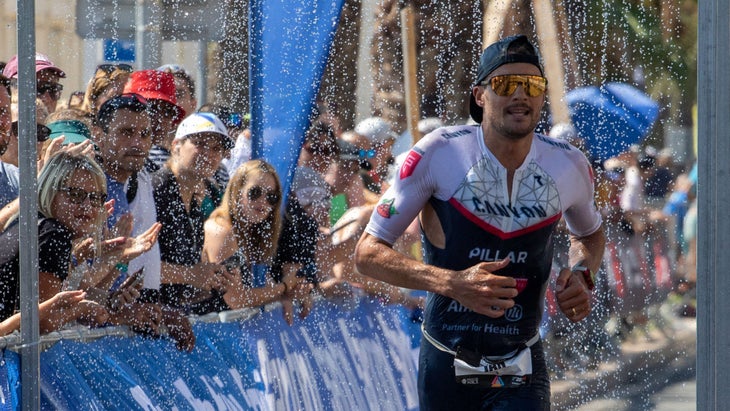 Though Von Berg started the run with a slight time advantage over Ditlev, the two were shoulder-to-shoulder by mile two. Ditlev moved ever-so-slightly in front of Von Berg, initiating a game of cat-and-mouse that would last for the next three miles. At that point, Ditlev turned the screws, dropping his pace from 6:10 min/mi to 5:56 min/mi – a small adjustment, but a potent one, as Von Berg found himself unable to respond and watched as Ditlev pulled away.
Through the first four miles, Laidlow continued to put time on the other übercyclists behind him, running a faster pace than everyone in the top ten except for Lange and Barnaby—who were both making their way through the men in front of them at a 5:41 min/mi pace.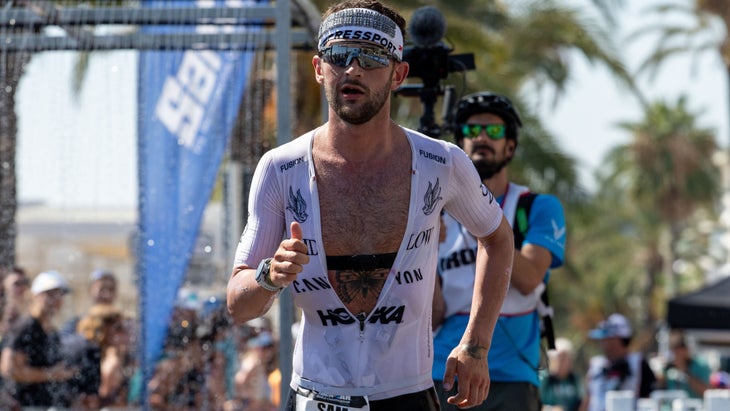 At nine miles, Laidlow continued to look good in the lead. Behind him, Ditlev was gaining time, but not much. Von Berg, on the other hand, had fallen off the pace, now almost seven minutes behind the leader, and with four minutes to Lange who was moving up from fifth place into fourth behind him. Just after nine miles, the hard ride quickly caught up with Wurf, and he proceeded to quickly fade out of contention.
Lange continued to move toward the front at mile 11—he had gained three minutes on Laidlow since beginning the run but was still 10 minutes behind. At this rate, it would take a big change of fate for the German to catch the French competitor. Behind Lange, Chevalier continued to look strong in fifth, just under four minutes down from the podium, as did Barnaby 20 seconds back from Chevalier.
Halfway through the run, Laidlow only began to tire slightly, with second-place Ditlev loping along over five minutes behind. Though Von Berg was holding good run form in third, seven minutes back from the leader, the fast-moving Lange, now in fourth place, was encroaching on the ever-shrinking gap between the two.
Lange moved onto a podium spot at mile 18, passing Von Berg for third with Ditlev in his sights. Could he bridge the 90-second gap to second place over the next eight miles?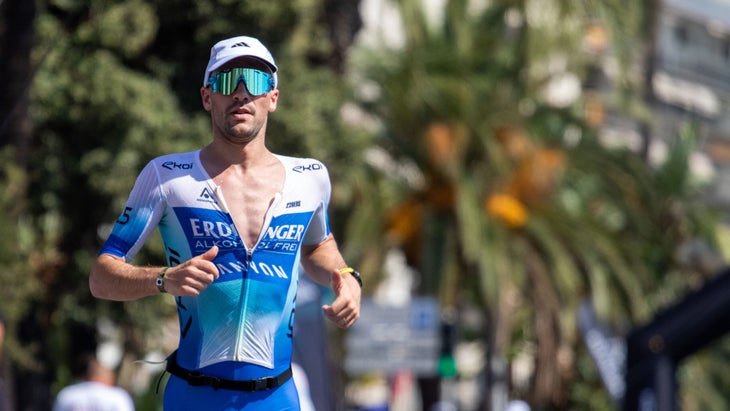 The answer: Yes, he absolutely could. Lange passed Ditlev at 21 miles, securing second place with only 5 minutes to go.
Despite the heat radiating from the pavement on the sunny Promenade des Anglais, the leaders pushed on to the finish. A spectacle grew around Laidlow as a variety of bikes, hoverboards, and scooters wheeled alongside, each rider attempting to capture photos or videos of the history-making event. Laidlow seemed to relish the attention, a broad smile on his face as he got closer to achieving his dream. Less than a mile from the finish line, he crossed paths with Frodeno, the two exchanging a high-five and a symbolic passing of the torch.
With a run split of 2:41:46 and an overall time of 8:06:22, an overjoyed Laidlow grasped the finish-line tape, cementing his place in Ironman history. It was his first-ever win at any Ironman-branded race; his previous bests were second at Kona 2022 and second at Ironman UK in 2021.
Lange, who placed second with an 8:10:17, proudly embraced Laidlow at the finish, another sign of respect from one Ironman world champion to another. An exhausted Magnus Ditlev took third in 8:11:43. In fourth place, Von Berg's 8:12:57 makes him the top male American at this year's Ironman World Championships.
"I'm in utter disbelief," Laidlow stammered at the finish. "I know I keep saying it, and I don't believe it. It's the stuff I've dreamed of my entire life. I have just surrounded myself with amazing people, and I've got them here with me today, and I'm so, so grateful."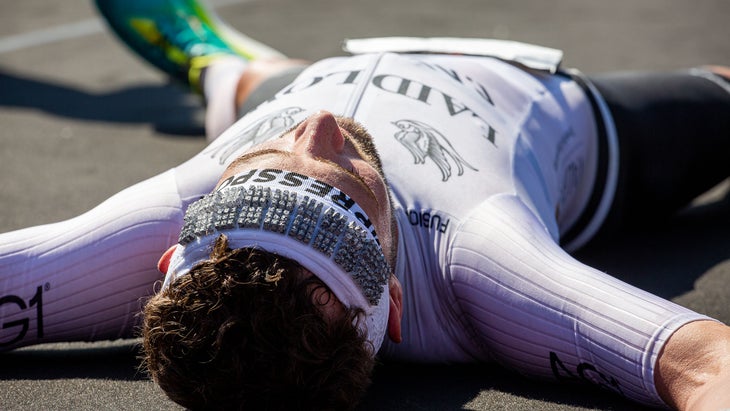 Laidlow reflected on a rocky season leading up to the win, where he battled injury and COVID. However, he says there was a silver lining of being well-rested. He also credited the crowds for helping him out, calling the adrenaline "absolutely crazy."
Lange just barely missed his goal of running a sub-2:30 marathon, finishing a 2:32:41. "I didn't make it to the top step, but I'm really happy with my race because I kept my head down until the end. I think that's what our sport's about – I had a crapy swim, lost contact, gained some motivation when I was able to catch up to Jan [Frodeno], rode a little bit on the bike, then left it all out there on the run course."
Lange was also effusive in his praise of the victor: "I know that Sam was in the lead, as a friend, I knew he would die for that victory. It would have taken a miracle to catch this guy."
At the finish line, Ditlev called the race the "toughest day of my life" and said he was "super proud" to tough out a run in which he felt depleted after a hard bike leg: "I had no response to being overtaken by Patrick, he came in like a freight train. But I'm super happy with third place."
The French pride continued, as Laidlow was joined by three other Frenchmen in the top fifteen: Chevalier, who finished fifth; Arthur Horseau in sixth, Mignon in 10th, and Gilloux in 12th. They, along with their fellow top-fifteen finishers, will split a $375,000 USD prize purse.
Jan Frodeno finished his final Ironman in 8:48:42 for 24th place. He was welcomed across the finish line (and into retirement) by his family.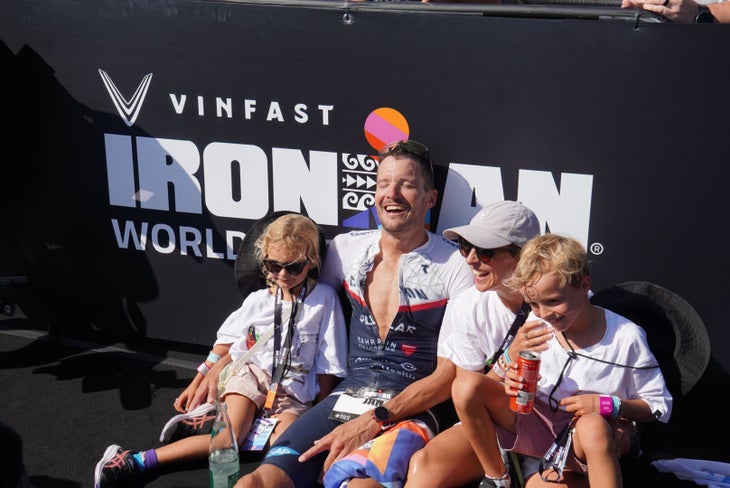 Men's 2023 Ironman World Championship Results: Top Finishers
*For full results from the men's 2023 Ironman World Championships, visit the Ironman website.
| | | | | | |
| --- | --- | --- | --- | --- | --- |
| Name | Country | Swim | Bike | Run | Overall |
| 1. Sam Laidlow | FRA | 47:50 | 4:31:28 | 2:41:46 | 8:06:22 |
| 2. Patrick Lange | GER | 49:01 | 4:43:24 | 2:32:41 | 8:10:17 |
| 3. Magnus Ditlev | DEN | 49:14 | 4:35:54 | 2:41:07 | 8:11:43 |
| 4. Rudy Von Berg | USA | 47:50 | 4:37:23 | 2:42:44 | 8:12:57 |
| 5. Leon Chevalier | FRA | 51:11 | 4:39:30 | 2:39:26 | 8:15:07 |
| 6. Arthur Horseau | FRA | 53:19 | 4:42:19 | 2:37:17 | 8:18:36 |
| 7. Bradley Weiss | ZAF | 47:55 | 4:44:23 | 2:43:22 | 8:20:54 |
| 8. Gregory Barnaby | ITA | 47:51 | 4:44:23 | 2:44:04 | 8:21:15 |
| 9. Robert Wilkowiecki | POL | 47:48 | 4:44:36 | 2:43:45 | 8:21:23 |
| 10. Clement Mignon | FRA | 47:59 | 4:43:03 | 2:47:55 | 8:24:10 |