Last Weekend Now: Long Goes Back-To-Back, Olympic Drama in Yokohama, Kienle Draws Heat, and More
Also, the second stop of the World Triathlon Paratri Series heads to Japan.
Heading out the door? Read this article on the new Outside+ app available now on iOS devices for members! Download the app.
Last Weekend Now is your weekly commentary on what's happening in pro triathlon, brought to you by Brad Culp. (Ed note: So yell at him if you don't like the comments.)
After a 68-day break, the World Triathlon Championship Series made stop number two of the 2023 season in Yokohama, and they were joined by the World Triathlon Para Series to make it a double feature in Japan. In France, Bart Aernouts took a win at Challenge Frejus (and witnessed a controversial penalty dished out to Sebastian Kienle by a ref). And closer to home, Sam Long made it back-to-back 70.3 wins, giving credit to his new coach.
Wilde rebounds in Yokohama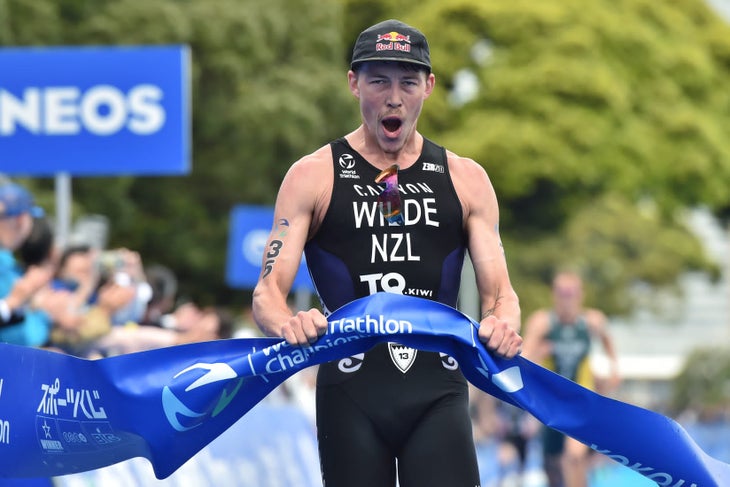 After a flat tire led to a disappointing 46th-place finish at the opening round of the WTCS in Abu Dhabi, New Zealand's Hayden Wilde returned to the top step of podium—a place he's been eight times in his last 17 races. World championship favorite Alex Yee sat out this round of racing, and that left Wilde in a class by himself on the run. He broke away from a massive pack of more than 40 men right out of T2, leaving the rest to battle for second and third.
Wilde's winning margin of four seconds over Aussie Matthew Hauser makes the race on paper look a lot closer than it was in real life, and it also demonstrates the importance of positioning when riding in a massive pack. Hauser was out of the water 13 seconds ahead of Wilde, but by the end of 40K of riding, he was near the back of the group of 40 while Wilde was at the front. Hauser even managed to run one second faster than Wilde over 10K, but he never got close to the win.
The same goes to Portugal's Vasco Vilaça, who lost the sprint for second to Hauser, and also lost out on the chance to sprint for the win thanks to a very slow T2. Of the 49 men who finished, only two had a slower T2 than Vilaça, who was a full 10 seconds slower than Wilde and Hauser.
Hayden Wilde is looking in control in Yokohama. Wearing number 1 Vasco Vilaca is starting to reel in Frenchman world champion Léo Bergere.

Switch to https://t.co/YFY80R4n6u for full coverage of the men's race. pic.twitter.com/eNFMqJrPOW

— World Triathlon (@worldtriathlon) May 13, 2023
Speaking of slow, let's talk about Kristian Blummenfelt and Gustav Iden's swim. The reigning Olympic champ exited the water 45 seconds behind the leaders, while the current Ironman world champ was more than a minute behind. Blummenfelt managed to ride his way to the back of the large lead pack by the final of four 10K laps, posting the fastest bike split of the entire field. His teammate and training partner didn't have the same punch on two wheels and never got in the mix, ultimately finishing 39th.
Like Hauser, Blummenfelt started his run in the back of the pack with a lot of bodies to run through. He ran faster than all but seven of them, so he fittingly finished eighth, which is where he finished at his last WTCS race in Abu Dhabi last November. It's unlikely that Blummenfelt will head into Paris with the fastest run in the field, but now he has the advantage of being perhaps the strongest cyclist. From a tactical standpoint, expect to see a very different race from Blummenfelt in Paris than we saw in Tokyo in 2021. If he wants to repeat as Olympic champ (and he really, really does), there are a handful of men he'll need to dispatch before he gets to T2 in Paris.
Coldwell finally breaks the tape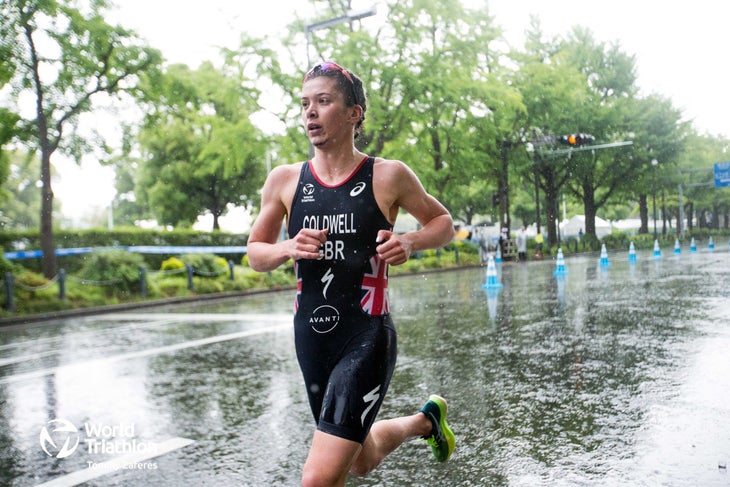 Until last weekend, Britain's Sophie Coldwell held the inglorious title of being the fastest woman in the world never to win a WTCS. She finished second to teammate Beth Potter at the opening round in Abu Dhabi, and now has her first title on the sport's top series, as well as a lead in the world championship points standings.
One of the only women able to run faster than Coldwell was another one of her countrywoman, Georgia Taylor-Brown, but the pre-race favorite was nearly 30 seconds down on the leaders out of the water and never reached the front group on the bike, ultimately finishing seventh. That meant Coldwell's closest competition came from an unlikely contender in the form of Mexico's Rosa Maria Tapia, who became the first Mexican woman to finish on a WTCS podium.
At 25, Tapia has already been competing on the elite level for nine years and is finally having a breakthrough season. She finished 16th in Abu Dhabi and followed that up with a fourth-place finish at the New Plymouth World Cup two weeks later. She's sparking high hopes for a tri-crazy federation that hasn't had a lot of success on the international level. The last time a Mexican woman finished in the top 10 of a WTCS was way back in 2015.
Sophie Coldwell GBR looks fantastic as she sets an incredible pace in Yokohama!
Mexico's Rosa Maria Tapia Vidal is running brilliantly in 4th place.

For full race coverage and to see the finish tape watch over on https://t.co/YFY80R4n6u pic.twitter.com/KkvSMHscMA

— World Triathlon (@worldtriathlon) May 13, 2023
In third was American Taylor Knibb, which may not seem like a particularly great result for a world champ, but considering this one started the year with surgery and crutches, it probably feels a lot like a win. The last time Knibb finished worse than sixth at a WTCS race was way back in 2019. It's remarkable consistency considering it's not even her best style of racing.
In fourth was the most consistent triathlete on the planet in fellow American Taylor Spivey. She's now second in the world championship standings after finishing third in Abu Dhabi. Spivey has raced 12 times since missing out on the team for Tokyo 2020 and has finished in the top five on eight of those occasions. It's going to be very hard to keep her off the team for Paris 2024.
RELATED: Olympic Snub Fuels Taylor Spivey's Paris Goals
Paratri superstars race toward Paris 2024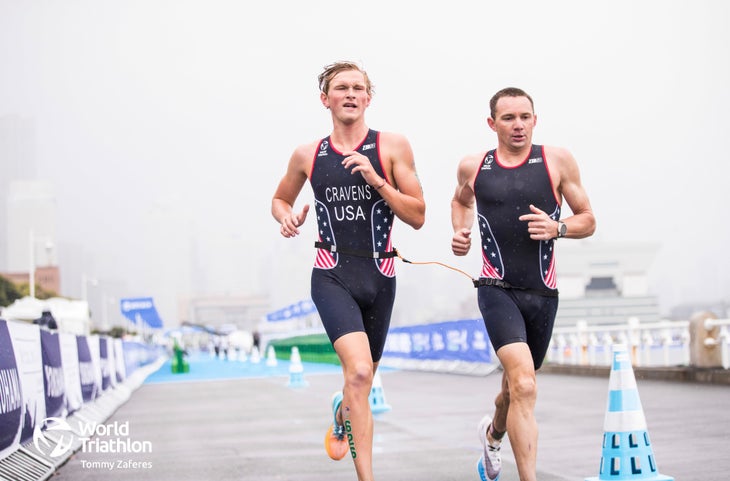 The second round of the World Triathlon Paratri Series (WTPS) coincided with WTCS Yokohama, with a handful of medalists from Tokyo 2020 on the start line to continue the long road to Paris 2024.
In the men's PTS5 race, Germany's Martin Schultz reminded the rest of the gold medal hopefuls that they don't have much of a chance next summer. He finished the sprint-distance course in 56:52 for the fastest overall time of the day and a win of more than 90 seconds in his division. Owen Cravens of the USA won gold in the men's PTVI category, his first medal in a World Triathlon Para Series race. Guided on Saturday by pro triathlete Ben Hoffman, Cravens is a member of USA Triathlon's elite development squad, Project Podium.
In the women's PTWC race, Aussie Lauren Parker did what she almost always does and dusted the field, winning by more than a minute over American Kendall Gretsch. The pair famously had a sprint finish in Tokyo two years ago, with Gretsch sneaking past Parker to steal Paralympic gold in the final meters.
American women went one-two-three in the PTS2 category—one they've dominated over years. This time it was Hailey Danz finishing on top, nearly two minutes ahead of Melissa Stockwell, who is aiming to make her fourth Paralympic team. Rounding out the podium was 2016 Rio Paralympic gold medalist Allysa Seely.
Long praises new coach for back-to-back wins
If triathlon's obsession with the "Norwegian Method" has taught us anything, it's that the best training plans are completely individualized. What works for one athlete could spell disaster for another, and that's why Sam Long fired coach Dan Plews at the start of this season.
Plews, who helped turn Chelsea Sodaro from a fast runner into one of the most surprising Ironman world champions of all-time, is no doubt one of the greatest triathlon coaches in the universe. But for whatever reason, his methods weren't jiving with Long, who had a mostly forgettable 2022 campaign. (A disappointing season for Long included four victories.) In place of Plews, Long has hired himself as coach, and so far the two appear to be working very well together.
He now has his second win of 2023 just a week after his first at 70.3 St. George, and this win was even more emphatic than last week's. Long finished four minutes ahead of Lionel Sanders after out-splitting the Canadian by two minutes on both the bike and run. We'll need to see some GPS files before certifying speeds, but Long's 1:52:55 split for 56 miles works out to 29.7 miles per hour. Keep up the great work, coach.
Now that's a solid aid station visit! Sam Long is leading the way.

Find out who will emerge Champion on Outside Watch.#IM703GulfCoast | #IRONMANtri | #AnythingIsPossible pic.twitter.com/6GnNC9Vl0G

— IRONMAN Triathlon (@IRONMANtri) May 13, 2023
For Sanders, it's a step in the right direction after a rough end to 2022. It's coming up on a year since he last won a race, but his bike and run are getting back to the times needed to win again. It's also worth noting that he hasn't won a race since "quitting" social media.
Another three minutes behind Sanders was fellow Canadian Jackson Laundry, who has raced three 70.3s in 2023 and has three third-place finishes. There was no pro women's race.
Missed the action at 70.3 Gulf Coast? Outside+ Members can replay the action on demand with Outside Watch. Become a member today!
Penalty takes Kienle out of Challenge Frejus contention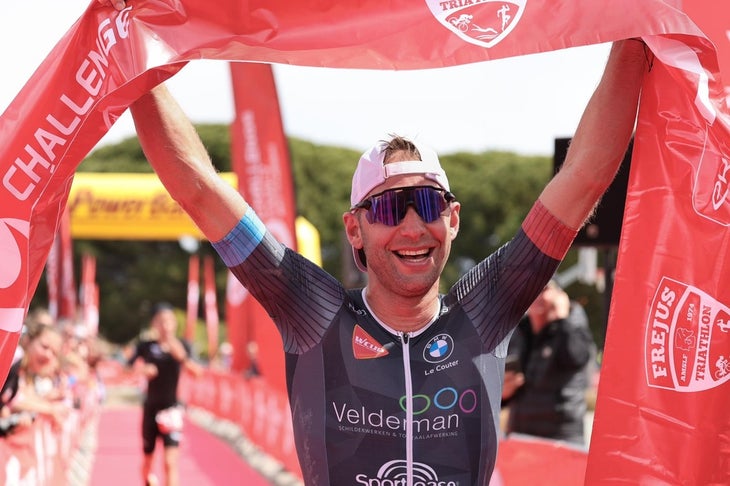 The favorite triathlete of people who know triathlon, Sebastian Kienle continued his retirement in France's Cote d'Azur at Challenge Frejus. While riding in second place, he was assessed a drafting penalty—one that he adamantly denied on Instagram after the race.
Belgium's Bart Aernouts, who went on to win the race, defended Kienle's defense of himself, saying that he was riding behind Kienle at the time and did not see anything that would warrant a penalty. Instead of a thrilling run finish between two of the sport's top veterans, Aernouts got a relatively easy win over Frenchman Cyril Viennot—another tri vet we've heard very little from over the past few seasons.
The win in the women's race went to South Africa's Magda Nieuwoudt, earning the first victory of her pro career. Nieuwoudt finished nearly nine minutes up on France's Aurelia Boulanger.
RELATED: Outside Watch Announces 2023 Ironman 70.3 Livestream Schedule