Last Weekend Now: Haug Lights up Lanzarote, Brits Dominate in Chile, Paratri Stars Begin Road to Paris
Columnist Brad Culp recaps a weekend of racing that included Anne Haug's 1:16 run split at Ironman 70.3 Lanzarote, back-to-back wins from Lucy Byram, and a dominant performance from Team USA in paratri.
Photo: Delly Carr/World Triathlon
Heading out the door? Read this article on the new Outside+ app available now on iOS devices for members! Download the app.
Last Weekend Now is your weekly commentary on what's happening in triathlon, brought to you by Brad Culp. (Ed note: So yell at him if you don't like the comments.)
2019 Ironman world champ Anne Haug got her 2023 campaign underway by bludgeoning the field at one of her favorite races at 70.3 Lanzarote, a pair of rising British stars made it look easy at Challenge Puerto Varas, and some of the top paratri athletes in the world got a step closer to Paris 2024 in Devonport, Australia. Here's what happened last weekend in the world of professional triathlon.
All Germany in the Canary Islands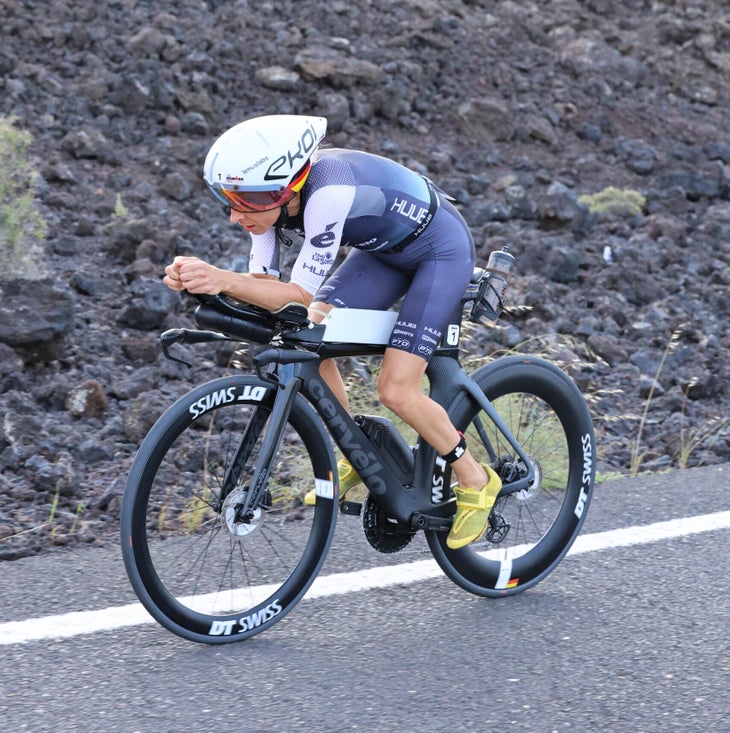 Some people were losing their minds on social media over Anne Haug's 1:16 run split at Ironman 70.3 Lanzarote on Saturday, like it was something out of the ordinary for the woman who is a strong contender for best runner in the sport. It was actually 24 seconds slower than she ran en route to finishing second to Kat Matthews at this race a year ago. What should've caught people's attention was the fact that she rode almost five minutes faster than she did a year ago (2:29:00 compared to 2:33:50), on a course that doesn't necessarily suit her strengths.
At 40, Haug is at the age where many professional athletes begin asking themselves the retirement question, but she's still getting faster. Now in her 16th season of professional triathloning and her seventh season of going long, the German superstar continues to make progress on the bike – and that's terrible news for the handful of women who are on her level in Kona.
For all of her running accolades, Haug doesn't get enough credit for being really fast on two wheels. Let's not forget that she rode a 4:14 split at Challenge Roth in 2021, as part of one of the single greatest performances in the history of the sport. She had the fastest ride of the day on Saturday, as well, giving her a one-minute lead on Britain's India Lee at T2, which she turned into nearly 12 minutes 13.1 miles later.
Haug started the year ranked #1 in the PTO World Rankings, but slipped to #6 when the algorithm was altered. Her performance at Lanzarote should bump her back into the top five (I think), even though the field wasn't exactly world-class. Lee entered the weekend at #32, which is not a great spot to be, considering only the top 30 will be invited to the big money European and U.S. Opens in May and August, respectively. This should be enough to bump her up into the top 30, but we won't know for sure until later today because, unlike me, the algorithm doesn't work weekends. Elisabetta Curridori finished third, another eight minutes behind Lee. If you can't guess from her name, she's from Italy.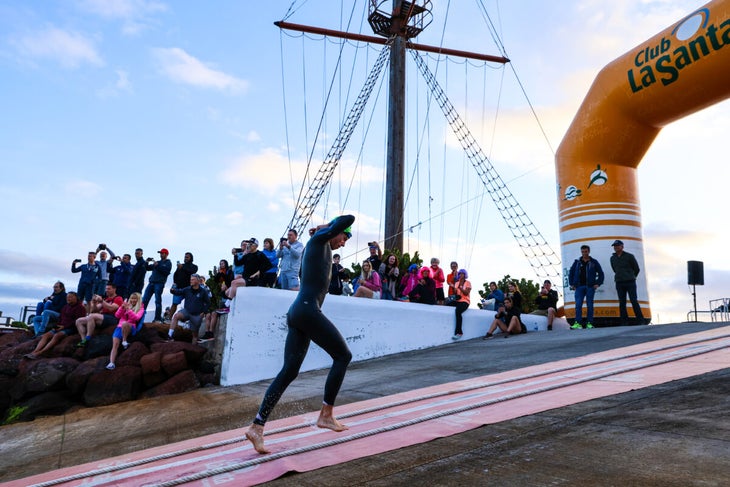 Justus Nieschlag entered the weekend ranked #433 in the PTO World Rankings because he had only done two long-course races in his career, but he's now three for three at the 70.3 distance and should really stop focusing on the short stuff. He took down a handful of men currently ranked inside the top 30, doing so just a week after competing in the Super League Arena Games in Sursee.
As should be the case in Lanzarote, the bike decided the podium, as Nieschlag broke away with Frenchman Mathis Margirer, Germany's Rico Bogen and rising Danish star Thor Bendix Madsen. Nieschlag broke away immediately out of T2 and held the lead throughout the run, but Margirer closed hard to finish just 16 seconds down in second. Madsen was nearly two minutes behind to complete the podium. The 23-year-old Dane, who finished eighth at 70.3 worlds last year, is currently #33 in the world – and this probably won't be enough to get him invited to Ibiza in May.
Brits Bishop and Byram brilliant in Puerto Varas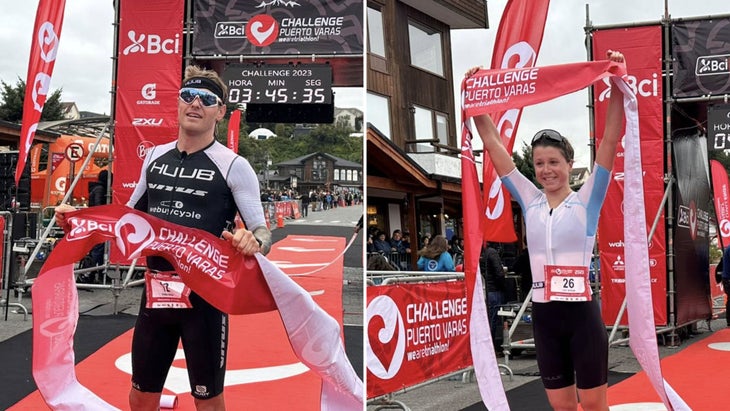 A week after finishing runner-up at Clash Miami, Tom Bishop went from South Beach to the southern tip of civilization and finished one spot better at Challenge Puerto Varas. He would've been a 2020 Olympian if he were racing for any other country, but he's really come into his own since going a bit longer over the past two years. He swims front pack, he rides as fast as Sam Long, and he runs fast enough to hold off just about anyone other than Jason West, who got the better of him in Miami.
Bishop's run in Chile was good enough to hold off an always hard-charging Matt Hanson, who finished nearly six minutes back despite running more than three minutes faster. That's because Bishop's 2:04:33 ride was five minutes better than anyone else and seven minutes better than Hanson. It's a really fast time on a really challenging course, just a week after lighting up a speedway in Miami. Similar to Long, Bishop can ride really well on any type of terrain. Unlike Long, Bishop is good at swimming. He's currently #40 in the world, and I doubt this will be enough to crack the top 30, but it'll get him close and I'm sure he has some more travel plans between now and May. He would be a fun addition to the front of the race at the PTO European Open in Ibiza.
In the women's race, Lucy Byram made it back-to-back wins with back-to-back brilliant bike rides, breaking the tape in both Miami and Puerto Varas. She and Bishop are remarkably similar athletes. The strategy of swimming at the front, biking faster than everyone else and running just fast enough is a good one if you can do it. And both of these young Brits can do it very well. Byram even turned in the best run of the day, which earned her a four and a half-minute cushion on American Haley Chura at the finish. Britain's Laura Siddall was third, another two minutes behind.
At #42 in the world, Byram will likely still have some work to do if she wants to join the party in Ibiza… or Milwaukee. (I plan on attending both events and I'm legitimately more excited about Milwaukee. Here's why you should be, too.)
World Triathlon Para Series kicks off in Tasmania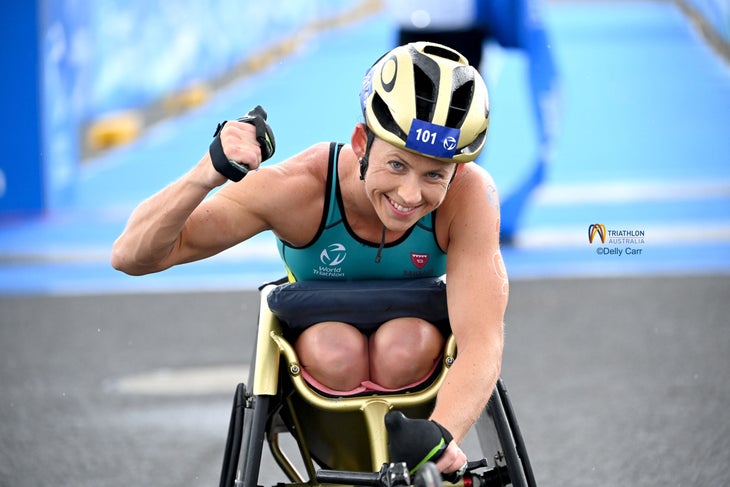 The north coast of Tasmania played host to the start of the professional paratri season, with world champions and Paralympic medalists heading all the way down under to Devonport. American Howie Sanborn took the first WTPS win of his career in the PTWC (handcycle) division. Sanborn finished nearly a minute up on Japan's Jumpei Kimura on the sprint-distance course.
American men went one-two in the PTS2 division, with Mohamed Lahna putting in a dominant performance to finish five minutes ahead of Adam Popp. Lahna will look to lock up his Paralympic spot this summer and looks to be a heavy favorite for gold in Paris.
World champion and 2020 silver medalist Lauren Parker of Australian turned in one of the fastest times of the day among men or women to win the women's PTWC race. Her time of 1:09:49 was just three minutes off Sanborn's winning time in the men's race.
The second of four rounds of the World Triathlon Para Series takes place in Yokohama, Japan, on May 13.