An Exclusive Q+A With the Race Directors of the Ironman World Championship in Nice
Insider information on the Nice course, getting the stamp of approval from legends like Mark Allen, and whether the two-location format is here to stay - the RDs of the World Championship event in Nice tell all.
Photo: Jan Hetfleisch/Getty Images
Heading out the door? Read this article on the new Outside+ app available now on iOS devices for members! Download the app.
After much speculation, the 2023 Ironman World Championship course in Nice, France has been revealed, and perhaps no one is more relieved than race directors Diana Bertsch, Roch Frey, and Yves Cordier, who have been working diligently behind the scenes to secure permits and coordinate logistics in the brand's first-ever two-day, two-location Ironman World Championship. The men's pro and age-group fields will get first crack at the French course on September 10, while the women's pro and age-group race will be held in Kona October 14. The two will switch fields in 2024.
This isn't the first time an Ironman World Championship has been held away from Kona – last year's race in St. George, Utah holds that distinction – but it is the first time the move seems to be a long-term solution, not a stopgap for COVID-era restrictions. Ironman has committed to two separate days of racing for the men's and women's fields, which reduces interference and allows for equal numbers of men and women to participate in the event. Kona and Nice are slated to co-host the Ironman World Championship events through 2026.
This has left some wondering what happens after 2026: Will Ironman continue the two-location format, or will it bring the two fields back together? Will Kona continue to be the home of the Ironman World Championship, or will there be rotating host cities, like the brand's 70.3 World Championship? These are big-picture questions Ironman has not yet answered (or, at least, they are not yet ready to share with the world). But there is no doubt that the next few years in Nice will serve as a kind of test balloon for future iterations of its flagship event.
We sat down with Bertsch, Frey, and Cordier for an exclusive interview on the Ironman World Championship course in Nice and what athletes can expect. For details on the course (including course maps) check out our first look here.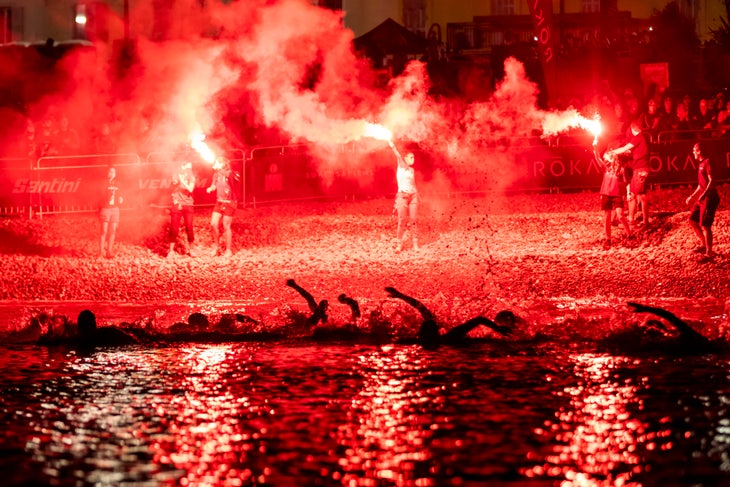 This transcript has been edited for length and clarity.
Triathlete: Today, Ironman officially unveiled the course for the world championship race in Nice. Let's start with the swim – what can you tell us about the venue?
Frey: The majority of the time, it's quite calm water on the Mediterranean. There's no excessive current. The biggest difference [from past races in Nice] is we're doing an in-water start. So the age group 20 to 25 goes into the water, and all start together, then five minutes in between the next wave of age groupers and the next. One thing to note is that the athletes will only have to swim out approximately 25 meters to the start line. It's a very short warm-up swim. I know in Kona [where athletes swim 125 meters to the in-water start], the athletes use that as a good warm up, they can sprint out or take their time. So that's one thing the athletes need to know, that they're not going to get much warm-up in the water.
The course itself is an out-and-back, two times. Sighting shouldn't be too much of a concern, because we're going north to south.. There will be limited buoy markers in between the turn buoys. And that the reason behind that is the depth – the water is anywhere from 100 to 300 meters deep, so there's you can't put out a lot of buoys like every 100 meters like we'd like to do. On the way out of the water, we'll have a carpeted beach to cover the large pebbles at the exit. Take your time coming out of the water for those 10 or 15 meters.
What about the bike course?
Frey: It's a challenging bike course and very technical. We have almost 8000 feet of climbing. We did a slight course change [from past iterations of Ironman Nice to take out some of the steep cuts and replace them with a few short flat out-and-backs, but it's still it's a very small change. The biggest advice is to prepare for two things: short and steep hard climbs from the 10-kilometer mark to the 30-kilometer mark, longer climbs after that, and then technical descents. It's not like [2021 World Championship] St. George, where you can coast on the descent out of Snow Canyon. Go ride some descents and get comfortable with descending on windy turns and speed tables.
It's not a flat course. It's a hard course and a technical course, but it's also amazing.
Cordier: The ascent of the bike course passes through quaint rooftop villages, or communes, such as Vence, and Gourdon, which was voted one of the Les Plus Beaux Villages de France [most beautiful villages in France]. The passage through the waterfalls at Gorges du Loup is also a well-known tourist attraction, especially amongst hikers and rock climbers, and the descent on the Clues de Gréolières is a famous route amongst cyclists, recognizable by the natural rock arches athletes will cycle through against a backdrop of the magnificent Nice hinterland.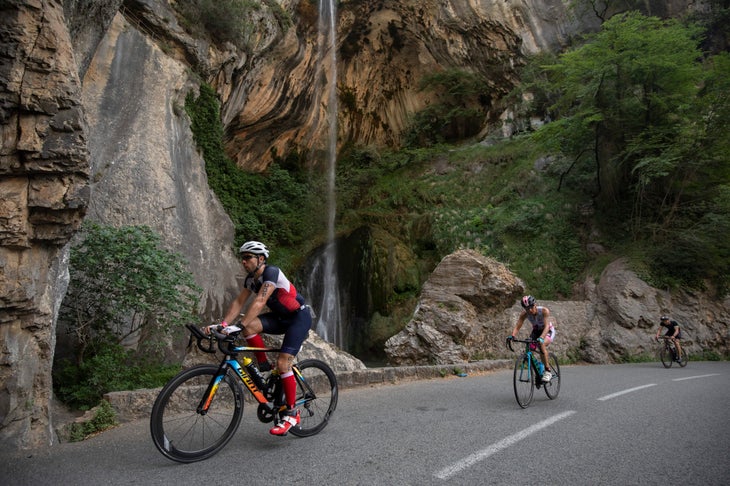 And the run?
Bertsch: The run is flat and fast, four loops up and down the Promenade des Anglais. It's going to be a stadium environment, filled with family and friends cheering for the full 26.2 miles. I feel like that's an experience that's hard to get in an Ironman – In Kona, we get to see athletes at the hot corner and Palani and Ali'i Drive, but here, you're going to have a run course that will absolutely be wall to wall for the entire race. It's incredibly exciting.
Cordier: The Promenade des Anglais is Nice's iconic walkway, and with both the transition and the finish line positioned here, it will also act as the epicenter of the race. Also iconic in the world of triathlon, it's where the likes of Paula Newby-Fraser and Marc Allen have raced to victory. The course also passes Le Negresco Hotel, which has caught the imagination of royalty, artists, politicians and A-list celebrities. With the Mediterranean Sea on one side, and the old-school opulence of Nice on the other, this is a run course which showcases the very best of Nice.
How was the location and layout of this course chosen?
Bertsch: There's an immense triathlon history that exists in Nice and that's one of the reasons we're there. It's the European birthplace of long-distance triathlon. Seeing people like Mark Allen and Paula Newby-Fraser race there, it's a history that's been there for so many years, which is incredibly exciting.
Cordier: We wanted to create a course which would truly capture the imagination of our athletes, but also enable them to experience the culture and ambience of the city of Nice and the French Riviera.
Our ambition was always to have a one loop bike course that takes athletes away from the hustle and bustle of the city, and into the Nice hinterland to experience some of our most famous "cols" such as the Col de L'Ecre. We then wanted the run course to be in the center of Nice, perfectly situated for athletes to take advantage of the great crowds at multiple points, whilst soaking up the glamorous downtown.
You mentioned some of the names that are associated with the history of triathlon in Nice: Mark Allen, Paula Newby-Fraser. Was there any input on the race from pros like them?
Bertsch: I have talked to Mark about the course, because he's somebody who has raced there so many times. Of course there's been so much conversation about our decision to go to Nice and it not being Kona, and he's been very public and shared his thoughts about it. In our conversations, he has said it's an iconic course that Nice offers, and he raced it for more than 10 years because it was so amazing. It's challenging, but that's what makes it worthy of a world championship. One of his things he loves the most is that there's people on the run the entire way, and there's nothing that's quite so inspirational. That's important to us, from somebody that's such a legend in our sport and has such an intimacy with the course there.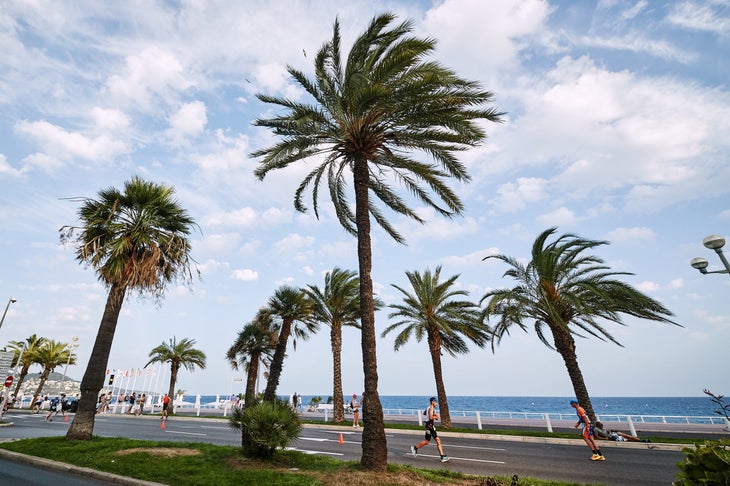 There's a lot of familiarity with the Kona course in the triathlon world. The Ironman and 70.3 races in Nice are popular, but certainly not to the degree Kona has been. Do you see that changing with the announcement of Nice as one of the hosts of the world championship event?
Bertsch: Obviously, we get international athletes in these world championship events, but one of the things that I have been learning through this process [of establishing Nice as a co-host of the world championship] is there's a lot of people that don't know what Nice, France is like for triathlon. Yes, there's a group of people, primarily in Europe, who have experienced Ironman in France, but there's so many people that haven't that will be going there for the first time. People come to Kona to experience the course, and I foresee the same thing happening in Nice.
Cordier: An Ironman World Championship will draw the best of the best athletes from around the globe. The athletes, plus their support crews, typically come in earlier to train and acclimate themselves to the local climate all while soaking up the atmosphere. As soon as these athletes arrive, they will feel the buzz and atmosphere of the city and know this is a World Championship event. They are expecting a world-class experience, complete with all the trimmings and we're prepared to wow them.
This isn't the first time we've seen a non-Kona Ironman World Championship. What are some of the lessons you learned from putting on the race in St. George last year that you're applying to Nice?
Bertsch: Hawaii has this incredible reputation. It's the history, and it's the roots of where we all started. That's super important, and the foundation of who we are as an organization. We can never forget our roots, and our roots are in Hawaii. We don't ever want to lose that.
But that doesn't mean that the only place that can host an Ironman World Championship is in Hawaii. When we were in St. George, we were able to demonstrate that yes, we can have a world championship elsewhere. We demonstrate that every year with the Ironman 70.3 World Championships. As we rotate locations for the 70.3 championships, we're not looking to duplicate any given location.
We learn from every race, even Kona. Being in this business for over 20 years has taught me that we try things, and sometimes they work and sometimes they don't work. We learned a tremendous amount in St. George. Learning is is a key part of what we do. The sport continues to change. We have to evolve with it.
Ironman is committed to the two-day, two location format through at least 2026. Any talk of what will happen beyond that?
Bertsch: 2023 and 2024 are going to be really big years for us. We want to see how this pans out. I feel like athletes are going to leave Nice and go, "Wow, that was amazing. I can't believe it's taken this long for this to happen." Watching how this develops will really be helpful as we process and look into the future of what's next.
When you make changes, everybody has an opinion. And everybody has an opinion about what we do. Change rattles people, and it throws them off guard a little bit. But we have also received emails from athletes saying, "I actually had qualified for the Kona Ironman World Championship, but decided not to take my slot because I had already had that opportunity or had raced there X amount of times. I would love to have a slot."
Nice will not only going to capture the imagination of our athletes, our media, and everyone around, but we're committed to building that world championship race experience. People are going to love this opportunity to race in two fabulous places.
RELATED: Is a European Ironman World Championship Better for the Environment?