Ironman Recognizes IM Texas Times as World Records on Admittedly Shortened Course
Melissa Hauschildt's 8:31:05 and Matt Hanson's 7:39:25 are now the new Ironman-branded records for the 140.6 distance.
Heading out the door? Read this article on the new Outside+ app available now on iOS devices for members! Download the app.
This morning, Ironman told Triathlete they'd recognize times achieved at last weekend's Ironman Texas North American Championship as world bests. That means Melissa Hauschildt's 8:31:05 and Matt Hanson's 7:39:25 are now the new Ironman-branded records for the 140.6 distance, supplanting Tim Don's men's record of 7:40:23 set May 28, 2017 at the Ironman South American Championships, and Chrissie Wellington's 8:33:56 set April 10, 2011 at Ironman South Africa. The caveat: Ironman's announcement about the Texas records comes two days after Ironman stated that the IMTX bike course was shortened due to athlete safety precautions.
The response to the announcement has been general bewilderment, along the lines of this tweet from Jarret Gosbee aka @DoYouEvenTriBro: "Breaking: IOC gives gold medal in the men's 100m sprint to whoever was ahead at the 80m mark."
Below, a brief history of a race that's consistently been mired in confusion, a timeline of how last weekend's announcements played out, and responses to Ironman's decision to uphold IMTX 2018 records from Melissa Hauschildt, Matt Hanson, as well as Ironman legend Scott Tinley.
The Insanity of Ironman Texas, A Brief History
Depending on who you ask, Ironman Texas is known as one of two things: a blazing fast course, or a bit of a mess.
Sure, it's had its good years—a slew of sub-8 performances, a designation as the North American Championship event, and a hefty number of age-group PRs. But lately, it's seen a lot of drama.
In 2015, the race saw a large number of DNFs from heat and humidity. In 2016, county officials pulled approval of the bike course 75 days before the event due to resident outrage. The new route was partially washed out by storms, shortening the bike route to 94 miles. That same year, another severe storm blew through on race day, forcing race officials to temporarily shut down the race midway through the run.
In 2017, it looked like the race wouldn't happen at all. And then, somehow, it did.
But 2018 has outdone itself on the drama scale, with an event mired in more controversy and chaos than ever before.
The 2018 Event
Race-Morning Chaos
Though the Ironman Texas bike course was approved by both Ironman and city officials weeks before the event, it seems it may have been done without a full analysis. According to athletes at the race, this shortened course was not communicated on race morning. Rather, they found out after the fact through a Facebook announcement posted by Ironman in the afternoon that stated the following:
"Earlier this morning, Ironman made the decision to cut a portion of the bike course reducing the distance from the standard 112 miles to approximately 110 miles. This decision was made in the interest of athlete safety. Because of the shortened distance, no course records will be recognized."
Ironman clarified the issue for Triathlete in a statement sent this morning, explaining that course recon on race morning unveiled glaring safety concerns at the turnaround:
"The bike course utilized the Hardy Toll road and while doing the final course check on race morning with city and transportation officials, it was determined that the safest turnaround location was not true to the predicted course measurement. For the course to be the standard 112 miles, the turnaround location would have needed to be placed in an area which cut down the width of the course and included a low wall embankment, making that location unsafe."
Though many bemoaned the shortened course, some set out to make lemonade out of lemons. Pro Michelle Vesterby, upon finding out of the shortened course, grabbed her bike to complete the "missing" 3 kilometers, which she videotaped and posted on her Facebook page.
Tons of Draft Packs During the Race
During and after the race, social media was flooded with imagery from the bike course showing large draft packs and unsafe conditions. One recording from a traffic cam on the course caught a pile-up of riders and subsequent swerving from the surrounding peloton.
Few drafting penalties were issued due to an in-race decision to pull all motorcycles, including those for race officials from the course. Ironman's statement, sent to Triathlete this morning:
"During the bike portion of the event, Ironman received multiple reports of erratic and unsafe driving behavior of two-wheeled motor vehicles that were on course. In addition, there were reports of several unauthorized and uncredentialled scooters on course. While Ironman has a rigorous approval process allowing vehicles on the course for officiating, media coverage and race leaderboard spotting, our system was in this case compromised and the removal of all motos from the bike route was necessary to ensure athlete safety."
Pro Dissatisfaction About Drafting
Professionals and age-groupers alike took to social media to voice their frustration with the race. In an Instagram post, pro Dimity-Lee Duke revealed the draft packs ultimately led to her withdrawal from the race:
"I was riding with credible female pro athletes and some professional men. Unfortunately there were a number of athletes within the riding group who chose to blatantly break the rules #drafting no [sic] just on the odd occasion but for the whole ride until I chose to pull the plug. Regardless of wether [sic] draft Marshall's around or not it should be up to the athlete to race clean and fair. Obviously this was disregarded. As I was doing my upmos t[sic] to follow the rules I knew down the road that I would ultimately pay the price coming into the run. I decided to not continue to ride with this group and ride with another fellow athlete who acknowledged what was going on – but ultimately she was sucked in and followed the same suit when the next drafting group went by. The last straw came for me when another female pro athlete who was also drafting at 2m said « hop on and get a free ride! » ."
Pro Dede Griesbauer, who did not start the race due to illness, says drafting issues were exacerbated in part by Ironman's failure to adhere to its swim start schedule:
"There was meant to be a 10-minute gap between pro women and the amateur start. I was on the shore and I can tell you that while I did not have a clock on it, it was not 10 minutes before the age groupers started," says Griesbauer. "Because the age groupers were in wetsuits and the professionals were not, the impact of an improper gap was compounded, forcing a significant number of pro women to ride amongst age groupers. Some, unfortunately, were reported to take unfair advantage of that. I stood at mile 3 of the bike and saw better than half the pro women's field tangled up amongst amateur athletes. Who took advantage and who did not? I do not know. But I know the opportunity was there for more than half of the female pros. So from the start, it was not a fair race."
The New World Records
In the men's pro race, Matt Hanson crossed the finish line in 7:39:25. Mel Hauschildt broke the tape in the women's race at 8:31:05. Technically, both qualified as Ironman World Records, but Ironman had said in that statement posted on their Facebook page on the afternoon of race day that "Because of the shortened distance, no course records will be recognized." Instead, it would be noted with an asterisk due to unique circumstances.
Athletes took Ironman to task for this statement, noting that previous records had been set on shortened courses. Pro Jen Anett, who rode the 2018 course what would have been a world record bike course time (4:25:11) chastised Ironman on the post:
"Ironman Texas, this is total BS, as the course was short last year as well. If you 'know" that the course is short, this should be explained prior to race start, stating that 'no records will be recognized'. However, this was not the case, and as someone who now hold an "unrecognized" world record, am extremely upset about this, as are many other athletes both professional and age group. I will also like to bring up the fact that last year the male Ironman bike record was broken and recognized, even tho [sic] the course was short."
This morning, Ironman reversed course, issuing a statement to Triathlete that the records would be recognized:
"After review by the Ironman Global Race Operations Committee, it has been determined that athletes who completed the three-discipline course prescribed at the Ironman North American Championship Texas triathlon will be recognized as eligible for world bests. Congratulations to all athletes who set world best times in both overall and individual discipline categories."
Though the world record times will be honored, many wonder if the asterisk has truly been removed. After all, criticism already abounds about the shortened course and lack of race officials to verify a fair race. We asked new Ironman world record holder, Mel Hauschildt, what she thought of Ironman's decision. In an email, she wrote: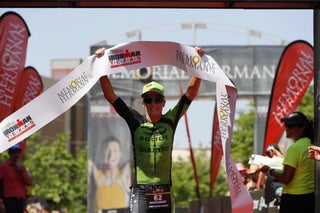 "I thought it was a strange move to make for Ironman considering this course was no less accurate than most other Ironman or 70.3's that I've competed in. I thought it was odd to single this race out as 'inaccurate' or 'short' when many others are just as short or shorter and are branded with 'New Records' each time. The 2018 IM Texas bike course was apparently no different to last year so it seemed very strange that they would call this years course short and not last years. They also made a point in race brief that the run course was lengthened this year to make it exactly a full marathon.
I was obviously happy that the decision was changed to accept the times. Ultimately I don't think it changes anything in the end though. All previous records that exist from years past are typically on shortened courses that are unverified so I don't think it's a big issue to own records in triathlon."
We also asked new record holder Matt Hanson for his thoughts:
"I'd like to think that Ironman did the right thing. To not count the record would be telling all the first time agers who completed the course that they are indeed not Ironman finishers. I was initially trying really hard to toe the line and not try to claim something that many people felt I didn't earn. In this sport, it is so hard to compare the time on one course to the time on another. There are so many variables such as wetsuit/non wetsuit, current assist in the swim, weather, road surfaces, etc. There is also going to be a bit of variance within the courses. Ironman needs to have an acceptable level of variance to still count the race as an official Ironman. If you consider Ironman Texas as an Ironman, than the times need to count. Do I think that because Ironman accepted this as a brand best time that I am the best Ironman athlete? Absolutely not. I put together the best race I possibly could have on a fast course where the weather and competition promoted very fast times.
The most frustrating thing to me is to be put in the situation where there is so much negative attention and focus on the course issues that a lot of really great feats and outstanding stories that would be so great and positive for the sport are getting lost as result. Hopefully when the dust settles, these great stories can get some of the attention they deserve."
Finally, Ironman legend Scott Tinley weighed in on the significance of Ironman's decision:
"Records of any type are an integral component to the veracity of modern sport. Both fans and participants want (and should be allowed) to know where they stand across the arc of a sports' history. Factors such as conditions, competition, strategy, preparation, and fortune can and will affect times. But it seems that to allow a pre-admitted, inaccurate distance to be considered a 'record' relative to correctly-measured courses is a challenge to history as well as the integrity of a sport. Race directing is a tough job and we are lucky that the quality in our sport is as good as it is. But shit happens. No big deal. We move on. But records last forever; and they should reflect a level of correctness in service of that perpetuity."
Ironman says it has already met with city officials to begin the process of finding additional mileage for next year's event. Bike course access policies are also being reviewed and changes will be implemented for future events. The race is under contract with the host city until 2020—what remains to be seen is whether the event can shake off its hot-mess reputation before then.
2:33 pm 5/1/18: This story has been updated to add Matt Hanson's thoughts.