Ironman Legend Rick Hoyt Dead at 61
The father-son duo of Dick and Rick Hoyt conquered over 1,100 endurance events worldwide, including 247 triathlons.
Heading out the door? Read this article on the new Outside+ app available now on iOS devices for members! Download the app.
Rick Hoyt, who rose to fame as half of father-son endurance duo "Team Hoyt," has died of respiratory complications at age 61.
"As so many knew, Rick along with our father, Dick, were icons in the road race and triathlon worlds for over 40 years and inspired millions of people with disabilities to believe in themselves, set goals and accomplish extraordinary things," said the Hoyt Foundation in a Facebook post announcing Rick's passing. He was preceded in death by his father in 2021.
The pair made headlines in the endurance world starting in 1977, when Dick began pushing Rick in a wheelchair at local road races. Rick, diagnosed with cerebral palsy at birth, was paralyzed in all four limbs and utilized a computer to communicate.
"Dad, when we run, I feel like my disability disappears," Rick said after an early run. Together, they made it their mission to race as much as they possibly could. They conquered over 1,100 endurance events worldwide, including 247 triathlons. Most famously, the two became the first wheelchair team to race the Hawaii Ironman in 1989.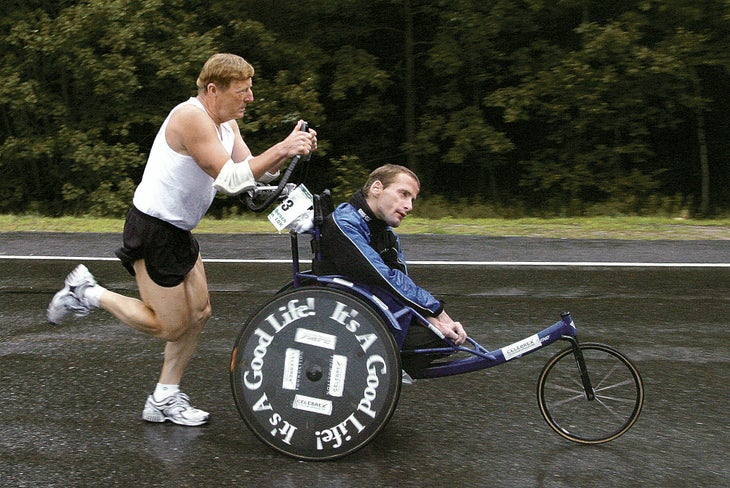 The two used endurance sport as a platform for acceptance and inclusion. In addition to changing perceptions about athletes with disabilities, Rick worked with his mother, Judy, to change the laws of education so that Rick could receive an education alongside non-disabled peers. He went on to graduate with a degree in special education from Boston College, and later worked at his alma mater helping to develop communication technologies for people with disabilities.
In 2008, Team Hoyt was inducted into the Ironman Hall of Fame. They were also honored with the Jim Valvano Perseverance Award at the ESPYs as well as a bronze statue near the start line of the Boston Marathon, which they raced multiple times between 1981 and 2017.
"Rick Hoyt was a pioneer in so many ways," said Bob Babbitt, who covered Team Hoyt many times over their years of racing. "Teaming up with his amazing father Dick, the two showed all the doubters what was possible while sharing their journey to marathon and Ironman finish lines around the world. For Rick, it was all about inspiring that next athlete who had been told what they could not do. Rick loved his life showing them what they could do."
RELATED: From the Archives: From 5K To Ironman, Team Hoyt's Unbreakable Bond