Gustav Iden Talks Loss, Injury, and "Going to Sh*t"
The dethroned Ironman champion opens up about the worst year of his life and career.
Photo: Super League Triathlon
Heading out the door? Read this article on the new Outside+ app available now on iOS devices for members! Download the app.
It couldn't have been easy for Norway's Gustav Iden to watch from the sidelines as France's Sam Laidlow, another up-and-coming triathlon talent, took his Ironman world title in Nice. Tougher still to lose the mantle of youngest Ironman world champion by someone he had outraced the year before. But it pales in significance given the year Iden has had.
That same week, the 27-year-old was in the south of France to promote a new animated short film by shoe sponsor, On, titled "Tri-Kings." One of the main characters in the short is an animated Viking warrior created in Iden's likeness, named Gustav the Great. But during that difficult week in Nice, Iden likely wasn't feeling so great. Or even particularly animated.
But to his credit, the PTO-ranked number 383 and, more importantly for his current goals, Olympic-ranked number 82 athlete, is as candid as ever in fielding questions. The backdrop probably helps: the voraciously Instagrammable Le Plongeoir in Nice's harbor, where a throng of devotees have congregated after joining the Norwegians for a gentle "shake-out" run around the historic city on the Cote d'Azur.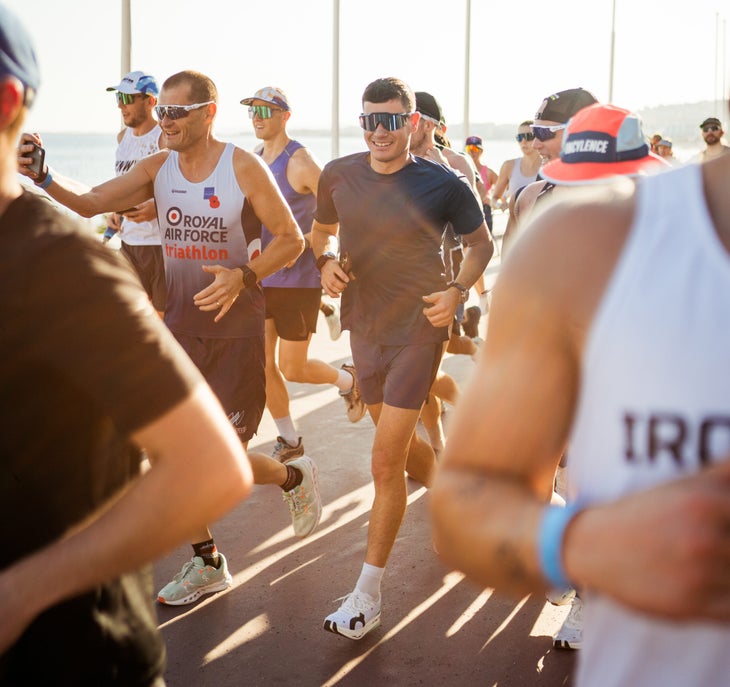 "I've given up 2023 now, and I'm finally trying to release all the bad emotions from this year," Iden explains. "But it's not easy to just let go either. I'm trying my best to get ready for next year, and hopefully the fresh start will be good, but right now I'm not feeling it. I guess it will come."
Roll back 11 months and Iden was on top of the multisport world, and along with his partner-in-tri Kristian Blummenfelt, their Norwegian methods the envy of triathletes everywhere. Everything came so easy back then.
The Peaks
An unlikely Ironman 70.3 world champion back in 2019, where he'd taken down double-Olympic gold medallist Alistair Brownlee, Iden placed eighth in the delayed Tokyo Olympics before taking a sabbatical on short-course racing to see what he could do in Ironman.
Iden, Blummenfelt, and coach Olav Aleksander Bu talked openly about how the comparatively weaker level of long-distance racing represented an opportunity for success. It was that confidence that saw their popularity soar. Some saw it as naiveté. Others took umbrage, but either way, the camp made good on its word. They viewed it as low-hanging fruit and they harvested.
While Blummenfelt was dominating at every other distance, Iden became almost untouchable over 70.3 miles or the emerging 100-kilometer PTO distance—his status secured with victories at the PTO Championship in Florida, the PTO Canadian Open, twice in the PTO's Collins Cup matchups, and he retained his Ironman 70.3 world title in St. George in September, 2021.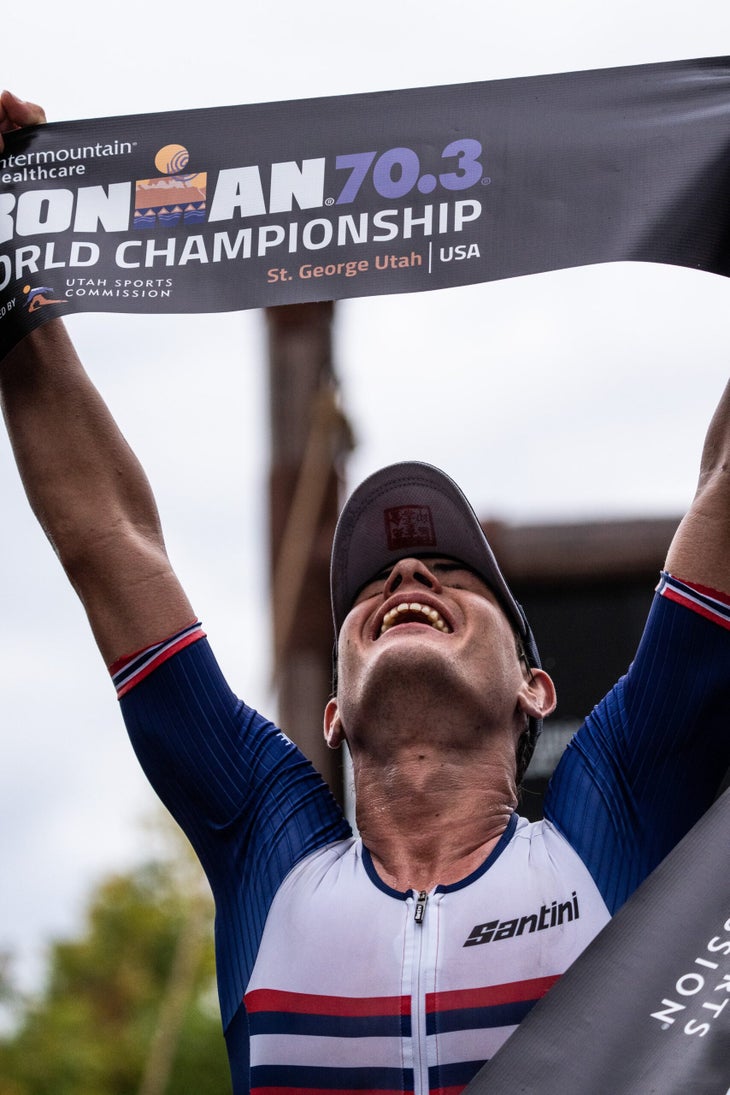 Seeming to toy with Canadian Lionel Sanders through the marathon, Iden wrapped up 2021 with one of the fastest Ironman times ever (7:42:56) to win in Florida and qualify for the Ironman World Championship. But Hawaii was supposed to present a far trickier puzzle: It had been 26 years since a male had won the title in Kona on his first try.
How would Iden and Blummenfelt handle the heat, humidity, pressure, lack of Ironman experience? It took Mark Allen seven attempts before he got it right on the Big Island. You need to know Kona first. Right?
Wrong. A new course record (7:40:23) and a new run course record (2:36:14) were emphatic answers. For once, even Blummenfelt was put on the metaphorical (and actual) back burner in the humid heat of the Queen K. In the post-race press conference Iden said how, mission completed, he wouldn't be defending in 2023—it was back to the serious business of short-course racing.
The goal was to build towards Paris 2024. Qualification for the individual event alongside Blummenfelt seemed inevitable, and if the Norwegian women such as Solveig Løvseth and Lotte Miller could be competitive, there was an outside shot at a team mixed relay medal too.
There was one last long-course race, three weeks post-Kona victory: A defense of his Ironman 70.3 world title in St. George that ended in a tearful capitulation on the roadside during the half-marathon. A first chink in Gustav the Great's Viking armor?
It didn't look that way the following week, when Iden was back in action at the World Triathlon Championship Series in Bermuda – a happy hunting ground where he had famously been on an all-Norwegian podium with Casper Stornes and Blummenfelt in 2018, backed up with another third-place in 2019. This time, Iden placed ninth. After such a hectic racing schedule it represented useful points in the bag for Paris; a few more points would be added in the season finale three weeks later as he finished 19th in Abu Dhabi.
The Challenge, Controversy, and Norwegian Drama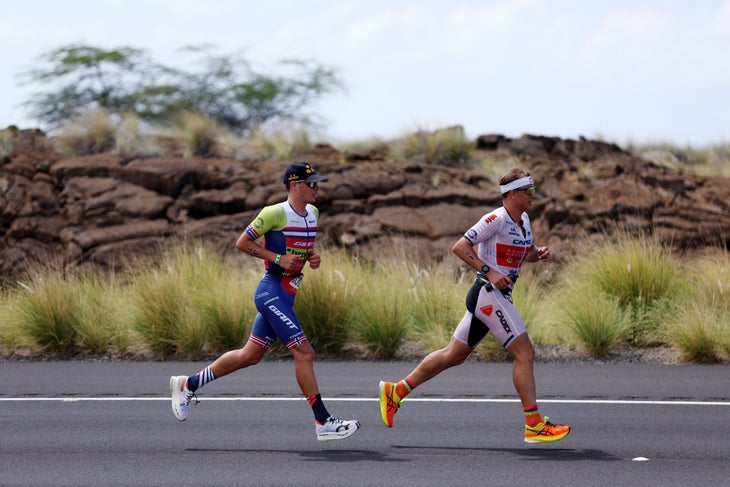 Iden didn't have the air of invincibility he had racing Ironman, but doubters questioning whether he had the attributes to succeed in draft-legal racing only stoked the fire to prove them wrong.
"Returning to short course from long course is a challenge that nobody has ever had any success with, and that's something that's really driving us," Blummenfelt would explain. It wasn't hyperbole. Blummenfelt himself had become Ironman world champion in St. George 2022, 10 months after winning Olympic gold. The only other person to do the double, Jan Frodeno, had taken seven years. But reversing the process was unprecedented.
As the team readied itself for an intriguing 2023, there was a little more drama to play out first. A subtext to Iden's victory in Hawaii had been his signing with running brand, On, shortly before the event, and then wearing a prototype pair of running shoes that stood out for the extravagant depth of their midsole.
As post-race inquiries centered on whether the footwear was legal, it was eventually unearthed that, unlike World Athletics, World Triathlon and therefore Ironman who deferred to triathlon's governing body, weren't adhering to any rules over what shoes could be worn. It led to a hastily arranged "Extraordinary General Meeting" in the Middle East in November where World Triathlon agreed to fall in line with World Athletics, essentially limiting the stack height to 40mm and using just one carbon plate. Ironman would follow suit.
"The shoes were too good!" Iden jokes, almost a year on. "They didn't want to see me winning anymore, so they had to ban my equipment. So now we have the 'Iden rule' for triathlon, and we have to have approved shoes, which is a bit annoying because I want to keep on pumping up prototypes making people say: 'What's on his feet?!' But we are working hard. There's going to be some truly next level shoes coming up."
The shoes were too good! They didn't want to see me winning anymore, so they had to ban my equipment. So now we have the 'Iden rule' for triathlon.
While the Norwegians, including Coach Bu, seemed to enjoy the cat and mouse of pushing the boundaries with equipment, it became an unwanted distraction in the opening WTCS race of this year, when in a bizarre twist, the Norwegian federation called a protest on Iden's shoes.
As Iden's Ons were whisked away for testing to see if they complied with the rules, initial speculation was that it was the Norwegians' attempt to game the system to see what level of prototype they could get away with ahead of the Paris Olympics.
The reality was that there had been a split in the camp. Mikal Iden, Gustav's brother and a team coach with the federation, had taken issue with Gustav's attitude and lodged the complaint. In that race, Iden finished 52nd, almost four minutes off the pace in a sprint-distance race.
Tragedy Strikes
If it underlined there was stress on and off the course, the brothers' fallout became far easier to understand when their mother's two-year battle with cancer became public knowledge. "This year started off with a s*** race, and then my mother getting worse and worse within a couple of weeks, and then suddenly dying," Iden says. "Compared to anything else in my life, it's been insane."
Gustav's mother, Marit, passed away in May, her beloved son posting a heartfelt message on social media: "Life is unfair, but I am one of the luckiest. I was born to the best parents, in the best country, in the best time to be alive. Even when my mother was diagnosed with cancer two years ago I felt somehow lucky. Lucky because I have had the opportunity to truly love someone enough to feel as sad as I did. Today my mother's luck ran out. Our family was gathered around her as she peacefully passed away after a long, long battle against the cancer."
It was all the more heartbreaking because in April, soon after another mediocre race in Portugal, which left Iden chasing Olympic qualifying points from a trip to London for the Super League Triathlon Arena Game finale, his mother's health had seemed to pick up.
In a format he was clearly unsuited to, but with his work ethic, cycling and running prowess and never-give-up attitude, Iden charmed the sellout crowd in the Aquatics Centre and fought back through the heats, the semis, and the final to finish fifth overall.
"Super League was one of the only sporting highlights this year," he says. "My parents were there and it was all around good feelings. At that time it felt like things were coming around. If that was the highlight of the year, it's still a s*** year, but I felt like: 'Ok, now it's turning.' And then no, it still went downhill."
One shard of positivity was the support he received as the triathlon community became aware of the family situation. Marit even appeared on a video with her son for sponsor Zwift in March when undergoing chemotherapy and said: "I'm very proud of him, but when he comes home, he's just Gustav. Sometimes it's just unbelievable that he's become such a great athlete."
"Obviously, when people knew things were as bad as they were and then my mother died, I had a lot more support," Gustav explains. "I have been open about my mother's sickness, but it's hard for people to really know everything about everyone's life. Yet the support I got afterwards has been insane, from the pros and other athletes, so I do really feel the love from the triathlon community."
That includes those closest to him day-to-day, including his training partner, Blummenfelt. "From the outside it looks… I wouldn't say less empathy, but that Kristian is in his own world. But he's always supporting, he's a really good guy and is always saying his opinion, which I really support. If he thinks I should be training now he would tell me, but he's been supporting my decision to take it down. Me and Kristian are still going to race together for 10 more years."
It's likely that the coach-athlete relationship will extend that long as well. When Triathlete spoke to Olav Aleksander Bu at the start of the year, he talked of the shared respect. "I have been lucky to meet two people like Kristian and Gustav where there is very good chemistry between us," Bu said. "We can have our arguments, but that's natural; the same thing I have with my wife, parents, my kids. It's healthy to show you're in a place where you feel secure. With experience you can get really far with a lot of people, but that last part requires something more than just science."
Struggles Continue
Raised in Bergen, a city surrounded by steep hills acting as a playground for young Iden, it made for a strong heart and lungs, but also a sheltered childhood, jarred by the events of 2023. "I have definitely grown up quite a bit," Iden says. "My life has been so fricking easy for so long. Triathlon is hard, but I'd always been successful at school, made friends really easily, and my sporting career has been easy with no big injuries.
"I won my first world championship quite young and kept on performing and improving. Obviously it's challenging to be on the national team and challenging to perform all the time, but I never had any real struggles."
The triathlon struggles continued into the second half of the season. From May to July, Iden started four WTCS races but failed to break the top 30. As Blummenfelt was finishing ninth in the test event in Paris and studying the course as he plots to repeat his Tokyo glory, Iden was watching from the sidelines, overlooked for selection in favor of the more highly-ranked Vetle Thorn. It was also the cue to call "time" on a season and give a problematic Achilles issue a chance to heal.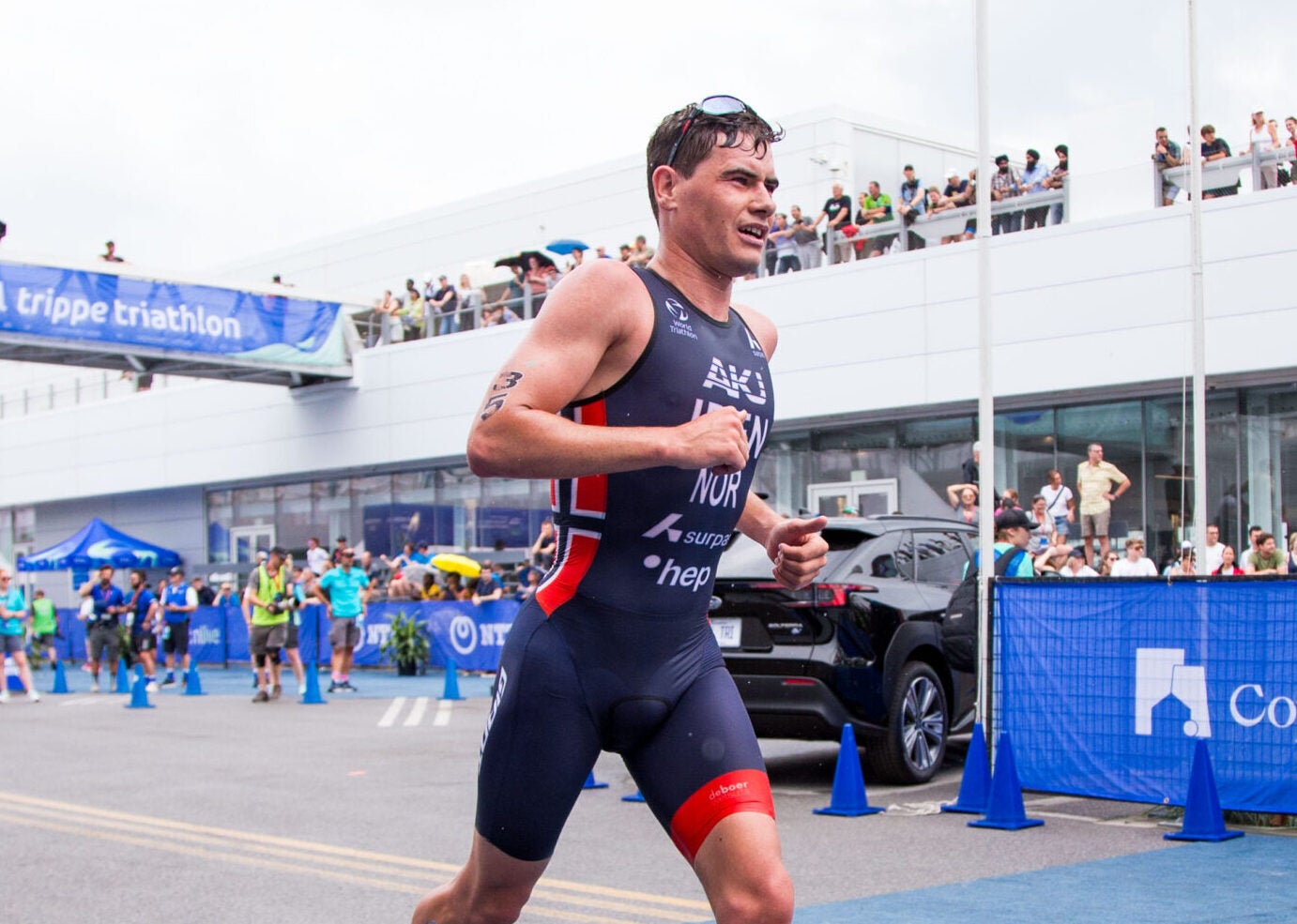 "I always pictured going from long course back to short course to be challenging," he explains. "Obviously I planned a full year to get back and qualify [for the Olympics], but things didn't go well from the start. I had a terrible race in Abu Dhabi and from thereon I never got into things. Now I'm injured, but it's also from the stress of life.
"Going from winning Kona last year to not basically doing anything this year, the contrast is huge. Now I have some off-season so if you see me out partying it is well-deserved."
Iden maintains he not only has unfinished business at draft-legal racing, but the ability to compete at the very pinnacle. "I've had a couple of podiums in the World Series and won some World Cups, and I've never felt like I've had my dream race yet in the short course," he says. "It comes a bit simpler for me in the long course, I have more time to get everything I can out, but it definitely feels like I have something unsaid, and I do feel like I'm better than most people think. I was especially pissed off this year because I was just bad in general and my training was going to s***. I was just tired with so much stress.
"It's extremely difficult. As an athlete you feel kind of guilty, even though you know the best thing is to step back. If you're sick you know the best thing is to stay in bed. To not do something is the smartest choice, but you feel so weak and like an absolute loser because you don't push through. Triathlon is such a tough sport, you always train to push through. The end of an Ironman is extremely hard so to figure out when to step back and when to push through has been difficult this year.
"Paris '24 is so close and I needed to do races just to get into the races I wanted. I was trapped in a bad cycle where I needed the points but I was stressed to get the points. In the end it was too much stress, and my injury was kind of a blessing. My doctor said I shouldn't run for a month. It was someone else to make the hard decision because I have the athlete's brain. I'll still have some weeks with some swimming because I'm still a bad swimmer, and I'll try and get a headstart on everyone for 2024 and start with a blaze."
If he does manage that, there is still an outside chance of fulfilling his dream of lining up alongside Blummenfelt for another shot at Olympic glory. "My chances [of qualifying for Paris] now are really slim but it's still a chance, so I'm carefully optimistic," he explains. "It's impossible for me now to get into the top 30. Now I have decided to not race any more this year, which is the best decision, but also makes it impossible to do enough races to get enough points.
"A podium from a qualification race [could be enough]. For team Norway the qualification race is an Olympic-distance race within the last qualifying period. It's not like a definite spot, but it's in the criteria. If I podium in Yokohama [likely to be May '24] then I basically have a spot. But that is absolutely the last chance to come to the Olympics."
If it doesn't materialize, Iden will not be short of offers. The revamped PTO Tour in partnership with World Triathlon would have him as one of its contracted athletes in a heartbeat and would offer lucrative rewards for the likely 10-event series. He could also turn his attention back to Hawaii as the men's Ironman World Championship returns to Kona and try to recreate happy memories from last year.
Which does prompt one final question: Given he has an automatic spot for the Ironman World Championship as defending champion and doesn't have to validate, did he ever think about lining up in Nice?
"I didn't consider it seriously, but I did think of it," he concludes. "When things were going really bad at short course, I was thinking: 'Should I just do Ironman?'  But then I realized, I'm not s*** at short course, I'm s*** in general, so it wouldn't help going long either!"