Getting into Norseman Just Got Easier (Kind of)
It depends on your definition of "easy."
Photo: Kai-Otto Melau/Getty Images
Heading out the door? Read this article on the new Outside+ app available now on iOS devices for members! Download the app.
The full-distance Norseman Triathlon is widely considered one of the hardest triathlon races in the world. But in recent years, there's been something even harder than the freezing-cold swim, elevationally exceptional bike, and mountain-topping run in Norway: actually getting into the race.
Since the first Norseman Triathlon in 2003, which featured only 21 athletes brave enough to take on the challenge (or crazy enough, depending on your view), the race has gained notoriety as a must-do, topping the bucket list of just about every triathlete who races long course (and even some who don't). Norseman's popularity spawned a new race series known as "Extreme Triathlon," or XTRI, which has grown to 13 full-distance races around the world and a rapidly-expanding portfolio of half-distance races. The original race now serves as the XTRI World Championship, with approximately 50 champions from series events earning automatic spots for Norseman each year.
RELATED: 8 Reasons Why Norseman is King
But if you think extreme races have lost their grassroots feeling, you'd be mistaken. To maintain XTRI's signature feeling of community, the race series has capped the number of slots available for athletes – usually around 250. The registration process for most XTRI races are first-come, first-serve, but for the most popular events – namely, Norseman and its spawn, Scotland's Celtman, Switzerland's Swissman, and Italy's ICON – demand has necessitated the use of a lottery system for entry. Each year, athletes submit their name in hopes they'd be called up in the annual random drawing. This system initially worked, but as demand grew even more – over 5,000 athletes entered the lottery for the 200 or so non-championship spots last year – organizers began to seek out a different way.
"We have seen a steady increase in all of our races, with a significant jump for certain races," says Stuart McInnes, CEO of XTRI World Tour. "The balloted [lottery] races are all massively oversubscribed."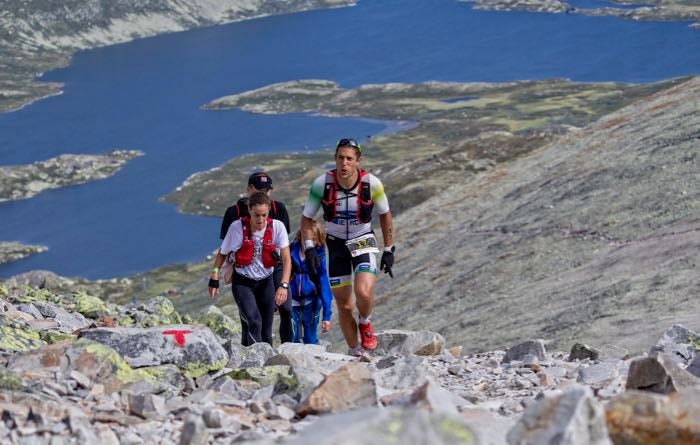 A New Way to Get into Norseman: X-Points Participation System
The result of XTRI's brainstorming is X-Points, a participation system designed to give athletes a different path to Norseman. Though the lottery system will still be in effect for some Norseman spots (as with Celtman, Swissman, and ICON), X-Points offers athletes the opportunity to bypass the ballot by racing other events in the XTRI ecosystem.
Under the new system, athletes may earn X-Points via any XTRI event – full XTRIs, Solo Point Fives, MyXTRI challenges and XTRI Xperience camps. More points are available for smaller races, and points are awarded for simply finishing, not by placing – all finishers are awarded the same amount of points, regardless of finishing position. These points can then be cashed in for one of 100 entry spots designated for X-Points athletes at the most in-demand XTRI races. Points will also be retroactively awarded for participation in XTRI events going back to 2019.
"We want to make the system more fair," says McInnes. "We are giving the athletes the opportunity to get to Norseman, Celtman, Swissman and ICON using points to bypass the lottery and more control of their journey. But we also fundamentally want to encourage them to try our other races."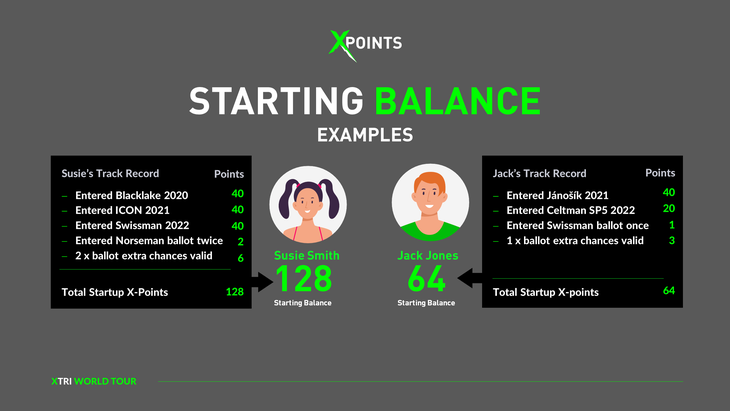 In addition to the most popular races, the XTRI World Series includes full-distance events in Nepal, Canada, Sweden, Slovakia, Montenegro, Greece, Taiwan, Brazil, and the USA. All are designed with the hallmarks of extreme triathlon, which McInnes describes as "small fields gathered in remote locations, stunning landscapes and adventures to get there, an incredible friendly atmosphere with race organizers on the ground and in the mix, not in remote offices." McInnes also says the use of support systems (or crew) during XTRI events means the memories are shared with many – a major feature for those who want to include friends or family in the race-day experience.
Will the points system make things easier for athletes to bag their Norseman spot? Potentially. Those who have entered the lottery for years without a coveted spot may be motivated to enter smaller XTRI events to accumulate points and secure their spot in Norway once and for all. But to get there, they'll have to tackle some of the toughest courses in triathlon: the Starvation XTRI in Utah, for example, features a 62-degree F swim in dark waters, a 100-mile bike with more than 9,000 feet of elevation gain, and a 25.3 mile run ascending more than 7,543 feet. Not a flat-and-fast race by any means, but one that will prepare an athlete for the even more grueling Norseman race.
In 2023, there will be 297 spots available for Norseman. Of those, McInnes says 58 will be designated for XTRI World Championship qualifiers, 12 for wildcards from XTRI World Tour Races, and 100 for athletes holding points through the X-points system. The remaining spots (approximately 125) will be assigned through the lottery.