Do Alcohol And Training Mix?
Heading out the door? Read this article on the new Outside+ app available now on iOS devices for members! Download the app.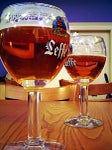 Is it possible to have a few drinks and still perform a successful training session the next day? The American College of Sports Medicine released a study about alcohol and athletic performance, and the results aren't as clear cut as you may have thought.
Scientifically speaking, how your body performs on alcohol depends entirely on the amount consumed, the context and the individual. According to a study about alcohol and athletic performance published by the American College of Sports Medicine, the effects are not entirely clear. In low amounts, alcohol seems to actually improve balance, but a moderate amount of it negatively affects motor skills. In terms of strength, power and short-term performances, low to moderate amounts of alcohol "can result in faster fatigue during high-intensity exercise." However, alcohol has also been shown to have no effect on strength in various muscle groups or on muscular endurance. How does alcohol affect you aerobically? The same study concluded that low and moderate amounts of alcohol impaired 800- and 1500-meter run times and also creates the risk of dehydration because of alcohol's diuretic properties. And dehydration itself impairs performance and is detrimental to health. As for running with a hangover, the study findings might surprise you: "The effect during a hangover seems to be undecided, with no effect on several performance variables."