Achievement Unlocked: How Esports Could Take Triathlon to the Next Level
A new generation is hooked on gaming like never before, and with events like the Arena Games, the UCI esports world championship, and more, experts are hoping that the blend of VR and IRL will power up triathlon.
---
Join Triathlete
Create a personalized feed and bookmark your favorites.
Join Triathlete
Create a personalized feed and bookmark your favorites.
Join for free
Heading out the door? Read this article on the new Outside+ app available now on iOS devices for members! Download the app.
The Parc Olympique Sports Centre in Montreal is gearing up to host a clutch of the world's finest short-course triathletes on February 25. But this will not be your standard swim-bike-run. Instead, athletes will compete in the first round of the 2023 Super League Arena Games, a racing format that blends both virtual reality and real-life racing. By the time the four-event series wraps up in London six weeks later, a fully sanctioned esport world triathlon champion will be crowned for the second time.
If that represents a rapid rise for a treadmill and turbo trainer-based competition born out of a pandemic two short years ago, then you ain't seen nothing yet. Come 2024, pros might be competing in the same race in different locations across the world, and eager amateurs could be "ghosted" in to race alongside their favorites. (Good luck keeping up!)
These races are all set against increasing rumblings of the Olympic Games embracing esports, and wanting to kick it off with something that would live up to founder Baron Pierre de Coubertin's Citius, Altius, Fortius vision. If this is the gamification of triathlon, it might also be the future of triathlon.
"The development potential of the product is massive, and that's important," says Michael D'hulst, the founder and chief executive of Super League, whose stewardship and attention to detail has placed the brand at the vanguard of the sport. "If we couldn't trickle it down to age groupers or decentralize, it might have jumped up because of COVID, but could quickly die. This is a product that will continue to develop."
Triathlon as an esport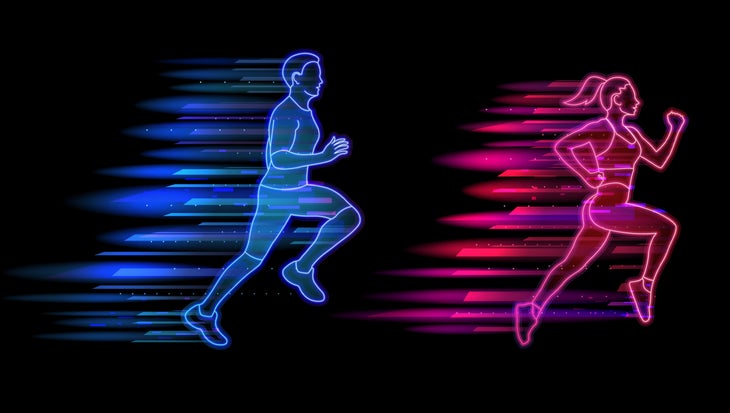 If the Zwift-powered environment of the Arena Games finds a strong advocate in D'hulst for obvious reasons, it has another in former pro triathlete-turned-video game programmer Jordan Rapp, who believes we've not scratched the surface of what "gamification'can mean for triathlon.
"Zwift is still like virtual cycling. It's not yet a real esport in the way that it could be," says Rapp, who started working for the platform in 2017, and is now employed by "Apex Legends," a leading shooter game played by an estimated 16 million every week.
Few are better placed to have a view on triathlon's gamification journey than the 42-year-old native New Yorker. Rapp is a self-confessed gamer and an early adopter of online communities, regularly posting on triathlon internet forum, Slowtwitch (where he harnessed the power of such communities to promote during a legal feud with Dimond Bikes). Ironically, Rapp only undertook his first ride on Zwift in December 2015. "I didn't have a smart trainer, and I remember thinking: 'This is cool… for other people.'
Yet two years later, as the rain teemed down in California and the local drivers presented too much of a hazard [Rapp barely survived a horrific hit and run incident when cycling in 2010], he turned to his trainer once again; his hardware and the platform's software had improved. When the virtual climbs in the game were more sustained than in his neighborhood, it gave more reason to become engaged. Then he received a call from Zwift asking him if he'd like a job. "It was out of the blue, and I literally had zero thought involved. Immediately, [I said] 'Yes'. I definitely wanted to do this."
Rapp had enjoyed a successful pro career. A six-time Ironman winner with his cycling and running on par with the best in the sport, he'd noticed how the way to make a living was also changing: sponsors wanted more exposure, more social media posts. Reach had expanded from basic internet forums, outward. "I wasn't interested in being a content creation factory," Rapp says.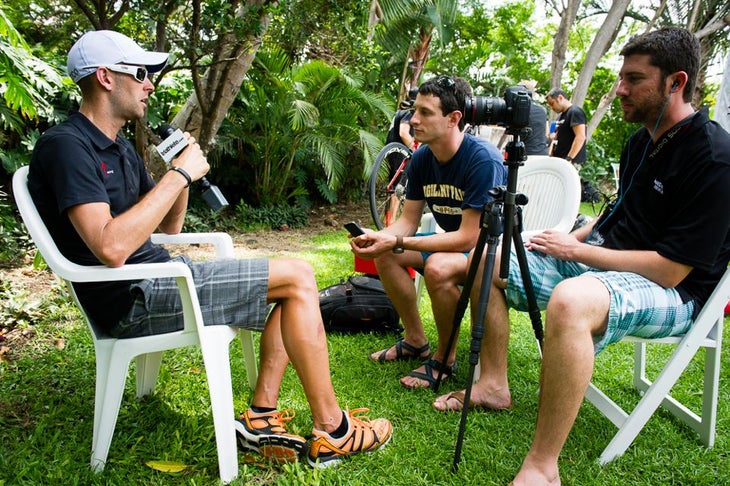 His triathlon knowledge was the initial attraction, an interest in gaming a "fringe benefit." But having trained as a web programmer prior to sport, Rapp says he feels that 95 percent of the value he provided was as a gamer and software programmer by the time he left the company in 2020.
While in the role, he contributed to the delivery of both the first-ever Virtual Tour de France and first UCI Esports World Championship, but one Zwift feature which perhaps best typifies gamification of the sport—and which he was passionately instrumental—were "power-ups," a kind of trump card you accrue when riding and then use tactically to enhance your performance at key moments in races.
Power-ups might include a feather to make you lighter for 15 seconds on climbs, or an anvil to add 100 pounds and increase speed on the descents. But if Rapp has a criticism, it's that these elements – which move the competition a step closer to the traditional gaming world – don't yet go far enough. "I think the ones I added were the last ones added," he says. "There's a lot more Zwift could do as a game."
Rapp explains how Zwift could be more adventurous with "wholesale rebalancing" to regularly alter the playing field so that users have to problem solve more frequently. Virtual races could have different air densities, for example, which affects rolling resistance and global drag coefficients. A user who thinks they have nailed the best way to draft might be in for surprise as the gameplay changes. In short, Zwift could make riding more nuanced than just pounding the pedals.
"There is a lot of opportunity to fiddle with that stuff," he continues. "Zwift is not bound by the same parameters as outdoors. You could make the feather power-up so light that weight became substantially more important." Moreover, it doesn't have to resemble real life at all. "The ghost power-up [where riders become invisible] was the first example of making a power-up that had nothing to do with real cycling," he adds.
RELATED: Which Type of Zwifter Are You?
Targeting a new type of triathlete
The question is whether users actually want any of this, or whether they'd prefer as close a simulation to real life (IRL as the kids say!), or, as Rapp says wryly: "Let's take the thing we do outside and put it inside."
"I think that's an open question for debate, and I don't agree it's quite as settled as some people think. Who are the types of people interested in racing on Zwift and are those people interested in these changes? The answer then becomes very different."
By 2021, 227 million Americans were playing video games, up from 164 million before the pandemic, according to a study commissioned by the Entertainment Software Association. Even if those numbers lack precision, we can be confident they outstrip the growth in triathlon participation during the same period.
The demographic of triathlon continues to get older, and if triathlon only appeals to traditional triathletes, is that only a good thing?
"The demographic of triathlon continues to get older, and if triathlon only appeals to traditional triathletes, is that only a good thing?" Rapp says. "Are we saying: 'This is what triathlon is and if you're not interested, we're not interested in having you?'"
If Rapp is being rhetorical, D'hulst also sees the irony in triathletes not embracing the concept given their innovation-loving reputation. He recalls growing up in Belgium when multisporters started adopting carbon frames and wheels that were shunned by traditional cyclists as being too brittle. Yet now it's the more established triathletes that need convincing to move with the times.
Or perhaps they don't, especially if a new type of consumer is emerging, and broadcast figures from the Arena Games back up that it's drawing a different crowd. "The numbers tell us that people are interested, and data suggests it's a younger demographic," D'hulst adds.
Whether the audience is old enough to shave more than its legs, the Arena Games is mirroring its outdoor sister series by expanding. Having held a first trial event in Rotterdam during the pandemic in August 2020, it has already progressed to a partnership with World Triathlon to crown the first esports triathlon world champion last year. If the last of this year's four events at London's Aquatics Centre is sold out, it might just be something people want to race, stream, and turn up to watch live, making it quite the success story.
The advantages of gamification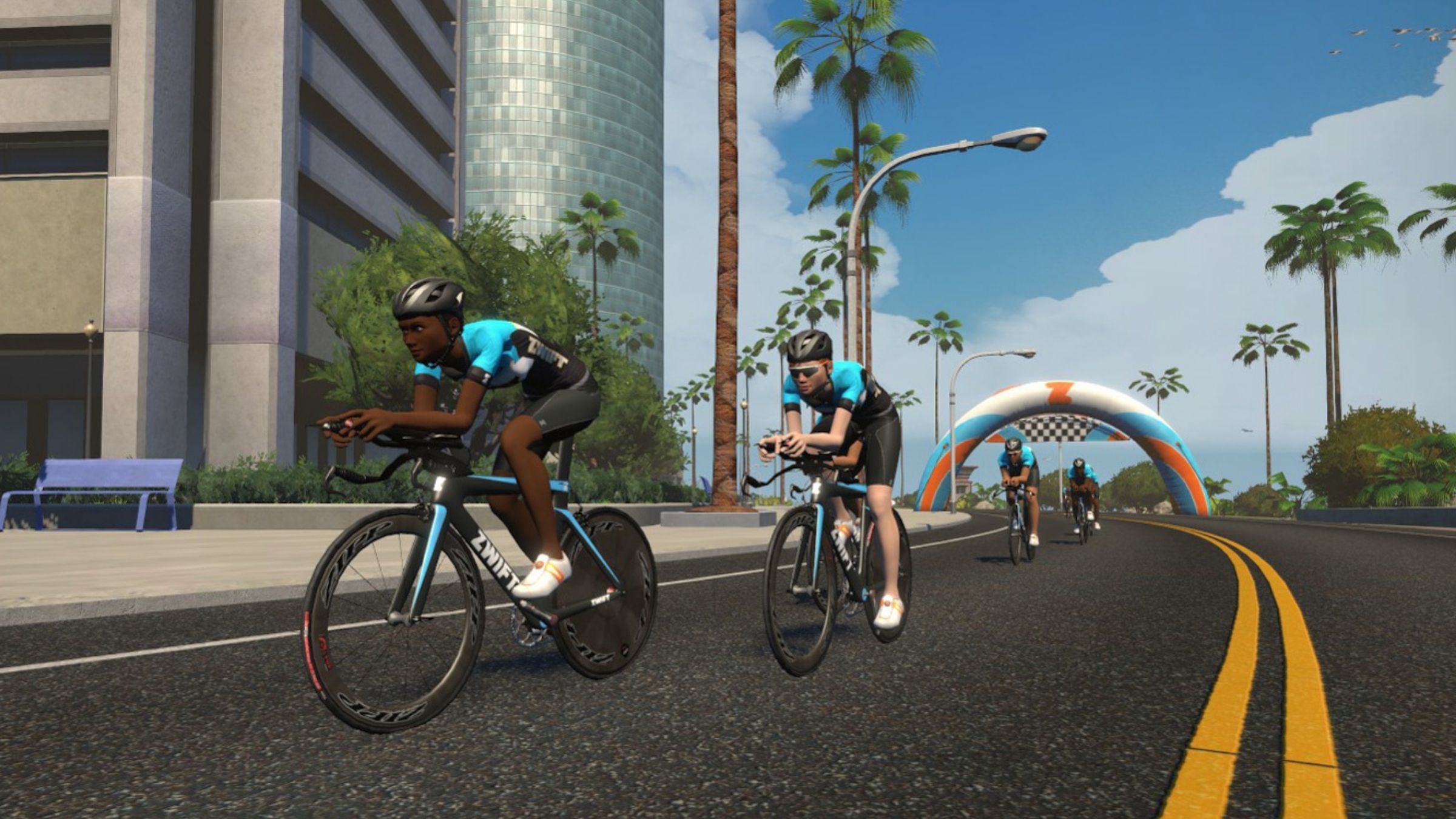 Rapp believes the image of out-of-shape gamers living off Red Bull and pizza is outdated, and there is far more of a convergence between platforms like Zwift and traditional video games than many would credit.
"Our big tournaments can be five hours straight at pro level," he says of Apex Legends. "The mental acuity requirements are substantially higher and we're talking about millisecond precision and making very difficult decisions under duress. It may not be as physically hard as running a marathon, but in the gaming industry, esports now has much more focus on conditioning, nutrition and sleep."
Gamification brings in different skill sets. Spend time watching pro triathletes racing online, and you start to see who is adept at using Zwift and who relies solely on physicality. Knowing when to drop a power-up again rests uneasily with traditionalists, but Rapp believes we shouldn't get too hung up on gamification somehow undermining the sport.
"If you lean more into game strategy and make it tactical it starts to become very different from whoever has the best one-minute power will win," Rapp concedes. "But the mixed relay is also an example of gamification. You can even argue over how you order your team: Do you put your best athletes first and gamble on getting a big enough lead?"
Zwift remains the dominant platform and Rapp doesn't see that changing, although Wahoo did acquire Road Grand Tours last year, and RGT has been used by USA Cycling in UCI esports world cycling championships qualifiers. The barrier is less the cost of technology, but more that Zwift has an established user base. It also has running or "essentially upright cycling", according to Rapp. Perhaps good news for the incumbents is that Rapp also doesn't see a traditional game studio entering the fray, as the target audience compared to first-person shooter games is relatively small.
There are other advantages to gamification. It could lower costs for race organizers, for example. "Permitting for roads is super expensive. You have a pool, lake or ocean, and you can generally run somewhere, so you could have an outdoor triathlon, but everyone cycles in a giant warehouse on Zwift," Rapp suggests. "That's not to say the trainers are free, but it solves a problem of accessibility in other ways. It's certainly worth having a discussion."
D'hulst sees it offering a more environmentally sustainable solution too. "Short-course triathlon sees a small group of pro athletes traveling all over the world to race, which is not very green. It would be great if we can organize events in different geographic locations at the same time and have them compete against each other. A 50-meter pool is pretty standard, and if they use the same treadmills and trainers, they can finish crossing the same virtual finish line without having to travel. It opens up the concept to a much wider community."
On fairness and cheating
Can this type of racing ever be truly fair? The discrepancy in performance between cycling trainers has long been contentious, but Rapp goes further to say that different trainers will also favor certain athletes. He likens it to BMX racing, where you must be able to ride at a cadence of 200 plus to generate the requisite power. His summary is that virtual riding favors riders who can produce more explosive power, but, returning to his earlier point, you can minimize the impact of the trainer choice by making other elements of the gameplay more impactful.
"I also think the idea that sport is pure has always been a bit of a fallacy. Take the pool swim. Someone who is very good at flip turns has an advantage. Some triathletes run better on the non-motorized treadmills. If you're a member of Great Britain triathlon compared to, say, the Mexican federation, the idea that you have the same resources is crazy."
The final thorny topic to challenge is one of cheating. "Athletes can cheat in all of the traditional ways, and now also cheat in all these brand new ways!" says Rapp, slightly tongue-in-cheek. "But the video games industry takes cheating very seriously because it can be so egregious. Even when Lance [Armstrong] was doping, he was still riding his bike. You can't just take anyone, give them drugs and they'll win the Tour de France. But the equivalent is possible in video games."
He argues that gaming is substantially more advanced than traditional sports in weeding out cheats. "Right now, sports are still using chemistry and not enough technology to catch cheats. Zwift has so much information on an athlete. Do they really want to go to a lab and prove their FTP is the 7 watts per kilogram they just produced in a race?"
Rapp believes Zwift racing at the highest level is "extremely fair," and while acknowledging that Zwfit could always do more, when the majority of users are using the platform for recreational purposes the investment becomes a cost-benefit analysis.
RELATED: Zwift Adjusts Rules to Crack Down on Cheating
The next generation
The promised land could be esports in the Olympics, where the International Olympic Committee has a similar problem to triathlon in needing to stay relevant for younger generations. Rapp cites the X Games as an example of where sports such as snowboarding, skateboarding, and BMX are showcased before gaining Olympic selection.
"If something is added to X Games, it's highly likely to become an Olympic sport," he says, although the popular game "Call of Duty" was first played in the X Games in 2014 and hasn't yet made the jump. "A lot are lobbying, but the IOC wants some physical component. It could be auto racing, which makes more sense than standard Formula 1, but I'd be very surprised if in 25 years there wasn't a first-person shooter in the Olympics. It's too popular a genre to ignore. Plus, there are a lot of shooting events already in the Olympics, and a video-game version will for sure get more viewers." More clues might be provided after the first Olympic Esports Week in Singapore from June 22-25. D'hulst is hopeful Super League's concept will be part of it.
Accepted or not, gamification of the sport will not be for everyone, but the one certainty is that in whatever format, it is here to stay.
"COVID had lots of downsides, but one positive was it altered perceptions around what sport could look like," Rapp reflects. "You'd have had a hard time convincing people to like something like the Arena Games before the pandemic. Now the door has been opened that it's fun to do and fun to watch."