Commentary: 9 Burning Questions We Have About Pro Triathlon in 2023
Will a women-only Kona be a success? What can we expect from the likes of Gustav Iden or Gwen Jorgensen? And will anyone give a flying fender about the Collins Cup?
Heading out the door? Read this article on the new Outside+ app available now on iOS devices for members! Download the app.
It can be argued that 2022 was the most exciting year in professional triathlon. It can also be argued that 2023 has the potential to be even more exciting. As we gear up for a thrilling slate of races, where pros will be chasing down everything from Olympic spots to the title of Super League champion, we've got questions about what's ahead. Pop the popcorn and settle in – it's going to be a great year for fans of the sport.
Will a women-only Kona be a success?
Having made a commitment to a true women's-only race day in Hawaii in 2023, followed by local backlash against two days of racing in Kona, Ironman had a decision to make: condense both races into one day, or find a different solution? The result was sticking with the commitment to a women's-only race and asking the men to go to Nice, France for their world championship.
But in splitting the races, is Ironman ripping the heart from the event? Will sponsors still commit to the women's race? Will it be an afterthought to the men's competition held a few weeks earlier?
While understandable fears, many should be unfounded. Ironman's decision – even if it's part money-making ploy – does solve a lot of the problems that were apparent in 2022, such as a lack of volunteers, too little affordable accommodation and local ire due to shutting highways on a work day (which, according to Ironman, had never been done before in any iron-distance event).
Bigger is not always better, and while this wasn't the only option to rein in the size of increasingly bloated Kona competition, the move can still be a success. Fewer sponsors might travel and the expo might be smaller, for example, but brands would be daft to turn their back on women's events. If anything, the women's-only race gives brands a more targeted audience. As for the racing, as we saw this year with Chelsea Sodaro becoming the first US-born woman to win in 27 years, there's more than enough appeal for media and fan interest. In fact, Sodaro's winning story had significantly higher traffic than her male counterpart in Kona last year. So, yes, it can be a huge success, and a chance to create a women-only race vibe that can add another layer to the Kona legacy.
RELATED: Commentary: Give Women a Stage, They'll Put on a Show
How will racing in Nice change the outcome of the men's pro Ironman World Championship race?
While the women race in Kona, the men will have their 2023 world championship event in another spot: Nice, France. A few years ago, this might have been a game changer for how the race will play out, but that impact may no longer be as great as many think. There's been a watershed on how heat and humidity – the two biggest nemeses for competing in Hawaii – are perceived and no longer is it a fait accompli that certain athletes can't perform there.
There are a number of likely reasons why this is. The inactivity during the pandemic seems to have reset what's possible. The advanced heat protocols implemented for the delayed Tokyo Olympics have pushed physiological limits, and a new, brash, breed of athletes has emerged not limited by constraints of the past: Seven of the top 10 pro men in Kona were in their twenties. We also saw that being a Kona rookie is no longer a mark of death.
RELATED: Analysis: Forget What You Know About Racing Kona. It's All Wrong.
The Nice course should provide hills that should suit the better climbers and bike handlers and help the race to break up more on the bike. So it does add intrigue, but the favorites will still be the favorites, the best athletes will still rise to the top, and a worthy world champion will be crowned.
Will Gustav Iden defend his Ironman world title?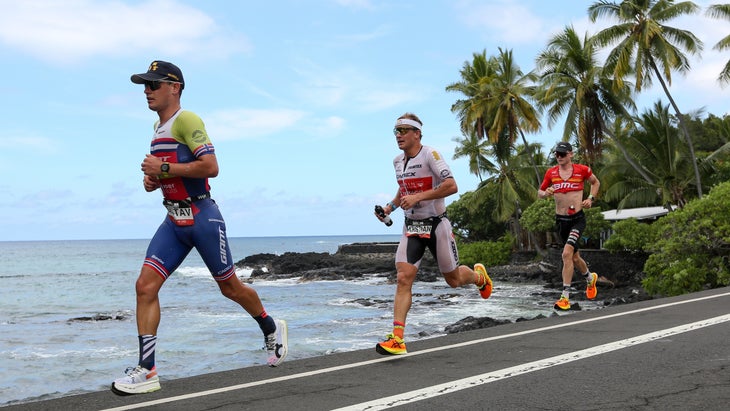 When asked at the post-Kona press conference if he'd be back next year, it was a categoric 'no' from newly-crowned Ironman world champion Gustav Iden. Training partner Kristian Blummenfelt, still smarting from having his title wrenched away after barely four months, was a little more bullish about a return. But it seems unlikely for either.
Stated priority number one for the Norwegians has always been the Olympics. Not only is it tied into funding from their federation, but they've been very public about how they see it as the pinnacle of the sport and the ultimate test.
Having raced in Kona, then 70.3 Worlds in St. George in October, the pair returned to World Triathlon Championship Series action (the top tier of World Triathlon racing) in Bermuda and Abu Dhabi, where Bummenfelt finished sixth and eighth, and Iden ninth and 19th. While Iden has impressed at short course, he has only twice finished on a WTCS podium. Contrast that with his non-drafting results, where he's only once finished off the podium, dropping out while trying to defend his Ironman 70.3 world title in St. George after a mighty winning effort in Kona only three weeks prior.
So the question of defending the Ironman title is less about Iden's ability to win Ironman and more about his chances of being truly competitive in Paris 2024. Even if he can't be a medal contender, I don't see them conceding that any time in 2023. Or ever. A lot will depend on the testing, tracking and insight from Olav Aleksander Bu, the Norwegian coach and sports scientist who is fast gaining svengali-like status in the sport.
RELATED: The Secrets—and Science—Behind the Norwegians' Training and Racing Success
The early summer of 2023 will help inform the plan, but the likelihood is that both Blummenfelt and Iden will go all-out for the WTCS series as Paris 2024 preparation. They also need Olympic qualifying points, which – barring injury – should be a formality.
With the mens' 2023 Ironman World Championship race taking place on September 10 and the WTCS Championship final being scheduled for September 23-24, there is even less chance of an M-Dot defense.
But Blummenfelt and Iden also love to surprise. So, if short-course racing is going well and they still view the long-distance contest as low-hanging fruit, don't rule it out completely. It would be a very Norwegian thing to do.
Can Gwen Jorgensen hold her own in World Series racing (the second time around)?
In the most exciting of postseason news, the 2016 Olympic champion announced she'll be returning to triathlon with Paris 2024 in her sights. We could write a whole article on this, but the top line has to be: 'Way to go, Gwen!' It would take the most miserly of curmudgeons not to wish her well in this quest.
The bold decision to follow her running passion and try and make that career work fell short – in a results context, at least – so now as a mother of two, she's back to the hurly-burly of short-course racing, citing the chance of representing the United States in the relay as her particular key motivator.
RELATED: 13 Questions With Gwen Jorgensen on Her Return to Tri: "I'm Motivated by Big Challenges"
We mention Jorgensen's mom status less as a hurdle and more of an illustration as to how life has changed since 2014-2016, when Jorgensen won 13 straight World Series races – something that's unlikely to be repeated any time soon…if ever.
Some astute observers have said the sport has moved on. "Evolved" would be a better description. Women's short-course racing is more akin to the Brownlee-Gomez years of the men a decade ago. If you fail to make the front pack, you fail. I don't see Jorgensen running down the breakaway from minutes behind, as she could do previously. But also don't rule her out from making the front pack in the swim, and from there, the bike skills that she developed so much in the years building into Rio should give her the confidence to stay on the wheel.
The big question, however, is Jorgensen's motivation for coming back. I'm less convinced about the excitement over the relay. Yes, it makes for great optics, but it's secondary to the individual competition (which she'd still have to qualify for). Moreover, it would be travesty if USA Triathlon – with such strength in depth – picked a three-women team based on a relay medal hunt and instructed one athlete to soft-pedal through the individual race.
How much does Jorgensen really want to commit? It's fair to ask, given she's given plenty of interviews post-racing where she's all but stated that running, not triathlon, is her passion. It's not casting aspersions. Not everyone has to live and breathe the sport à la Blummenfelt (and it's probably healthier long term if they don't), but it might make it more difficult for this comeback to succeed. If it does, however, it might be just about the greatest we've seen.
Are we entering a triathlon mom-aissance?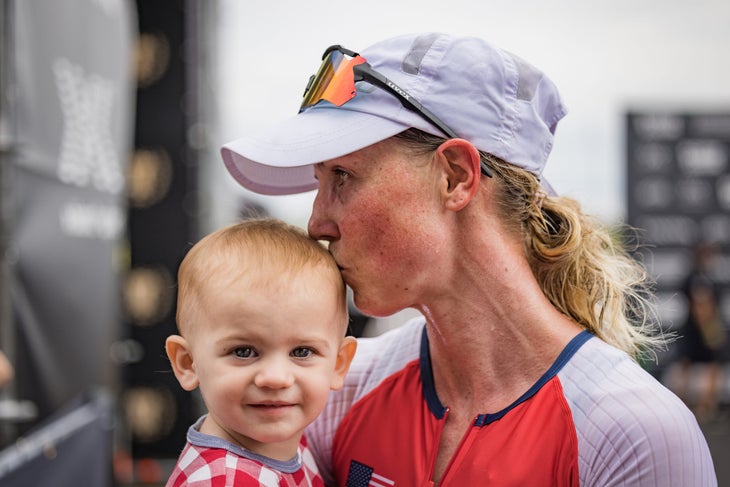 After Sodaro's success and the return of Jorgensen and Katie Zafares, will 2023 be the Year of the Mother? Yes. And no. Whether a mom does or doesn't win the Olympics or Ironman World Championship shouldn't really matter in the long run. What should matter is that they have equal opportunity to compete. Decades ago, Sarah Springman, the former vice president of the ITU (now World Triathlon), coined a saying in relation to women's participation: There must be equal opportunity, recognition, and reward.
Athletes who are mothers offer no better case in point. When Zafares decides that she wants to return to try and upgrade from individual Olympic bronze in Tokyo, she shouldn't be hamstrung because due to pregnancy, as her world ranking is too low to get starts to earn points.
Fortunately, triathlon has seen the light on this. There are one of two wrinkles to iron out such as retrospective application, but with the PTO maternity policy and World Triathlon following suit, moms (and those who wish to become moms) should be able to feel that they are ably supported if they do want to return to triathlon. A frozen ranking during maternity is a bigger deal than observers might understand. Over time, we should see more moms in the pro ranks, and also that more professional women will choose a career break to start a family, rather than waiting until they have stopped competing.
Will anyone give a flying fender about the Collins Cup?
I wish they would, but sadly – and I'd love to be proved wrong – I think the Professional Triathletes Organization had a great opportunity with the Collins Cup – and blew it. There are a few reasons why the USA vs. Europe vs. Internationals event hasn't lived up to its billing. I'm not against the format. I believe golf's Ryder Cup singles-style match-up – the format that inspired the triathlon version – can still work well. However, it wasn't helped with so little jeopardy in the 2022 contest, where all but one match was decided well before the finish line.
A return to Samorin in Slovakia was probably a mistake, but understandable given willing hosts and a chance to build on a blueprint from 2021. Except it didn't really improve; the broadcast wasn't much better, the highlights edit missed telling the narrative.
More concerning was that not enough people cared. Other than the Sam Long, Sam Laidlow, Lionel Sanders clash that became a sort of pseudo-grudge match, the athletes were just there for a payday. Too few of them prioritized this event because they were paid on appearance money. Their eyes were focused on Ironman's three World Championships and the PTO Tour events, where only places determined prize money.
The other aspect was that the Collins Cup was fixed to the point of lacking integrity. The commercial team made the "Captains' Picks," and the match-ups were pre-selected to try and add drama. It just gave off an air of make-believe. No one spoke out because all were paid handsomely, but it sat uneasily for a professional organization that is supposedly there to support all professional long course athletes, not just further boost the bank balance of those already successful.
I'm not sure how it comes back from here. The event will move to a new location this summer, and with it, the chance for a new lease of life. There have been endless suggestions for an overhaul of the format, but a good first step might be to pay on performance, not appearance.
Has XTERRA made the right move in moving its world championship to Europe?
Since 1996, the XTERRA World Championship took place on the Hawaiian island of Maui, typically a week or so after the Ironman World Championship. In some ways it was the friendlier, lower-key alternative to the Big Island race, with a handful of dedicated specialists competing on the circuit and then Flora Duffy turning up to show them all how it should be done. Last year, the venue switched to Molveno in Italy, and it will return to the Dolomites in September, a date clash with the World Championship Series finals.
Time will tell whether this move is the right one. Last year France's Arthur Serrieres and Solenne Billouin were crowned elite champions. Serrieres also won the World Triathlon Cross Championship in Romania in June. As a niche side of a niche sport, none of this is likely to register highly with anyone but the most avid fans—particularly in the U.S. Maui was a point of differentiation from regular "cross triathlon," but part of XTERRA's appeal is that it's less mainstream. It's not afraid to try things as seen by the introduction of a short-track race the day after the main event. If the switch from Maui doesn't work out, it can always move again.
Will they figure out how to make the PTO rankings suck less?
The Professional Triathletes Organization's ranking system is devised to order and showcase the best triathletes in long-course racing, and is used to dictate who receives what prize money in the end-of-year payouts. It has been roundly criticized for its emphasis on being a time-based system, where and how fast the athlete races, rather than their finish position, determines how many rankings points are awarded.
Will it suck less for 2023? Sadly, probably not. While the new rankings system is yet to be announced, the understanding is that it will retain an element of time-based scoring gauged from an "adjusted ideal time." Applied retrospectively, it remains subjective and confusing.
If the PTO wants fans and athletes to understand it, it has to be straightforward. Otherwise, there will forever be arguments over whether Magnus Ditlev's Roth performance was better than Gustav Iden's Kona win, for example. These are moot points. Having an event hierarchy and then awarding X points for winning Kona and Y for winning Challenge Roth would seem to be far simpler and more effective, and athletes could factor it into their race plans for the upcoming season.
However, the PTO seems wedded to its time-based system, which is brilliant in terms of analyzing and comparing athletes' data for fun, but goes too far when used to rank them, and when there is two million dollars on the line, a fair and transparent system is needed.
Where does Super League go from here?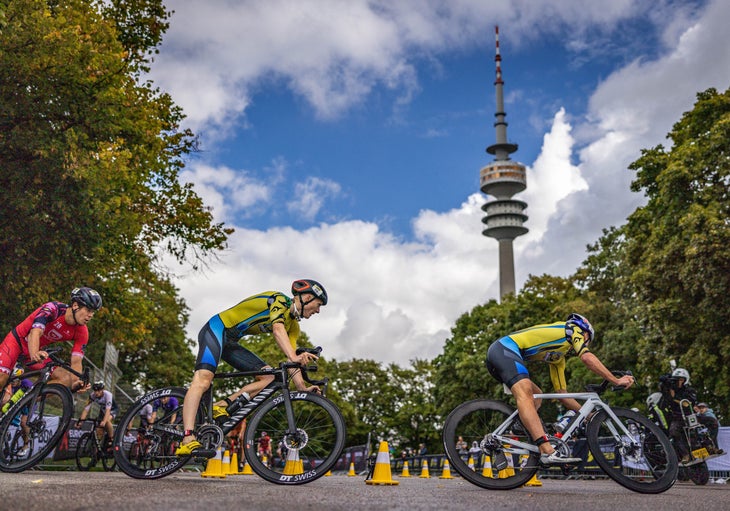 Super League Triathlon has largely been a breath of fresh air in the sport, leading the way in terms of innovation and broadcast quality with its indoor Arena Games becoming a fixture in the spring and its outdoor series the main event in fall. It still attracts the biggest stars – Hayden Wilde and Georgia Taylor-Brown won this year's series – and crowds if the venue is right such as London and Toulouse.
Whether the choice of Neom, Saudi Arabia was the correct pick for the series finale is contentious, but Super League continues to evolve and improve. Ultimately it needs to generate a return, and while it is a private company, until it gives the impression of being profitable, as with the PTO there is a sense that it could be transitory. But we hope not. It's a welcome addition to triathlon and has earned its spot on the calendar.
The Arena Games venues of Singapore, Sursee, Montreal, and London have already been locked in for 2023. The outdoor series is again likely to be run over four or five consecutive weeks, but expect some slight changes to the format with the team element set to play a bigger role. Look for team time trials or team relays to figure alongside established formats such as Enduro and Eliminator.