Coach Matt Dixon To Host Winter Training Camp in Hawaii
Matt Dixon is hosting a five-day winter training camp this February in Kona to give age-group athletes access to his distinct approach to multisport training.
Heading out the door? Read this article on the new Outside+ app available now on iOS devices for members! Download the app.
It was a good day for coach Matt Dixon's athletes at Sunday's Ironman Arizona, with runner-up Linsey Corbin and Meredith Kessler (third) both ending the day atop to the podium. Dixon advises some of the world's best triathletes, including Chris Lieto, Rachel Joyce, Rasmus Henning and Luke Bell, through his coaching company, Purplepatch Fitness, and he's hosting a five-day winter training camp this February in Kona to give age-group athletes access to his distinct approach to multisport training.
"It's a little different than many of the camps out there because it's not just a training camp," says Dixon. "It's not all about logging miles because any one-week block of training doesn't really do anything in the big scheme of things. I think a five-day camp is a tremendous opportunity to accomplish a few things, but mostly it's to really educate and go through almost every aspect of performance and hopefully allow people to leave the camp with a stronger filter. We're all inundated with information, but if we can really educate people and grow their filter of information they can start to become smarter athletes for their own needs."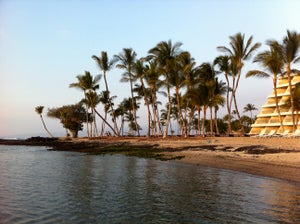 The camp runs February 29-March 4 at The Mauna Lani Bay Hotel & Bungalows just off the Hawaii Ironman course and will include individualized, one-on-one sessions with the camp's five coaches (including renowned open-water swim coach Gerry Rodrigues) covering all aspects of the swim-bike-run, including nutrition, recovery and functional strength training.
RELATED – Tour Guide: The Mauna Lani Bay Hotel & Bungalows
"We have a concept with every session that it's educate and then execute," says Dixon. "We're not going to just send people out on a 40-minute open swim session; first we'll have a seminar where we'll talk about a certain aspect of open-water swimming—it might be sighting or drafting—and then we'll go and do a session, but it will revolve around that knowledge. It will give people actual skills and tools to use when they practice in the pool on their own."
The biggest takeaway, Dixon says, is the foundational knowledge that will allow individuals to make smart, informed choices that will enhance their training and racing for the coming season: "Leaving, they might be a little fitter or stronger and had and a good week of training, but most of all I want them to leave feeling empowered, thinking 'This is what my year is, this is how I'm going to approach it, and this is what's important to me.'"
The camp is open to athletes of all abilities and backgrounds ("It's for anyone that wants to improve"), though Dixon says it's best if you've done a few triathlons so you more fully benefit from the education and training sessions.
"Every athlete has their own recipe for the training that works for them," he adds. "Some need more volume, while others need more intensity. Some need more recovery. My job is to keep an athlete healthy, keep them consistent, and find out what works for them."

For an itinerary and cost information, visit the Purplepatch Fitness website.