Cervélo Unveils New P3x
In a surprise move, Cervélo releases its second new bike in ten days.
Heading out the door? Read this article on the new Outside+ app available now on iOS devices for members! Download the app.
Though it may feel like deja vu, Cervélo has released yet another new bike into its triathlon/time trial line with today's announcement of the P3x. Unlike the P5 introduced last week, the P3x is less of an entirely new bike and more of a lighter, springier, and less-expensive remix of their tri-specific (and non UCI-legal) P5x. Available in a limited run at the end of March with a bigger shipment coming in May, the new P3x resembles much of the P5x in style and shape, but improves upon many of the superbike's shortcomings.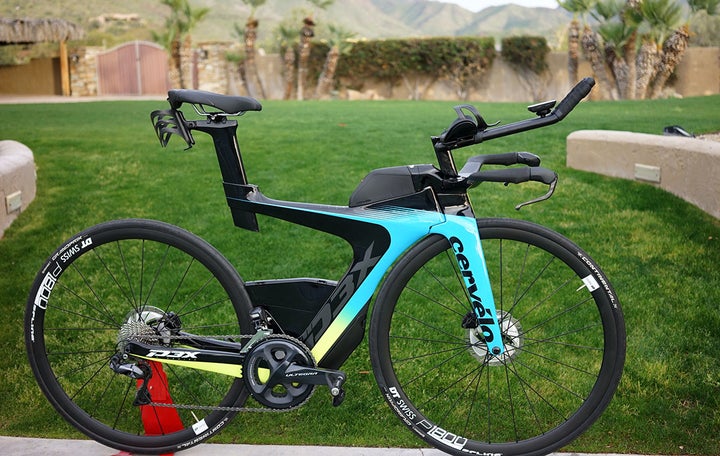 Starting at $8,000USD for an Ultra Di2 package with DT Swiss P1800 training-level disc wheels and also available with a similar setup with DT Swiss 1450 carbon race-level wheels for $10k, the P3x is able to beat the P5x in price by producing the carbon layup in an overseas factory as opposed to in North America. According to Cervélo's engineers, North American production was important for the P5x in order to protect the intellectual property of the design. But by moving the P3x's production over to a trusted factory in Asia, the process has become more refined and obviously cheaper. Price aside, the new P3x has a few notable features that improve upon its predecessor.
Fancy Front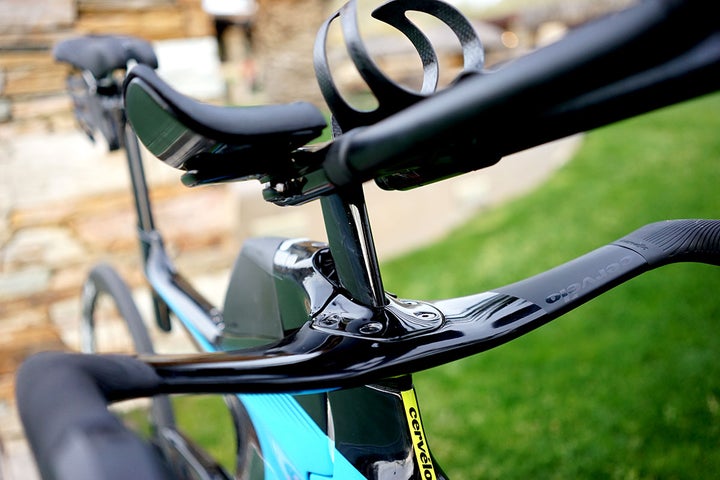 Similar to the new P5, the P3x has a much more refined front end, boasting integrated aerobars with easy, excellent adjustment. Unlike the new P5, this setup does feature aerobar angle rotation up and down, but both systems are swappable. The base bars—padded with proprietary ergonomic base bar grips—can also be flipped for a more or less aggressive position. With that said, Cervélo makes it clear that this is a bike made 100 percent for triathletes—it's made to be faster when fully loaded.
Stow It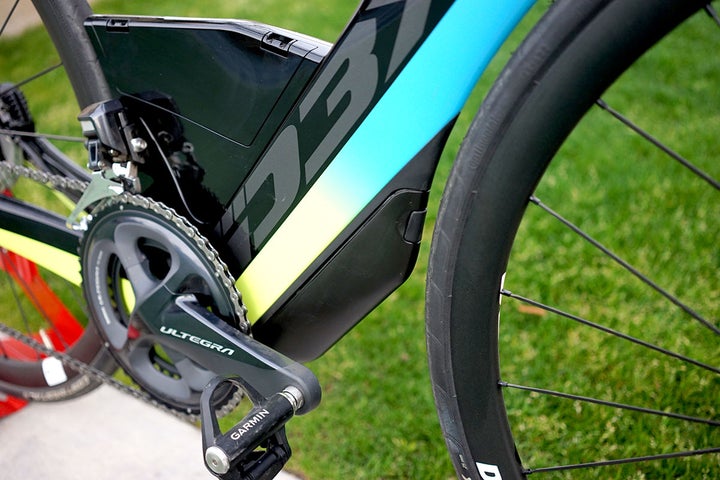 While not the sexiest aspect of the P3x redesign, the small parts that make up the nutrition and equipment storage systems are actually quite notable. Gone is the massive, rattley storage system meant to house tubular tires, instead a smaller downtube flat/tool box does a better job of keeping everything in put.
Nutrition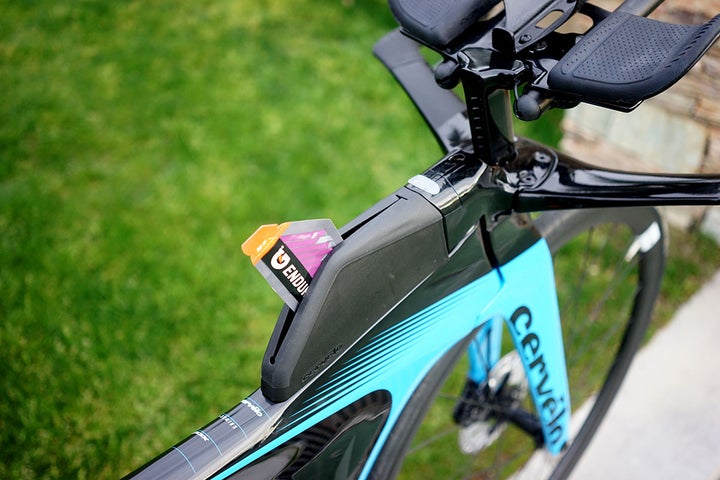 Hydration also has a home both on the Speedcase attached to the downtube, via built-in bottle bosses on the aerobars, and on the rear of the saddle. An included bento box with 600mL of storage also keeps nutrition in place. Each of the storage pieces and small parts have been rethought not only to increase function and usability, but also to save weight.
P5x On A Diet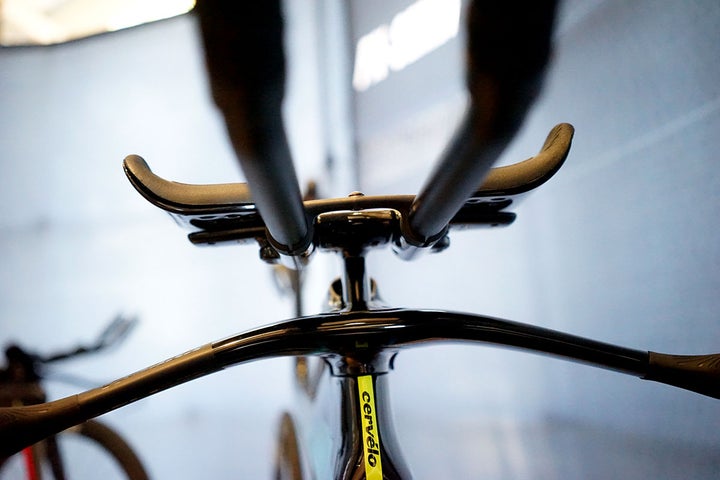 Though sometimes the little details don't mean much on their own, the new P3x intends to combine the small things to an aggregate effect. By putting various parts on a diet, this setup has cut weight from the P5x by a significant margin—things like a slimmer basebar, seat post, storage, and aerobars. The frame itself is 16 percent lighter than the P5x, all while increasing stiffness in both the head tube and bottom bracket. The result basically corrects many of the P5x's major issues.
The Ride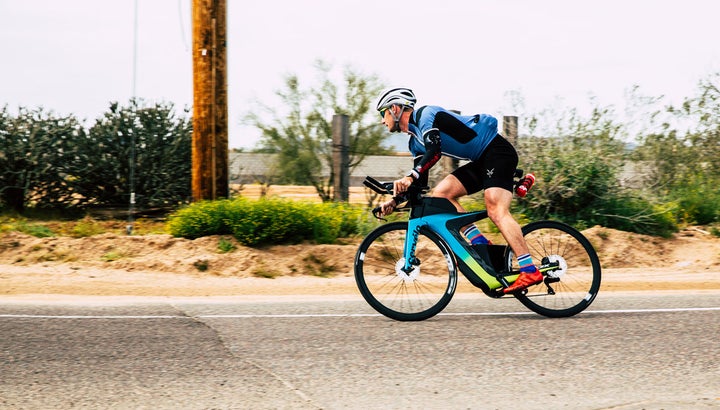 While the P5x was a decidedly fast bike, it was best for going in straight lines over flat or slightly rolling courses. Handling was slightly unpredictable and unintuitive, and acceleration over hills and out of corners wasn't earth-shattering. The biggest news in the new P3x is that Cervélo fixed precisely those issues. By increasing the bottom bracket and head tube stiffness, the P3x is not only snappier (the lighter weight helps here too), but it most notably heightens predictability while descending and cutting corners by creating a better balance between head tube and BB stiffness. While acceleration is nice, a more reliably handling bike—combined with excellent hydraulic disc stoppers—gives more confidence everywhere, which leads to faster overall bike splits. The P5x asked riders to adapt to its quirks; the P3x is familiar right out of the box. The smooth ride on this bike also lends itself to less fatigue and a faster bike and run split.
Smaller, Better, Faster, Quicker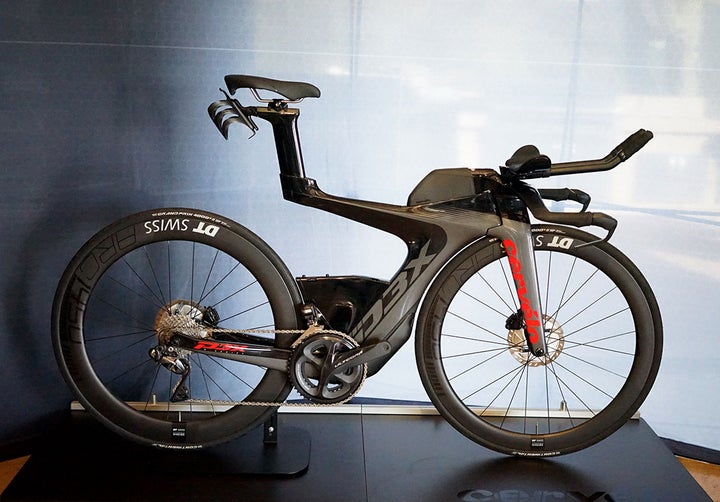 While Cervélo has clearly improved on all of the things it needed to from the P5x, everything has a cost: The new P3x is 17-27g slower in yaw average drag than the P5x (less aero). Though the P3x now has 36mm of wheel clearance, meaning riders can run a 28mm (25c) tire and still have 4mm of space on each side, and it uses replaceable rear derailleur hangers; and it has a far (far) easier system to break down for travel. For anyone reading between the lines, this does mean that Cervélo will stop manufacturing the P5x and has only limited stock still available for sale, but it's unlikely that many potential buyers will want to pass up on the new P3x.
Cervélo P3x, P5x, P5??
So what are Cervélo fans to make of all of this new action in their favorite line of tri/TT bikes? It boils down to this: The P3x is a less expensive, lighter, more responsive version of the P5x (sorry P5x, RIP). The P3x is more adjustable and is actually more aerodynamic than the UCI-legal P5 when fully loaded with nutrition, hydration, and storage. The P3x is best for Ironman-distance athlete who loads his or her bike down with everything they need for a long day. The P5 is best for long-course athletes who don't carry as much, or short-course athletes looking for maximum responsiveness and weight savings (but still a super aero, fast bike). The P5 is also UCI legal—for what it's worth—while the P3x is not. When all is said and done, Cervélo has released two new bikes that should work for most triathletes—both fit-wise and use-wise—just pick your poison. For more on this wave of P's, check out our detailed coverage of the Cervélo P5 and our video reviews of the P3x and P5.
Geometry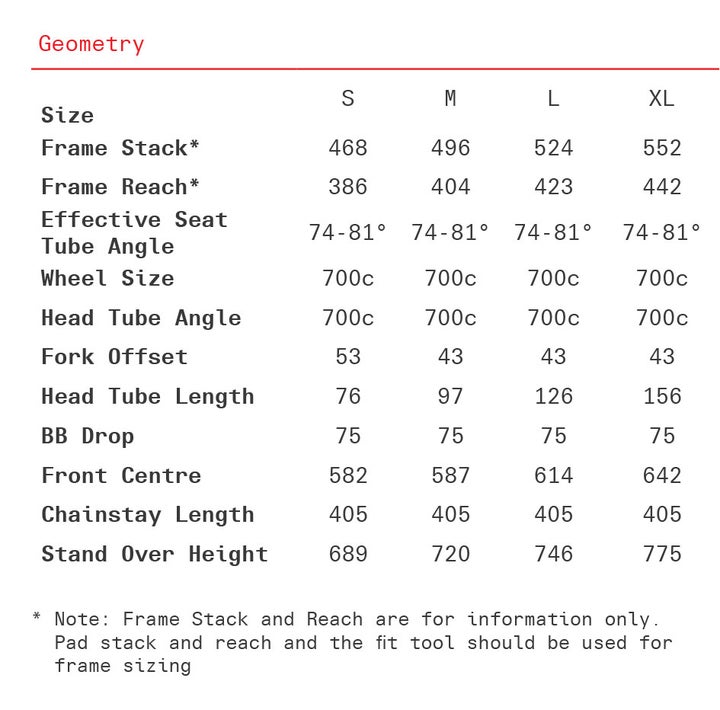 Correction: The text was updated on 4/4/19 to read that the P3x is less aerodynamic by 17-24g of drag then the P5x, not more aerodynamic.