Announcing Miss Triathlete.com August
The winner of the Miss Triathlete.com for the month of August is Claudia!
Heading out the door? Read this article on the new Outside+ app available now on iOS devices for members! Download the app.
The winner of the Miss Triathlete.com for the month of August is Claudia, who is originally from Caracas, Venezuela! You chose Claudia with your votes. The win means that she is a finalist for the Title of Miss Triathlete.com 2010. Claudia will also get $100 to spend on the TYR gear of her choice.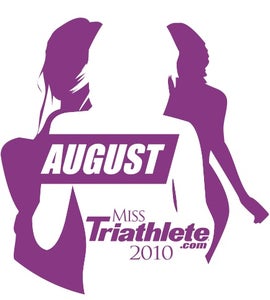 The overall winner will be chosen at the end of the year and will be featured in Triathlete's annual swimsuit photo shoot. The winner will also receive $500 in merchandise from TYR.
The other top five picks from the poll will automatically move on to contend for the title of Miss Triathlete.com September. The following entrants will move on:
2. Cheryl S.
3. Alicia F.
4. Juliet B.
5. Karlee
We chatted with Claudia, who is an avid triathlete and cancer survivor, to learn more about the personality behind the beauty: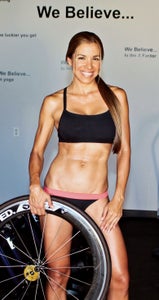 Triathlete.com: How long have you been competing in triathlons?
Claudia: I began competing in triathlons in 2007, after surviving cancer.  Confronting mortality at age 27 taught me to appreciate every day of life.  Undergoing cancer treatment showed me how strong humans can be in the face of adversity.  Now, I am cancer free, and I carry these experiences with me into every race, as I draw upon this previously untapped source of energy.  I'm healthier, stronger and happier than ever.  I've completed eight half Ironman triathlons (with a PR of 5:06), and I'm currently training for my first full Ironman in Arizona later this year.
Triathlete.com: What is your proudest accomplishment in the sport?
Claudia: My proudest accomplishment was finishing my first half Ironman in Cancun in 2007. Seven months after my last radiation treatment, I crossed the finish line, which represented not only a great racing accomplishment, but it also symbolized my conquering of a deadly illness.  With that race, I proved to myself that I was truly cancer free.  Triathlons became my healing place and my passion.
Triathlete.com: What does it mean to you to move on as a finalist in the contest?
Claudia: I'm honored to be a finalist, and I hope my story might inspire those who are going through challenging times.  Humans can overcome any obstacle with inspiration and perseverance.
Triathlete.com: Do you have a background in modeling?
Claudia: Yes, I was a swimsuit model during college.
Triathlete.com: What do you think you'll spend your $100 from TYR on?
Claudia: I will buy a few more TYR swimsuits. They fit me perfectly and inspire me to always be in front!
Triathlete.com: What do you like to do for fun outside of the sport?
Claudia: When I'm not swimming, biking or running, I enjoy traveling abroad, gourmet cooking and eating herculean portions of great food!
Related content:
Triathlete Model Search—Vote for Miss August
And Miss Triathlete.com July Is…
The Women of Triathlete Magazine Swimsuit Shoot From The RNR San Diego Expo
Behind The Scenes Of The 2010 Triathlete Swimsuit Issue