Alistair Brownlee Chats About His Epic Off-Road Adventure, Ironman Plans
The only triathlete to ever successfully defend an Olympic title decided to have a crack at XTERRA in Staffordshire's Weston Park in the U.K. last weekend. Turns out he's pretty good at off-road triathlon, too.
Heading out the door? Read this article on the new Outside+ app available now on iOS devices for members! Download the app.
Given Alistair Brownlee was brought up running up and down the hills and dales of Yorkshire and has been competing in swim, bike, and run since his youth, it might come as a surprise that he hadn't raced off-road triathlon. At least, he hadn't until Saturday. Now he might be hooked.
The only triathlete to ever successfully defend an Olympic title decided to have a crack at XTERRA in Staffordshire's Weston Park in the UK. last weekend, and for good measure also returned to winning ways and qualified for the World Championship in Italy in September.
The race was just a week after the 35-year-old had lined up in the Professional Triathletes Organization's high-profile, big-money European Open in Ibiza, where Brownlee had led through the early miles of the run before fading to sixth place.
However, with the leading off-road triathlon brand returning to the U.K. for the first time in eight years it was too good an opportunity to turn down, and despite the fatigue and efforts of France's XTERRA specialist Maxim Chané, he was able to hold his form over the 1.5-kilometer swim, 26km ride, and 10km run course (it's the conditions and terrain more than the distances that provide the challenge in this format of racing) to take the tape.
RELATED: What is XTERRA? Your Guide to Off-Road Triathlon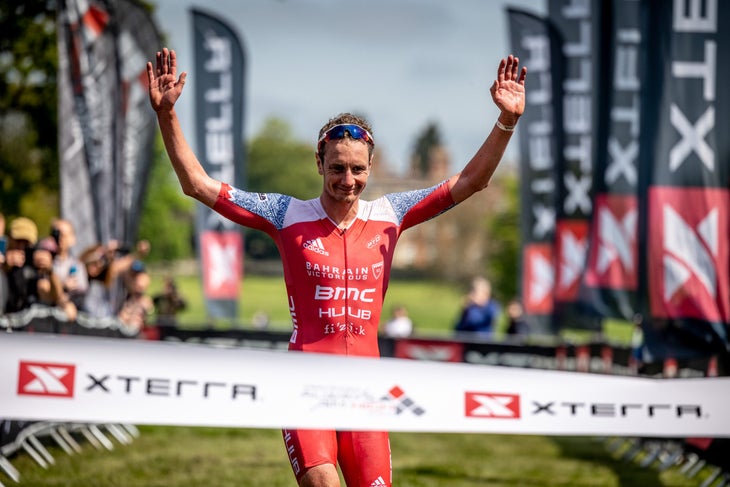 With Brownlee beset with injury problems in recent years, including those that ruled him out of a much-vaunted Sub7 attempt and the Ironman World Championship in Hawaii last year, just being on a start-line to race has taken priority over being at peak fitness. And having made the start line in Spain, he was not going to miss out on XTERRA either, with the winner's check of 1,200 euros clearly not the motivating factor.
"I've always quite fancied an XTERRA," he said. "It's got a very different feel about it. There's not been one in the U.K. for quite a while, and having one that is not too far away on a weekend when I had nothing else planned seemed like too good an opportunity to miss. I felt really, really tired after Ibiza, but when race-day came around I felt good. I ride off-road, whether it's mountain bike or gravel most weeks anyway, but I really enjoyed just having the focus or excuse to ride my mountain bike a bit more leading into it."
Venturing into the dirt
While Brownlee led by more than a minute out of the water from eventual runner-up Chané, he saw that lead whittled away on the bike, before reimposing his advantage on the run. An honest appraisal suggested that a more challenging course and conditions would have made it tougher to top the podium.
"It was relatively untechnical, grassy, single track through the woods. A great course, but from what I understand it's on the beginner end of the spectrum for XTERRA racing," he added. "He [Chané] is more skilful than me [on the mountain bike], but that would definitely be much more exaggerated if it was on more rocky, single track. I think I'd have probably struggled more in other settings."
Having been caught after the first lap of two on the bike, Brownlee shadowed Chane for much of the bike leg into T2. "I enjoyed the second lap much more," he added. "It's a bit different when you can follow someone because you can see their lines and how fast they corner. When you're not that experienced, it's easier to follow someone else."
RELATED: Mountain Biking for Beginners: Here's Where to Start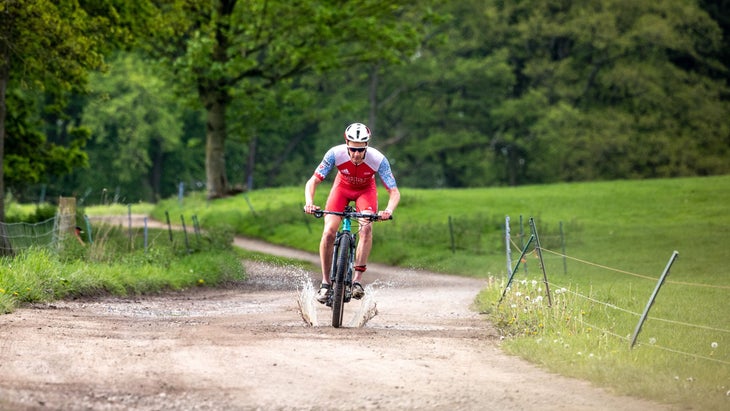 The race-day conditions also played into his favor. Brownlee had ridden the Staffordshire course on Thursday (before the race) when it "was loads wetter, slippier, and slower," but it had dried out by the weekend.
Having excelled as a cross-country runner in the U.K., the run was second nature, and his 34:18 split was comfortably the quickest in the elite field. "It was a nice mix of grassy parkland, a bit of trail, and we went into a quarry that had some steep descents, climbs, and muddy sections, but it wasn't anything I hadn't seen before.
"I'm used to racing triathlons all over the world, but it was similar to a lot of racing in the U.K., the set up in a country house and parkland, a really lovely location, maybe 400-500 people and a really nice feel to it."
Bring your brother
Is XTERRA something he thinks he could encourage his younger brother, Jonny, to join in with too? The younger Brownlee is currently looking to qualify for a fourth straight Olympic Games, having won individual bronze (London 2012) and silver (Rio 2016), and gold in the team mixed relay in Tokyo in 2021.
"I think Jonny would love it one day, maybe after Paris," Brownlee said. And would he have to sharpen his mountain bike skills too? "His are worse than mine, obviously!" is the tongue-in-cheek reply, playing on the renowned sibling oneupmanship that has run in the family for more than three decades. "But in this case, it is actually true!"
RELATED: Recalled: The Brownlee Brothers Iconic Finish
Another world title in the works?
Brownlee's victory earns him a spot for the XTERRA World Championship that takes place on September 23 in Trentino in the foothills of the Brenta Dolomites mountains in Italy. The event moved there from its longstanding home in Maui last year, and while the 3,000-meter peaks will provide a picturesque backdrop for the swim, the bike and run legs promise to be far more demanding than Brownlee faced last weekend. The opposition will go up a level too, with many of off-road triathlon's higher ranked stars not present at the U.K. race, instead opting to compete on the XTERRA World Cup series at Oak Mountain, Alabama the following weekend.
Still, Brownlee is not threatened: "That's the plan, all going well," Brownlee said of the opportunity to match his great rival Javier Gomez of Spain in winning an XTERRA world title; Gomez's off-road success coming almost three months after he'd split the Brownlee brothers on the London 2012 Olympic podium.
"I've asked a few people I know who have been there [Trentino] and I spent a bit of time talking to [Chané] about it. It sounds like it's a really good course with two laps of a really big, proper climb followed by a technical bit of descending. But if I am to do it I'd have to spend more time riding my mountain bike."
Throw an Ironman in there, too
Perhaps the bigger challenge is that it lands just two weeks after the men's Ironman World Championship in Nice, an event the Brit still has to qualify for, having withdrawn from Ironman South Africa in March as a precautionary measure because of some slight hip pain.
That miss could work out to be a triathlon fans' gain though, because his focus has now switched to the Ironman European Championship in Hamburg on June 4 and a tantalizing clash with three-time Ironman world champion Jan Frodeno and the PTO European Open winner from Ibiza, Max Neumann. "I've entered Hamburg and I'm going to enter another one [in June]," he said. "If all goes well, I'll do Hamburg, and if I don't feel quite ready I'll do one later in the month."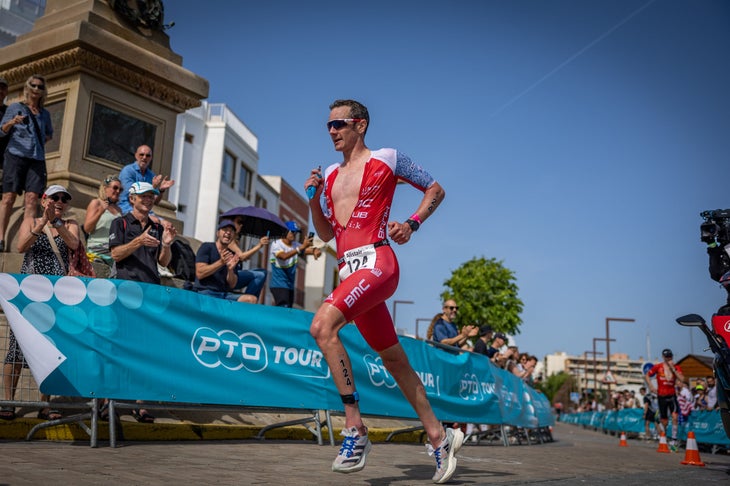 Choosing where to race to earn an Ironman World Championship qualifying spot has become something of an art form since Ironman changed its criteria from a points-based system in 2019. But with Frodeno and Neumann already qualified for Nice and more slots on offer in Hamburg than other events, it may represent the best opportunity.
"It's something I've been weighing up, and it's a bit of a double-edged sword," Brownlee explained. "I want to race the best people and I know my swim and bike is not a problem. With those guys already qualified and there being five slots, there is probably also an advantage to me with the front of the race being fast [building a gap on the swim and bike to other non-qualified pro triathletes].
"I could say Hamburg will be more competitive with five slots, but it's a fast Ironman compared to doing Nice [Ironman France Nice is on June 25], for example, that will be a good chunk – maybe an hour – longer and a harder day out, and has [only] two slots. But Nice is also on the course [of the Ironman World Championship] and would be good practice, so it's a trade off, and one I don't have an answer to."
And a gravel race, too, just for fun
In the meantime, Brownlee is content to carry on mixing it up. This Saturday he takes part in The Gralloch in southwest Scotland, the U.K.'s first and only UCI gravel race, a 70-mile off-road endurance ride that could win him qualification for yet another world championship, again in Italy, in October.
Starting and finishing in the small town of Gatehouse of Fleet, riders will pedal deep into the hills of the Galloway and the Southern Ayrshire UNESCO Biosphere, climbing almost 6,000-feet over the course."It's four hours of hard riding," Brownlee said "So more good training for Ironman."
RELATED: Dear Coach: I Want to Get Into Gravel Riding. What Do I Need to Know?
So that's XTERRA, Ironman and gravel riding ticked off. Anything else on tap? Well, having witnessed his home city of Leeds host its first marathon for two decades on Sunday, and as a friend of the winner Nathan Edmondson, his appetite to take part in a standalone marathon has also been whetted once again.
"I had quite a few friends doing it, so I was out supporting," he added. "I was doing a long run and cheering them on at the same time. I also saw Chrissie Wellington and Sam Perkins and former rugby league players Kevin Sinfield and Rob Burrow." Burrow has ALS and the marathon was the brainchild of Sinfield in his friend's honor.
Brownlee added: "I thought it was a great event and I was just amazed by the crowds. You're running out of Leeds into pretty quiet areas and you just go up a random road and there would be loads of people singing or dancing. It was cool. It made me want to do it."
RELATED: Cam Wurf on the Challenges of Crossing Over from Road to Tri to Gravel