Legend: Bob Babbitt's Unique Position in Triathlon History
One of the sport's most recognized figures may not be the fastest, but Bob Babbitt's lighthearted love of tri has brought countless athletes to the multisport table.
Heading out the door? Read this article on the new Outside+ app available now on iOS devices for members! Download the app.
When I first met Bob Babbitt in the summer of 1979, he was wearing a Speedo brief and cradling a droopy paper plate of huevos rancheros. With him was his similarly attired roommate, future mountain biking great Ned Overend.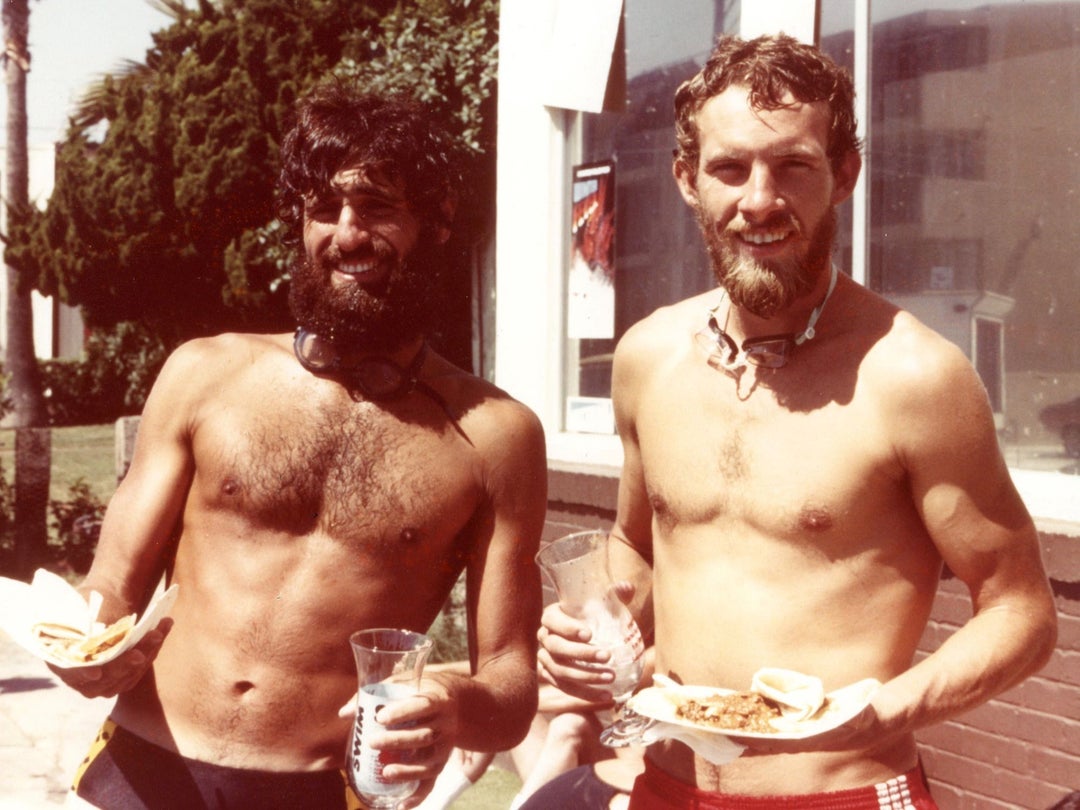 The occasion was the Tug's Tavern Swim Run Swim, a seminal multisport event in San Diego, staged by Tom Warren, winner of the second-ever Iron Man competition in Hawaii the previous February.
So that explains the Speedos. The plate of huevos was the Tug's version of a finisher medal. Finish in the top 100, you got a free Tug's Tavern Mexican breakfast. Finish after that and you got to watch everyone else eat.
Standing together in the sun, looking like bushy-bearded Bobbsey twins, Bob and Ned pretty much told the story of the event, so I took a picture and gave Bob my business card. He sought me out later for a copy and we began a nearly 10-year adventure in triathlon journalism.
Over the years, I was an accomplice to a series of Bob's faux advice columns like "The Running Wino" and "The Reverend Campagnolo," and a tribute feature for over-40 triathletes called "Old Fart of the Month." Typical of Bob's work, the Old Fart feature generated a lot of negative mail the first month it appeared—a reaction that, at the time, represented a genuinely serious response. "People couldn't write emails back then," Bob told me recently. "They actually had to sit down, write a letter, put it an envelope, put a stamp on it, and mail it. And they did."
But month two of Old Fart followed the standard Babbitt Curve: More letters came in, this time positive. Bob's columns and articles delighted our readers on a monthly basis. Being named "Old Fart of the Month" became just about the biggest honor possible in San Diego for an over-40 triathlete.
Yet as offbeat and irreverent as he could be, Bob had a serious soft spot for folks with physical challenges.
The freedom and spontaneity of a sport (triathlon) that enabled his creativity also meant that the sandbox was open to all comers, with equal legitimacy. He admired the skill of the elite triathletes, but he came to love the sport for its inherent egalitarianism.
"Our sport is for everyone," he said. "I like to call it an equal opportunity abuser. It doesn't care if you're a goofball. It doesn't matter if you're missing a leg. "The key was that Bob saw "special" as truly that—not something to be pitied, but to be admired and celebrated—and ultimately normalized. When he emerged later as a journalist, it didn't take him long to recognize the value of a good story, well told, about people no one else was writing about at the time.
"The stories were richer," he told me. "There was more depth. Those were the stories that resonated with the readers."
At some point Bob came to enjoy making people care as much as he enjoyed making them laugh. If he could manage to do both at the same time, all the better. Since his days eating huevos at Tug's, Bob created a magazine, the Challenged Athletes Foundation, a radio show, a race series, and a popular video show—all while keeping joy at the forefront.
"The joy is competing with yourself, and competing with the course, and getting across that finish line," Bob says. "Your medal is the same as Jan Frodeno's. Your T-shirt is the same color as Jan Frodeno's. He was out there for eight hours, and you were out there for 17 hours. Who cares?"
Editor's Note: The author of this article—and a triathlon legend in his own right—Mike Plant passed away on May 5. Read Bob Babbit's tribute to Mike Plant here.