Just Two Years Out of High School, Owen Cravens is Hunting Paralympic Gold
With Project Podium as his training group and Ben Hoffman as his guide, the young tri phenom is set to become paratriathlon's next big thing.
Photo: Tommy Zaferes/World Triathlon
Heading out the door? Read this article on the new Outside+ app available now on iOS devices for members! Download the app.
When Owen Cravens crossed the line first at the Yokohama World Triathlon Para Series Yokohama last month, his coach, Parker Spencer, wasn't necessarily surprised. After all, the visually impaired 19-year-old has been steadily improving ever since January when he joined USA Triathlon's Project Podium, a men's elite development squad based out of Arizona State University.
What did raise Spencer's eyebrows, however, was the margin in which he did so.
"Owen didn't just win," said Spencer. "He crushed it. We went from thinking he could make the Paris Paralympics team to thinking he can win a medal."
Leading wire-to-wire, Cravens, who hails from the suburbs of Chicago, broke the tape three minutes ahead of runner-up Paul Lloveras from France. It was the first World Triathlon Para Series win for Cravens, who was guided by pro triathlete Ben Hoffman. But, if you ask Spencer, it's just the start.
"At his age, we could be looking at five Paralympics in his future. It's not just about Paris. It's about L.A., Brisbane, and whatever else comes after that," said Spencer.
RELATED: What is Paratriathlon? Understanding Triathlon in the Paralympics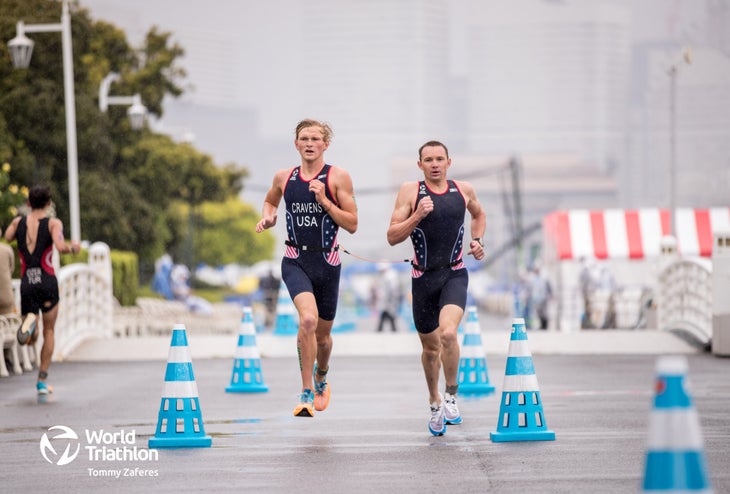 A rapid rise
Cravens' situation is unique to many other paratriathletes in that he got a jump start on triathlon at a very early age. Growing up playing soccer and swimming, he turned to multisport after being diagnosed with Stargardt Disease, a juvenile form of macular degeneration, at 10 years old.
"Once I started losing my vision, I couldn't play soccer, but I could run and swim," said Cravens, who only has peripheral vision. "I found an organization out of Chicago called Dare2Tri, which introduced me to the sport of paratriathlon, and from there, I went on to join a club called MMTT which got me into the elite side of things."
RELATED: Dare2Tri Makes Triathlon Possible for People With Disabilities
By 15, Cravens was competing on the national level, finishing third at the 2019 Paratriathlon National Championships (PTVI) among men nearly twice his age. And now, several podium finishes later, he's still extremely young in the sport. Case in point? Visually impaired triathlete Brad Snyder, who was 35 in Tokyo when he won gold, was already enrolled at the Naval Academy when Cravens was born in 2003.
Into the elites
Cravens' youth and talent made him the ideal candidate to be the first paratriathlete to be picked up for Project Podium. He moved to Tempe in January and will be living in Park City, Utah this summer to train at altitude, while also racing, including the upcoming World Triathlon Para Series Montreal in July.
"We identified Owen a while back as someone with the potential to be pushed at the elite level," said Spencer. "In his former training environment, he was the best in all three sports and didn't have anyone challenging him. Now that he's training with able-bodied athletes, he's being pushed every day."
Surrounded by the best
Cravens says the shift in his training environment has made him holistically stronger. "I'm with guys who are significantly faster than me, and that gets me to that next level," he said, adding that his Project Podium teammates help him in other ways, like giving him rides to practice and guiding him around campus as needed. "And living in a high-performance environment helps sharpen the mindset that I need to tap into on the big stage."
Having a top-notch guide in Hoffman – who finished second and fourth at the Ironman World Championships in 2014 and 2016, respectively – and a Tempe-based training partner in Chris Hammer, one of the most decorated U.S. paratriathletes, has also ferried Cravens' swift success in the sport.
"When you're around the best, they can help shape you and you can learn so much from their experience," said Cravens. "I'm definitely in an ideal environment right now. And I'm super excited for what's to come."
And just what may that be? Like Spencer, Cravens' focus is pointed to podiums.
"Before this season, I just wanted to get on the national team and get to Paris," he said of his Paralympic goal. "But now, I've switched my goals. It's not just about competing in Paris. It's about winning a medal."
RELATED: Pretransition? Flying Mounts? How Paratriathletes Navigate the Transition Area