Inside the Meticulous Mind of Coach (Poet, Artist, Philosopher) Suzanne Zelazo
How did a relatively unknown coach shape tax lawyer Tamara Jewett into one of triathlon's top pros? For Suzanne Zelazo, it's all about seeing the big picture.
Photo: Courtesy of Suzanne Zelazo
Heading out the door? Read this article on the new Outside+ app available now on iOS devices for members! Download the app.
Hysterical strength is a concept where humans advance beyond their capabilities in life-or-death situations, perhaps through entering a trance state of altered consciousness. We see this inthe mother who lifts the car to free her trapped child, for example, or the swimmer who fights off the shark who just bit them.
In sport, its close cousin,  the flow state of performance – the one that renders power meters and pre-race forecasts irrelevant – is the one we all seek.
Through experience, study and passion, Toronto-based coach Suzanne Zelazo understands this better than most, and tries to evoke it in her athletes. When tax lawyer Tamara Jewett hopped off the bike at Oceanside 70.3 in April to run a 72-minute half-marathon and beat the reigning Ironman world champion, we get to view the evidence of her coach's work.
But Zelazo is not your typical coach. Where some think in terms of spreadsheets and power outputs, Zelazo looks at each athlete like a painting in progress – step back for a broad view, step closer to observe the finer details, stare and think and listen until it begins to make sense.
And then, it happens: a masterpiece emerges.
The art of triathlon
Immediately on a video call – even one where the wifi connection is frustratingly staccato at first, thanks to a storm is brewing over the East Coast – you can see by the way Zelazo holds herself, considers each question, and thoughtfully chooses her words in response that she thrives on two-way communication.
Her diverse resume – we'll get to the meatier stuff shortly – includes a stint as managing editor of Triathlon Canada magazine. She seizes on an early mention of it to hand out a compliment: "I have a deep appreciation for the work you do. More goes into it than people think." It's disarming, but if the same attitude is taken to Jewett, or the handful of amateurs she coaches, it's also empowering.
Zelazo's soft skills are not just because of her role as a triathlon coach. In the most concise mini-bio I can locate pre-interview, Zelazo is described as a "writer, editor, and educator in the visual and literary arts with a specialty in female modernism and avant garde poetry and performance." It sounds like a lot, and I ask how it all fits together. Poetic meters and power meters seem uneasy bedfellows.
"I find there's a seamless connection between my on-the-surface seemingly disparate interests," Zelazo explains. "They coalesce. There is an efficiency that is already inscribed. My artist friends and athlete friends seem like totally different beings, but both sets are very intuitive. My two worlds interact on a trajectory that makes the pieces fit."
Seeing the big picture
Whatever the medium, Zelazo sees an opportunity for a collaboration to explore and optimize human potential, which might be beyond where we believe it to be.
"The athletes who tend to come to me are those who understand sport as worthwhile in and of itself, but also as a means to other kinds of personal development," Zelazo continues. "I think of sport as one aspect of our multi-dimensional being that can fuel the other parts of ourselves in wonderful, productive ways. Often, we separate things and think we can't use our career to boost our capacity as an athlete. But if you have an amazing day at the office you'd better believe you're going to have a great workout afterwards."
These are the margins – cerebral "marginal gains," if you want to use cycling lingo – that Zelazo is interested in: the mental, physical, and spiritual enrichment we can't always pinpoint, but have irrefutable proof that is present. Or, as Zelazo puts it: "Those instances of seemingly heroic efforts. Yes, it's adrenaline and a cascade of neurochemicals, but that capacity is there or it wouldn't happen."
To explain her work better, Zelazo sends a link to a piece she wrote for the Brooklyn Rail on 1920s modernist artist Mina Loy. Much of Loy's output blurred the boundaries of what was defined as art. Zelazo writes of Loy's liminality – the state of being in-between – and the power it holds.
Piece by piece
This holistic, big-picture approach is how Zelazo has helped Jewett, whom she began working with in 2017, become one of the top pros in women's middle-distance racing today.
"Tamara hasn't walked away from her identity," Zelazo says. Her charge, currently ranked tenth in the world by the Professional Triathletes Organization, worked at Torys LLP, a top corporate law firm in Toronto until last year. "Balancing a full-time career as a tax lawyer when starting to go pro is pretty intense and lots of people said: 'What are you doing?' But I never once kiboshed that idea because I could see it was empowering her. It may not work for another person, but for Tamara it was helpful to keep both fires going for a period."
Blurring these lines was not hedging the bets. At least, not in a destructive way. "I believe no one plan fits every athlete, and she has the strength and internal freedom to follow something that works for her. We talked about how [tax] work could pull away anxieties around finances that may [otherwise] take up an enormous amount of her day. Instead, if contained within work hours, Tamara avoids the looming stress of being able to pay the rent. It gave her more energy, and figuring out what portions of the energy cup are working and which aren't is something I try to do in my work."
There might also have been a hint of her own experience in play. Zelazo had a relatively short-lived pro triathlon career herself, including a sixth-place finish in Ironman Lake Placid in 2011, when training time became a foil to process the "very heavy cognitive, academic stuff" while she studied for her PhD.
After graduation, Zelazo turned to coaching. "It keeps me dialed into many of the things I loved about racing. It's just not me doing it."But after nights spent in the library stacks and days engaging in intellectual conversation about art and poetry, is triathlon stimulating enough? After all, the sport seems a natural fit for Type A, competitive number-crunchers who thrive on the routine. Isn't it all a bit, well, binary?
"I think of [triathlon's] tripartite structure as a perfect example of the alternative to binary," she replies. "It requires a distribution of your capacity that I think is really cool. There's a flexibility there that I really love, and you do need to be pretty damn good at all three."
"The body speaks, and it's a beautiful narrative"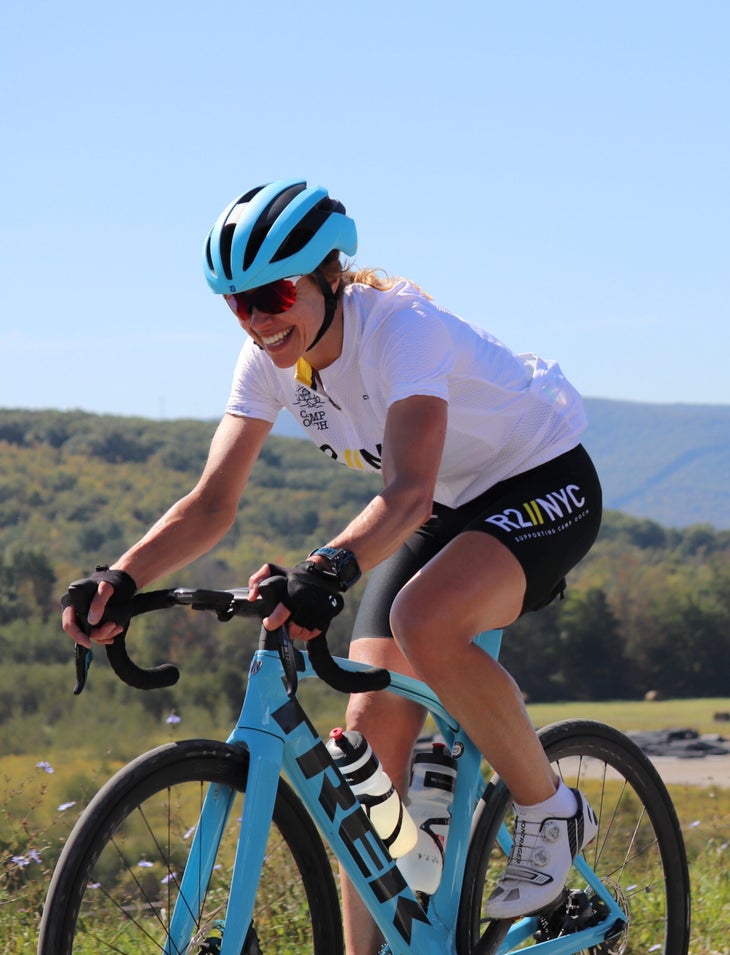 And how do athletes get good?
"Our bodies are the best teachers, and we have an enormous capacity," Zelazo says."One of the things I concentrate on as a coach, and maybe this comes from my pedagogical training, is helping athletes connect with and read their own bodies intuitively. The body speaks, and it's a beautiful narrative. We have to figure out how to honor that. I'm not saying you always cave when your body says 'no' or we wouldn't improve. There's a certain amount of stress we use to improve…We often override and injury happens, but when we can listen to the signals, our body is telling us exactly what it needs."
Zelazo believes her artistic and academic background can help athletes read the signs, interpret the signals and discern the patterns that lead to growth. This is no one-size-fits-all process, which is why relationships are so important to Zelazo. "It's individual. Just as with your partner or in your family, you can hear someone say one word with a different level of energy and you know what's up," she says."I don't work with a ton of athletes, and part of that is by design so I can understand and be in tune with them in that way."
For all the record-breaking run splits, it'll come as little surprise that Jewett doesn't wear a watch. Technology has its place in modern triathlon, but to paraphrase Siri Lindley, the most successful female coach ever in the sport, it shouldn't be our master. 
"If you only ever relied on it, I think it could be a limiter," Zelazo agrees. "There is great information there for sure, but there also needs to be room for the cognitive and emotional part. If the data is the only thing you're looking at, in my opinion, it would be a problem."
Zelazo also talks about cultivating grace and humility in her athletes. "It's not that humility means you're not self-confident, you can be super self-confident," she explains. "But if you don't have humility you cannot learn. Yet if you can pick up stuff and use it from any source, you're unstoppable."
The "woman's story"
Another element that makes Zelazo stand out is the fact that she's on a very short list of female coaches at the top of the sport.
"I think it's partly systemic, and I could say it's about balancing careers, life and family, but I think that's maybe too simplistic. But it is true, and I've lamented this a lot," she says. "To be able to see yourself in another person who is reflecting some aspect of who you are is helpful sometimes. I don't mean it as an essentialist thing. I've had many male coaches in my life who have been phenomenal, but I think that women have a lot to offer other women in this role and I think relatability is important."
Perhaps Team Atomica are redressing the balance a little. Launched in 2009 by former professional short-course athlete Ayesha Rollinson, the team includes Zelazo in a collective of mainly female coaches that run masters swim groups and triathlon sessions for hundreds of Toronto-based athletes.
But if Team Atomica is getting a lot of things right, there are other areas of triathlon that could be communicated better. Access and cost are perennial challenges. The camera lens could be pulled back "literally and figuratively" from the professional men leading any given Ironman race, and Zelazo thinks giving women their own day in Kona in 2023 is "a worthwhile attempt to see how it goes."
Tri as art
Though Zelazo seems to be an outlier in her artistic approach to the sport, she's not the only one. She cites "That Triathlon Life" YouTube channel as one example. She describes the videos – filmed and edited by Eric Lagerstrom, pro triathlete and fiancee of Paula Findlay – as "beautiful."
"I don't know him, but I like his work," she says "It's an example of somebody who has clearly used his understanding of the body and movement as an athlete and is able to capture the kinetic pieces in really interesting ways. He's really good at figuring out what music to put in there, and what lighting, and I think it showcases meaning in a different way. A power number all of a sudden means something more than just a number. And we are not just numbers."
There are parallels with what Zelazo finds interesting in poetry: "You can see this distilled thing, but in the context of other words takes on a whole new life, and we relate to it in a different way. Performance on the page, as a videographer, or as an athlete are all a throughline in my interests."
Zelazo is currently writing another book of poems and it will remain a lifelong passion for its ability to help us see things anew, where a word in a different context showcases a whole new meaning. The PhD in avant garde experimental poetry with an emphasis on female modernism, looked at women from 1910-1940 who were visual and performance artists as well as poets.
"These are women who were really progressive doing stuff that Lady Gaga would be doing now," she says. "Women who, as I was saying earlier about Tamara, are not afraid to let different aspects of self fuel other parts."
When those aspects come together, it results in strength – and that just might be the most beautiful thing a coach can see.
RELATED: The Very Human Way Coach Olav Bu Builds Norwegian Triathlon Machines