How Zwift Transformed Indoor Training from Mundane to Mindblowing
From its roots as a startup to its future in Olympic eSports, all things Zwift come down to one man and his design-driven quest to bring the fun.
Heading out the door? Read this article on the new Outside+ app available now on iOS devices for members! Download the app.
The Rapha Clubhouse in San Francisco's Marina District is a cornerstone for Bay Area technophiles on two wheels. The sleek espresso bar, cement flooring, and minimalist cycling apparel hang like pieces of art in between flat-screen TVs playing a constant carousel of cycling races. When the email arrived in my inbox back in September 2014 inviting me to the official beta launch of some new, buzzy virtual cycling platform no one had ever heard of, it seemed like a natural fıt.
I expected to be underwhelmed—as one often is at these usually premature tech launches—and I found it confusing that the PR handlers were so incessant about us getting our kits on to be ready for the simultaneous launch in New York and London. The setup was simple—a few bikes on smart trainers, each in front of a flat-screen TV. The same setup was on hand in Rapha Clubhouses in New York and London, each filled with curious journalists and endurance-industry types eager to learn how a virtual world could make indoor training anything less than efficient-yet-mind-numbingly horrible.
I kitted up, saddled up, and as the clock ticked down I stared at the bright, colorful world in front of me for the first time—Zwift's Watopia. Roughly 18 minutes later, I hopped off the bike, casually walked to a chair, and sat down just in time to prevent my knees from completely buckling from underneath me. My quads shook. I felt slightly queasy (probably should have held off on the launch's appetizer spread), but most importantly—holy crap that was fun! Did anyone see how many watts I just threw down?
At that moment I discovered what more than 1.5 million users across 195 countries have learned since: Zwift is a game-changer.
By design, it brings together entertainment, community, and performance in such an innovative way that it's spawning its own (possibly Olympic) sport recognized by the UCI—eSport Cycling Racing. And, as a true testament to its immediate success (the platform was overwhelmed by beta subscribers and quickly moved to a subscription model for its cycling platform within several months), it has generated its own vocabulary: Zwifters have Zwifted more than 620 million miles across six virtual worlds and 80 different routes.
For the first few years, Zwift managed to double its growth annually, stamping its place as the original cycling fitness platform in the gaming space. Internally, the company is thriving, and after doubling their staff from roughly 100 to now more than 230, they have plans to grow even more in 2020. While most of the programming and game design staff come from solid video gaming backgrounds (including employees from big-name products like "Call of Duty"), cycling and fitness play an outsized role in the company's culture: Their two offices in Long Beach, California, have two gyms, each with sleek Zwift ride and run setups and robust in-office bike storage—making sure that lunch rides and runs around the office slide seamlessly into the work day.
RELATED: Triathlete's Guide to Indoor Training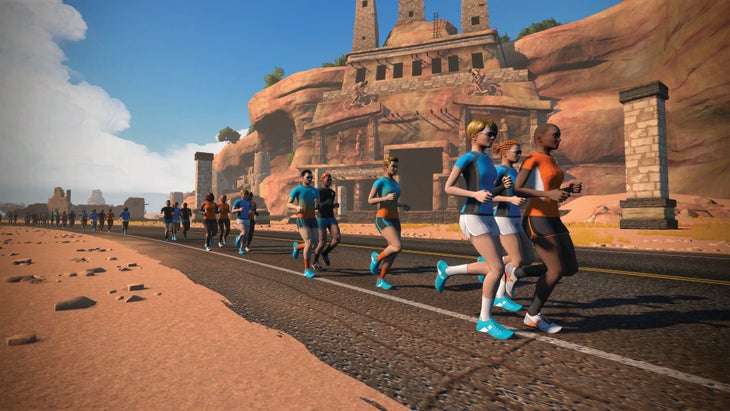 To understand how this company catapulted into legend status, and where they are planning to head in the future, you have to dig into where it all began—a bored cyclist stuck on a trainer in London. Zwift co-founder and CEO Eric Min and his partner, Alarik Myrin, had seen success with the launch of Sakonnet Technology, but were looking for the next big thing. For Min, the centerpiece of what that new venture would be needed to center around one thing: fun. And at that time there was nothing less fun he could think of than the hours he spent strapped onto a bike trainer. "The experience was one-dimensional, mundane, and only a reminder of what you could have outdoors," Min explains.
After stumbling upon a Slowtwitch.com forum thread about a virtual cycling demo from programmer (and future Zwift co-founder) Jon Mayfield, Min knew there was an enormous opportunity in front of him. "Its success seemed inevitable to me," Min says. "Zwift was born out of a personal struggle I had with indoor training, and I knew I was not alone. I knew we could answer the same problem faced by millions of cyclists, runners, and triathletes around the world."
The fun factor is a common thread you'll hear if you ask anyone about Min. It permeates everything he has done, and will do, to lead the charge at Zwift. According to Jordan Rapp, a game designer at Zwift and former professional triathlete, Min's growth mindset is a welcome counterpoint to his often black and white engineering brain. "He pushes you in many ways, he has that 'just imagine it' type of mind, which I really don't have, and you just get dragged along," laughs Rapp. "There's nothing that Eric sees as impossible, and even when we tell him otherwise, he often proves us wrong. It makes me uncomfortable on a regular basis, but I mean that in the best possible way."
While Rapp says Min stays mostly out of the day-to-day nuances of programming, he dives headfirst into the company's vision, especially when it came to launching Zwift eSports and creating an eCycling national championship last year. Min's ideas around the potential of eSports cycling were something Rapp originally filed under "theoretically" possible.
"But he made us believe. So we made it happen," Rapp says. "To get a federation to support a national championship on Zwift? Ludicrous. But we've already had one. And we're about to have more. And it's only going to grow. That's all because of Eric."
From bright blue power-ups, an ever-growing list of kit and bike avatar options and lava-strewn virtual climbs, the entertaining enticements of Zwifting are fairly well known and somewhat obvious to anyone who has logged on. While these elements may seem accidentally fun—they're designed that way to keep users engaged. What is even less obvious is just how effective Zwifting can be for both athletes and coaches when actually trying to train.
Pro cyclist, Ironman commentator, and coach Matt Lieto, who is also a former pro triathlete, admits he considered Zwift the "anti-Christ" until a string of injuries and surgeries led him to not only use the platform regularly but embrace it as a powerful performance tool. In April 2019, Lieto crashed shortly after a solid performance at the Land Run 100 event, had a massive surgery, and just eight weeks later was able to finish in the top 10 at the Steamboat gravel race. "All of my training after surgery was quality stuff on the trainer using Zwift," Lieto says. "It's the perfect accessory."
Rapp, Lieto's longtime friend, and his co-host on the Zwift Power-Up Triathlon podcast, had a similar path to becoming a Zwift convert. "My mantra since retiring is that the best training is the training that you actually do," Rapp says. "It's awesome to be outside simulating your race, but if you can't go more than 10 minutes without hitting a stoplight, and you're supposed to be doing 20-minute Ironman-pace intervals, then you're not really doing the training. But that training can happen on Zwift."
Tim Ballintine, owner of KOA Sports, a Queensland, Australia-based endurance coaching company, was an early Zwift adopter for his own training because of the efficiency and performance-boosting qualities. Now, with athletes in more than 30 countries, he's found an additional perk of the platform (but that's no accident): the sense of community. He often holds a live group ride on Zwift where the athletes talk to each other throughout the ride, adding another experiential element to a structured workout.
"Athletes all want some sort of base level of connectivity, to feel like they are a part of something," Ballintine says. "It's the collision of community and competition, and as a coach, you can add that into someone's training in a strategic way. For example, instead of prescribing an FTP test, I'll just look and see what they're doing in a Zwift race. They could actually be doing an FTP test and not even know it."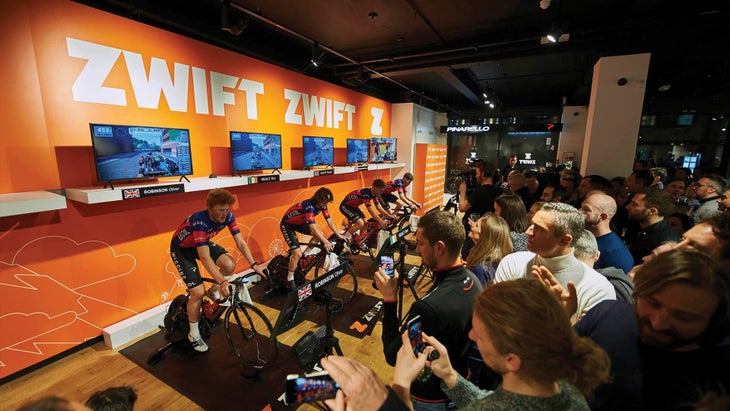 Ballintine is so dedicated to the future of the platform that in 2019 he started the KOA eSports Racing League for his athletes, where they essentially race each other in virtual Zwift worlds for points and, occasionally, money. He's far from the only coach to be doing this, and it's no surprise that Zwift's eSports racing category has become a focus for the brand's resources.
Anyone you speak with at Zwift is quick to point out that they are in no way trying to replace riding or running outdoors. They embrace and celebrate outdoor training wholeheartedly because, in truth, their goals are much bigger than "outside versus inside." They want to design an entirely new sport.
In 2019, Zwift hired the English Premier League's marketing director Craig Edmonson as CEO of Zwift eSports. "We're not trying to digitize bike racing at all," Edmonson says. "It's about effectively reinventing cycling competition in a virtual world, built off of physical endeavor and bringing in skills and tactics that could lead to an entire portfolio of competition types beyond scratch racing."
It's entirely possible to use Zwift every day and never enter a race, however, in a given 24-hour period Zwift offers dozens of races, including professional events planned in partnership with national and international cycling federations, with specifically designed gaming elements similar to that of a video game (think power-ups, invisibility features, and the like) that are both addictively fun and seriously hard. "I now have clients who are just eSports racers and that's all they do," Ballintine explains. "At the moment, people still think it's gimmicky, for sure; for a lot of people, it's like a food they say they don't like but haven't actually tried. Well, give it a try and tell me you don't like it."
In March 2019, British Cycling held its first National eRacing Championships, and after several other national federations followed suit, recently Zwift announced that the first UCI World eRacing Championship will take place this year. These are the first steps toward making cycling an eSport race within the Olympic Games.
While sports like triathlon struggled for many years with gaining Olympic status due to its broadcast limitations and groundcover logistics, eSport cycling racing, by design, has the entertainment and stadium-friendly portability baked in right from the get-go (cue the image of a football stadium filled with smart trainers and flatscreen TVs). The road to the Olympics and through the phalanxes of cycling purists is a long one, but it's a challenge Edmonson is incredibly eager to take on.
"The ways in which people are engaging within and consuming sport is changing, we've seen that rapidly evolved over the last decade in particular," Edmonson says. "You can evolve a format in this space quite quickly because it's a digital world, so the opportunities are endless, but it will take time."
The future of Zwift, and other virtual training platforms for that matter, seems bright regardless of their Olympic fortitude. Min believes Zwift's biggest design challenge remains in keeping up with the demands of their ever-growing user base. The directions they'll go—be it on the world stage of cycling racing or just the creation of some really fun new worlds—remains to be seen.
Much like most notable CEOs, Min's schedule takes him to various places, but no matter where he goes, he has a dedicated Zwift setup and is ready to go. As his coworkers and friends will attest, he seems to be on it all of the time. Not just testing things out or grinding through an interval—Min is giving the virtual "Ride On" sign to everyone he can. "I think he's given me a thumbs up every time I use Zwift," laughs Lieto. It's exactly that touch of fun design that has taken Zwift from cool concept to a virtual world holding millions of community members to the possibility of an Olympic sport.