Cam Wurf's Prediction for 2023 Ironman World Champ: Cam Wurf
The motor-mouthed Aussie, whose trash talk is as strong as his power-to-weight ratio, has his eyes on the world championship prize.
Photo: Jan Hetfleisch/Getty Images
Heading out the door? Read this article on the new Outside+ app available now on iOS devices for members! Download the app.
With only weeks to go until the men's Ironman World Championship in Nice, there's one pro on the start list who's about to do something new for the first time this year—he's actually going to focus on triathlon. While this might sound ludicrous for most pro triathletes, Cameron Wurf is not most pros.
The former Olympic rower turned pro cyclist has been jumping in and out of the pro Ironman racing scene since 2017. He's been simultaneously setting bike course records and scooping up Ironman podiums while also riding as a domestique for WorldTour team Ineos Grenadiers, helping riders like Geraint Thomas and Chris Froome at some of cycling's biggest races. It's a setup that is as unique as it is impressive, and up until just this week, it's also a setup that's meant Wurf hasn't been able to focus on Ironman training. But all of that is about to change. Wurf is now in a position to make Nice his singular focus, which might be bad news for his rivals, but great news for tri fans.
RELATED: Cam Wurf on the Challenges of Crossing Over from Road to Tri to Gravel
From cyling's "standby guy" to Ironman frontrunner
Wurf earned his ticket to the championship race in Nice via a second-place finish at Ironman Austria on June 18. Prior to that, he'd tried and failed to qualify at Ironman Lanzarote on May 20 (finishing third) and Ironman South Africa (finishing fifth) in March. He made no secret of his relief at qualifying on his Instagram, but was also aware that he'd only had "dribs and drabs of training," and it had been hard to find consistency.
"The spring and early summer is when I'm needed the most on the team," he says. "I'm the standby guy."
Among the biggest cycling races he's been a part of so far this year include Paris-Roubaix, the Tour de Romandie, and the UAE Tour (that's in addition to racing Ironman South Africa, Ironman Lanzarote, Ironman Austria, and Ironman France).
"Fitness-wise, you always get a benefit from racing at that level," he says But in order to keep the triathlete in him alive, this means bookending days on the bike with swims and runs: "I've been trying to maintain some motor patterns for swimming and running so that when I do get an opportunity to do a race, I can hopefully capitalize on that fitness. The big focus has been to qualify."
And with that qualification now safely tucked away, the endurance world's favorite chameleon gets to turn from cyclist to 100% triathlete. "Now I've got this chance to train tucked up my sleeve," he says. "Now's the time to take some significant steps forward before I face the best guys in the world when they're at their best."
How Cam Wurf will train for the Ironman World Championship in Nice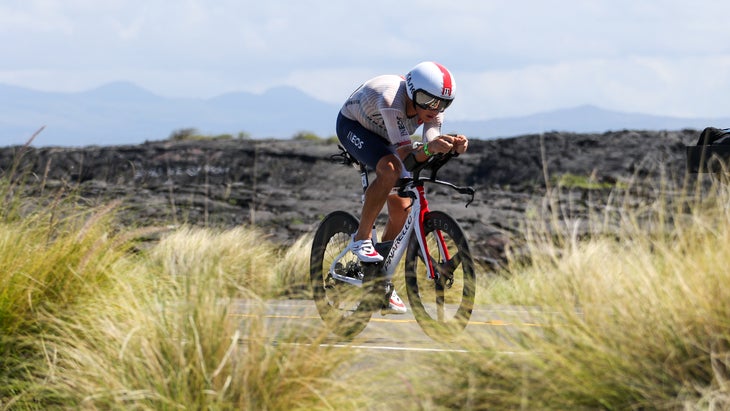 Clearly excited by the prospect, Wurf says it hasn't been since his build into Ironman Copenhagen in 2021 (where he won in a time of 7:46:05) that he's had a solid six to eight-week block of uninterrupted tri training. So what will the focus of his training be? Fewer bike hours to help shore up his swim and run?
"As crazy as it sounds, my focus will still be everything," he says. "If it was Kona, it would be more about just maintaining the bike, because I'm confident of where I need to be, but the demands of the Nice bike course are very different."
Having recently ridden the world championship bike course at Ironman France (and having trained on parts of it previously) Wurf says "it's a lot harder than you expect," so being in "really good bike shape means you could really exploit that course."
Consequently, Wurf and his team have decided to keep his cycling volume high: "Biking is going to be much more of a focus than it otherwise might have been," he says. "The Nice course definitely suits me better than Kona. With the long climbs and technical descents there are plenty of opportunities to make a difference if you're strong enough."
The Nice course definitely suits me better than Kona. With the long climbs and technical descents, there are plenty of opportunities to make a difference if you're strong enough.
Indeed, when a cyclist of Wurf's caliber says the Ironman World Championship in Nice is "not a course you can get around easily," you know he's taking his preparation seriously. That's not to say he won't also be doubling down on his swim and run. He'll be looking to bump his swim volume to 25K a week (from his usual 20K) and acknowledges his swim has improved recently.
"I'm swimming quite well at the moment," he says. "At Ironman France, I swam in the front pack without a wetsuit, which is massive for me, and I've swum well in the last couple of races, so it's starting to become not a fluke any more." He feels more comfortable and capable of spending more time in the pool, and can feel the gains in endurance.
When it comes to running, he'll be aiming to cover a minimum of 60 miles a week with bigger weeks closer to 75 miles, typically mixed as 70% easy, 30% higher intensity. In all, he's planning to clock six to eight weeks of 30 to 40 hours of training a week.
"[Triathlon] seems to be a sport that rewards consistency," he says. And, as a self-confessed "volume monster," he's only too ready to get stuck into it all. It's this consistency that he knows he'll call on in the business end of the race – mentally as much as physically.
"I need to know I've done the work," he says. "That's been one of the hurdles with my running recently…psychologically I just know I haven't done the weeks back-to-back, so when I start to ask those questions of myself in that back half of the marathon, well, it's just different when I've done the work. Then, I just go for it and know that I can deal with it. I'm that type of guy: If I haven't done it in training, I won't do it in racing." (And yes, he does run marathons in training.)
Cam Wurf's Ironman World Championship picks
So who are his picks for the men's world championship title? Unsurprisingly, he offers his name first (this is one of many reasons why he's gained a reputation as one of the best trash talkers in the sport). After that, a flurry of European names (interestingly, all of whom know the Nice bike course well): Challenge Roth record holder Magnus Ditlev, Ironman France winner Clement Mignon, and Leon Chevalier, who has won on tough courses like Alpe d'Huez.
And what will it take for Wurf to win? "Well, I'll have to have my best swim and bike, and beat my 2:45 PR on the run," he says. "If I do what I want to do in preparation leading in then I'm quite confident. Of course, I've still got to do the work, and it's got to come together on the day, but I've got a good feeling about it."