Ashleigh "Gentle by Name, Savage By Nature" Is Doing it Her Way
A fairy-tale rise in draft-legal tri, followed by "the worst race experience of [her] life" at the Tokyo Olympics led the Australian star to tough decisions - and meteoric success in long-course racing.
Photo: Professional Triathletes Organization
Heading out the door? Read this article on the new Outside+ app available now on iOS devices for members! Download the app.
She's finished on the podium at every race she's started so far this season, and she's sitting atop a very distinguished PTO Pro Ranking. By her own admission, Ashleigh Gentle knows she's on a pretty good roll. A second-place finish at the PTO European Open in Ibiza in May was followed by another runner-up spot at 70.3 Switzerland (beaten only by Daniela Ryf on her home turf), before winning 70.3 Andorra in early July. And as she prepares for the upcoming PTO U.S. Open in Milwaukee on August 5, she's buoyed by the fact that she knows exactly what's needed to win these 2K swim-100K bike-18K run races—she won both the PTO U.S. Open in Dallas last year as well as the Canadian Open in Edmonton.
But as with all stories that seem so exciting and simple from the outside, Gentle's journey to this point has been anything but. The success she's enjoying at middle-distance racing now only came after she made the tough decision to walk away from a 10-year ITU career that had seen her Olympic dreams never realized. But her tri story begins long before that.
Getting started 
One of three children, sandwiched between two brothers, Gentle grew up on Australia's Gold Coast with "lots of sports and lots of time outside." Much of her early sporting life involved playing team sports, such as touch football and netball, and it was only in her early teens that she started running, primarily with the Surfers Paradise Tri Club, joining them for run workouts. At 14, largely because she didn't want to miss out on what the other kids were doing, she started adding in swim and bike sessions too.
"Literally, I've not stopped since," she laughs.
Tri success came early and often, her first race at a local sprint tri also happening to be a qualifying race for the regional championships. From there, she ended up making it not only to the state championship, but to the national championship too.
"All of a sudden I was at the national champs in my first year of racing," Gentle says. "It was all fun and unexpected. Just something I picked up, and I just fell in love with it all."
Winning early and often
Her junior career accelerated fast. By the age of 16, Gentle not only made the Australian team for ITU Junior Worlds in Hamburg in 2007 (where she also happened to meet her future husband, Josh Amberger), but finished second. She then backed it up the following year in Vancouver with another Junior Worlds silver medal.
"At this point I was still so young I didn't think about this being something I could do professionally, I was always focused on my studies," Gentle says. But it was at Junior Worlds in Budapest in 2010—where she won—that things started to change and she started to wonder if she could make it as an elite. And it certainly didn't hurt that, as part of the Australian team, she was surrounded by some of the best in the sport at the time, with the likes of Olympic gold medalist Emma Snowsill and multiple ITU World Champion Emma Moffatt proving to be the very best of role models.
"I was exposed to such a high level of talent and racing at such a young age," she says. "It obviously inspired and motivated me. I wasn't at a level where I could swim and cycle with them, but I was running well enough to do sessions with them, so just doing those sessions and being in the camp environment with them, well, I was exposed to what being a professional triathlete is actually about. It was a pretty great experience to have for someone who was so young."
The ITU years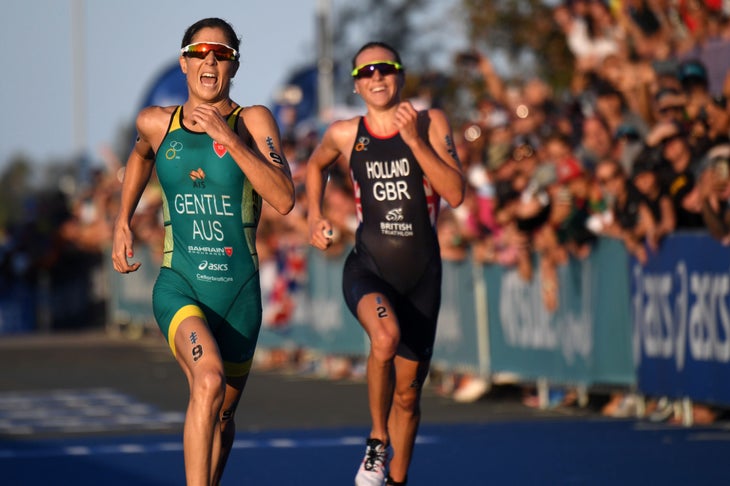 After so much success as a junior, Gentle decided it was time to take triathlon more seriously. By now she'd finished school, she had the freedom to travel overseas with the Australian team, and she wanted to see just how good she could be. She made her elite ITU debut at the London test event in 2011, which marked the start of a decade-long career on the ITU circuit.
"I had a lot of fun in those early years [racing ITU]," she says. "I was a very shy kid, but I think I absorbed a lot, and I recognized those girls are so fast. I saw a lot of the training they did and was blown away by what they could do and the quantity [of training] they could do. I knew straight away it wasn't going to be easy if I was going to try to make it as a professional. It was probably good for me to see, but I think I was quite mature; I knew my capabilities at a young age. I knew that it would take me some time to get to the level they were at."
Indeed, it would be six years before she'd win a WTCS title of her own, at Montreal in 2017, after numerous top-10 finishes and five silver medals. And as she looks back now on those ITU days, it's that 2017 season she recognizes as her most consistent, though her win at the 2018 Grand Final at home on the Gold Coast—beating Vicky Holland in a sprint finish—still evokes the strongest emotions and fondest memories.
"I had a lot of fun racing ITU, but sometimes it was quite difficult. Sometimes I found myself not knowing where I fit in the high-performance world. I struggled with that more than once during my career."
I had a lot of fun racing ITU, but sometimes it was quite difficult. Sometimes I found myself not knowing where I fit in the high-performance world. I struggled with that more than once during my career.
Tough times
It was in 2019 where she truly started to struggle. After finishing 26th at the Rio Games in 2016, she'd made a commitment to the next four-year Olympic cycle with her then-coach Jamie Turner, which meant moving away from home and being wherever the squad was based. But when Turner's contract was abruptly terminated by Triathlon Australia for what media reports described as a "major breach of contract," Gentle was left feeling "isolated, confused, and now not knowing what to do."
"2019 was probably the hardest year of my career in the sense that my whole ITU career was consistent up until that point," she says. "At that time, I was still thinking the Olympics were only a year away, but I was struggling a lot, mentally and emotionally. I didn't really love tri like I had for so many years prior to that."
She stopped racing on the ITU circuit at the end of the 2019 season, reappearing only to race the Mooloolaba World Cup in early 2020 shortly before COVID hit. Her next—and final—short-course race would be the Tokyo Olympics in 2021, which she says was "the worst race experience of my life." She DNFed, the culmination of many months of not training well, not being happy, and feeling homesick, she said.
"I didn't think much of it at the time, but it's not until you step out of it that I realized it had really affected me more than I recognized. I have a greater awareness of that now. It was a good lesson: I learned you can't control everything in your career, but you can learn from it."
Should I stay or should I go?
It was at this time that she found herself at a fork in the road, and she was faced with a career-impacting decision: dedicate another four years to her Olympic dream or move on, do something different, and focus on middle-distance racing?
"People had been telling me how good I could be at 70.3 racing," she recalls. And while she had plenty of people telling her that her strengths in ITU racing could convert well to middle-distance racing, she said, for her, it wasn't quite as simple as that.
"I had invested so much in the Olympics, and up until that point, both of my Olympic Games had been so disappointing, so far from what I was capable of. It was really disappointing to me that I could never nail it on that day, but that's the Olympics, and I admire and take my hat off to people who can do it, because it's an extremely difficult task and something I just didn't get right."
She could carry on chasing her Olympic dream, or she could let it go, grieve it, and move on to a new chapter. Ultimately, she chose the latter: "I came to the conclusion that you can't always have the perfect ending for things. And you can't not move on with your life because you wanted things to end well and they didn't," she says of her Olympic quest. "Why keep trying to fulfill this dream when I might be missing out on other opportunities that might make me just as happy?"
It's this emotional maturity and groundedness that has no doubt helped lead her to the top of the PTO's rankings and to the top of many middle-distance podiums since making that decision. "I don't have any regrets because I love what I do now and it is super fulfilling, and I've probably been having the most fun in my entire career, so I'm glad I was brave enough to make that decision on my own terms."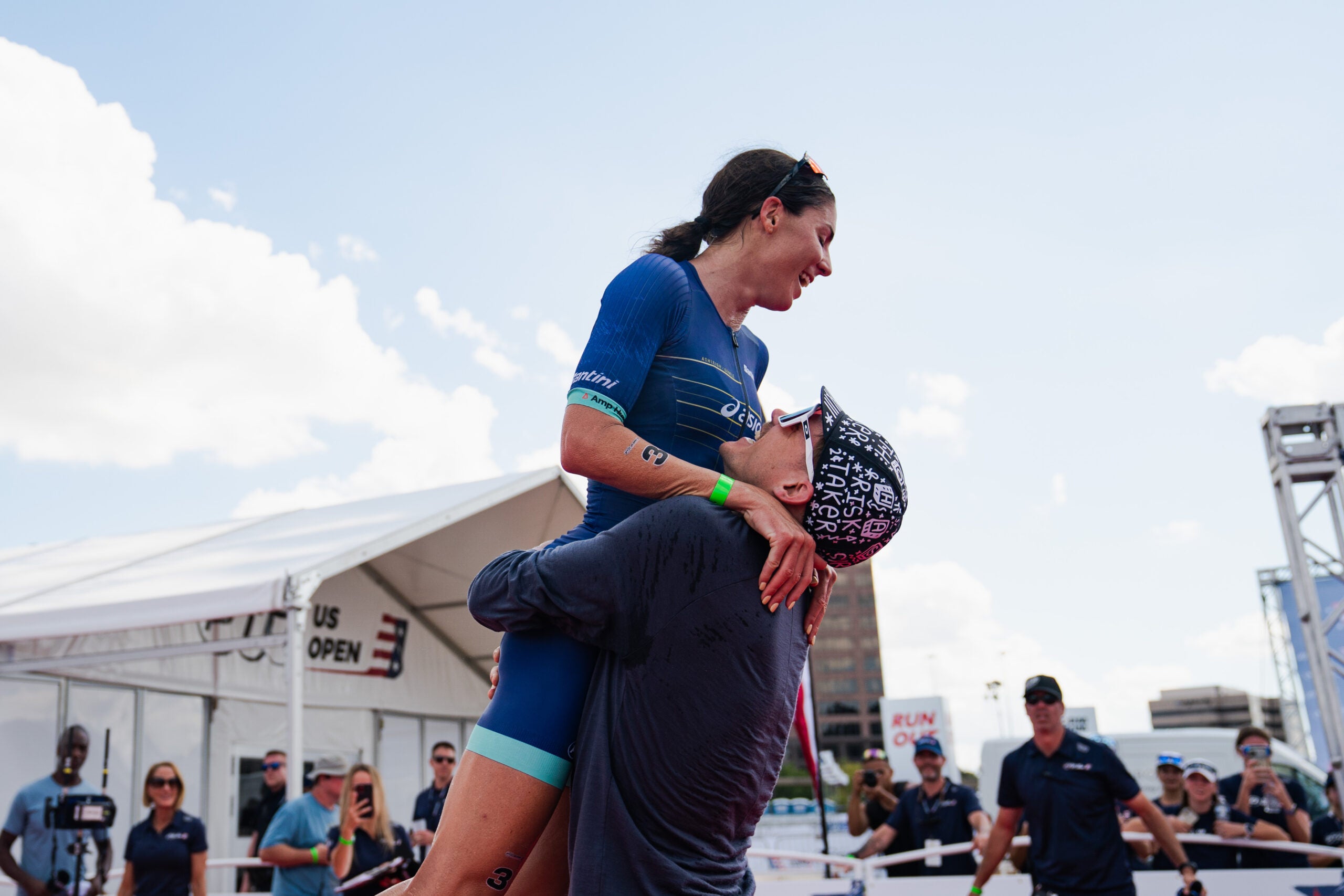 Success on Ashleigh Gentle's terms
Indeed, with a happy heart and eyes looking forward, Gentle continued to make many decisions to help set herself up for success racing longer distances. This included finding a new coach—David Tilbury-Davis—with whom she's been working since December 2021. The Brit, who's now based in Helsinki, Finland, works with an impressive roster of long-course pros, including Gentle's husband Josh Amberger, as well as Skye Moench, Amelia Watkinson, and Jodie Robertson. He's also previously coached Lionel Sanders.
Tilbury-Davis says when he first began talking with Gentle about potentially working together he was immediately impressed with her immense talent.
"But she doesn't carry with that a huge externalized gravitas," he says. "She's very relaxed about it all. Yet underneath that relaxed veneer is a ruthless warrior. We like to joke that she's gentle by name but savage by nature."
Adjusting for the long haul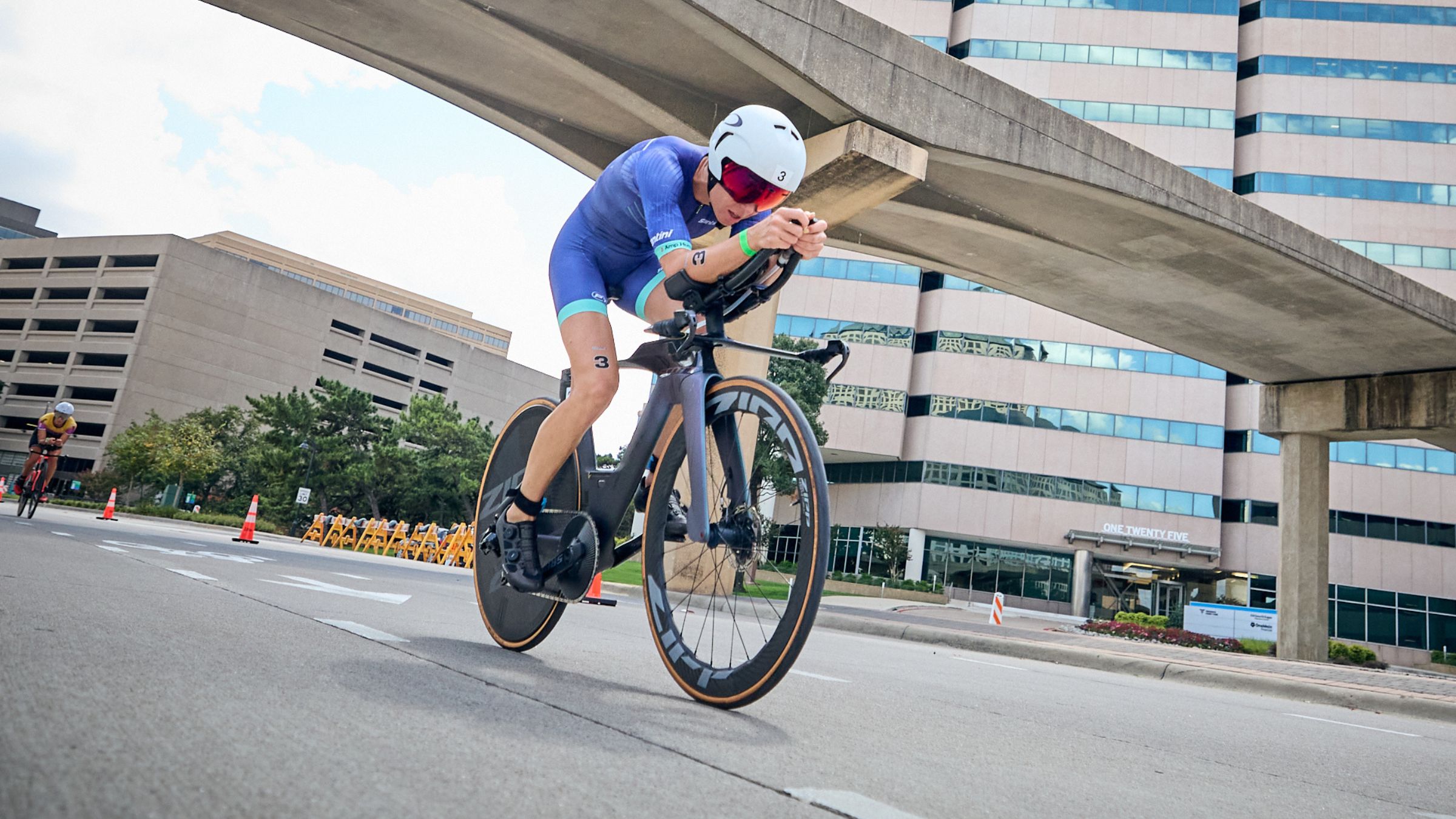 She said it was hard at times to get used to the different types of training long-course racing requires, as she was so accustomed to short-course training (and she jokes that she still can't get used to doing 20-minute TT efforts on the bike). But overall, it's been a smooth transition with plenty of transferable skills.
"I was never a racer who was afraid to work on the bike in ITU, I was often time trialing anyway, so those kinds of skills I acquired in ITU have transferred quite well to middle distance. I really enjoy the training and it suits me well," she says.
Tilbury-Davis knew of Gentle's pedigree from ITU racing, so he knew how well-rounded a triathlete she already was. "She's a good swimmer, she's really strong on the bike, and she's one of the best runners in the tri world, so there are no weaknesses there," he says. "And although she's new to middle-distance racing, well, middle-distance racing is fast turning into ITU racing—and that's just her bread and butter. I saw no glaring weakness with Ashleigh."
He recognized early on in his work with her that she had extremely high levels of intrinsic motivation and was also very self-aware, in every sense: "She has a very high level of interoception; she's very self-aware of feelings and sensations and is very comfortable communicating that. She's not one to smash herself in training or dig herself into a hole."
Tilbury-Davis says she typically averages between 23 to 26 hours of training a week, and she's not a high-volume athlete: "She responds to specificity, she doesn't respond to six-hour rides. Factoring in her conditioning work she's averaging 23-26 hours a week, which can be broken up as six to seven hours in the pool, eight to 12 hours on the bike, and anything from 4.5 to 6.5 hours of running."
Gentle says: "Getting used to the TT bike and cycling has probably been the priority. My running hasn't changed too much. The running suits me, I still do quite a bit of speed work on the run. I'd say I prefer a 18-21K run—I like the distance and find my groove."
Reigniting her passion
From the outside looking in, it certainly looks as though Gentle has found her groove. She said it was at the PTO Canadian Open in Edmonton last year (which she won, beating Kona champion Chelsea Sodaro and 70.3 world champ Paula Findlay) where she really felt that old spark.
"Edmonton last year was a really emotional win for me," she says. "It wasn't just about winning; I put together this race that I was really proud of, at a massive event, and I just had this feeling inside of me, it was like a burning desire not just to do well, but to be in the game. It was a competitiveness, a fire in my belly, I felt it come back, it had been missing for me. It's funny, it's not something you can describe very well, or something you can log in your TrainingPeaks, but it's a feeling that had been missing for a few years and I finally felt it again in Edmonton, and for it to result in a win at a big race, well, that was pretty special."
To then back up her race in Edmonton with a win at the U.S. Open in Dallas less than a month later was all the proof she needed that she was on the right path, with the right people, at the right time. And while falling short of an Olympic dream could have left her on a path of what ifs and maybes, instead she is proud that she's let it fuel her onto something new, something bigger and better.
"I feel like I'm an athlete now who's come out the other side and decided to do something totally different," she says. "I have a lot of appreciation and gratitude for every race I get to do and each time I travel. I've learned that it's the way in which you deal with setbacks and the way you choose to learn from it that makes all the difference."
And despite only being 32, she recognizes she has a wealth of experience to call on as she mixes it with the leading female athletes in the sport: "I think all of my experiences from the past 10 years are paying dividends now; I feel like I can make better choices. Sometimes I feel like I've been in the sport a long time, but sometimes I still feel so young. Even though it's been difficult at times, I think it was always going to happen this way, because I still have this fire in my belly. If you've got that inside yourself, well, that's all you need to have to make it work."