Are Cup-Free Aid Stations the Future?
Even "green" races are hauling out a lot of trash.
Heading out the door? Read this article on the new Outside+ app available now on iOS devices for members! Download the app.
In a time where every day brings more dire warnings for the health of the planet, individuals and companies alike are committing to environmentally-friendly practices. The race industry is no exception, with triathlons around the world finding more ways to reduce their carbon footprint: Ironman Boulder donates their leftover nutrition to food pantries, while the Marin Triathlon uses solar energy to power race-day operations.
"There is a collective awakening occurring to the fact that resources are finite and our consumption-based lifestyle is not sustainable in the long-run in current form," says Shelley Villalobos of the Council For Responsible Sport. "We simply cannot expect to continue to take, make, and waste materials indefinitely."
But even the greenest races have their limitations. Stick around after all the finishers have come through, and you may be surprised at just how much trash has to be hauled out during breakdown. The biggest contributor to the junk pile? Cups from the aid stations, which are often made from plastic or unrecyclable coated paper.
Though recycling is certainly a greener alternative to hauling the trash to the landfill, it's not always an economical option. The Deuces Wild triathlon in Show Low, Arizona has proudly been an environmentally-friendly race for years, though they admit it comes with extra time and effort: "Choosing to recycle at the event results in greater manpower needs," says race director Debbie Claggett. "When we first started the event, the community where we put on the event did not offer recycling, so we picked through the waste to separate recyclables, bagged it all and transported it back to Tucson [190 miles away]. Luckily, there is now recycling there, but we still take that extra time and spend that extra money to offer recycling bins and have a second roll-off just for recycling at the event."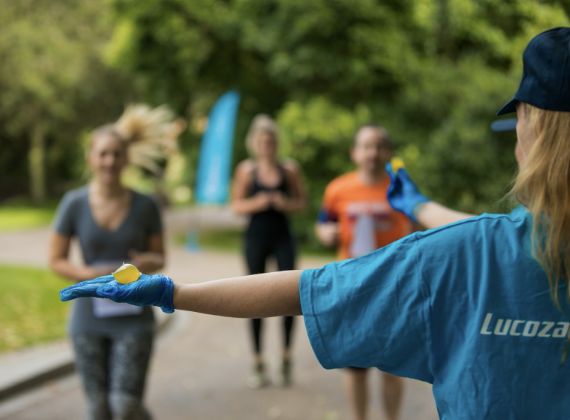 There are alternatives to plastic cups, including compostable cups and Notpla pods, an edible "water satchet" made from seaweed and plants. The pods recently made their debut an aid station at the London Marathon, where the trash haul was significantly less than other aid stations on the course. Some endurance events, including the North Face Endurance Challenge Series, are ditching the cups altogether, only offering water spigots at aid stations. In cup-free races, athletes are provided with refillable silicone pouches to carry on course or told to carry their own hydration bottles, bladders, or cups to carry and refill as needed.
But pods and even cup-free efforts can cost just as much (or even more) than the cost of traditional cups paired with a waste hauling service, says Claggett: "It will be the larger, better-funded events that can afford to include a reusable cup with registration because of sponsorship dollars, at least initially. It will be harder for smaller races, and even for mid-sized ones like us, which have a drink sponsor that provides cups."
There's also the issue of water distribution, says Vallalobos. "In a heavy traffic race, getting hydration to participants quickly is key. Making sure there are enough taps or spigots to prevent the creation of lines to fill a cup should be the top priority. Many good old five- and 10-gallon jugs — ideally borrowed rather than bought — or hose diverters are the best bets."
In a time when registration numbers are decreasing and we are fighting for every participant, it's always a concern that anything new will cause people to select a different event. For a smaller event, going cup-free may be seen as a hassle that pushes athletes to go to a larger race with more convenient aid stations.
But larger running races are adopting these new, green ways of providing water to athletes, making Claggett optimistic triathlon will soon follow suit. Much of this will be spurred by the athletes themselves, who want to be at the forefront of a healthier planet. "For us, and I think most folks who are physically active and love running, riding, and swimming in our natural world, we feel strongly that we have to protect these limited resources for future generations."