A Sight for Fast Legs: Inside the World of Athlete Guiding
Welcome to the cutthroat, logistically insane, totally rewarding task of elite-athlete guiding.
Heading out the door? Read this article on the new Outside+ app available now on iOS devices for members! Download the app.
Welcome to the cutthroat, logistically insane, totally rewarding task of elite-athlete guiding.
It's a foul-weather day in May and Amy Dixon has traveled 5,000 miles from San Diego to Yokohama, Japan, for a race that cost her over $8,000 to enter. She has no big-name cash sponsors to foot the bill and no federation funding to speak of. Dixon is riding around a makeshift practice area near a harbor optimistically named "Red Brick Park" (though most would describe it as a loading dock), in the pouring rain, before an audience of 60 volunteers cheering her on. If that wasn't enough, the most important person to her success at this very odd and expensive exercise—a person who literally has Dixon's life in her hands—is a complete stranger whom she's never met before.
Dixon is in Japan for the second stop of the 2017 ITU Paratriathlon World Series. Because she has less than 2 percent of her vision, she requires a guide to race the entire draft-legal sprint-distance event alongside her—a guide who must meet so many requirements, she might as well be called a triathlon unicorn.
"The ideal guide is someone who is slightly faster than you on the swim and run, but quite a bit faster than you on the [tandem] bike, because they can contribute 50 percent of the power or more," says Simon Marshall, an author and sports psychologist who has worked with Dixon for over two years. A guide must also be the same height to fit the athlete's tandem. At the ITU level, the requirements get more stringent: Guides cannot have raced as elites in an ITU event in the last 12 months, and they must be the same nationality and gender. On top of all that, just like with any athlete-coach relationship, a guide and athlete must mesh personally.
Add in the financial factor all elite hopefuls face when chasing ITU points around the world—then double it to include the guide's expenses—and becoming an Olympic paratriathlete seems like the impossible dream. It's one Dixon has the tenacity and talent to achieve, but she, more than anyone chasing a big goal, must have the perfect partner to achieve it. In a real way, her life depends on it.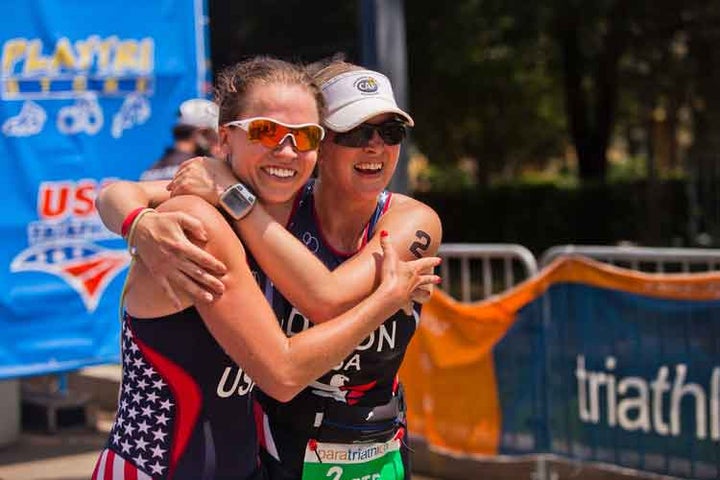 ***
Paratriathlon—the blanket term for triathletes competing with physical impairments—made its international debut back in the 1995 ITU World Championships. At the time, the single category was a catch-all for physically impaired triathletes, but has since grown to encompass five separately competing classes ranging from athletes who need handcycles to athletes racing with prosthetics, the visually impaired, and more.
RELATED: What is Paratriathlon? Understanding Triathlon in the Paralympics
In 2010, the International Paralympic Committee announced that paratriathlon would be added to the 2016 Paralympic program after substantial lobbying from the ITU. Though not all classifications were included, women's visually impaired was. With its inclusion, it meant that paratriathletes would receive funding from the U.S. Paralympics Committee via USA Triathlon.
According to Amanda Duke, USAT's paratriathlon program senior manager, the visually impaired category is one of the fastest growing categories in an exploding sport, with nearly 10 times the amount of athletes participating in paratriathlon now than eight years ago.
There are online services that help match guides up with visually impaired athletes (see below), but even after a name is entered in a database, there's no guarantee the guide will be up to the task. And while there isn't necessarily a giant population of visually impaired paratriathletes (the ITU lists 86 elite-level paratriathletes currently classified as needing a guide worldwide for high-level competition; USAT's figures estimate around 45 visually impaired triathletes currently racing in the U.S.), the thinking goes that more access to better guides will encourage more visually impaired people to take up the sport.
"We're always thinking about guides who are fast enough," says Duke, who keeps an eye out for retiring pros, or pros who have their elite card but aren't at the ITU level.
Dixon found her first guide, Caroline Gaynor, after she took up running, then triathlon, to lose the 70 pounds that she had gained due to steroid treatments for her condition. "It sounded dangerous," she says when someone suggested she combine her gradual swim, spin, and treadmill run training. "How do blind people even do that?" In 2013, her first year in the sport, Dixon competed in two full tris with Gaynor's help and a donated tandem. In the years since, Dixon has raised money for her passion through a combination of sponsorships, fundraising, and speaking engagements; she can't work steadily anymore because her condition—and her many marathon-length doctors' appointments—prevents it.
Dixon has uveitis, a rare autoimmune condition that creates inflammation in her eyes and is causing rapid vision deterioration. The symptoms began when she was in her 20s working as a sommelier. ("I was pouring more wine on the table than in my customers' glasses," she now jokes.) In the years that followed, Dixon's sight has steadily worsened to where it is today: like "looking through a very tiny keyhole," she says. Despite 27 surgeries over the last four years, doctors have told her total blindness is nearly inevitable in the years to come.
With a diagnosis like this, triathlon's importance in Dixon's life cannot be overstated—having a goal like Tokyo 2020, despite the physical and financial struggles, is key to her upbeat attitude. But the road from confidence-inspiring hobby to basically becoming a professional triathlete hasn't been easy; ironically, the faster she goes, the harder finding a guide can be.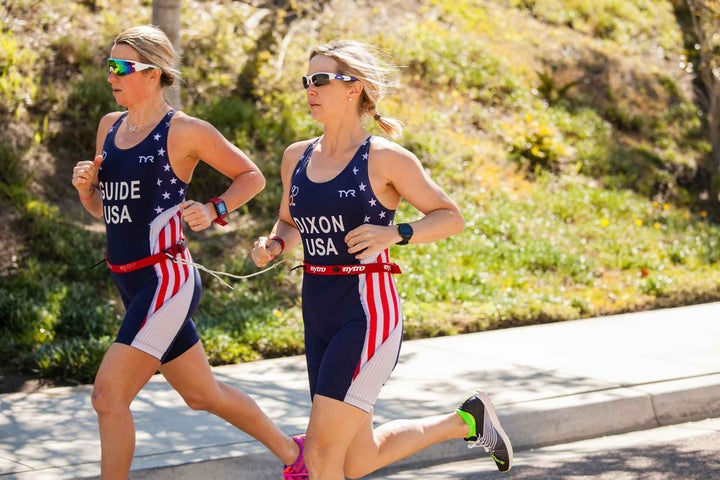 At least once, Dixon has flown a guide out—on her own dime—to train with her, only to find the candidate's abilities were "overrepresented," as she kindly puts it. As she gets better, the bar for guides constantly goes up. (At her best, she swims about 11 minutes, bikes around 26 minutes, and runs around 20 minutes for the 750m/20K/5K sprint distance, though she allows that distances aren't always accurate.)
RELATED: Q&A: In Tandem with the Athlete-Guide Duo of Amy Dixon and Kirsten Sass
In April of 2017, two weeks before the loading dock scene in Japan, Dixon had been comfortable and confident with her then-guide, retired pro Emily Cox. Cox had been trained by and worked with the former-sommelier-turned-full-time triathlete before, and despite being nervous about the extremely technical and cobbled bike course, she was ready to race. However, with 11 days to go, a bombshell dropped: The two women learned that Cox was ineligible to compete. Because Cox had raced ITU Long-Course World Championships on a lark before retiring less than a year earlier, she couldn't compete in Yokohama with Dixon. The $1,800 nonrefundable ticket that Dixon had bought for Cox—and Dixon's only anchor in Japan—suddenly evaporated.
Left scrambling, Dixon did what everyone does when they need something or someone quickly: She took to social media. But it's not as simple as finding another triathlete who wants to fly to Asia last-minute—at a minimum, the guide still had to meet all the ITU and size requirements. That meant Dixon needed someone fast, between 5 feet 4 inches and 5 feet 9 inches tall, American, female, and ready to fly to Yokohama within 11 days.
Out of the blue, another visually impaired athlete recommended Tennessean Kirsten Sass, who amazingly checked all of the boxes. When Dixon finally got Sass on the phone, the southern voice on the other end simply said, "Sure, I can make it happen."
Dixon was lucky—a word elite athletes try to eliminate from their racing equation, in favor of intense preparation. Sass is a decorated triathlete in her own right—she's a world champion in her age group and the 2017 overall AG national champion, among other accolades. Also, her job as a physician's assistant, her husband, and her two boys are all supportive enough to give her the flexibility to fly to Japan to swim, bike, and run with someone none of them have ever met, for no other reason than the fact that she's needed.
Dixon's slightly unlucky draw was that Sass had only raced on a tandem once before, and only ridden one with someone on the back about three times. Though Sass was an accomplished racer and Cat 2 cyclist, Dixon was competing at a professional-level paratriathlon event with someone who could only be described as a tandem newbie.
In the days leading up to the race in Japan, Dixon and Sass didn't have too many opportunities to practice together—inexplicably, officials wouldn't allow tandem bikes on public roads except during the race. But come race day, despite wet conditions that famously made Jonny Brownlee crash and run his battered bike into T2, the pair took fourth. Sass flew to Japan not knowing what to expect (or really what she was doing); Dixon put her trust in someone she didn't know. Both women came out better for it.
"It was probably the most nerve-wracking thing in my life," Sass now says, looking back on that day in Yokohama. "But we made it through." Since that harrowing experience, Sass has found a new passion for a sport that she was already so very good at. "It's just so rewarding for me to use my experience racing to help someone else," Sass says.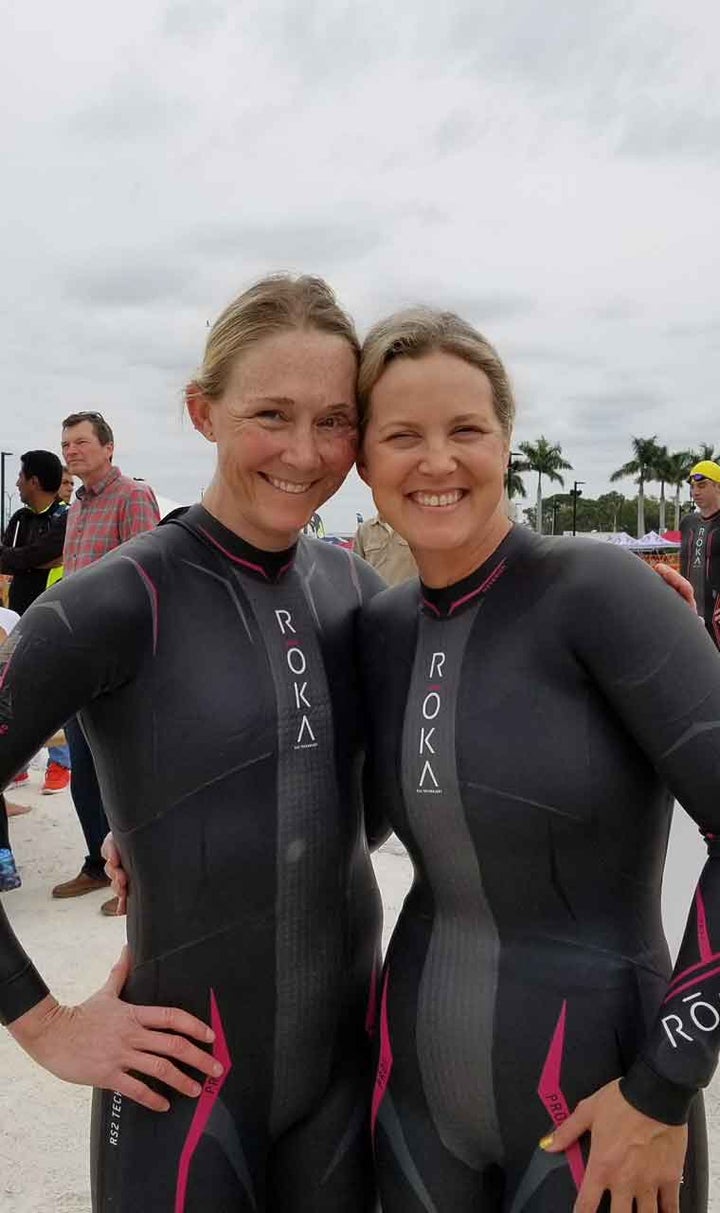 RELATED: Pre-Transition? Flying Mounts? How Paratriathletes Navigate the Transition Area
Since then, Dixon's performances—no doubt buoyed in part by her new race partner—have earned her a spot on the U.S. National Paratriathlon team with her sights set on Tokyo 2020 and some much-needed funding from USA Paratriathlon.
In 2017, Dixon had been self-funded, spending an estimated $7,000-$8,000 for each of her four international trips, which included her own expenses as well as her guide's. Today, Dixon's status on the national team covers her travel and expenses to USAT-approved events, and beginning next year, the guides will be covered in the same way.
When she first began guiding, Sass says she thought a guide needed to be certified (they don't), and she thought they at least needed experience (also no)—though safety is paramount. (One of Dixon's favorite sayings is, "There's nothing slower than crashing.") Even at the Rio Olympic Games in 2016, the guides only needed to hit the qualifications mentioned above. At Ironman events, the requirements for guides are even more relaxed: A guide can be of any gender or nationality, and there are no requirements about professionalism.
With such loose rules, one would think that finding a guide who is simply as fast or faster than you would be relatively easy, but it's not. Guides like Sass are not only rare, they are coveted—Dixon admits there can be some tension around sharing guides at the highest levels of paratriathlon. Someone you help train to guide you one day could be your competitor the next. "We can all be a little territorial about our guides," Dixon says. She stops short of calling the elite guiding world cutthroat, but awkward situations can still arise; guides can be "stolen."
On top of every other requirement mentioned already, a guide must have a flexible schedule. With Sass in West Tennessee and Dixon in San Diego, the two can't train together regularly. They try to meet up a few days before big races and schedule a training camp on occasion. The rest of the time, Dixon must train with practice guides—a situation she sees as a luxury because most visually impaired paratriathletes are stuck riding the trainer or running on a treadmill for the vast majority of time.
There are other random intangibles that make a good guide great: being a good communicator, having a mind for managing risk, and being experienced in stressful racing situations. The swim and run are mostly about bumping the visually impaired athlete back on course, protecting them from flailing bodies, communicating obstacles, and giving direction. Riding a tandem bike is more akin to racing a semi-truck in a pack of other semis; top-notch bike handling skills required.
Sometimes a medical background helps too—last year in Rotterdam, Sass successfully coached Dixon on how to literally re-pack her own insides while on the bike after an ill-timed hernia in T1.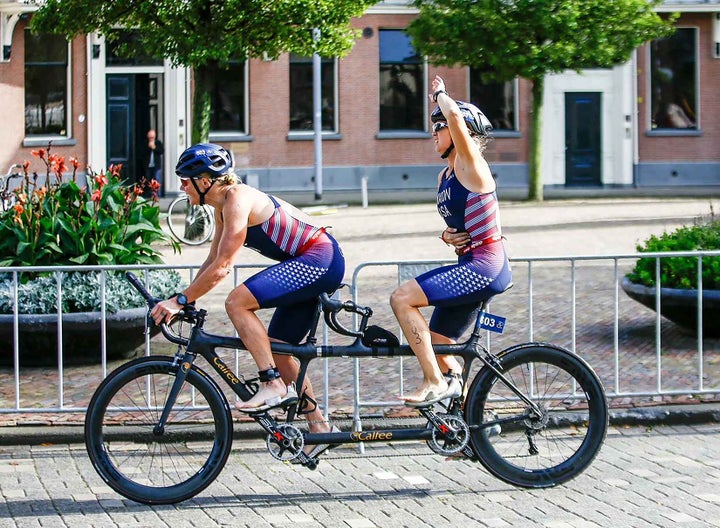 ***
More than anything else, a guide must be a good psychic fit. "You need to be a cheerleader, a coach, and find your inner bossiness at the same time," says Dixon. "You're there for every dark moment of the race." Though Dixon works with San Diego-based coach Jim Vance 99 percent of the time, her guide can act as a stand-in coach on race day.
"On the bike, it's me telling her not to push it too hard, reminding her she still has to run," Sass says. "On the run, I do a lot of talking her through her run form, thinking about cadence, pushing through with the glutes." But Sass concedes that Dixon is still a professional, and she has a great coach to whom Sass still defers.
There's also a high level of trust involved. "The fact is, you're not just counting on yourself out there," Duke says. "But you're counting on someone else."
There's encouragement too. "When she's starting to suffer, she'll tell me, 'Help!'" Sass says with a laugh. "I'm there to provide optimism and support." But the guiding isn't just a one-way street. "It's similar to working with a horse, working with your guide," says Dixon, who was an equestrian athlete for years before becoming a triathlete. "It's about planning ahead, not making any sudden moves. When I teach new people, I try to keep it chill and calm."
And while Dixon obviously gets a lot out of the relationship, Sass also gets a unique opportunity to be a part of something more than just herself, more than just racing head-to-head against another triathlete. She gets to be a part of a true team, something that's nearly unheard of in multisport. "We know that one of the big avenues for finding some sense of satisfaction is having a purpose or something you do in life that's bigger than you," says Marshall. "And that's really important."
Dixon has found a way to reach others, too. Taking it a step beyond simply creating a Match.com for guides and paratriathletes, she's created a training camp called "No Sight No Limits," a performance-based camp that trains guides in more than just the basics of guiding—like learning tandem skills that can help riders descend a hairpin cobblestone corner in the rain. Dixon gives kudos to organizations like Dare2Tri and the Challenged Athletes Foundation, which do a great job of getting beginners into the sport, but she wants to help take it to the next level, making elite paratriathlon a more logistically attainable goal for those with the talent and drive. "There's no way I could race without guides," Dixon says, then pauses. "It would be hilarious. It would be a good YouTube video I'm sure. But guides enable someone who physically absolutely could not do it without their help, and that's part of the reason I started my camp—it always feels good to give, and I think people who guide are really, really special."
How to Become a Sighted Guide for Blind and Visually Impaired Runners, Cyclists and Triathletes
United In Stride
Primarily a running-focused tool for matching guides with visually impaired athletes
Unitedinstride.com
Dare 2 Tri
Focuses on triathlon, but for people with all different kinds of physical disabilities—including visual impairment
Dare2tri.org
Achilles International
A New York-based charity that works with many types of disabled athletes in multiple sports
Achillesinterational.org
The Blind Stokers
A San Diego-based club that focuses mostly on matching up visually impaired cyclists with guides
Blindstokersclub.org
The Challenged Athletes Foundation
One of the largest endurance-based charities for those with a range of physical disabilities and visual impairments
Challengedathletes.org
Don't have time to guide? You can still follow along, support, and donate to the highly successful U.S. paratriathlon team at USA Triathlon's website.