Vote: Help Us Pick Our Next Cover Star
Each of these 10 athletes deserves to be on our June cover—but we can only pick one, and we need your help!
We asked you to help us find triathletes who are giving back to the sport we love—and you delivered! You shared incredible stories of athletes who live the triathlife, and in the process, have moved multisport forward. Picking 10 finalists from the hundreds of incredible entries we received was nearly impossible. Each of these 10 athletes deserves to be on our June cover—but we can only pick one, and we need your help! Read their amazing stories below and then vote for your favorite. Voting closes Sunday, Feb. 10 at 11:59 p.m. MST. Votes will be combined with editors' picks and we'll announce the winner on Monday, Feb. 11.
Voting has concluded. Check back at the end of the day on Monday, Feb. 11 to find out the winner!
Antonio G.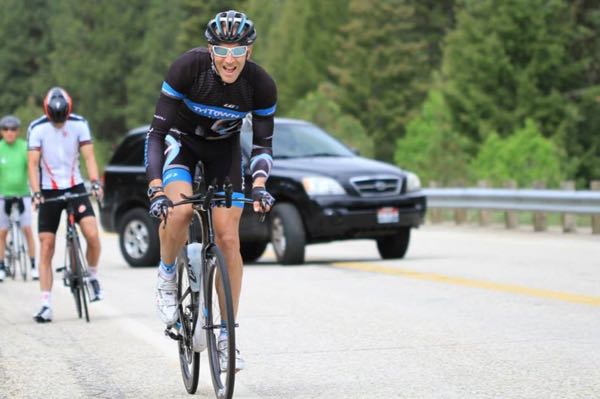 Submitted by: Jay R.
I first met Antonio when he was volunteering at a local YMCA triathlon. I was impressed to later learn how fierce of a competitor in triathlon he is himself. He is the epitome of giving back to the community and supporting triathletes of all ages and abilities. He co-founded and operates a local triathlon store (Tritown Boise). Tritown Boise donates 1% of their gross annual revenue to three different local non-profits every year. I have seen him fit a professional triathlete on a $6000 bike and later change the tire on a teenager's mountain bike. He is a humble, knowledgeable, and a giving person. He sponsors several local races as well as coaches both amateur and professional athletes. Antonio has been instrumental in the outstanding growth of triathlon in the Boise, Idaho area as he started the Boise State triathlon club when in college. He also started the "Tri Boise" a beginner's triathlon coaching and training program. He has also developed and hosted the Winter Triathlon National Championships, as well as regional USAT Seminars to help develop the sport of triathlon on a regional level. Antonio lives the triathlife as both a competitor, supporter, and sponsor of the awesome triathlon community in Boise. I support Antonio whole-heatedly as someone who has given back to the sport he loves.
Carla M.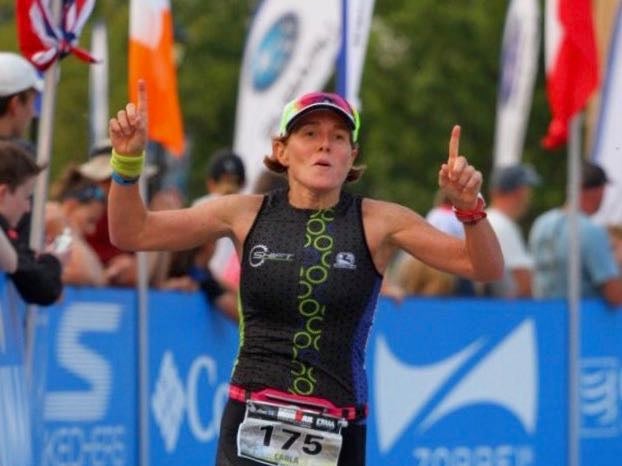 Submitted by: Brenda B.
For the last three years, Carla M. has organized beginner triathlon programs for women for our tri club. She hired excellent female coaches and set up additional clinics covering all areas of triathlon, from what gear is needed to open-water swim clinics. The programs have been so popular that many women have come back year after year. Most have gone on to do longer distance races and a couple have even become tri club board members.
While Carla was the membership director of our tri club, we reached over 500 members for the first time. Most were individuals new to the sport. Carla makes an effort to attract a diverse group of people to the sport. The most recent women's beginner program included a transgender individual. She was very appreciative of the warm welcome she received as part of the group.
People jokingly call Carla "the mayor" of the indoor cycling studio where she attends classes. She knows everyone and makes efforts to build community among the members. She has led outdoor group rides, followed with social activities and little post-class get togethers for special occasions.
Carla's passion for triathlon is infectious. She is a Woman for Tri Ambassador and has hosted meet-ups for women at many 70.3 races. She recently put together and moderated a panel of women triathletes at Ironman 70.3 Indian Wells.
Carla continues to come up with new ways to contribute to the sport. She engaged a professional triathlete (Angela Naeth) to co-host a podcast geared toward beginner triathletes and all things triathlon. The podcast is Kampsite, under the umbrella of Konakamps podcasts. The Kampsite weekly podcast launched this week.
Carla's enthusiasm, inspirational spirit, and support of other women can be glimpsed through her social media accounts.
Above all, Carla will put helping someone out with their training over her own. She is as committed to helping those around her succeed as she is to her own success.
Cassie D.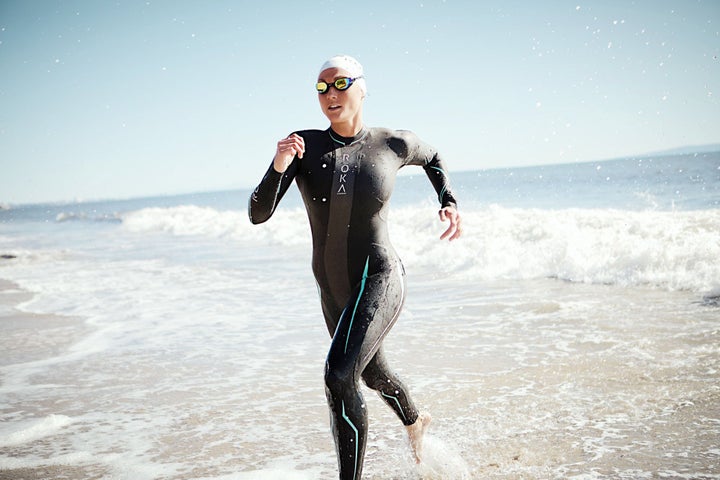 Since the age of 16, I've been racing triathlon; from sprint, Olympic, 70.3 to full Ironman events. However, I've never been great at the sport. I have raced six 70.3s and didn't finish three of them, whereas all my friends did. I traveled to every country in the world (a total of 196 countries) between 2015 and 2017, becoming the first woman on record to do so and promoting fitness and wellness (among other humanitarian focuses) while traveling, and I finally felt that I had found my niche. I built a career out of that experience and am now embarking on a 12-month Guinness World Record attempt for "The Most Ironman 70.3 Races Completed in Different Countries in a Year" and 'The Most Ironman 70.3 Races Completed in a Year" for a total of at least 26 races. The record kicked off in South Africa (Buffalo City) where I finished in 7:30, PR'ing by 40 minutes since my last one, where I didn't make the cutoff. Despite my injuries and mental struggles, I aim to inspire and continue to inspire everyone of all genders and ages around the world to get out there and push their limits to achieve the impossible for themselves; to be rapturous and insane rather than content and normal, and to allow their inner fire to fuel them to be the best human being they can be.
My 501(c)3 nonprofit organization, Her International Inc. funds female driven projects that address all 17 United Nations Sustainable Development Goals, and it is my primary focus to continue this legacy through my nonprofit organization through this next record attempt. While racing 26-plus 70.3s, I'm also challenging myself further to compete in three marathons in unique places: North Korea in April, Afghanistan in October, and the Iraq marathon, also in October, to represent cultural unity through sport.
While it feels strange to nominate myself, I feel that I have a powerful message that can reach an even greater audience by being on the cover of this June's Triathlete magazine.
Jacob C.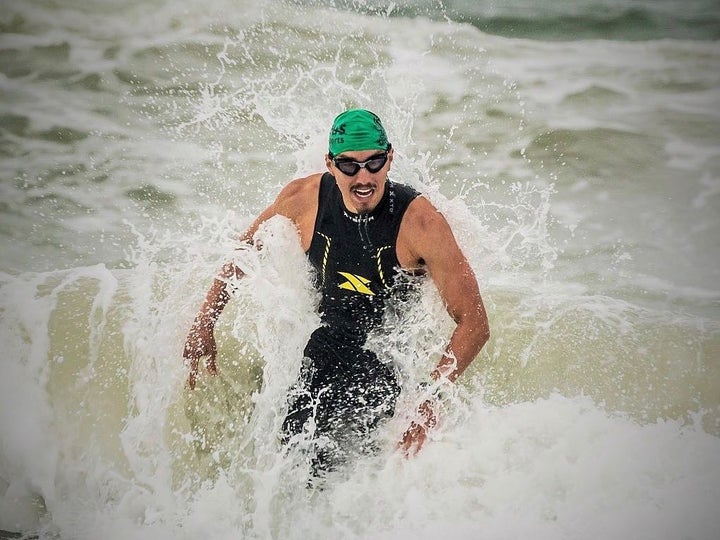 Submitted by: Anonymous
A former college basketball player turned USA Triathlon All-American triathlete and certified coach, physical therapist, and biomechanist, Jacob Capin epitomizes the "triathlife." He completed his first triathlon in June 2012, weeks after finishing college and his NCAA basketball career. Despite just learning to swim, biking in running shoes, and battling post-concussion syndrome, he raced his way to a second overall finish and was captivated by the multisport lifestyle. Jacob has since made strides professionally, athletically, and in promoting the sport of triathlon.
He earned his Doctorate in Physical Therapy and Master's of Anatomy and Clinical Health Science and soon completes his PhD in Biomechanics and Movement Sciences at the University of Delaware. With 12 publications, 2 book chapters, and over 40 conference presentations, he practices as a sports and orthopedic physical therapist and teaches doctoral students.
Now a perennial USA Triathlon All-American, Jacob had 7 overall wins in 2018, including the Mid-Atlantic Sprint Triathlon Regional Championship. He also had 4 podium finishes at 2018 USA Triathlon National Championship Events.
Dr. Capin is committed to serving the triathlon community. He volunteers as head coach of the 50-member University of Delaware Club Triathlon Team, which has grown in size and is becoming increasingly competitive regionally since he began coaching the Team in 2017. He organizes clinics and events for the community triathlon team, Delaware Tri Dawgs. Jacob also served as pro-bono coach to several athletes, helping a middle-aged mother-of-four drop a minute per mile on the run, finish her first Olympic triathlon, and race her fastest sprint triathlon and an injury-prone runner become a resilient and competitive triathlete. Always enthusiastic and supportive of newcomers, Jacob also serves as an ambassador for Kinetic Multisports.
You may be asking, "Really? How does he do it all?" Well, here are some clues:  Reading research articles, reviewing manuscripts, and conducting conference calls while cycling on his trainer. Running mile repeats in 105-degree heat after a 10-hour ICU shift. Swimming with a Navy SEAL friend in sub 60-degree Pacific water hours after presenting to surgeons. Cycling indoors wearing thermal gear to prep for a late-season race in Miami. Training in rain, wind, and snow. Cycling 100 miles in the Colorado Rockies hours after a conference. And, writing this in flight to Austin to present to the Orthopedic Research Society.
"Don't worry! My wetsuit and running shoes are packed, and there's a spin bike at the hotel!"
Michelle B.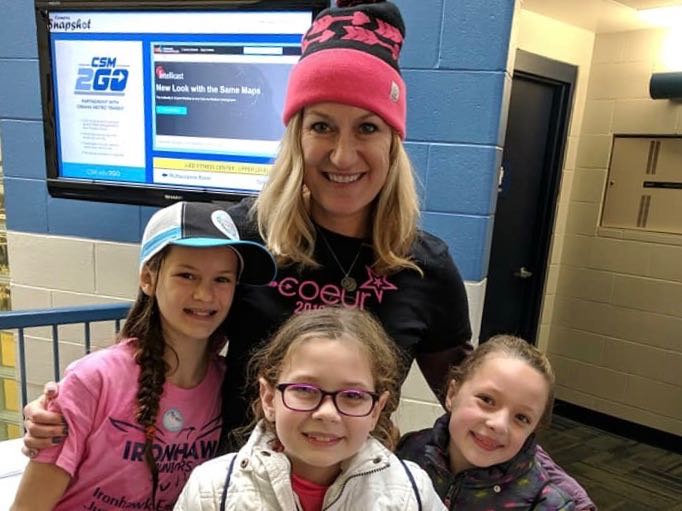 Submitted by: Ruth R.
Once upon a time, a bully sent a note to Michelle, a TV reporter in Omaha, making fun of her nose and sending her $1 to get it fixed. She responded in a most unique way. She published the note, celebrated her #bigfatnose because it came from her dad and put that dollar towards a tri club for young girls. She started Ironhawk Juniors. Quickly, she had coaches and young girls, ages 8-14, working towards their first triathlon. She got sponsors. She helped girls get clothes and bikes. I remember her joy as she taught one of the young girls to ride. Over 200 young women participated in the first year! The plans for 2019 are even greater. These young ladies were every size and yet they learned to celebrate what their bodies could do! Her lesson on how to respond to a bully will empower each of these young girls. Conquering the triathlon will show them their inner strength. Lots of us say bullying is wrong. Lots of us say we should change things. Michelle actually did.
Noah L.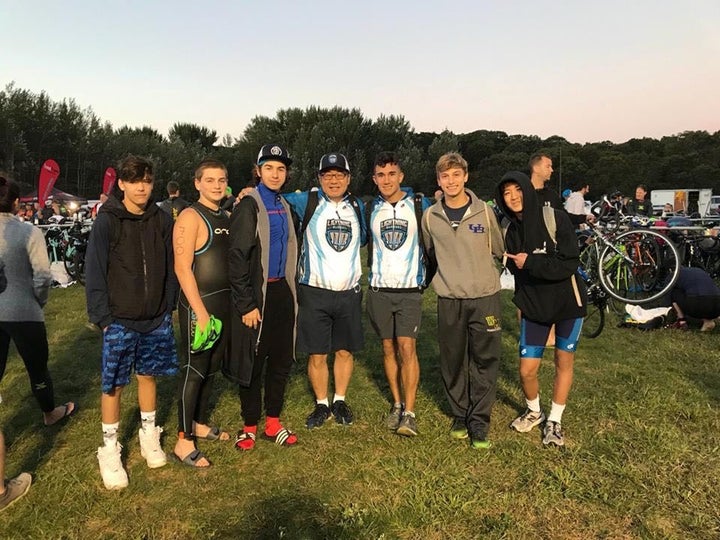 Submitted by: Jessica E.
Noah's dedication to creating a lasting infrastructure for youth triathlon on Long Island, New York is admirable. He is doing something that no one has done with the development of the sport of triathlon with the first youth specific team. Surprisingly, there aren't youth tri teams available to help grow the sport on Long Island. He's brought together local race directors to create a new youth series collectively, new for this year, with the hopes to leverage already successful and well-established races and increase youth participation. He realizes the value of everyone working together to help achieve something so amazing. More importantly, he created this team as a not-for-profit organization with goals to provide all the equipment, gear, coaching, and other expenses to allow all kids to excel at something where they might not have had the chance to participate in due to financial constraints. He truly believes the sport of triathlon is something everyone can do and should do, including me. Noah sees that in addition to being fit and healthy, it also builds confidence, self-esteem, life skills and valuable connections to others. As I get more involved with triathlon, I see all individuals and families with amazing attributes that I want my children to be part of. Noah epitomizes what a triathlete is and should be on the cover of Triathlete Magazine. Additionally, he has coached several local kids (6) that will be participating in USAT youth/junior elite race series this year. It's amazing to see his passion come alive and see these kids accomplish their athletic goals while having a blast with each other along the way. I have no doubt that Long Island will be a hotbed of budding youth triathletes and the future of this incredible sport. Thank you for considering my friend, Noah.
Sue R.
Submitted by: Maarten B.
I am a total Sue R. fan boy and cannot stress enough how much I recommend her to be Triathlete's Next Cover Star. In my mind, there are few people who personify the sport of triathlon, its welcoming community, and its transformative power more than she does. Just a few years ago, Sue weighed 335 pounds, and couldn't tie her shoes, let alone walk a block.
It is hard to imagine that the woman who finished sixth in her age group, and first American, at the ITU WTS world championship is the same person. In triathlon terms: she went from DFL at 335 pounds to the starting line of a world championship, 200 pounds the lighter. Her story of weight loss AND excellence in the sport are truly remarkable, as is her generosity with her time and attention to encourage other to reach their goals.
For her first sprint triathlon she was still majorly overweight, but she was determined to finish a triathlon when she turned 60. Although she finished last, a fire had started in her that could not be extinguished. This is where triathlon's magic happened. She started competing with herself to become the best version of herself that she could be. Sue found herself committing to training, never missing a workout, even while having a busy life as a mother, grandmother, and the president of a nonprofit.
Her journey of weight loss journey and the discovery of athletic potential is only half the story. An incredibly generous soul, she is an ambassador for the sport and loves to help others discover the joy of triathlon. She presents about triathlon wherever she can, at bike shops, gyms, public library, and even a brewery! She does interviews and her blog encourages people to begin their own fitness journey.
Her audience is not limited to the state of Indiana, or even the U.S. She has garnered quite a worldwide audience by proving that obese people can lose 100-plus pounds without medication or surgery, and that obese people can exercise and meet their fitness goals. Besides, ever the nonprofit community organizer, she is helping a women's cycling group in Kenya, where cycling while female is still frowned upon. They can count on her support and the support she gathers from others for gear, funding, and inspiration.
I highly recommend Sue as Triathlete's next cover star!
Susan O.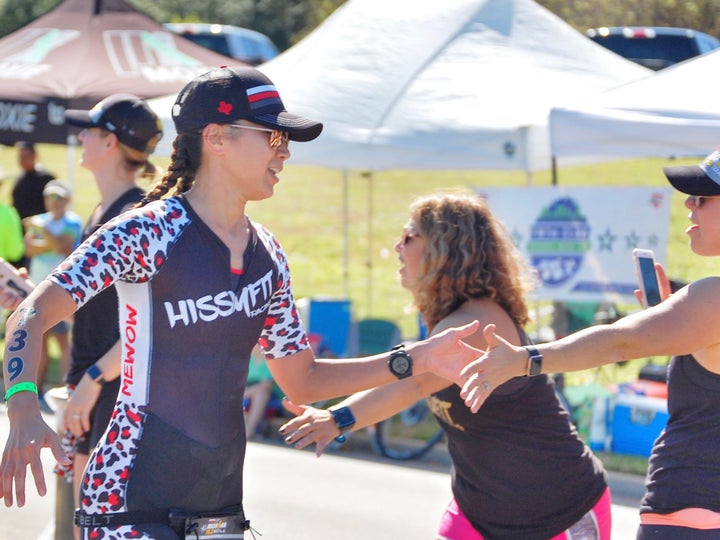 I came to triathlon later in life (in my early 30s), and found the sport and the community to be, literally, life-changing. I struggled (and still continue to struggle) with low self-esteem and poor body image. I limited myself and the activities I would participate in because of it. After becoming a mother, I wanted to change. I didn't want my daughter to learn a life of fear and limitations. So, I got out of my comfort zone and did something that really scared me to death: triathlon. Since then, I feel like a completely different person. I have personally experienced the benefits of this sport and community and have taken it upon myself in the past few years to bring others into the sport and be a source of encouragement and support. In 2017, three friends and I started a no-cost, women-only triathlon club called HissyFit Racing. Our mission is to provide a less intimidating way for women to get involved with endurance sports. We have been so fortunate that our mission and our message of inclusion have resonated with women and our team has grown by leaps and bounds. We currently have 265 team members and won our division in the Ironman Tri Club competition at Ironman 70.3 Waco. I am so proud of what our team has accomplished and feel such fulfillment in helping others chase their dreams and achieve things they didn't think they were capable of.
Tristan R.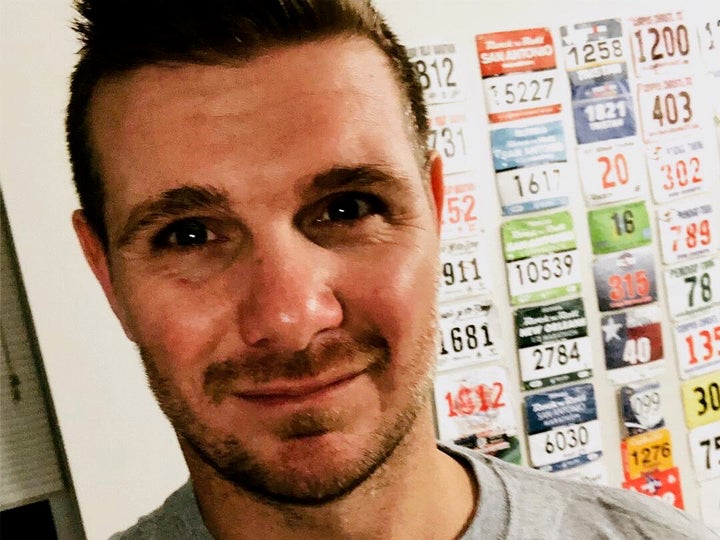 Submitted by: Amanda C.
Tristan's journey as a triathlete began in 2010 in Corpus Christi, Texas. In completing a sprint event, his passion for the multi-discipline sport ignited and his life changed, forever. Over the next nine years, he competed many times over all distances from sprint to full Ironman. Along the way, he became involved with the local running and triathlon community as not only a competitive member but an encouraging advisor. His deepening knowledge of the sport, enthusiasm for training, and charismatic drive for competition has consistently created respectful and considerate relationships not only to those beginning their own triathlon journey, but also with those looking for an "extra push" in competition. Over the years, he positively motivated many athletes in sharing his sound knowledge, experience, and custom-tailored training plans. Hurricane Harvey in 2017 devastated the local community of Tristan's hometown, Port Aransas. He coordinated a large-scale volunteer effort to provide immediate help to those whose homes had been damaged and destroyed.  In so doing he searched for a way to make his training and countless hours of work not only fuel his personal goals but benefit others and grow the sport of triathlon. He found the answer in the development of Tritotriumph.com, a virtual triathlon race series that raises funds for triathlon communities around the world. His endeavor targets three goals which all significantly impact and benefit the sport. In moving the triathlon forward, his organization gives potential future triathletes a new and accessible way to explore and complete multisport events. It promotes and encourages nationwide competitiveness to raise the bar across the entire country, and it uses race entries to raise financial contributions for organizations that directly aid communities in need. Tristan will compete in multiple Ironman events this year while continuing to serve his local triathlon community as the CC Tri Club Vice President. He is creating a new generation of triathletes through his work as a cross country coach and high school teacher with the introduction of CCISD's first High School Triathlon Club. He is focused on outreach, education, and providing opportunities for everyone to learn more about and be involved in the triathlon community.  As an advocate for the multisport lifestyle he serves not only as an ambassador but embraces the spirit of the Ironman Foundation by giving back and paying forward the message of welcome and inclusion.
Wayne L.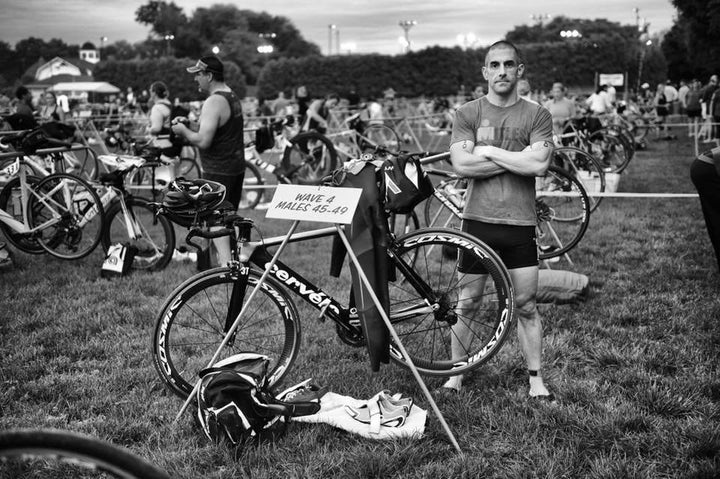 Submitted by: Anonymous
Seven years ago my husband could not swim. He hopped into a "fast" Masters Swim lane in board shorts, no goggles, and a wish. He joined his friends on a mountain bike with deflated tires and tried to keep up! Sure, he was an athlete and could run, but he had to learn the rest. His longtime commitment to bettering himself as well as his athletic prowess served him well. Today Wayne is a faster swimmer than his wife who grew up a competitive swimmer, cruises by swimmers and bikers in his 50 to 55 year-old age group and can simply out-run the competition. Wayne and his wife started a local club called NJ Tri friends (NJTF). They have grown a training group, on a volunteer basis, not as a paid club, from 30 people at a local YMCA in 2010 to over 1,000 triathletes today in the northern NJ area. At their lakefront home, they offer open-water swim sessions several times a week as well as lakefront yoga and bootcamp workouts. Wayne and his wife host group bike rides for beginners in their local state park to introduce them to other riders and get them familiar with the training course. They meet Sundays for long runs where they organize group runs by paces and distances, introducing running partners to each other and helping them map out new courses. They have hosted team kick-off events, in which they get many local endurance/triathlon related vendors to donate raffle prizes, host summer BBQs and Christmas parties for members. They even host several  movie premieres, like "We are Triathletes" and the movie "TRI" at a local theaters. Lastly, they have recently gotten into merchandising and sell NJTF magnets and sweatshirts, proceeds going to charity. Through this group, Wayne and his wife pull new people into the sport, communicate through a supportive Facebook page in which they upload  "Training Tip Tuesdays" posts and interesting articles, advertise local races to participate in, and give shout-outs to those racing on weekends, create team races to compete at as a group, to name just a few highlights of the Page. Wayne and his wife do all of this as volunteers. They spend much of their own time and money generously. Wayne does all of this because he simply loves triathlon and is a walking, living, breathing poster child for the sport and the entire community. Wayne and his wife Mary Ellen train together and have competed in several hundred races together from local sprints to multiple Ironman-distance races.